We earn money from clicks or purchases made via product links in this post.
If you're looking to create a table full of super scary Halloween appetizers for your upcoming party, this will definitely get you started!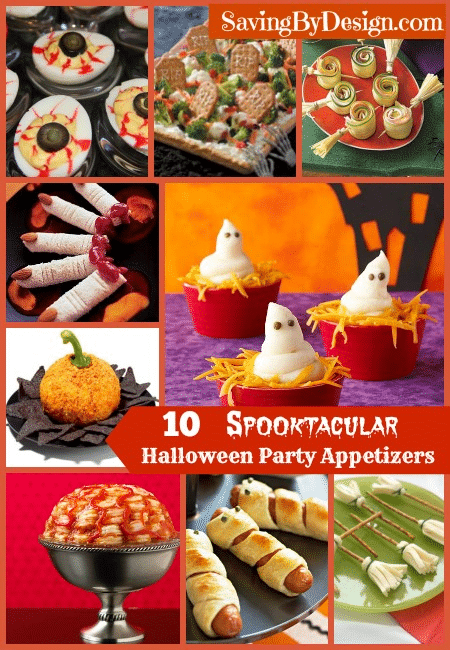 A holiday favorite in this house? Halloween, of course! We just love decorating the whole house up and trick or treating is quite a big deal in this neighborhood! One thing that has become quite an adventure is hosting a Halloween party for friends and family every year. It's always such a fun time to see how everyone will dress up, but I particularly love finding and making Halloween appetizers for the big night! Check out these favorites of mine and a couple that I can't wait to try out this year, too! Soooo excited!
10 Spooktacular Halloween Appetizers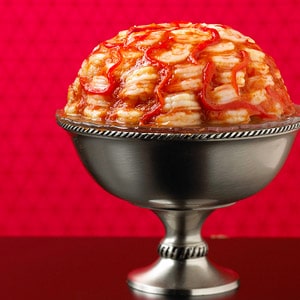 Mmmmm…. nothing says Halloween like this Shrimp Brain Cocktail! BHG.com shared this super scary appetizer and this one is definitely on the top of my list to make this year!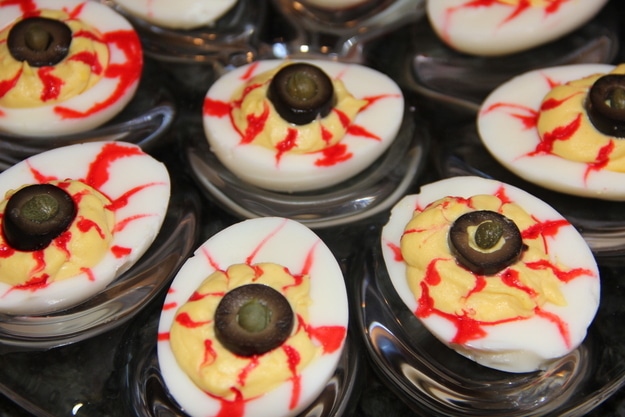 One super fun appetizer to make for your party is Deviled Egg Eyeballs! Just like your typical deviled egg with a spooky twist, this fun recipe was found over at BuzzFeed.com!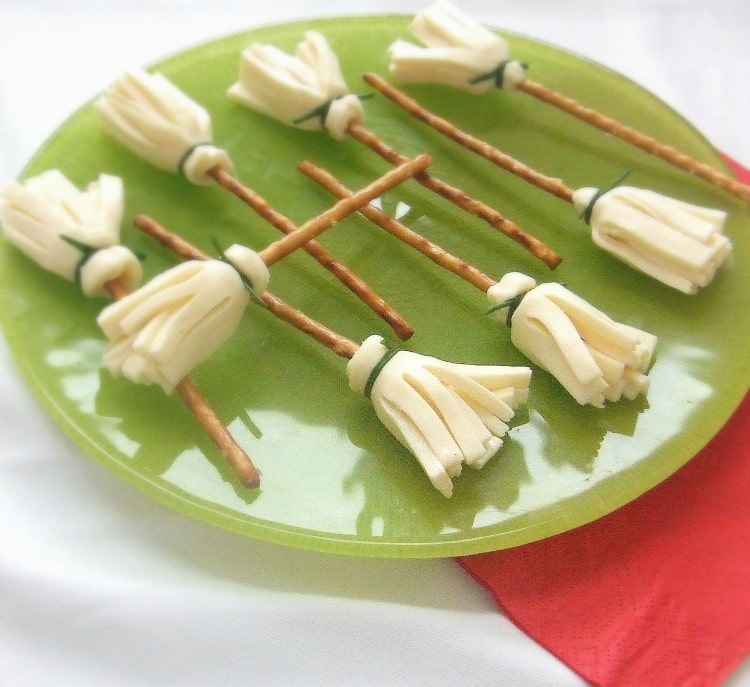 Look at these cute Cheese Witch's Brooms! Made with some cheese and pretzels, these will definitely be a hit at your Halloween party! Check out the details on this awesome app at Cocinandoconcatman.com!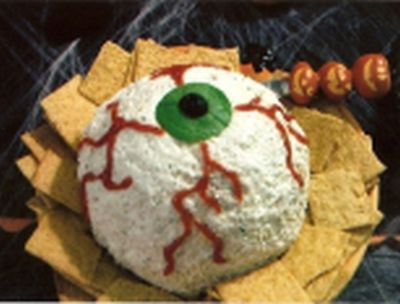 Oooooh! I love me some cheese balls and this Creepy Peepers Cheese Ball is right up my ally for a Halloween party! I love it! Cocinandoconcatman.com shows you just how to go about making such a creepy appetizer!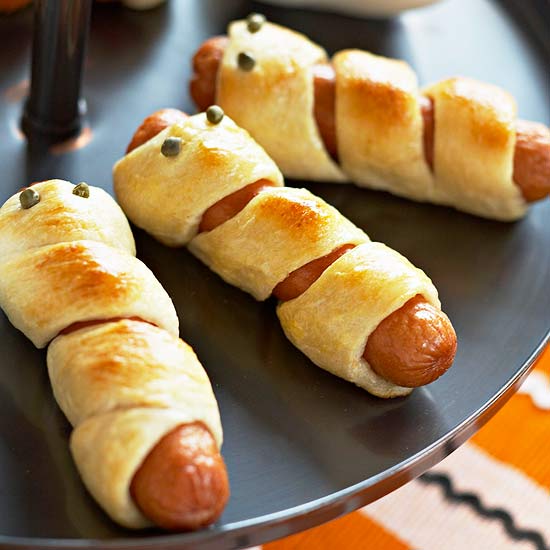 My kiddos go crazy for these Mummy Hot Dogs, found over at BHG.com! They are super easy to make, but are the perfect Halloween appetizer for a party! Fun!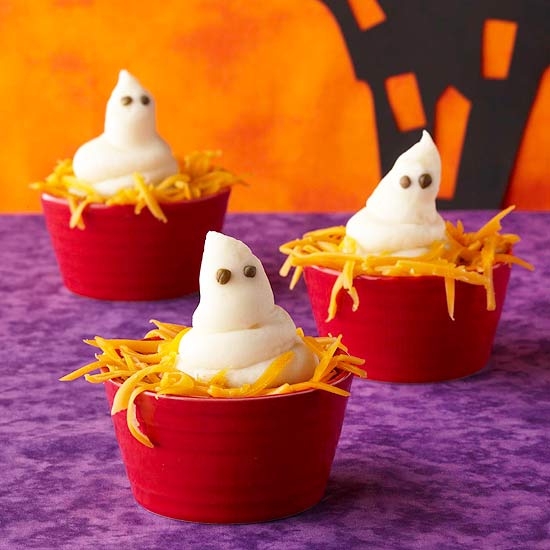 This Spooky Stew is such an AWESOME way to serve a soup (or better yet… chili!) at your Halloween party this year. Check out the details over at BHG.com!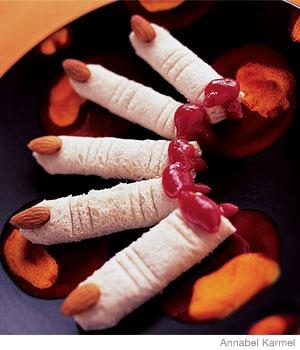 Ewwww… Dead Man's Finger Sandwiches! Parenting.com has the most spooky Halloween appetizer around! These things are the perfect addition for a scary party and people are going to SCREAM over this appetizer!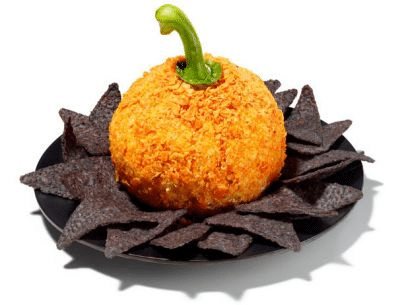 Look at this super cute Pumpkin Cheese Ball that was found over at FoodNetwork.com! What a great idea for your Halloween Party. It will fit in great!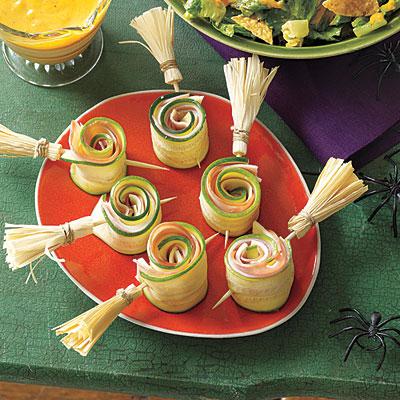 OMG! Broom Roll-Ups! I just LOVE these, which were found over at AllYou.com. Talk about super creative and what a great, filling, appetizer for your Halloween party!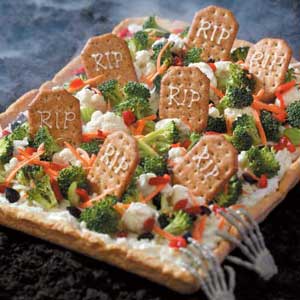 Looking for a fun addition to your party that the veggie lovers will enjoy? Check out this Graveyard Veggie Pizza over at TasteOfHome.com. What an incredibly adorable appetizer to add to your Halloween spread!
So there you go! If you're looking to create a wonderful table full of super scary Halloween appetizers for your upcoming party, this will definitely get you started! Who wouldn't love to walk in and see all of these spooktacular treats waiting for them! This will be the best Halloween yet! Enjoy!
Do you have any other awesome Halloween Appetizer ideas that you've used that saved money, but were huge on taste?!?! Be sure to share in the comments below! 🙂
Looking for even more frightening fun? Take a look at these posts which I'm sure you'll enjoy…