We earn money from clicks or purchases made via product links in this post.
Last week I created a FREE Valentine's Day printable and many of you contacted me to let me know how much you liked the fonts I used! Thanks for the feedback! So I thought it would be fun to share my 10 favorite FREE fonts each month 🙂 I also thought it would be a great way for me to keep track of the fonts that I have downloaded since I can never remember what each font looks like just by seeing its name in the drop down menu. If you would like to print the image below as a reference too, just click on it and you'll be able to do so.
Since I just came up with this idea this one's a little late in the month…but from here on out (well until I let you know otherwise) you can expect a post the first week of each month with my favorite FREE fonts. How fun!
In the spirit of Valentine's Day, even though I'm a little late as I just mentioned, here are my favs for February 2014…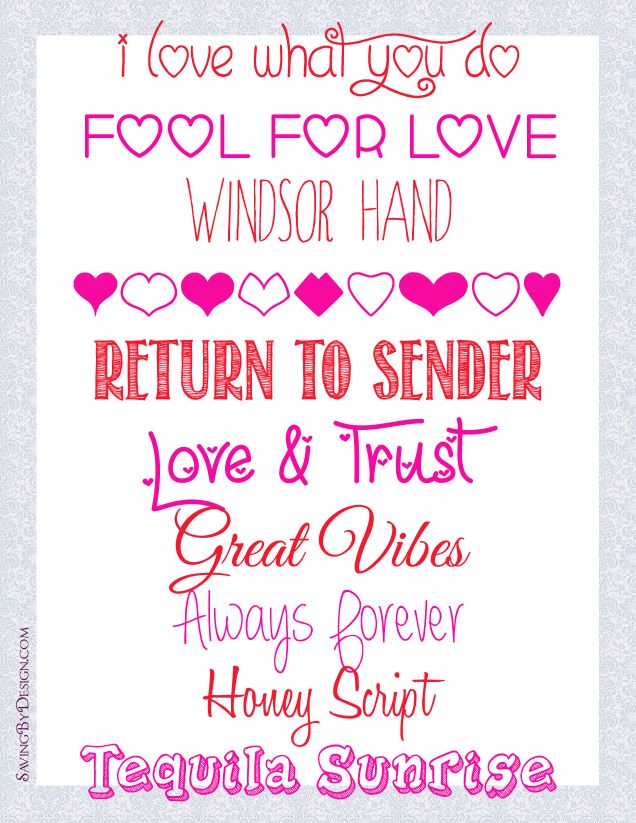 Download fonts from the links below…
I Love What You Do | Fool for Love | Windsor Hand | Heart Shapes | Return to Sender
Love & Trust | Great Vibes | Always Forever | Honey Script | Tequila Sunrise
If you're unsure how to install a font, you should be able to find your answers here.
Most fonts are FREE for personal use, but be sure to check the license for each font when using them for something different or if you aren't sure 😉