We earn money from clicks or purchases made via product links in this post.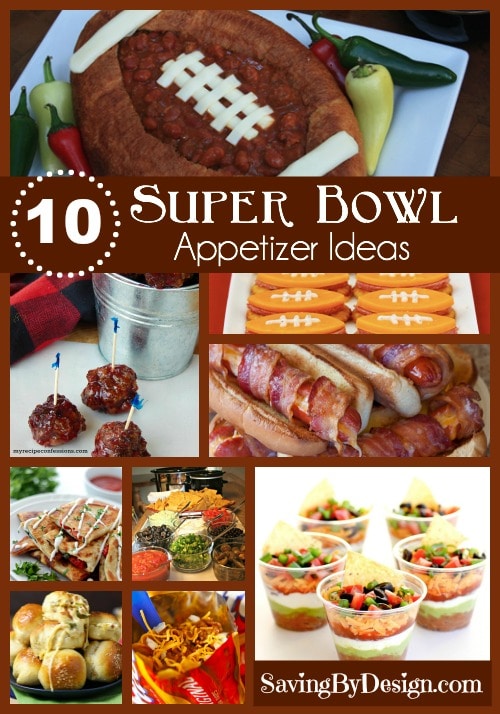 Believe it or not, the Super Bowl is in just a few days! Are you hosting a big party this year for all of your football-loving friends and family? Or headed to a Super Bowl party where you need to bring an appetizer to pass around? Then you better take a peek at these 10 SUPER Super Bowl appetizers that will have everyone's mouth watering as soon as they get to the party! Now…these aren't the healthiest appetizers in the world, but the Super Bowl only comes one time a year, so it's a good time to splurge. Right? So get busy and pick out the ones that you love the most and you'll have your game day menu set in no time 🙂
10 SUPER Super Bowl Appetizers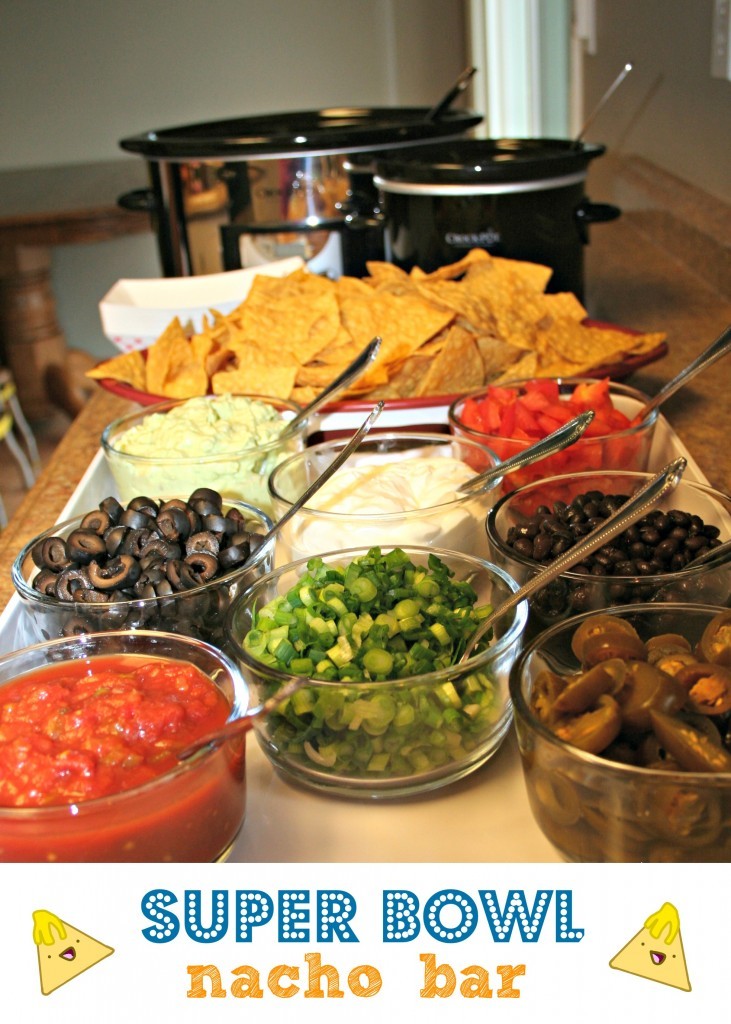 1. What kind of Super Bowl party can you have without a Nacho Bar? I love this one over at TheMagicalSlowCooker.com. If you're feeling up to it, make a few different meats to choose from and have them ready in the slow cooker. Have all of the fixings ready in bowls and bam. You're done! It's as easy as that!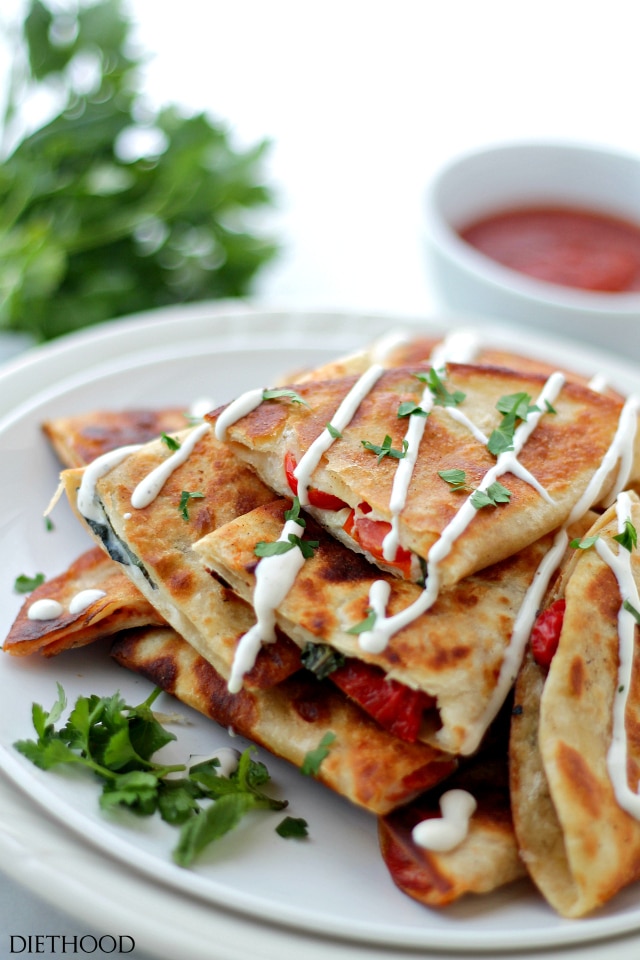 2. These Pizzadillas from Diethood.com look so delicious! Who wouldn't want a combination between a quesadilla and some pizza?! And we all know how easy quesadillas are to make, so you won't be slaving in the kitchen all day over these appetizers 😉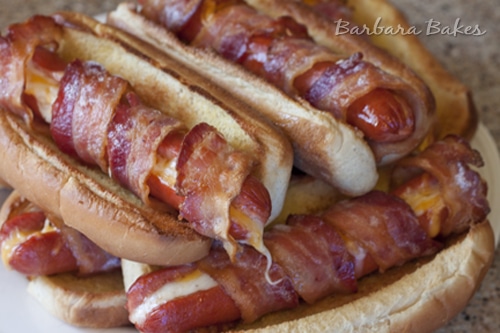 3. Bacon Wrapped Cheese Hot Dogs? Yes, please! Take a peek at the details over at BarbaraBakes.com and you can always put your own twist on this easy recipe. We're going to more than likely have hot dogs for all of the little ones anyway, so we may as well spice it up with a fun adult version!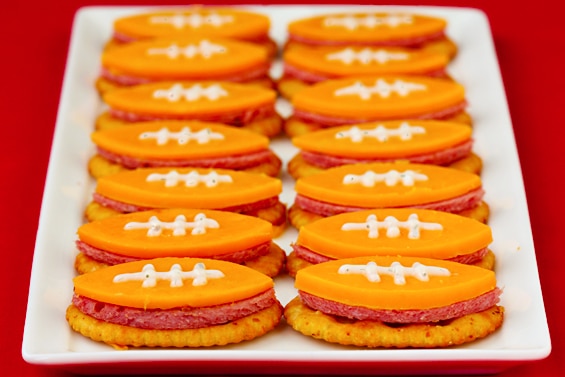 4. I made these cute Football Cheese and Crackers Bites last year and they disappeared faster than I could keep up with supplying more! I found them over at GimmeSomeOven.com and they were definitely a huge hit!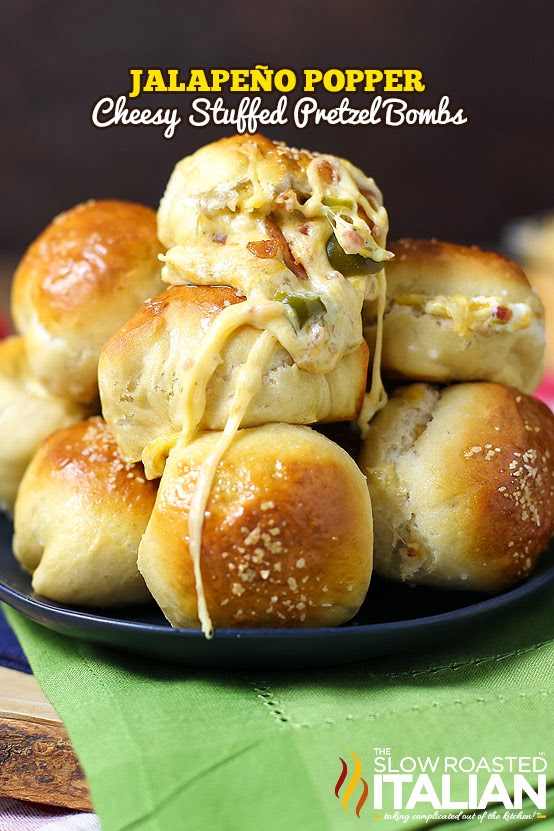 5. Mmmmm…. Jalapeño Popper Cheesy Pretzel Bombs! I may need to make these snazzy little appetizers from TheSlowRoastedItalian.com beforehand to "test them out." These look absolutely heavenly and if you're looking for something with a little kick to add to your festivities, this will be a great addition!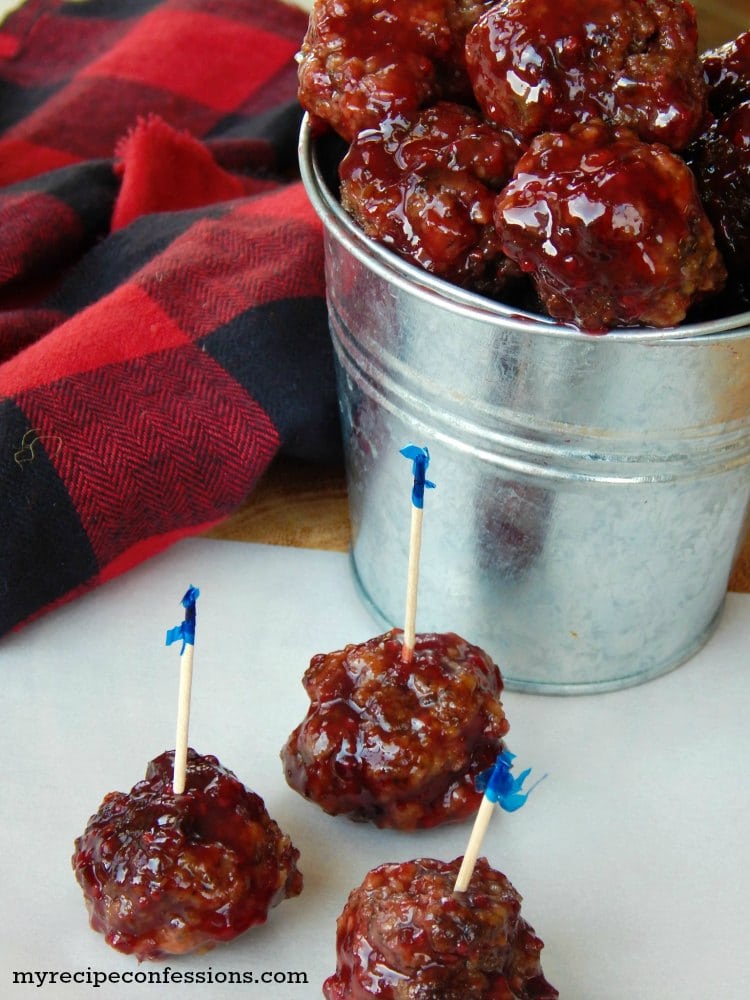 6. Meatballs HAVE to be served at Super Bowl parties, but these Raspberry Chipotle Meatballs from MyRecipeConfessions.com just totally upped the ante! Look how juicy and delicious these little meatballs look! And when you read the recipe, you're mouth is totally going to water. These are a must!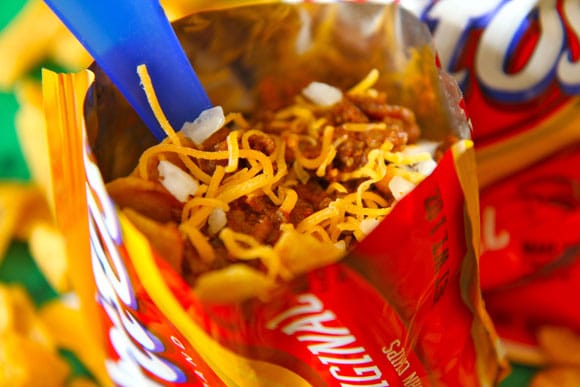 7. Walking Tacos are a hit at almost any party, so why would it be any different at a Super Bowl party?! If you're looking for something that is going to be easy and a great self-serve item for all of your guests, then this is your winner. Take a peek at the specifics over at AverageBetty.com and you'll find everything you need to make this a Super Bowl hit.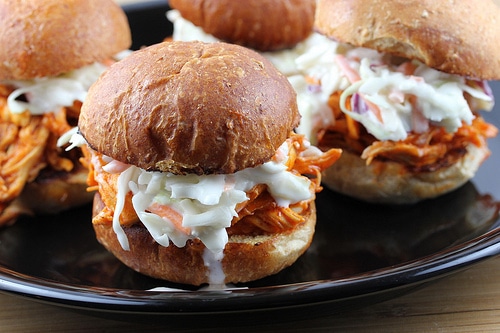 8. I really love sliders. I love their size and they are absolutely perfect for appetizers. And they are just so "in" right now! So these Buffalo Chicken Sliders from BlogChef.net are definitely going on my menu for the Super Bowl this year. I love how they add cole slaw to the slider. What a great way to take a little of the sizzle out of the buffalo sauce!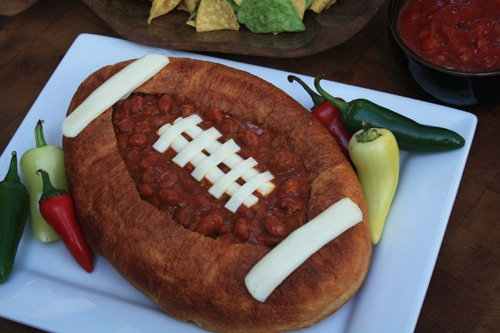 9. Chili is a must at our Super Bowl parties, but this Chili in a Football Bread Bowl takes it to a whole new level! I just love it! Take a peek at the recipe over at JeanneBenedict.com and get ready to make a few football bread bowls in time for your party.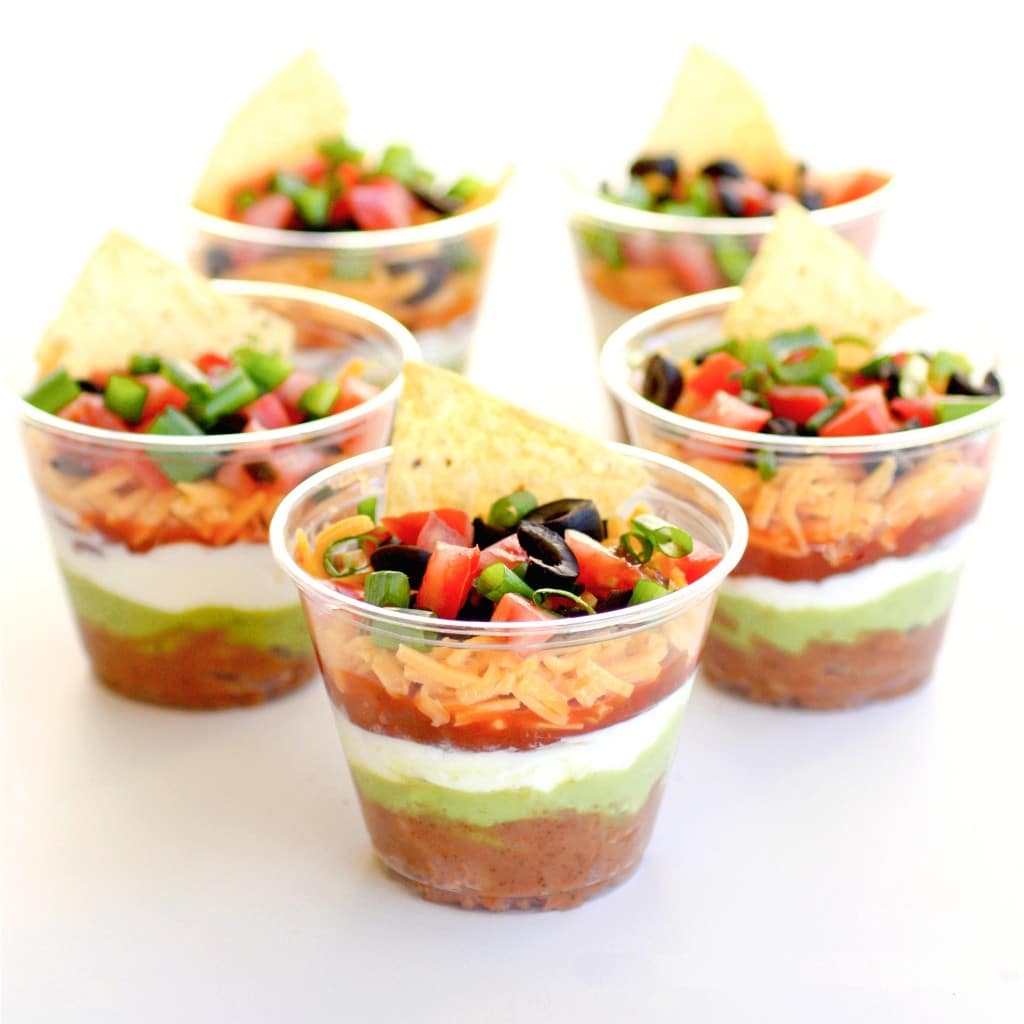 10. Individual Seven-Layer Dip Cups are always a hit. I've made these for parties in the past and they go like hot cakes! Check out the recipe over at The-Girl-Who-Ate-Everything.com and get ready to create these for your party. These are a great stand-out appetizer to bring to someone else's Super Bowl party, too.
Now I can't wait to start digging into these delicious appetizers! Hopefully your team made it to the big game, but if they didn't, at least you can console yourself with these yummy munchies that will be at the party. Enjoy!
Any great Super Bowl staples that you bring out this time of year for the big game? Comment below and give us the recipes that work for your party! 🙂