We earn money from clicks or purchases made via product links in this post.
Take a look at this super easy and delicious way for boiling crab legs at home. You'll never pay the high price for them in a restaurant again! This crab legs recipe is so good and includes a flavorful Old Bay garlic butter sauce for dipping.
I'm not sure there's a meal our family likes more than beer boiling crab legs! Ask them any day of the week and I can almost guarantee they would choose this crab legs recipe for dinner if they could!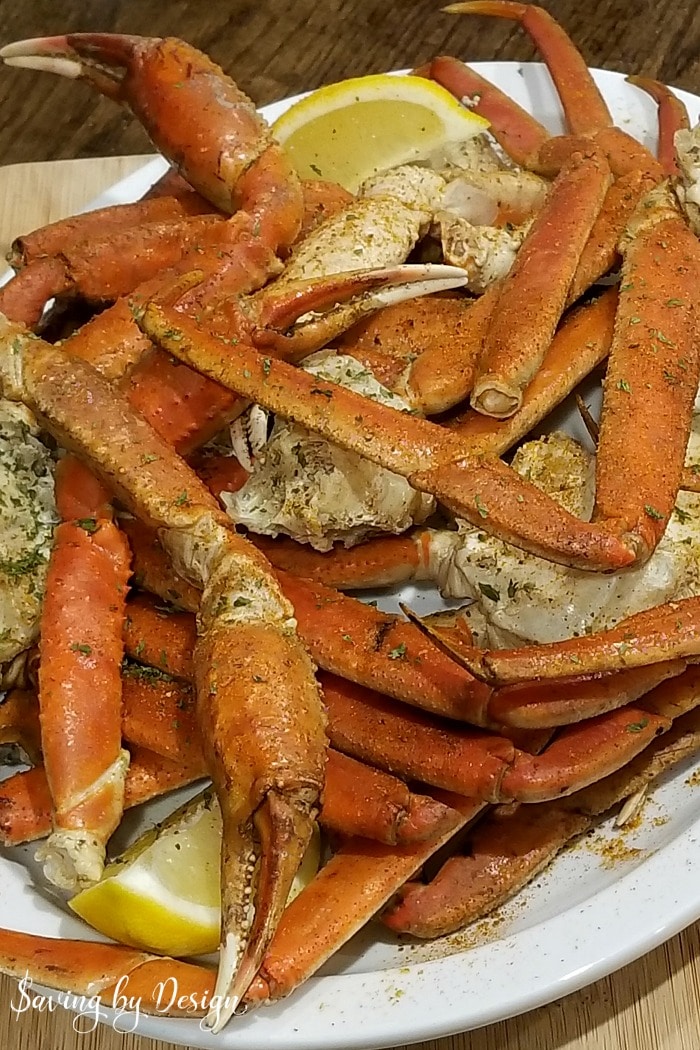 While you might not think of crab legs as a "frugal" meal, grabbing a few pounds of them at $4.99/lb is sure a great deal compared to paying $25 or more at a restaurant for one meal.
We paid only $20 for 4 pounds for our little family feast! While it's not often you'll find a great price like this be sure to watch around the holidays and stock up. Usually I'll find them for $6.99/lb so a little more, but definitely still a lot cheaper than eating out even at that price.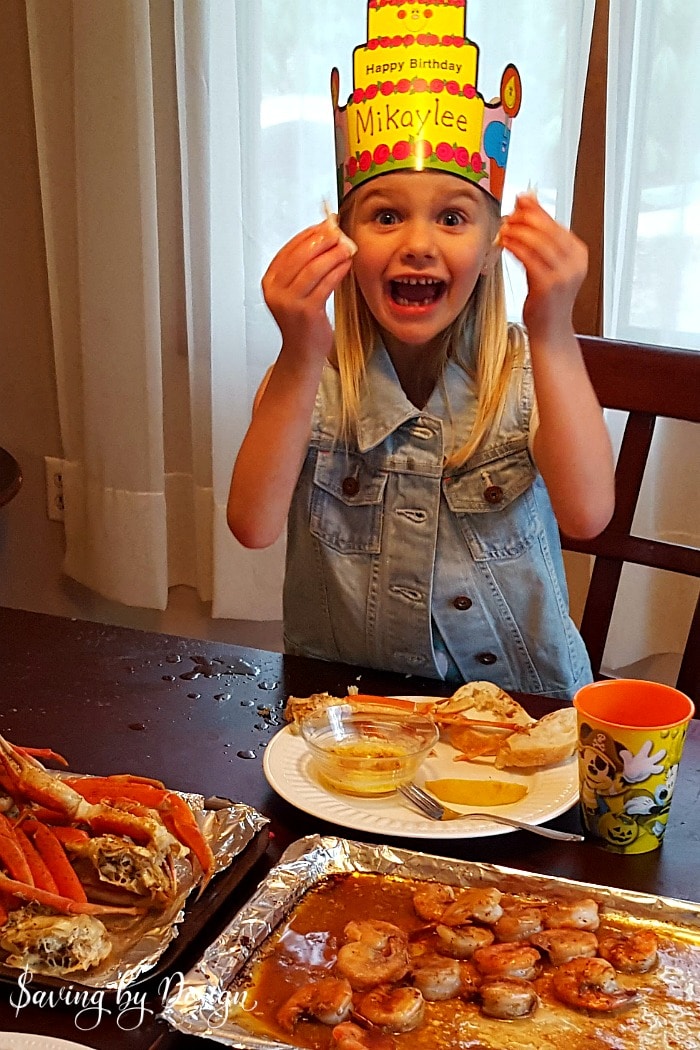 And since my munchkins love them just as much as my husband and I, we're not left with much choice than to make crab legs at home unless we'd like to go broke in the process. Take a look at my daughter woofing them down for her birthday…yep, she's wanted crab legs each year since her 3rd birthday!
As you can see in the photo she also loves this Baked BBQ Shrimp recipe 😉
What's the best way to cook crab legs?
Since I was young, my family's favorite way to cook seafood was to simply boil it.
We always just threw it in a little boiling water with some Old Bay seafood seasoning and wah-lah! Delicious lobster, shrimp, and crab legs!
Now of course there are many other ways to cook crab legs – bake, broil, even grill maybe? But if you are looking for easy and delicious, boiling crab legs is the way to go.
Wondering how long to boil crab legs?
10 minutes seems to do the trick for us!
As I mentioned above, boiling crab legs really can't be much easier…just boil your water, add a bottle of beer and some Old Bay seafood seasoning, and throw in your frozen crab legs.
I can't remember when exactly I found the idea to add a bottle of beer to the boiling water, but let me tell you, we tried it once and have done it ever since! In fact, we add a bottle of beer to any seafood that we boil now.
It just seems to give the seafood even more flavor and (I might be crazy! lol) but the shells look cleaner and prettier too 🙂
Beer-Boiled Crab Legs with Old Bay Garlic Butter Recipe
So without further ado, here is how to make crab legs our favorite way.
Oh my mouth is watering just thinking about the deliciousness of these bad boys!
Ingredients
3 lbs Crab legs
1 Can of beer
1/4 cup Old Bay
1 Lemon
4 tsp Garlic
1/2 cup Butter
Helpful Kitchen Tools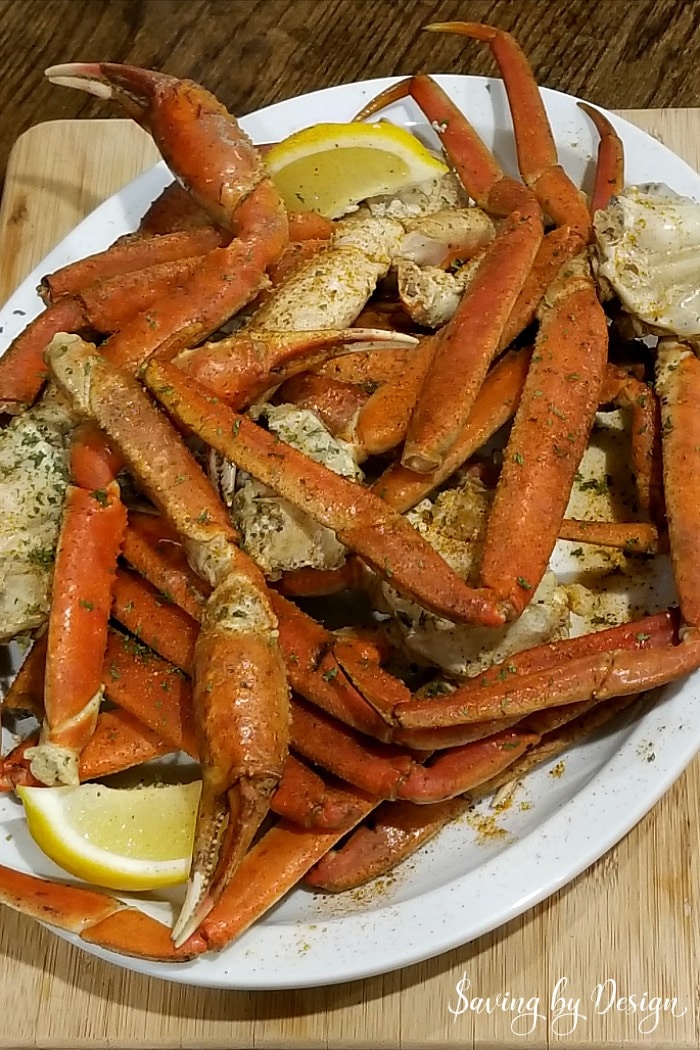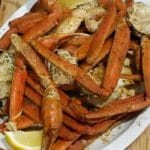 Beer-Boiled Crab Legs with Old Bay Garlic Butter
After trying this super easy and delicious way to cook crab legs at home you'll never pay the high price for them in a restaurant again!

Ingredients
3

lbs

Crab Legs

frozen

1

can

Beer

bottle or can

1/4

cup

Old Bay

enough to make water appear "muddy"

1

Lemon

4

tsp

Garlic

minced

1/2

cup

Butter
Instructions
Crab Legs
Bring a large stock pot of water to a boil. It's best to only fill the stock pot about half way to allow for a rise in the water level when you add the crab legs.

Add beer and enough Old Bay to give the water a "muddy" appearance.

Boil crab legs for 10 minutes.

Drain crab legs and place on a large platter or cookie sheet.

Squeeze lemon juice over crab legs and sprinkle with Old Bay.
Butter
Add about 1 teaspoon of minced garlic and 2 tablespoons of butter to a ramekin for each person.

Microwave ramekins in 20 second intervals, swirling in between, until the butter melts.

Top with Old Bay if desired.
Recipe Notes
Get crackin', dip, and enjoy!
We also like to cook shrimp in this same way. In fact, I actually came up with the butter used in this recipe to put our shrimp in as a kind of easy scampi 🙂
Here are a few more of our favorite recipes…
> Making the Perfect Shrimp Scampi is Easier Than You Think
> Doggie Birthday Cake Recipe – A Special Treat for Your Pet's Big Day
Join Our Food & Recipes Newsletter!
Do you like easy and delicious recipes? How about the best ways to save on groceries and how to make the most of your time with meal planning?

Then subscribe to my Food & Recipes newsletter!