We earn money from clicks or purchases made via product links in this post.
Here are 10 Ways to Survive a Road Trip With Kids. Some may find it daunting, but I think if you try it once, you'll love it!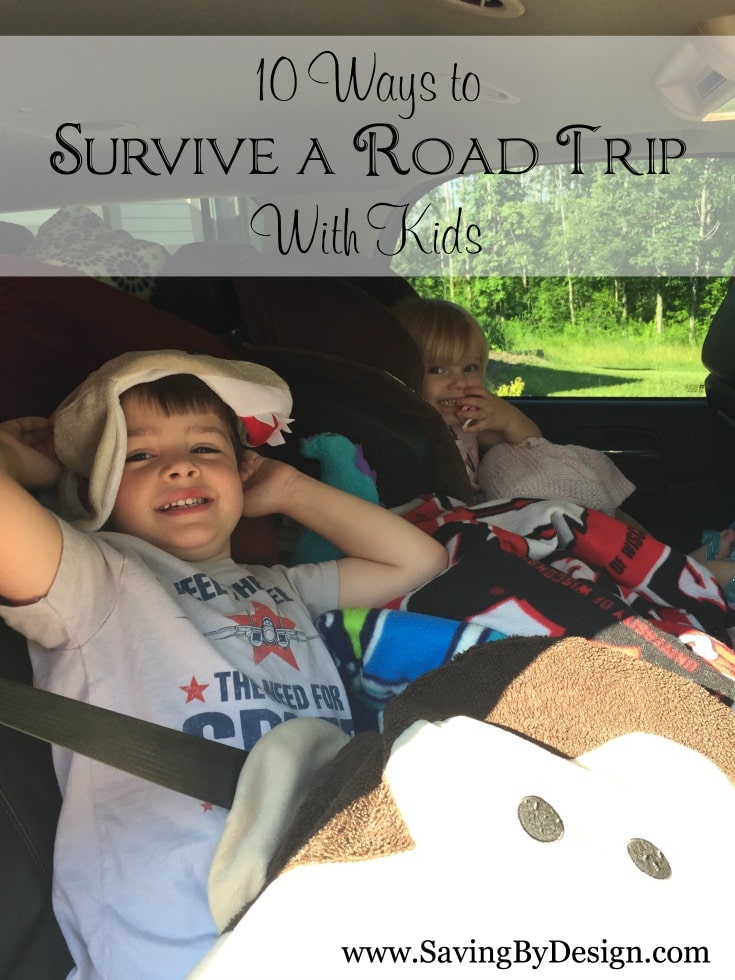 Do you have a family vacation coming up that involves hours and hours in the car? Yup! The infamous road trip! It's not for some families, but I personally LOVE road trips! I love that we can figure out where we'll stop at our own leisure. With young children, it makes it a bit easier when we know that we have the flexibility to stop when we need to. As long as we get started early in the morning and have a lot of great things to keep the kiddos busy, we'll make it to our destination in no time. Here are 10 Ways to Survive a Road Trip With Kids. Some may find it daunting, but I think if you try it once, you'll love it!
10 Ways to Survive a Road Trip With Kids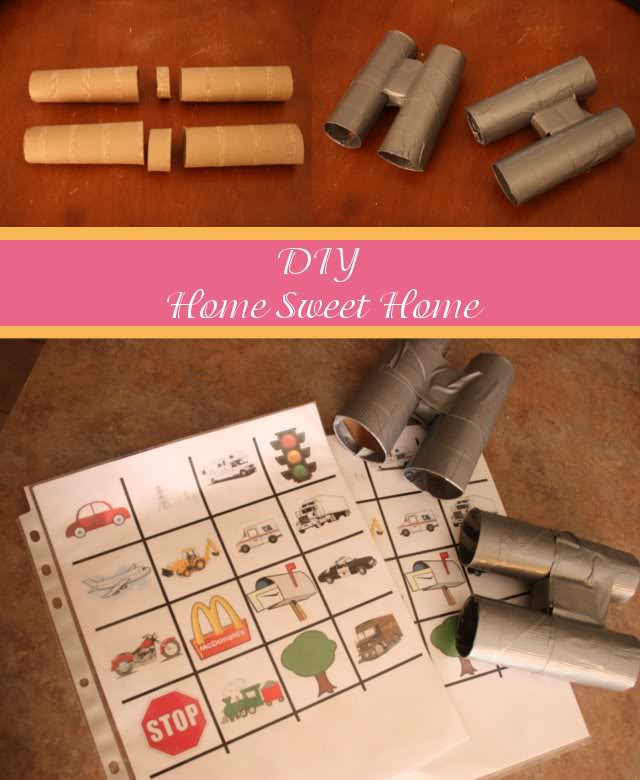 1. Have you ever played "Eye Spy" with the kids? Check out this game by making a list of things to look for along the road on your trip. This specific eye spy game over at DIYHshp.com gives you an entire idea on how to make little binoculars for the kids, too! How awesome is that?! This is a great game I've played with my son before and it's a great way to keep him occupied and living in the moment of the trip.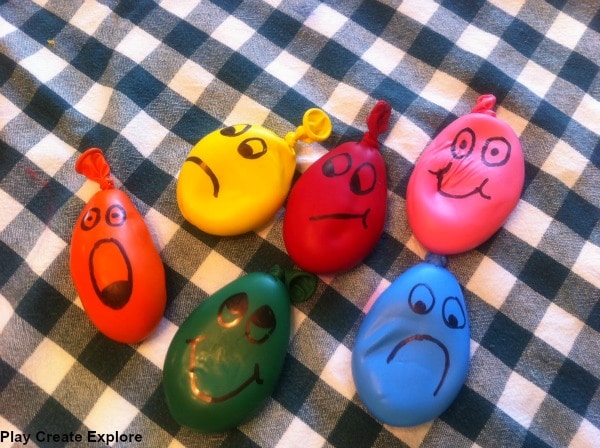 2. These Playdough Filled Balloons from PlayCreateExplore.org are a great way to have a little play dough fun and maybe even relieve a little sibling stress along the way! Kids love these types of things and with them being able to build them with you before your trip, they can decide what kind of fun faces they may want to make on their little road trip buddies.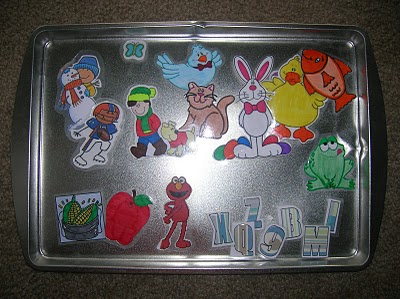 3. These Magnet Boards are SUCH a great things for your kids while you are On-the-Go! SixSistersStuff.com has a great tutorial on how to prepare your magnet boards (cookie sheets, people!) and depending on what your little ones are into, you can make any type of "magnets" that they'd like. I know that for my little guy, we're going to practice some sight words along with the fun characters, too. Perfect!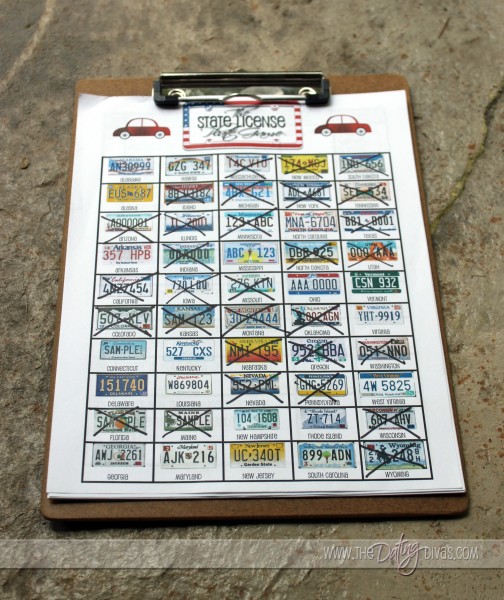 4. Everyone loves a good search for state license plates while you're on vacation! This State License Plate gem from TheDatingDivas.com also has FREE Printables! How can you resist?! My kids might be just a little bit too young to truly enjoy this great road trip staple, but we're definitely going to try it out and start teaching them the best road trip game of all time! 🙂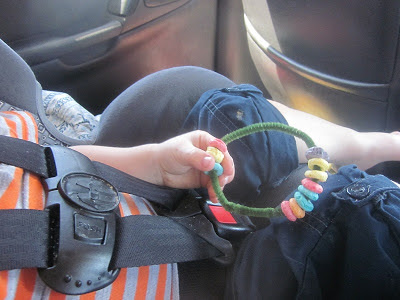 5. How about making some Necklaces with Fruit Loops and Pipe Cleaners? What a great idea, found over at WePlay2Learn.com. I think there is a 50/50 chance that the fruit loops will actually make it on the pipe cleaners, but maybe we'll make a few before we leave home, too. I think this is a great little snack idea when you make a quick pit stop, too. So cute!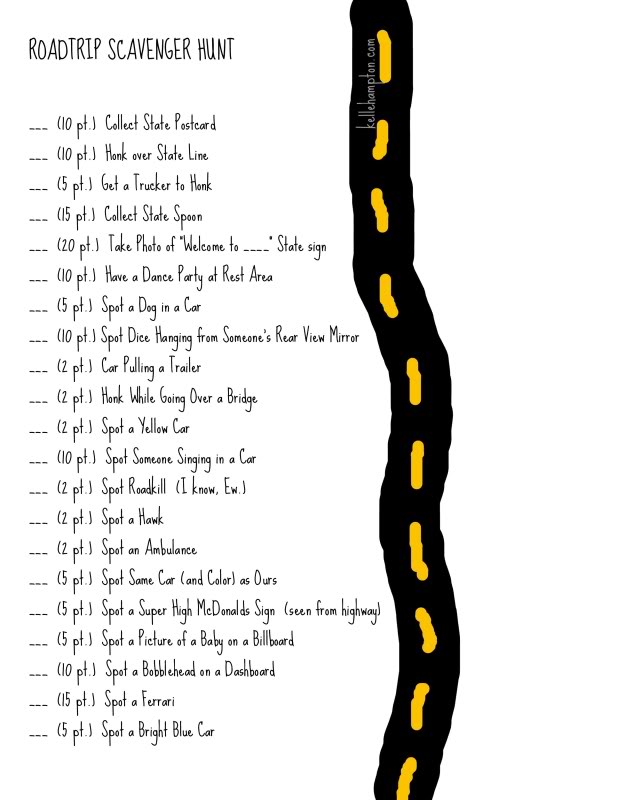 6. The older kids will love this Travel Scavenger Hunt over at KelleHampton.com! While I never promote competition in the car with siblings (because we all know how that will turn out!), you might be able to create a couple teams and see what you can come up with. Or, just take the point totals out so it's just a nice and friendly game to see who can find the things on the list. 😉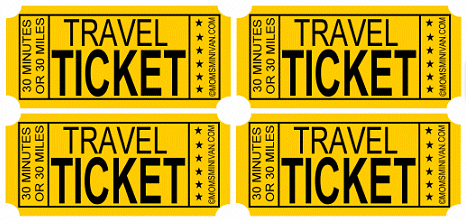 7. I don't know about you, but I have two kiddos who LOVE to ask "Are We There Yet?". Over. And Over. 15 minutes out of the driveway! So when I saw these ingenious Travel Tickets over at MomsMiniVan.com, I knew this was definitely going to have to come with us on our next trip! Did I mention they include FREE Printables?!?!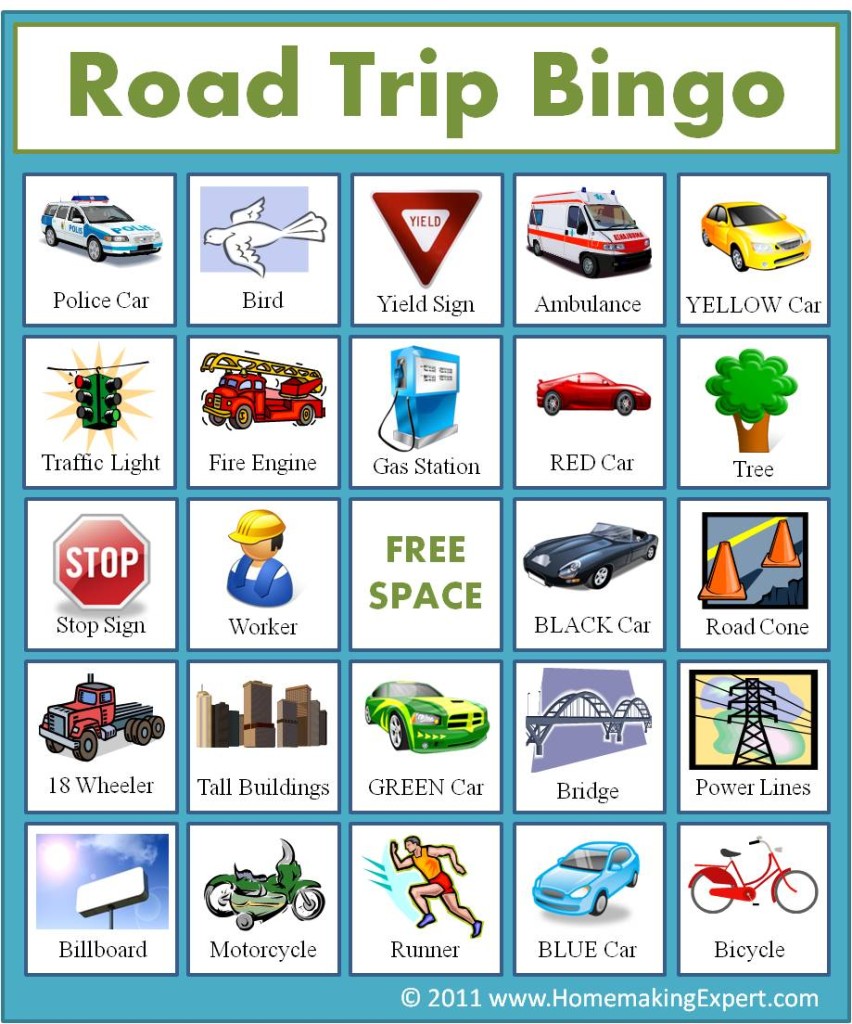 8. Ready for a fun little game of Car Bingo? Head over to MomsMiniVan.com and grab the FREE Printables to get the party started on your next road trip! Grab some fun bingo daubers and have the kids go nuts! I might even have to get in on this game.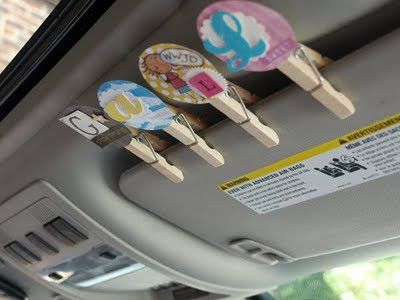 9. In my experience, a little Reward System in the Car during a long road trip isn't necessarily a bad thing. This fun system found over at TheFrugalFamily.org will help you keep everyone in line!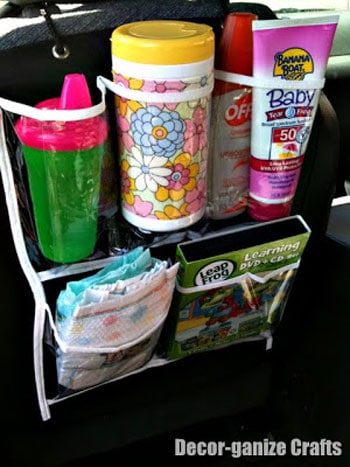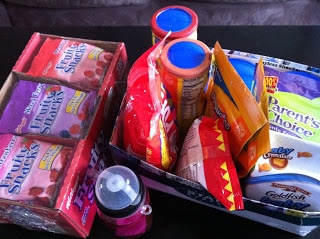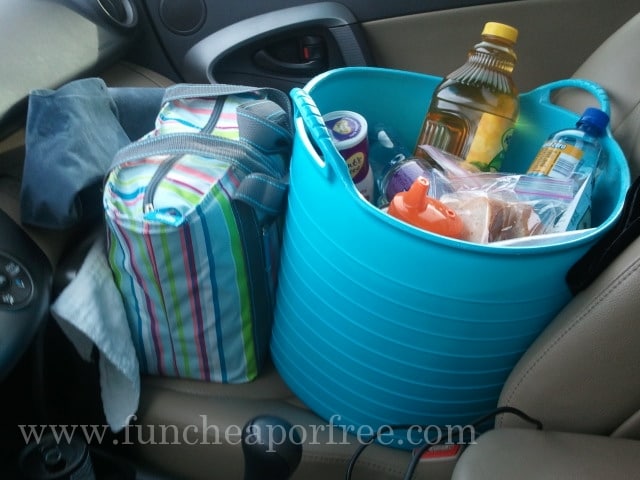 10. One of the best ways to survive a successfully family road trip with kids is GREAT Car organization! Keeping things contained when it comes to snacks, books, games, food, etc., is so important so you know where all of the big things are at a moments notice will always help. There is nothing worse than searching through 5 coolers and containers to find the one thing you're looking for. UtahCountyMom.com and FunCheapOrFree.com have some great ideas to help you out. And garbage bags… don't forget to take garbage bags for collecting all of those empty wrappers and drink containers along the way.
Well, hopefully these great ideas will get you through any fun family road trips you may having coming up! There is just something so "All-American" about the family road trip and being able to explore this beautiful country of ours. My family has a road trip planned for this summer and all of these fun ideas are getting me more and more excited! Being able to explore all of the little unknown spots that we never would have thought of as we pass by it and getting the kids pumped for random surprises is the best! Have fun!
Do you have favorite activities that you do to pass the time during a family road trip? Have you tried any of the above? Comment below and let us know how you get to your destination without losing your mind! 🙂