We earn money from clicks or purchases made via product links in this post.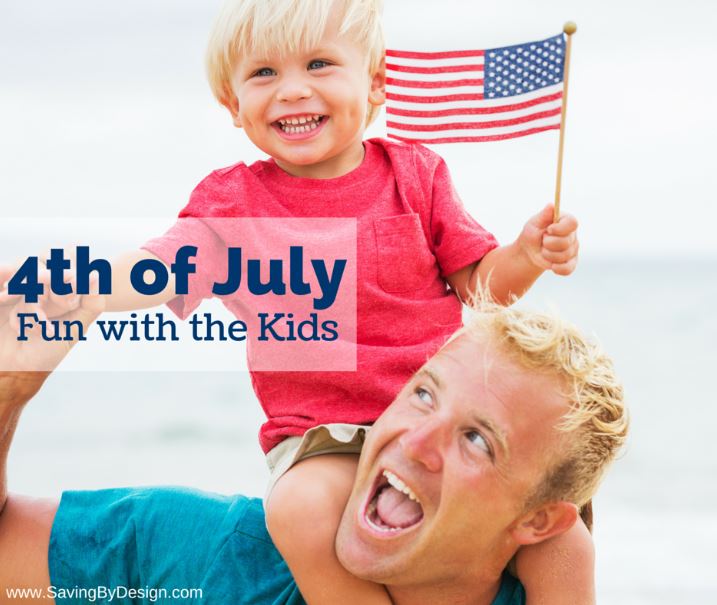 With 4th of July being my favorite holiday, I love to pack in lots of fun-filled family activities for us to enjoy! After all, it's a birthday party for America, right?! Why wouldn't I want to celebrate?! 4th of July Fun with the Kids is always such a treat. I love watching their eyes light up at all of the fun things we do and it's such a fun, carefree time for family, friends, neighbors, and everything in between. Here are some things we do every year, along with a couple I'd love to be able to try out with the kids some year soon. Enjoy!
Festivals and Parades
I don't know about specific activities in your area, but in mine, there is no shortage of local family fun provided by the city and nearby towns. A couple towns hold festivals all day long that include games for the kids, rides, food tents, and about anything that would make the friends and family enjoy a fun-filled day together! My kids LOVE these types of activities and could play games over and over and over. They have such a great time.
Many of our local communities also hold parades during the day that we try to make an appearance at. The kids are getting more and more involved with school and extracurricular activities, so I'm sure soon they are more than likely going to be a part of the parade with one of the organizations. But for now, they enjoy watching all of the animals, bands, floats, and especially the organizations that throw candy their way. Who doesn't love a great parade?!
Water Fun
Anything that has to do with water on a hot, summer day is right up my kids' alley! Last year we threw a party for our family and the kids spent more time in the water than anything else. They played with a water table we have for toddlers, they ran through sprinklers, they played with water balloons, pulled out the squirt guns, and even resorted to dumping buckets of water on each other. It was so much fun to watch them loving life and of course, I had cute little 4th of July swimsuits on them. They had to be festive for the holiday!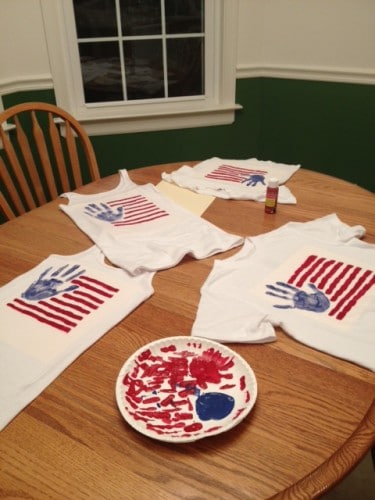 Independence Day Shirts
This is a really cute way to make sure the family who dresses together, celebrates together! Over at KidBlog.org, they give a tutorial on how to make Independence Day Shirts for the whole family! Get a white t-shirt or tank top in the sizes for everyone in your family and get ready for a little craft time the day before the 4th of July! With everyone's hand print, along with making the red stripes for the "flag", everyone will have their own shirts to wear out for the big celebrations you'll take part in together, as a family. How cute!
Patriotic Thank-You's To Our Troops
One thing I am going to start with my son this year, now that he has a better understanding of what 4th of July is all about, is by having him (along with his Dad and I) write little thank-you letters that we can send to the troops for defending this great nation of ours. If you're looking for specific ways to support our troops that your family can be a part of, check out Military.com and take a look at the awesome ideas they supply for family participation. I just love this and we plan on doing things off of this list for Veteran's Day and Memorial Day in the future, as well. What a great way to celebrate our nation's birthday!
Finally… FIREWORKS!!!
Well, duh…you didn't think I'd miss this one, did you?! In the past, we went to a great big firework celebration in a local community. It's the biggest and the best around and the kids were awed by the grand display of fireworks that they never even thought were possible. It was amazing! We've also gone more low-key and purchased fireworks that we (as in my husband) lit off ourselves (and were legal, of course). The kids loved being a part of the smaller ones and they definitely took a liking to the sparklers that we played with, too. You HAVE to celebrate 4th of July with fireworks!
Here is to a safe and happy holiday for you and your family! However you are going to spend it, I hope that you will be with the ones you love. Have fun!
What does your family like to do on the 4th of July? Comment below and share your great family fun ideas! 🙂