We earn money from clicks or purchases made via product links in this post.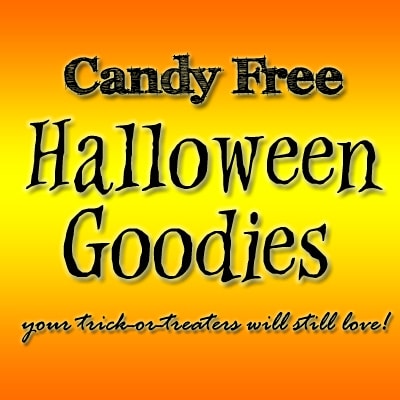 When little hands come knocking at your door on October 31st, we always ask for tricks before we hand out treats. Instead of giving chocolate and sweets, why not try these candy-free treats!
To find out what kids would like I thought I'd ask my two munchkins. As you'll see this was not rehearsed and they had no idea what I was going to ask them…
Well, that didn't go exactly as planned and apparently my kids are candy addicts…maybe because they don't get much candy when it's not a holiday or special occasion! Nevertheless, I'm sure they would be just as happy getting some of the goodies below 🙂
Buying in bulk is a GREAT way to SAVE check out these alternative treats for your trick or treaters or for Halloween class parties.
Toys
2 dz Eyeball Erasers-$9.95
1 dz. Halloween Pencils – $2.49
120 ct. Eureka Halloween Stickers– $4.99
(Great idea to cut stickers and give out as individual)
4 dz. Plastic Fang Whistles -$16.98
6 dz. Glow Fang teeth– $12.99
100 Glow stick bracelets – $8.50
(10 different colors)
6 dz. Boo Bunch Tattoos – $2.99
Snacks
80 pouches Welch's Fruit Snacks– $20.19
36 packs Austin Zoo Animal Crackers– $14.95
36 packs Sandwich Crackers– $16.72
24 packs Goldfish Crackers– $13.09
Remember Amazon prices can change at any time!