We earn money from clicks or purchases made via product links in this post.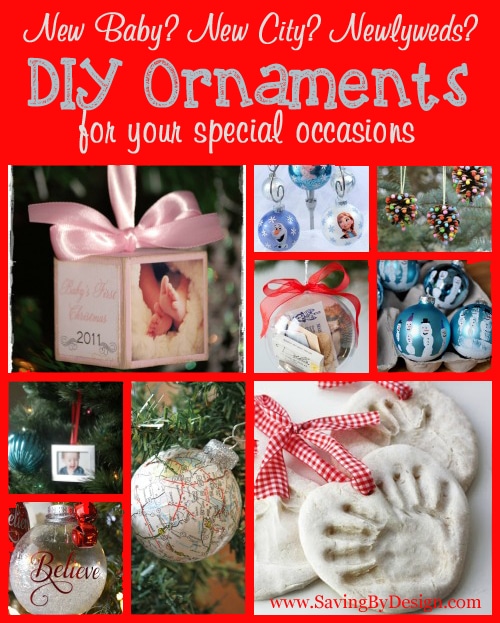 What is more fun than creating different DIY Ornaments for your tree? Or, if you're looking for a fun DIY gift for the holidays for a friend or loved one, a DIY Ornament would definitely do the trick. What a great gift! I'm always looking for a great DIY project that adds a little extra meaning to our holidays, especially when there is a special event to commemorate. Just moved into a new home? Remember it with an ornament the whole family helps to make. Or maybe there is a new baby on the way in your family? What a great gift to commemorate the occasion! Whatever the case may be, making DIY Ornaments for your special occasion will always hold a special place in your heart!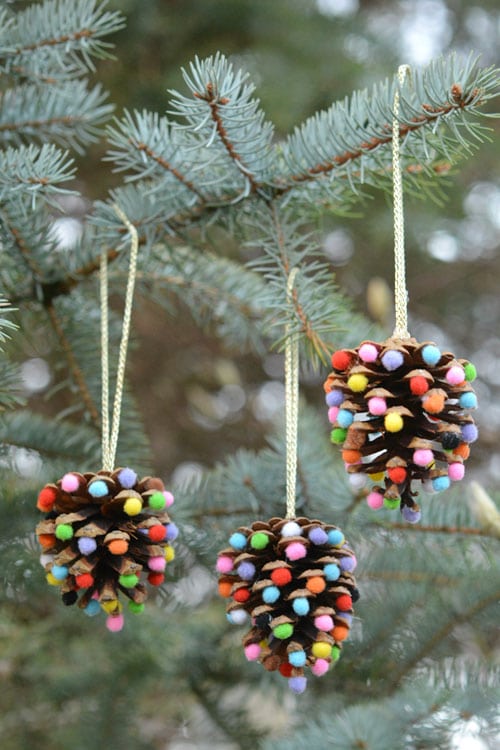 1. These fun Pom Poms and Pinecones ornament from OneLittleProject.com is such a great creation to make with the little ones! Head out and grab some pine cones from your yard or from your local craft store, add a little glue, and have them add pom poms wherever they would like! Have them color coordinate with their favorite colors or Christmas colors. Have fun!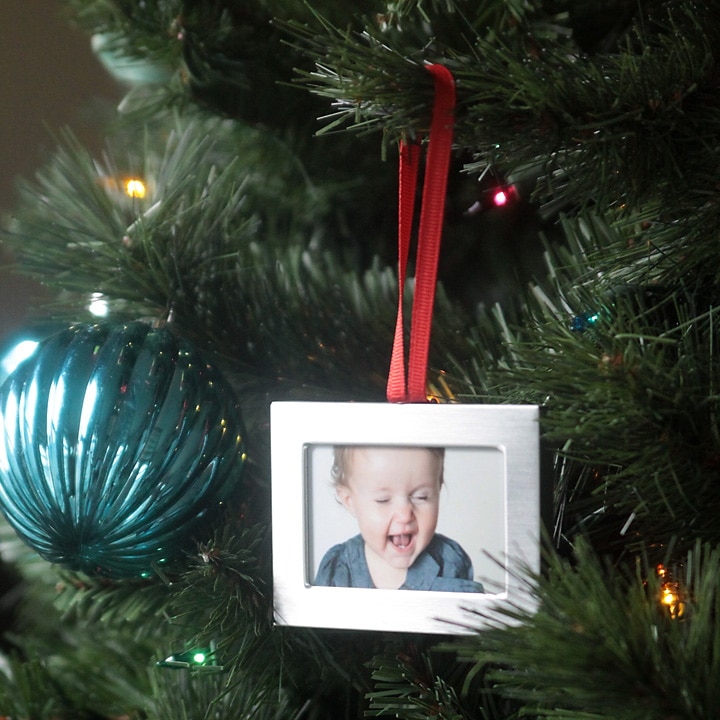 2. There isn't an ornament much easier to make than this DIY Photo Christmas Ornament from ItsAlwaysAutumn.com! Head on over to the Dollar Store ton find frames that you can use on the cheap, print out a favorite picture for a gift or for your own tree, and voila! Add some ribbon to it so you can hang it from the tree and you're all set.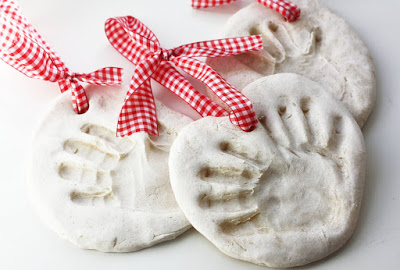 3. Have some sweet babies in your house or that you know you can make for a gift for someone else? Then these Salt Dough Hand Print Ornaments from ByStephanieLynn.com are just for you! The dough is really easy to make and I've done with with my own kids before. It's a piece of cake! Before the dough hardens, make a hole with a straw at the top of the ornament and you'll be able to string some ribbon through to hang on the tree.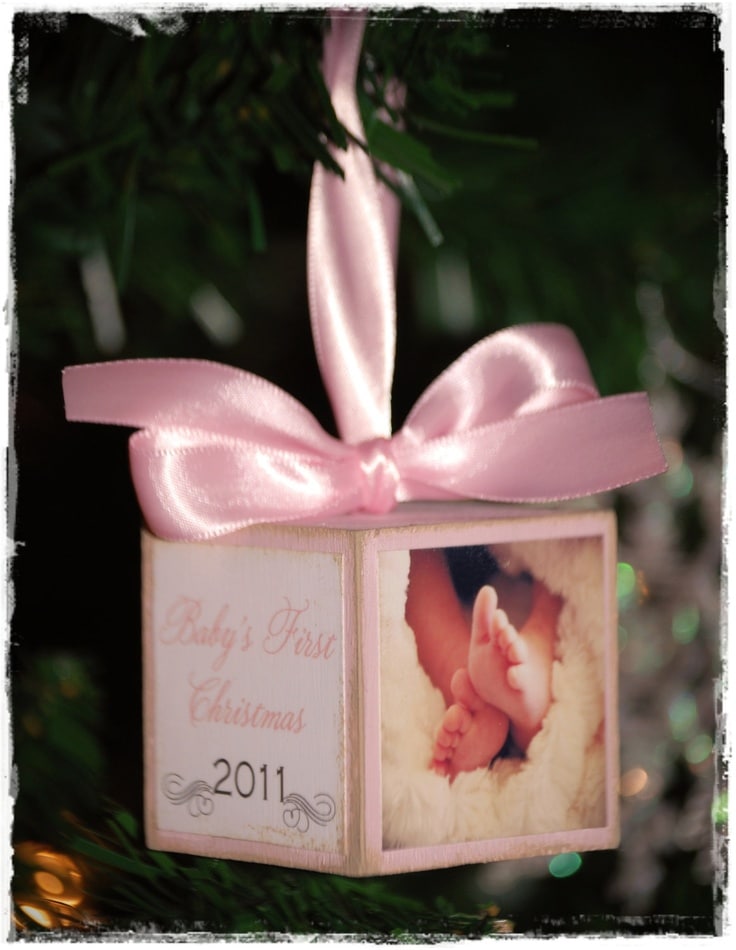 4. Have a new baby in the home? This Baby's First Christmas Ornament is absolutely amazing! This is a special project that was made by a store over on Etsy.com, but you could totally make one of these yourself. Grab a craft block from your local crafting store, those sweet newborn pics you always want to remember, and write whatever you want and print it off to stick on the block, as well. Cover everything with some Mod Podge, hang with a bow, and you're all set! If you want a weathered look like above, take some sand paper at the end and rough it up as you see fit. Perfect!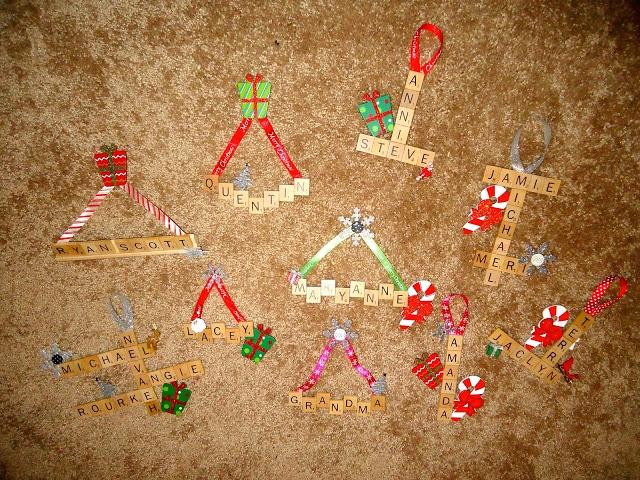 5. I absolutely love these Scrabble Name Ornaments that I found over at ACraftyEscape-Katie.com! How unique! Create a mix of any names that you may want. This would work great for a new family ornament, a newlywed ornament, kids' name ornaments, or just about anything in between!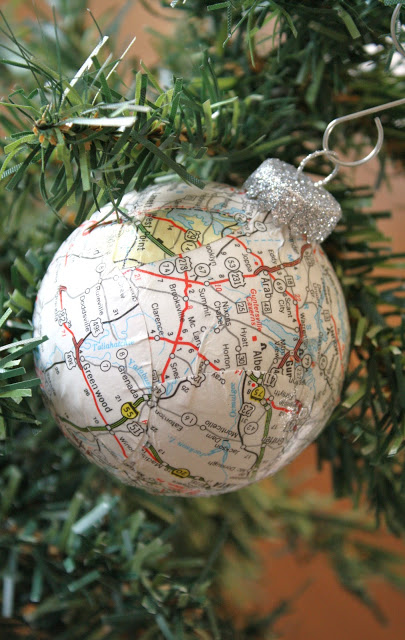 6. Did you take a special vacation this year? Move to a new city? This Decoupaged Ball Map Ornament seen over at ADiamondInTheStuff.com will be a great way to always remember your travels. I just love making ornaments like this that savor those special memories we made throughout the year!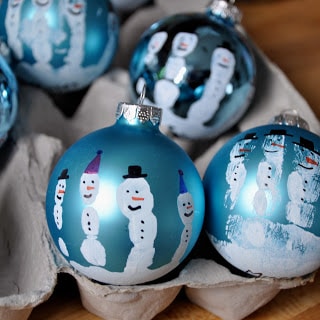 7. What parent doesn't love to see their sweet kid's handprint as they grow? This Handprint Snowman Ornament from LittleBitFunky.com, is such a cute idea for your tree. Or have a special grandparent that would adore seeing their grandchild's handprint made even more cute by some sweet little snowmen? This is definitely going to be a winner!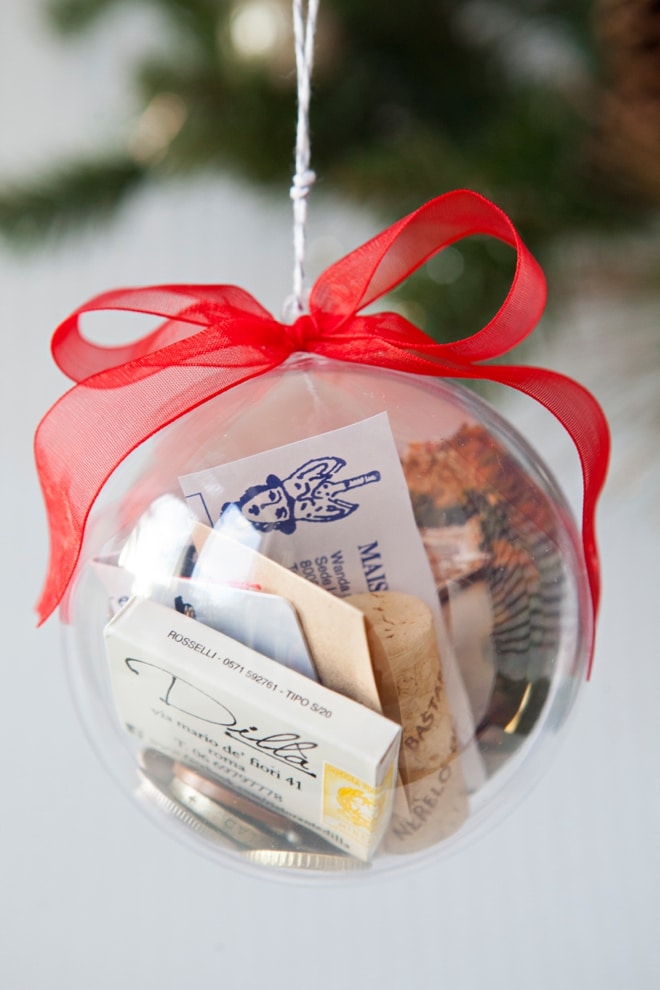 8. This Wedding Keepsake Ornament found over at SomethingTurquoise.com, is such a great idea to ALWAYS have the special keepsakes from your wedding displayed every year. How sweet will it be in 5, 10, or 15 years from now when you're unpacking all of your ornaments every year and there is that great reminder to take you down memory lane? And how fun will it be to show the kids all of the special memories from your wedding or honeymoon? What a great DIY Christmas ornament!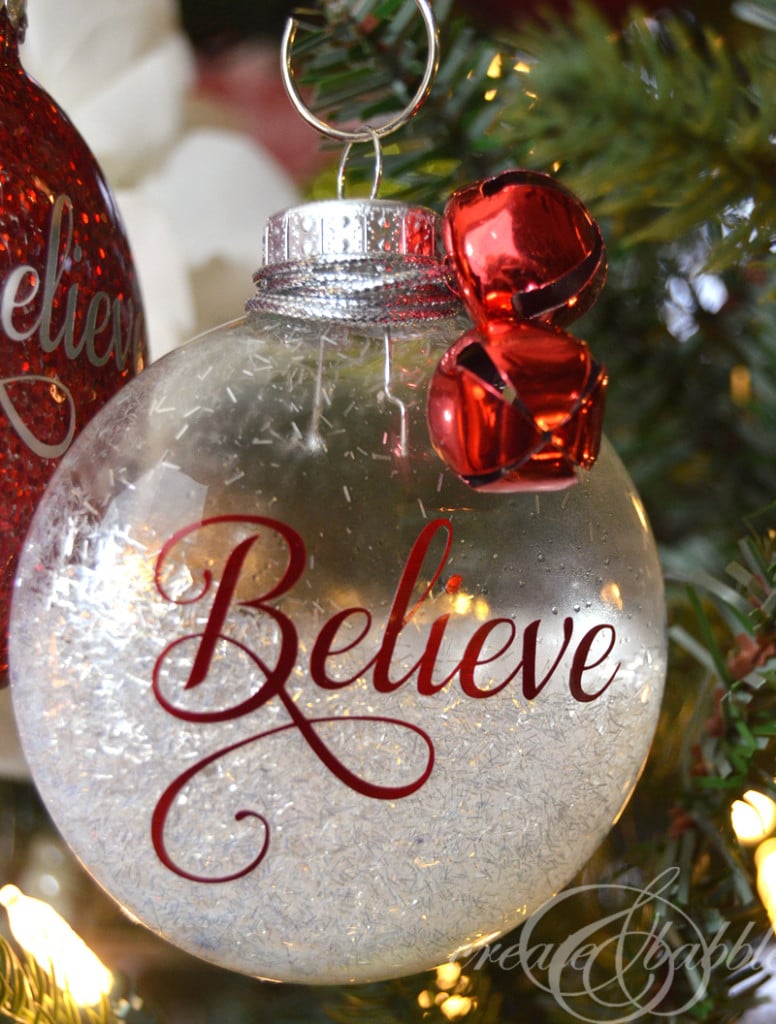 9. You will be able to make this great DIY Glitter Christmas Ornament, found over at CreateAndBabble.com, with no problems! Get the easy tutorial on their website and you're not going to have any problems following along. I love the glitter factor for this one. It's so beautiful!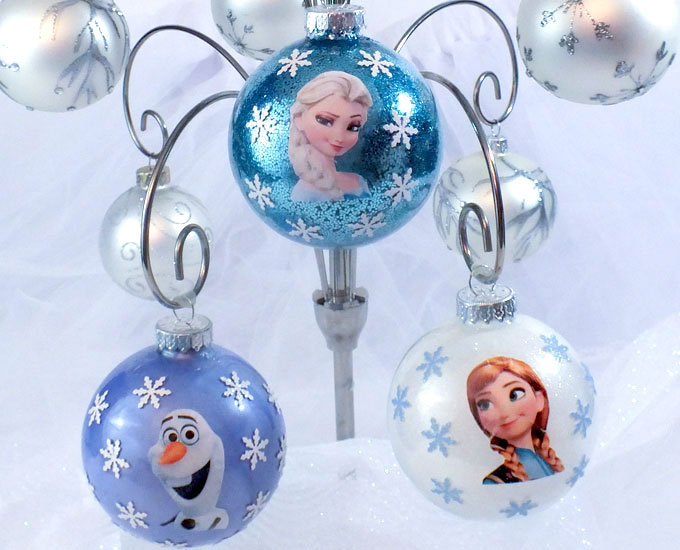 10. Do you have some Frozen lovers in your house? Than get their help to make these perfect DIY Frozen Christmas Ornaments! There is a great step-by-step guide on how to make these over at TwoSistersCrafting.com, and the kids are going to love helping you out with this one!
And just like that you'll have some wonderful ornaments hand-made from your heart. Or you'll have some great memories to look back on with an ornament you may have created with your child. No matter what the case may be, you're going to have some great looking ornaments for your own tree or some gifts that are going to be remembered for many years to come!
Have you created any great DIY ornaments recently that you'd love to share? 🙂