We earn money from clicks or purchases made via product links in this post.

As you can imagine from the store's name, Dollar General is a great place to find a deal! But don't let that name fool you…in addition to some of the typical dollar store finds there is also a great selection of Procter & Gamble, Kimberly Clark, Unilever, Kellogg's, General Mills, and Nabisco products at great prices. Obviously I love deals on groceries and household products, but I also love the craft, party, and seasonal deals that can be found there!
Saving at Dollar General is easy. As I mentioned you'll already find awesome prices on many items, but in addition they also accept coupons. To get started, the best place to look is in the Dollar General sales ads. There are weekly ads along with monthly and special seasonal circulars. Taking advantage of stacking all the coupons available will help you save the most when shopping there.
Coupons
So what coupons are available? In addition to the manufacturer's coupons you'll find in your newspaper, magazines, or online, Dollar General also offers store coupons, mobile coupons, and transaction coupons. Once in a while you'll find a store coupon in the sales ads, but the best place to find store coupons is on the company's website at the Dollar General coupon center. In the coupon center you'll find both manufacturer coupons and store coupons. The store coupons will have a "DG Store Coupon" on them, and yes, you can combine a manufacturer and store coupon for extra savings!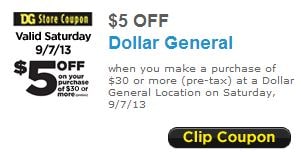 In the coupon center you'll also find store transaction coupons when they are available. These are coupons for an amount off your total purchase, such as $5 off a $25 purchase. Transaction coupons can also be combined with store and manufacturer coupons, but must be handed over before all other coupons or the register might not accept it. If you plan on shopping there, it's a good idea to view and print the Dollar General coupon policy to be sure you are always following the store rules 😉
Mobile Savings
Don't forget to download the Dollar General mobile app! With the app you'll be able to find the Dollar General store closest to you, easily view the current sales ads, create and share shopping lists, redeem coupons, and even check the Dollar General twitter and facebook streams for additional savings. Dollar General mobile alerts are available too where you'll receive a text message with first notifications on sales and promotions, events, and instantly redeemable mobile coupons.
Shop Online

If there isn't a Dollar General near you, you can shop online to still take advantage of many promotions. There's usually a great FREE shipping offer too such as "FREE shipping for purchases $25 or more!"
Store Matchups
Take a look at the Dollar General deals page to view the current deals available at Dollar General! You'll find the entire weekly, monthly, and/or seasonal ad matched up with coupons available to help you save the most! 🙂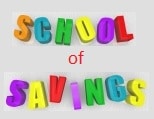 Learn how to save at many other popular stores too with my School of Savings posts!