We earn money from clicks or purchases made via product links in this post.
Get ready because Easter is going to be here before you know it. Here is all the inspiration of Easter table decorations you'll need to put together a gorgeous table for your family!
Easter is right around the corner! One thing that I absolutely love doing, heck, any holiday if I'm honest, is creating a gorgeous Easter table decorations for our family get together.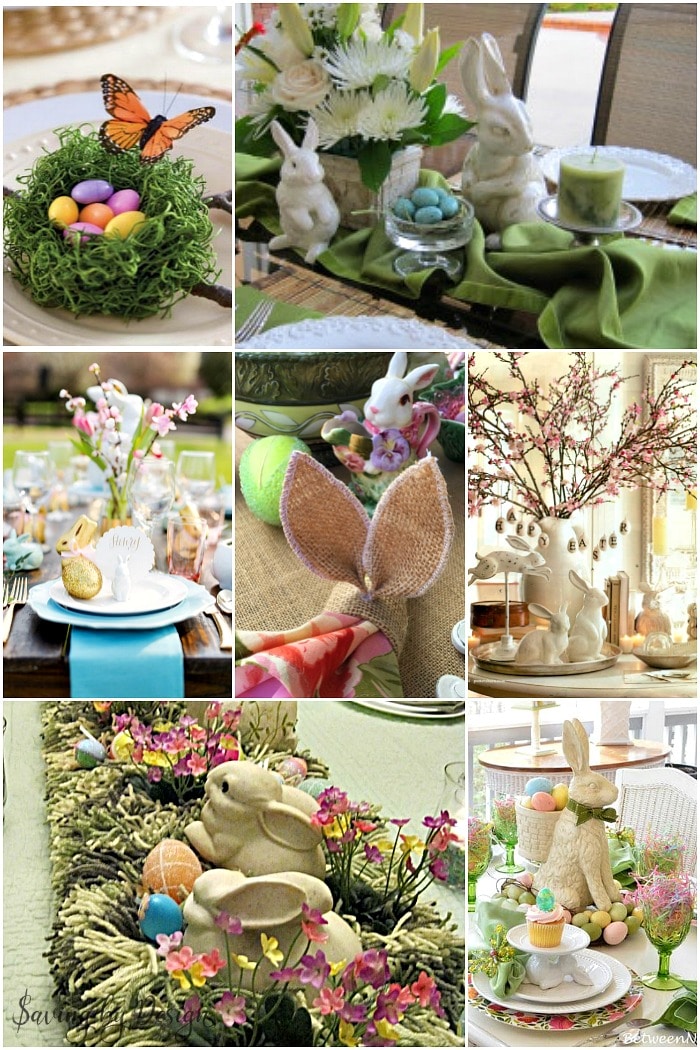 It's so much fun to put cute tables together and I love seeing the joy and excitement that my kids have once they see it. It has always been a source of pride for me, but sometimes, I just get burned out.
How many times can I create new things?
So I was on the hunt for some fun Easter tablescapes, which definitely didn't disappoint. Get ready, because Easter is going to be here before you know it. Now you'll have all of the inspiration you need!
10 Gorgeous Easter Table Decorations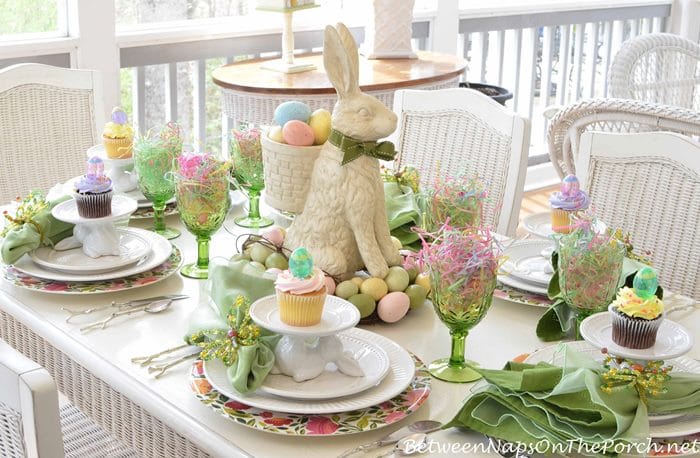 1. This Spring Table Setting with the Easter Bunny couldn't look any more festive! I love what BetweenNapsOnThePorch.net did with their Easter set-up! Best of all? The giant Easter bunny that was used as the centerpiece. Also… I love the idea about having the cupcake at everyone's place setting. Although I'm sure my kids would NEVER make it through dinner without biting into that first!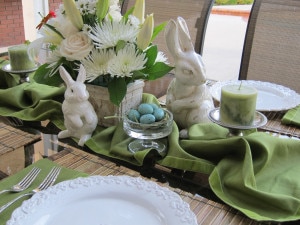 2. I just love this Spring Green Bunnies and Eggs Table from LoriCurie.com! The bunched up table runner gives such a fun feel for the tablescape and all of the green just screams spring! Finally!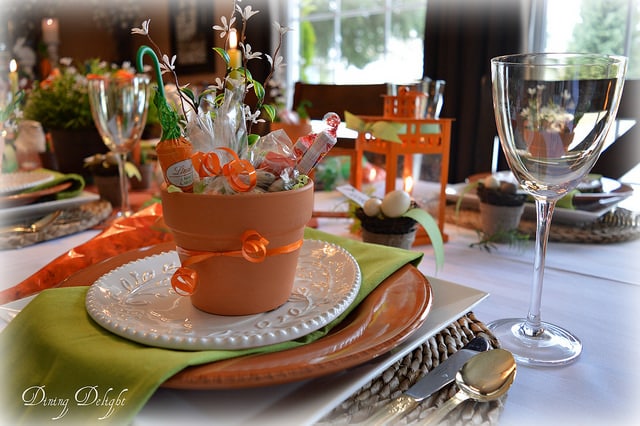 3. How adorable is this Carrots and Bunnies Easter Table? Those amazing "Easter baskets" that are in the terra cotta pot…how unique! Check out more about this tablescape over at Dining-Delight.ca. Orange plates with green napkins? LOVE!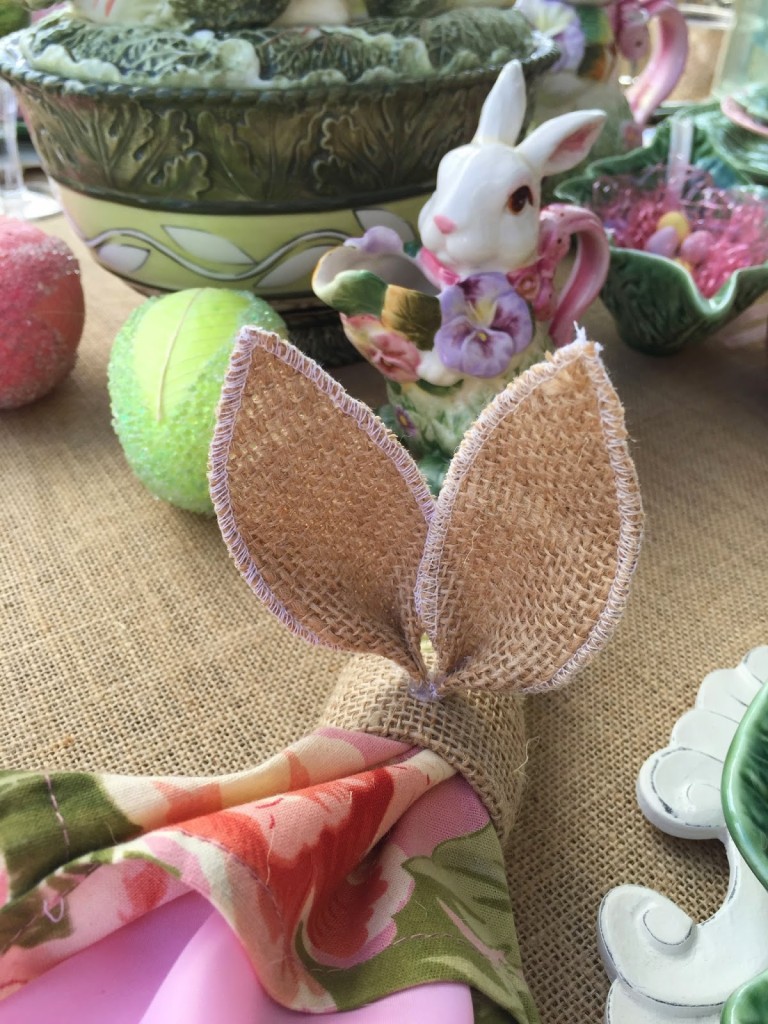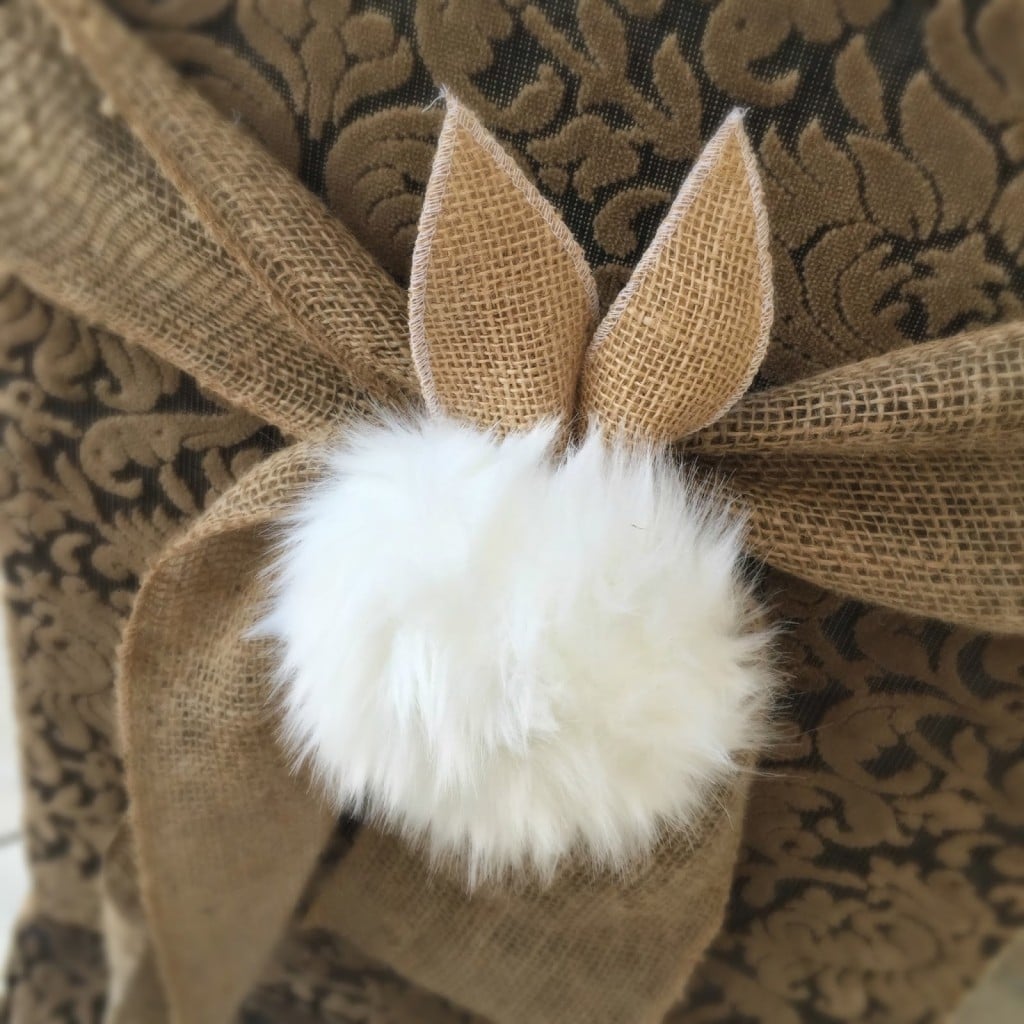 4. I'm a sucker for hand-crafted napkins on a table, so this Peter Cottontail Tablescape from PurpleChocolatHome.com ranks high on my list for this Easter. Not only are there to-die-for burlap napkins, but that bottom cottontail item? It's a chair cover and wrap! I absolutely can't wait to make these little chair covers for our Easter celebration 🙂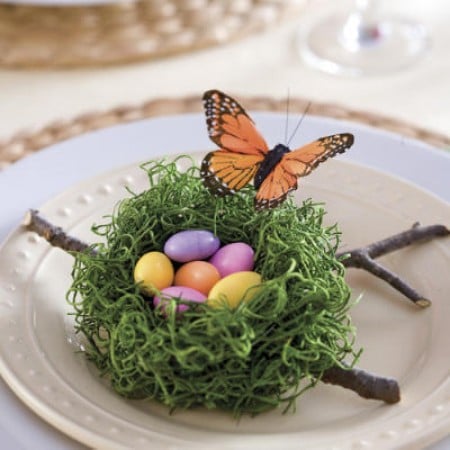 5. This Birds Nest Place Setting is so sweet and simple. I love having cute little items that can be used as a place setting and if you want to get super fancy, you can even write names on place cards and put them in the nest, as well. Bravo, StageTecture.com!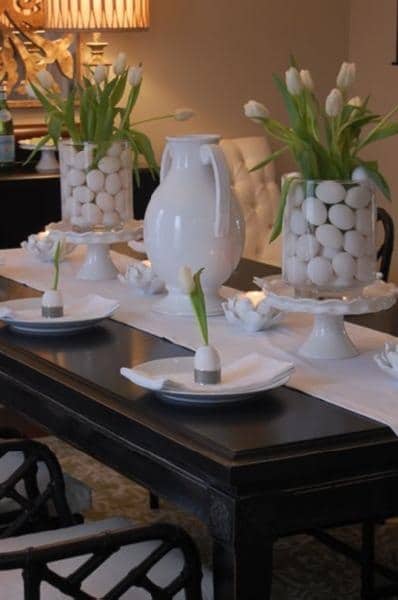 6. Nothing is quite as elegant as this gorgeous white Easter Tablescape idea from DecorPad.com! Easter is all about new beginnings and a fresh start in the eyes of many, so this tablescape would be the perfect fit if you're looking for something similar. And look at those sweet place settings! One egg with a single white tulip in it. Simple, yet gorgeous!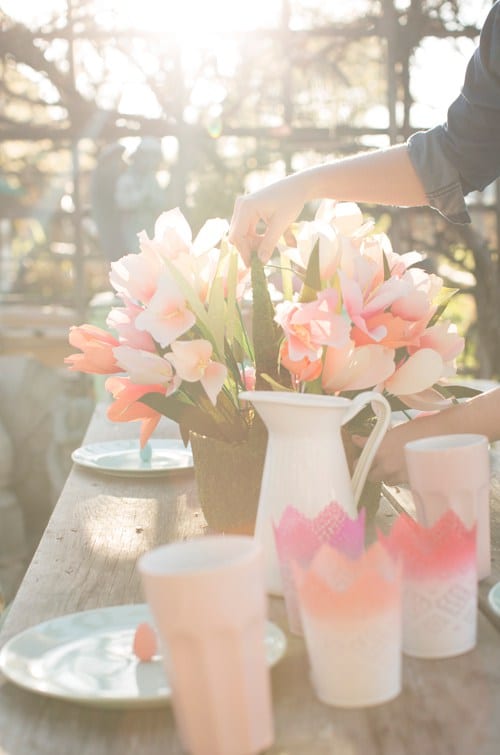 7. I'm all about this amazing Spring Pastel Ombre Table! Found over at TheHouseThatLarsBuilt.com, it's the perfect mix of sweet and sunny to wow everyone at your Easter celebration. How could you not instantly be in a good mood when you are around such a fun and colorful table? And spring is all about pastels, so this will fit in perfectly with your spring holiday get together!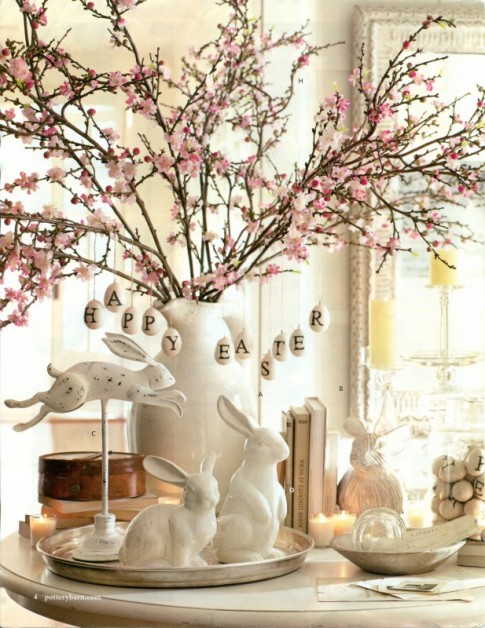 8. This. I mean, really? I'm in love. The Clean Cherry Blossom Centerpiece Table Setting from TheAdventuresOfLesaLina.com is one of those table settings that comes along where you are just completely blown over and WOW'd! I just love those cherry blossoms that are used as the center piece and the Happy Easter eggs that are hung from the branches are such a great way to call out the day. This is the epitome of Easter and Spring!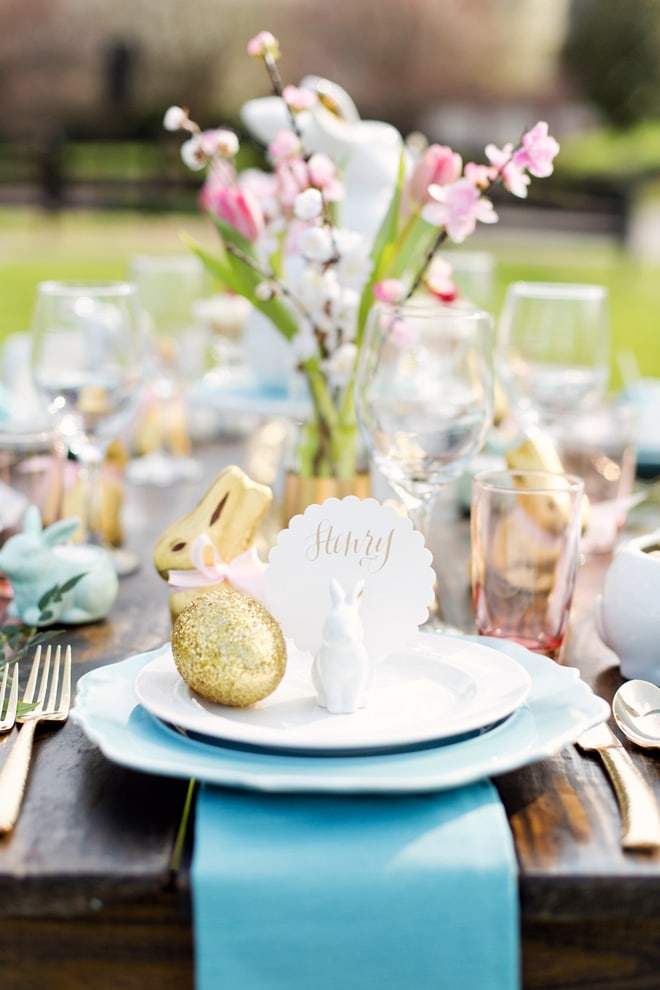 9. Looking for something that will complement the rustic theme you're looking for? Maybe you have a gorgeous wood table and want to make sure your Easter table fits well. Then you have to check out this Rustic Chic Easter Tablescape from PizzazzErie.com. I love the pinks and blues, but the glittered gold bunnies and eggs that are found around the table are absolutely gorgeous! A little burlap would look great on this table, as well. I love rustic decor!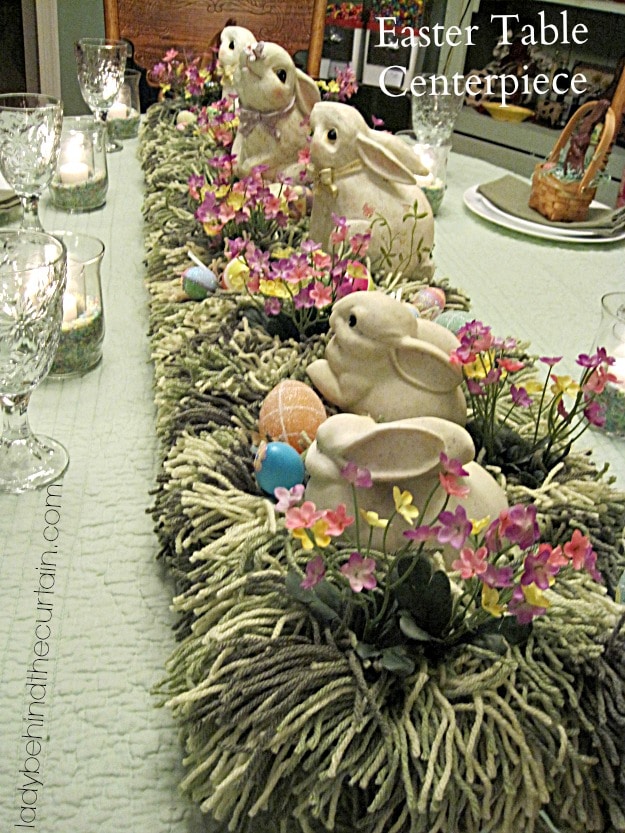 10. These Bunnies in the Grass Easter Table is such a unique theme and something I'm dying to try now that I've seen it! Get all of the DIY instructions over at LadyBehindTheCurtain.com. I just love how the yarn is used in this table to create a sweet nesting area for the little bunnies that are spread throughout the table!
There you go! I think I have ideas and inspiration for at least the next few years! Now, I'm going to start scouting out what I need and work on getting the best deal possible. Time to head over to my local dollar store.
Have fun and enjoy creating a wonderful tablescape for your family this Easter!
This post originally appeared at SavingByDesign.com on March 10, 2016.