We earn money from clicks or purchases made via product links in this post.
There's no reason why you can't save at least a little on your routine weekly shopping trips. Here are a few easy steps, that won't take too much time, to find extra savings at the grocery store.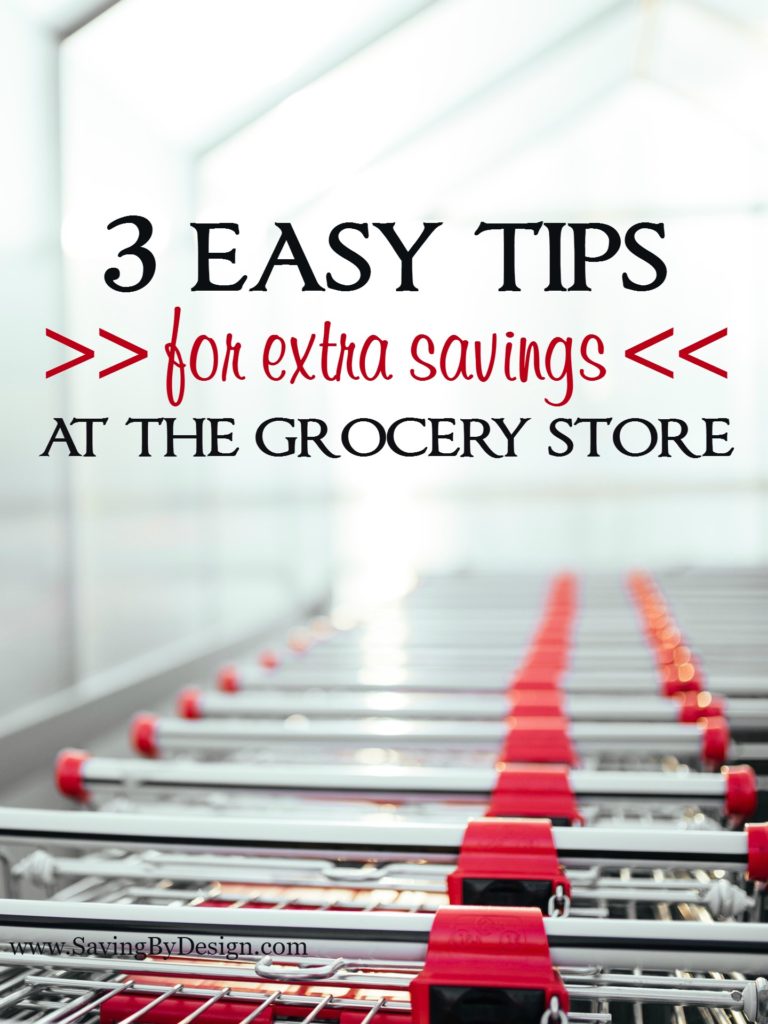 You're probably familiar with the term extreme couponing and know that it can save you tons of money. You probably also know that the more "extreme" you are in your couponing, the more time it takes to find deals and keep your coupons organized.
What if you don't have extra time to spare right now?
Maybe a more "casual" approach to couponing would work for you!
Join Our Food & Recipes Newsletter!
Do you like easy and delicious recipes? How about the best ways to save on groceries and how to make the most of your time with meal planning? Then subscribe to my Food & Recipes newsletter!
3 Easy Tips to Find Extra Savings at the Grocery Store
There's no reason why you can't save at least a little on your routine weekly shopping trips. Here are a few easy steps, that won't take too much time, to find extra savings on your next store run.
1. Shop from the sales ad to find extra savings at the grocery store
The first thing to do is shop from the weekly sales flyer.
Of course there are some items that you won't find on sale such as milk, but do as much of your shopping as you can from the ad. Stock up on items with a great price…buying enough for 6 weeks is plenty since that's about the time it takes for sales to cycle and come back around.
2. Compare brand pricing to find extra savings at the grocery store
That being said, it's never a bad idea to compare store brand pricing to brand name sale pricing either. Just because something is on sale doesn't mean it's necessarily the best option in terms of both quality and pricing. There are actually quite a few store brand items that I prefer over the big brand name items. I'm sure you'll find a few that you prefer too!
3. Look through various coupon sources to find extra savings at the grocery store
Finally, it's time to look for extra savings with coupons.
I do this by quickly running through a few places for easy savings. I'm not saying you need to check each and every one of these coupon sources below. To get started check only the ones that work best for you.
Don't have a smartphone? Skip the apps and use coupons from newspaper inserts.
Don't like paper clutter? Try printing only the coupons you need or checking apps.
Remember, the best routine to save is the one that works best for you!
My personal routine includes checking…
Store coupons. Check to see if your store offers their own coupons. You might find them digitally, either in an app or available to print, or they might even be mailed to you if you are part of their rewards program or on a mailing list.
Coupon inserts. Even with all the fancy technology that allows you to find coupons just about everywhere, don't forget to check the good old coupon inserts. With extreme couponing it's usually best to keep the whole insert, but with a casual approach simply clipping the coupons you know you'll use is fine.
Printable coupons. If you don't check coupons available online, you can be missing out on some easy savings. While the dozens of sites you can find coupons at may be overwhelming, just checking Coupons.com can usually get you some great savings. Last week when I checked Coupons.com for my shopping trip there were 39 pages of coupons available – 39! Don't worry, if you don't have time to flip through all those pages, you can easily sort by category to find what you are looking for 😉
Coupon apps. These days there are quite a few money-saving apps. My favorites include Ibotta, SavingStar, and Checkout 51. I like these because they are easy to quickly check for coupons and offer the best savings.
Rewards card. This is the easiest of all! Don't forget to swipe that store rewards card at checkout for exclusive member savings!!
As you can see, you don't have to take an all or nothing approach with couponing. Choose the steps above that work for you and work on perfecting your grocery store savings routine over time.
Looking for a quick fix?
I'm happy to say there is an easier alternative than figuring everything out for yourself. If you are looking for a way to quickly cut grocery spending in half, you're going to LOVE the Grocery Budget Makeover!
For less than the cost of one weekly trip to the store, The Grocery Budget Makeover is a total spending overhaul that will help you stop overspending, stop wasting money, and forever change your mindset and strategy when it comes to grocery shopping for all your family's meals. There's even a payment plan available to help the cost of the course fit within your monthly budget.
Registration for this online video course is currently closed, but you can join the waitlist here.
What is your favorite way for extra savings at the grocery store?