We earn money from clicks or purchases made via product links in this post.
Are you thinking about making the transition from working mom to work at home mom? Here are some easy tips to help you make this huge step a success.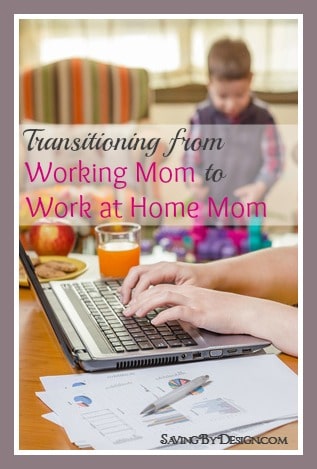 Recently, I've made the jump from the working world that included stability, a great income, and "adult time" to deciding to staying home with my kids and pursuing my own business at from home. I'm still waking up thinking I must just be on vacation this week, but no…this is my family's new lifestyle!
So why did I do it? For me it was for two reasons.
First, I've been building my own business while continuing to work outside the home full-time and it was simply getting to be too much. I feel very blessed that things have worked out well enough where my husband and I felt confident that staying home to work and being with the kids on a more consistent basis was going to pan out, but it all happened much faster than I imagined!
Second, and most important…my kids! I have two beautiful children that I want to be around for! I don't want to miss the milestones, highlights, field trips, and school pick-ups that I was having a hard time managing while still working outside the home. I wanted the flexibility to set my own schedule and work when I wanted so I was able to participate in other things that matter to me.
How to Transition from Working Mom to Work at Home Mom
That all being said, I knew it would still be a struggle to maintain my business from home while still parenting all day long. Here are some ways I've handled the transition from working mom to work at home mom…
1. Build a Budget Based on Your New Income BEFORE Quitting the Full-Time Gig!
This was a big one for my husband and I. We worked and reworked the numbers for weeks before finally feeling confident that we weren't going to financially ruin our family.
Even though my business is bringing in an income that we are very comfortable with right now, it's definitely more unstable working for yourself than it is working for a large corporation that takes care of your insurance, retirement funds, sick time, vacation time, etc. We wanted to MAKE SURE all of our t's were crossed and i's were dotted before I finally gave my notice. And we STILL keep going over the budget even though we've already done it about 10,000 times!
We made sure we were comfortable with our emergency fund and all of our ducks were in a row before I handed my job that resignation letter.
2. Set Up A Comfortable and Productive Work Space in Your Home
One of my favorite parts of working from home is that I can work from ANYWHERE now! I'm not chained to a desk and can work outside on the deck while the kids are playing, can spend a few hours at my local coffee shop while the kids are at an activity, or can pack up the kids and head out with my hubby on a business trip he might have and work from a different city!
But…I also knew right away that I was going to want to set up a "home base" in my house where everything would be centrally located for me to work uninterrupted and to handle client calls when needed. It helps me stay motivated and is easier to keep track of my professional goals with a desk, printer, and "office" to work from.
My husband helped me convert an extra bedroom in our home into my office where I now have everything I need to go to and be productive in a quiet space (with a lock on the door 😉 ) for an uninterrupted period of time. The kids know this is Mommy's Room and under no circumstances when we have set up the time for me to work in it, am I to be bothered! So far, so good!
3. Do Some Working-From-Home Test Runs
Consider your time an investment when you first begin your working-from-home venture.
I spent close to a year building up my business and working from home in the depths of night, while still working my full-time job. It was stressful and definitely was difficult, but it did do one thing…it gave me a lot of "practice" on how working from home would actually be. There were days when I would solely focus on my home business and would figure out how to make the time work for my family in the best way I could.
It wasn't always easy, but it was a great step in preparing for how it would be once I was working from home for good!
4. Plan Out Your Weeks
Organization is key! Just like when I was working outside of the home, having a weekly planner is a MUST HAVE! Now I just use it in a bit of a different fashion.
My husband and I will sit down and figure out when he is going to be able to watch the kids for an extended time and that will be "work time" for me. I also make sure I know what activities and events are on my family's calendar so I know when I WON'T be working and don't plan a client call during those times. The family is then able to see on the weekly board what is in store for the week, and when Mommy is going to be working.
Sometimes my work time is at night or over a weekend, and some days I have no work time scheduled at all. But as long as we have planned things out and everyone is aware of what is going on, it has made the transition much easier for everyone. When I plan out my weeks, I also try to plan out the meals and home-based activities for the kids too.
If I have free playtime with blocks and Legos set up for the kids for part of a day or arts and crafts planned ahead, I know what they will be doing and know that they will be entertained and engrossed in some learning along the way. It definitely helps with any mom-guilt I may have if I have to hop on a quick client call or need to send out a few emails!
5. Plan Activities With Your Friends (aka – Other Adults) On A Regular Basis
I'm very lucky to live by some amazing girlfriends who I have always had regularly scheduled activities planned with in the past. But now that I'm working from home and don't have that daily adult interaction with co-workers, it's become more important and valued than ever!
A handful of these friends stay home with their children, so it's been nice to grab some mid-day coffee breaks while the kiddos are in school, or plan a dinner out once the hubbies are all home and can take over the childcare duties for a couple hours. It's also allowed me to do something that was one of the main reasons I worked so hard to succeed in my home business to begin with…to become more involved in my children's schools. It's been great being able to make PTO meetings and becoming more involved on committees that help to make my kiddo's education stronger and I'm very thankful for that new found flexibility with my time!
It's important to still connect with other adults and to get out of the house. Nobody wants to become a hermit!
6. Get Some Help
Part of the reason working from home has been successful for me so far is because I've had help.
I'm lucky that my Mom happens to live minutes away and watches my kids for me a few times a week while I strictly focus on work. She loves the time with her grandkids, I love the time knowing I can stay focused, and the kids love the time they get spoiled by Grandma.
By all means…if you are also able to find some help during the day, even if it's one day a week, TAKE IT! You may not have family close to where you live, in which case, ask friends for references they may have that you could use. Do you have any neighbors that might fit the bill? And in the summer, check out if there are any high school kids that you know who may want to come over for a few hours during the week to help you stay on track with your workload.
It is one of my saving graces and if I wasn't able to have my Mom help with the kids, I would definitely be looking at other options to keep that focus that comes with a few hours of outside help a week!
7. Be Flexible and Set Realistic Expectations
Kids get sick, you get sick, unexpected emergencies arise, and everything isn't always going to go as planned. Even if you plan out your week and have the best of intentions, not everything may get accomplished that you were hoping for. But the key is to not stress about it!
You will have to make sure priorities are covered and after that, there is always tomorrow. Or next week!
Flexibility is key when working from home because you just never know what the day will bring. Part of the benefits of working from home means that when school calls because your kid just puked all over the school nurse, you'll be there in a matter of minutes. But that also means you may not accomplish as much work as you expected and you have to know that days like that will happen! If you're lucky, you'll be able to use Tip #6 to your advantage on days like this, but if not, enjoy the moment and know that this too shall pass 😉
Everyone has to set their own rules when they are going through a transition such as this, but these are things I have done that have definitely helped me out. There are also a couple books that I read before making the big move to make sure I totally knew what I was in for and felt as prepared as I possibly could.
How To Become A Successful Work At Home Mom (Work At Home Mompreneurs)
Preparing to be a Work At Home Mom – A Mom's Lifestyle Guide with Advice on how to begin to Earn Money at Home + Home Business Ideas
Better yet, take a look at The Ultimate Work at Home Bundle!
This brand-new, limited-time bundle includes 30 eBooks, 14 full eCourses, 4 printables, and 1 audiobook, all carefully vetted to get you up to speed on finding real work-at-home opportunities (AND making your work + life balance better once you're working from home).
For six days only, everything you need (and then some) is in one fabulous package, for the most affordable price ever.
These top-quality resources cover everything you need to give you the skills and confidence to do fulfilling work, at your favorite place in the world 🙂
You'll get a complete library to help you…
Identify your marketable skills
Juggle your responsibilities and finally find work + life balance
Manage your time efficiently (and never let anything fall through the cracks again)
Avoid the most common pitfalls of the work-at-home lifestyle
Understand the legal and financial implications of your business
Discover the secrets to getting into the business that most appeals to you, whether it's a wholesale product, service-based, handmade, transcription, becoming a VA, or any other number of opportunities
and so much more…
Besides being so incredibly helpful, one of the things I like best about the bundle is the price. By offering it for a short time only, you'll get access to over $2,300 worth of amazing products for a whopping 98% off!
LEARN MORE OR GET YOUR BUNDLE HERE
Interested in working from home?
Subscribe to get the latest work from home
opportunities, information, and tips by email.