We earn money from clicks or purchases made via product links in this post.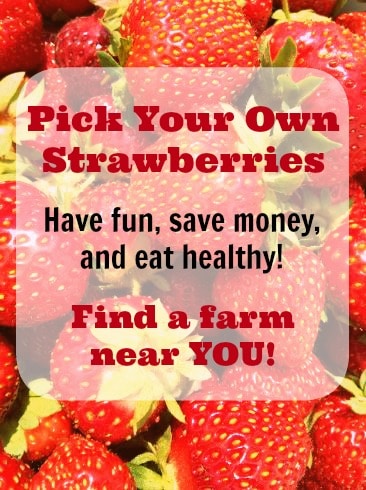 A super fun thing you can do with your kids is taking them to a pick your own farm! Strawberries are out around here now so that's where we went a few days ago. Not only are you saving money (I paid $14 for over 13 pounds of strawberries!), but you are also teaching your kids just where their yummy food comes from. What a great way to make them want to eat healthier 😉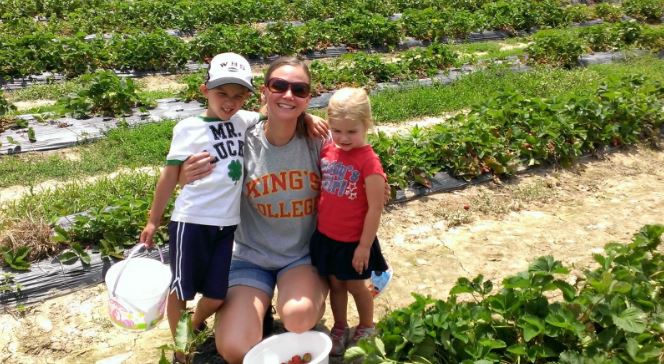 Wondering what to do with all those yummy berries? See how to freeze your strawberries and enjoy them for months to come! Strawberry season usually peaks in early June, but blueberry season will be following right behind it!
Find a Pick Your Own Farm Near You
You can find a local pick your own farm near you at PickYourOwn.org. And the picking doesn't stop at berries…there are also lots of other pick your own crops listed such as pears, apples, peas, beans, and of course pumpkins in the fall, along with when their growing seasons begin and end. Be sure to bring your own containers as some farms may not have them available. Most farms also have farm stands where they sell pre-picked produce. You'll often find a variety of in-season fruits and vegetables straight from the fields. Also at PickYourOwn.org you'll find easy freezing, canning, and drying instructions along with how to make jam, apple butter, applesauce, spaghetti sauce, salsa, pickles, ketchup and more.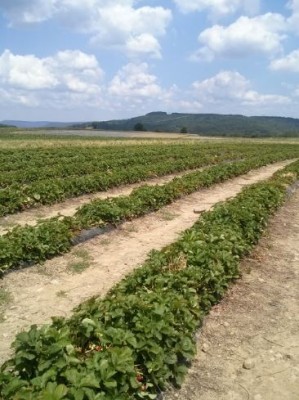 Summer is here! YAY! With summer comes kiddos home from school looking for something to do. Keep their little minds busy over the next few months with fun family activities that won't break the bank. Watch Saving by Design for some ideas and be sure to check out our #FrugalSummerFun photos on Instagram. Share your own frugal summer activities with us by using the hashtag #FrugalSummerFun 😀
What is your favorite thing to make with your fresh picked strawberries? Take a look at some of ours on the Let's Go Strawberry Picking Board 🙂