We earn money from clicks or purchases made via product links in this post.

Essential oils are natural aromatic compounds found in the seeds, bark, stems, roots, and flowers of plants. They can be both beautifully and powerfully fragrant, eliciting profound emotional responses. Yet the use of essential oils goes well beyond their fragrant appeal. Used throughout history for their medicinal and therapeutic benefits, essential oils can be used as natural alternatives in holistic self-care practices. Their unique chemistry allows them to be used aromatically and applied topically to the skin, while other essential oils can be used as dietary aids to promote vitality and well being.
dōTERRA® (meaning "Gift of the Earth") essential oils represent the safest, purest essential oils available in the world today. Each of the dōTERRA CPTG (Certified Pure Therapeutic Grade®) essentials oils is carefully extracted by a global network of skilled growers, distillers, and chemists ensuring a consistently powerful user experience. They are pure aromatic extracts, contain no artificial ingredients, and are tested to be free of contaminants (such as pesticides or other chemical residues).
The company is amazing at reimbursing points for dollars spent each month and your percentage increases every three months. All orders earn back in free oils what you spend in shipping costs, on top of 10-30% back on purchases made with membership too! Loyalty Rewards Members earn free products of the month in addition to points and wholesale prices (25% off retail). Wholesale memberships come with the potential to sell the products yourself to pay for oils, earn some extra money or even supplement income!
Contact Brooke, an Independent Producat Consultant, for details on how she could help you join her team. She'd love to have you! 🙂
Popular Products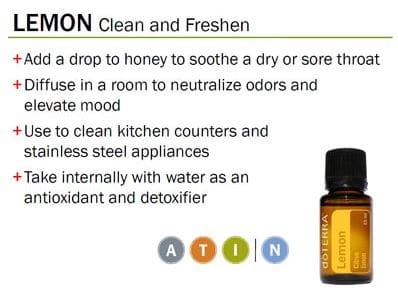 Did you know that it takes 45 lemons to make just ONE 15ml bottle of doTERRA essential oil? This essential oil powerhouse is cold pressed from lemon rinds to preserve its delicate nature and potent properties. Lemon is known as a powerful aromatic, topical, and internal cleanser and can be used to complement many other oils. Diffusing lemon in a room can cleanse the air and uplift mood and ease anxiety. It can also be used on surfaces throughout the home as a non-toxic cleaning booster, or a few drops with honey can help with a sore throat. Add some drops to a sugar cookie for a wonderful treat!

dō̄TERRA's Deep Blue Rub is a rich, topical cream infused with Deep Blue Soothing Blend of Certified Pure Therapeutic Grade essential oils that provides targeted comfort to tired and sore joints and muscles. Formulated with a proprietary blend of natural plant extracts and other powerful ingredients, Deep Blue Rub provides a comforting sensation of cooling and warmth to problem areas. With close to 5 ml of dōTERRA's top-selling Deep Blue essential oil blend of wintergreen, camphor, peppermint, blue tansy, German chamomile, helichrysum, and osmanthus, Deep Blue Rub is an essential addition to your bathroom cabinet, gym bag, or first aid kit. Deep Blue Rub is blended in a base of moisturizing emollients that leave your skin feeling soft, not greasy and is the choice of massage therapists and sports practitioners for applying dō̄TERRA's Deep Blue essential oil blend. Replaces other pain products without the chemicals.
If you are interested in samples of the essential oils or Deep Blue Rub feel free to contact Brooke. She'd be happy to answer any of your questions too!
Thanks Brooke, one lucky reader will win
one Bottle of Lemon Essential oil & one Deep Blue Rub…a $52 value!
To enter simply follow the Giveaway Tools entry form below.
This giveaway will end 4/3/14 at 11:59pm EST. Good luck!
This giveaway is part of Saving by Design's 15,000 Fan Giveaway Extravaganza! You can see all TWENTY giveaways here. Come join the fun!