We earn money from clicks or purchases made via product links in this post.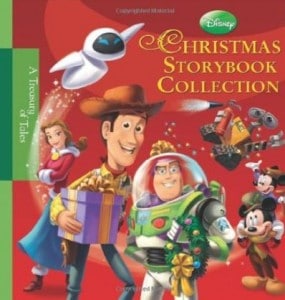 It's a Christmas tradition of ours to get new jammies every Christmas Eve.  A few days ago I found an idea to update that tradition on, where else, but Pinterest!  Instead of giving just individually wrapped jammies, make a Christmas box with goodies for everyone in it under the tree!  Some things that I'll be including in my box is a new Christmas movie complete with popcorn, a Christmas book, hot chocolate, and of course the traditional jammies for the entire family.  How excited the munchkins will be to come home after church and Christmas Eve dinner at Grammy's to find a big box from Santa under the tree!
What sparked this post, was this perfect book that I found for my Christmas box!  I wasn't sure if I should get a book for each of my kids, but when I saw this it was perfect!  A collection of Disney Christmas stories for only $5!  These books are regularly priced at $15.99 so they're quite the deal 😉

There are also lots of other Disney Storybook Collections available if you weren't looking for a Christmas collection including Cars, Toy Story, Princesses, and more!
These same books will be available at Walmart tonight for the 8pm event in-store while supplies last.  Currently they are either in-store only or $10 at Walmart.com so for now Amazon is the place to get them 😉
**As with any Amazon deal this price can change at any time.**
Are you following me on Pinterest yet?  Don't miss fun ideas like this one and many more!