We earn money from clicks or purchases made via product links in this post.
Mason jars, clamps, and a piece of wood are all you need to create your very own indoor wall herb garden to enjoy fresh herbs year round! Just think, in an afternoon you can create a fantastic herb planter that will provide a bounty of fresh herbs whenever you want!
We love that it's an indoor garden that you can put right next to you kitchen. Easy access!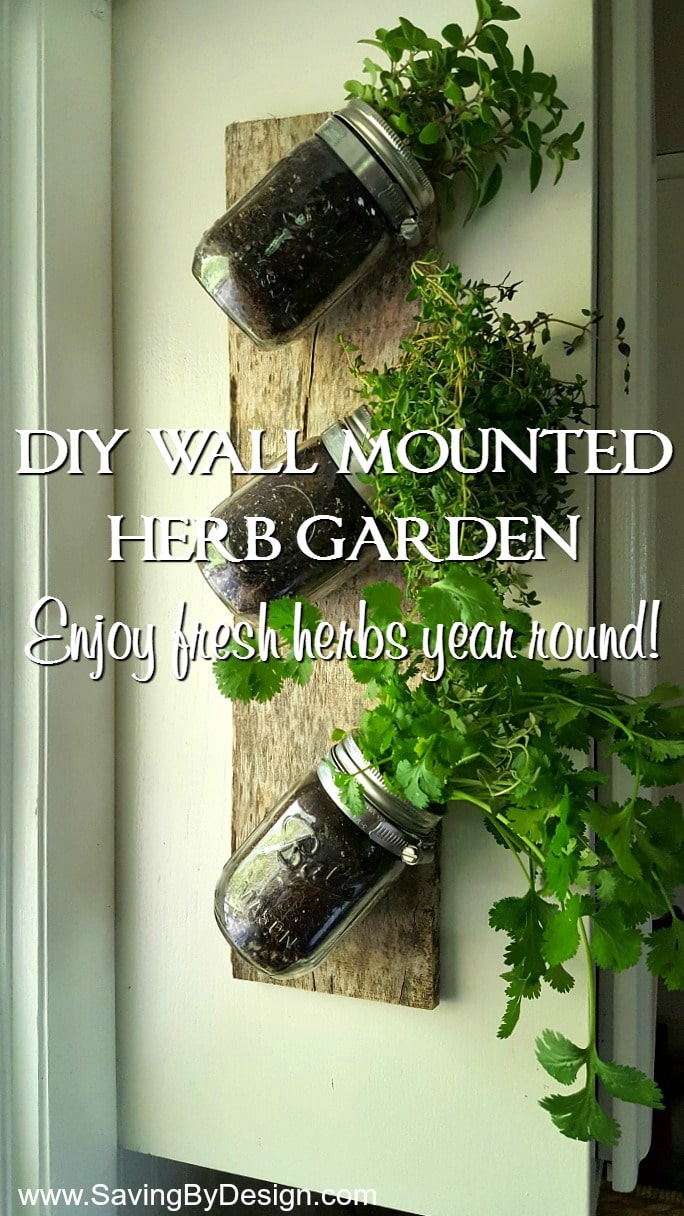 I just love using fresh herbs! I love cooking and find myself in the kitchen a lot and fresh herbs are always mixed in with a meal!
Every summer I plant a cute little container herb garden on the deck that doubles as bug repellent since the herbs I plant also are fabulous at keeping the bugs away. They are one of my favorite natural powerhouses for good health.
I regularly use them in everything from cooking and cleaning to beauty products and natural remedies. Take a peek at these 10 great Herb Garden Ideas for Your Home, no matter how much space you may have. You'll find the one you love!
Back to the main problem, though. Here in Pennsylvania, there are only a few months each year that I get to use my fresh herbs that I've planted in my outdoor herb garden.
So it's no surprise that I've been wanting an indoor wall herb garden for some time now. I just couldn't decide where I wanted to put it. Well I've finally decided!
Over the past few weeks I've really been looking for ideas and inspiration on, you guessed it, Pinterest! Here are a few of the pins I came across that I loved for an indoor herb wall…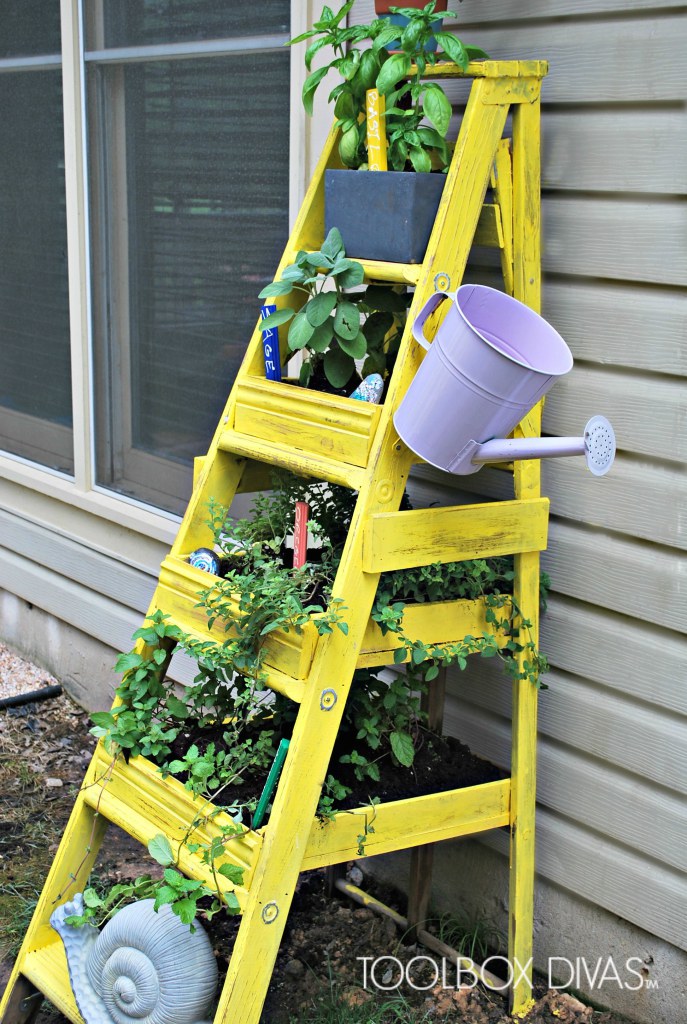 This Ladder Herb Garden is absolute perfection! Even though this shows it as being a great outdoor herb garden, there is no reason that this couldn't be a great addition to a kitchen, dining area, or pantry, as well!
There is a lot of light in my dining room and I can already see the perfect spot this would go!
Head over to the post to see exactly how to make an indoor herb garden from a ladder. They will walk you step-by-step through the construction process of this fantastic indoor herb garden!

This vertical indoor herb garden is vertical and insanely cute! You can also move the herbs around easily so you can change things out at the drop of a hat, thanks to the mason jars that are planters.
But most of all? I love that it serves as a functional decorative piece, as well.
What a phenomenal way to have an indoor wall herb garden, even though it's kind of coming more from the ceiling! It's beautiful!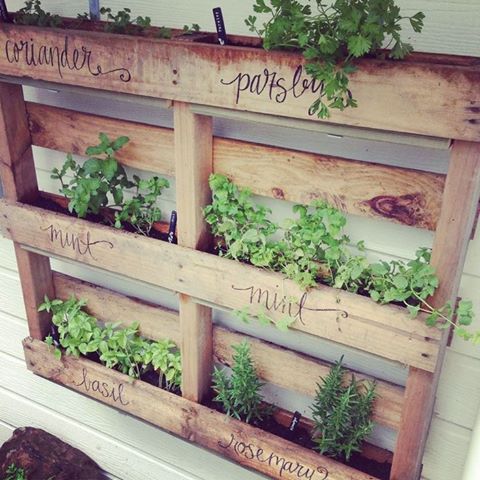 This Pallet Herb Garden is a great way to personalize the fresh herbs you love to work with the most. You can also use this one outdoors during the warmer months, but it's easy to transfer inside once it gets cold, too! It will serve the best of both worlds!
The pallets serve as a shelf for different fresh herbs and it would be a cinch to make this wall mounted, as well. Than, get out your best markers to label things that you want to plan, or even find a great stencil so it's picture-perfect, every time!
Wayfair has some amazing indoor herb wall planters that they offer, if you need some additional inspiration! Some of them you may even be able to transfer from outside to inside once the weather starts changing in the fall.
That would make it an even easier transition!
Where to Put a Wall Herb Garden
I loved the wall-mounted herb gardens because they didn't take up any counter space and would add interest to any wall I chose to put it on. So that was my next task…where should I put it?
First I thought about the wall next to my sliding door in the dining room right off the kitchen. The wall there gets nice sun and even though it wasn't right in the kitchen it was only a few steps away. But then I found an even better place!
For years I wanted to do something to the sides of the cabinets that frame the window above our sink. Maybe cute little shelves? Just something to add character and color since there is no window sill or shelf to decorate.
See where I'm going here?
Yep! My herb garden would be perfect mounted to those cabinets!
How to Make aWall Herb Garden
Now that I had a plan, I was ready to roll and figure out the cheapest (of course!), yet functional and aesthetically pleasing way to create just what I wanted.
Here's what you'll need to create this indoor wall-mounted herb garden below…
hose clamps (we used 2-5/16″ – 3-1/4″ hose clamps)
wood to mount the jars on
screws (we used 1-1/2″ screws to mount our boards and 1″ screws to mount the hose clamps)
herbs of your choice
I already had a stockpile of mason jars, so I really just needed some type of bracket and the wood to mount the jars to.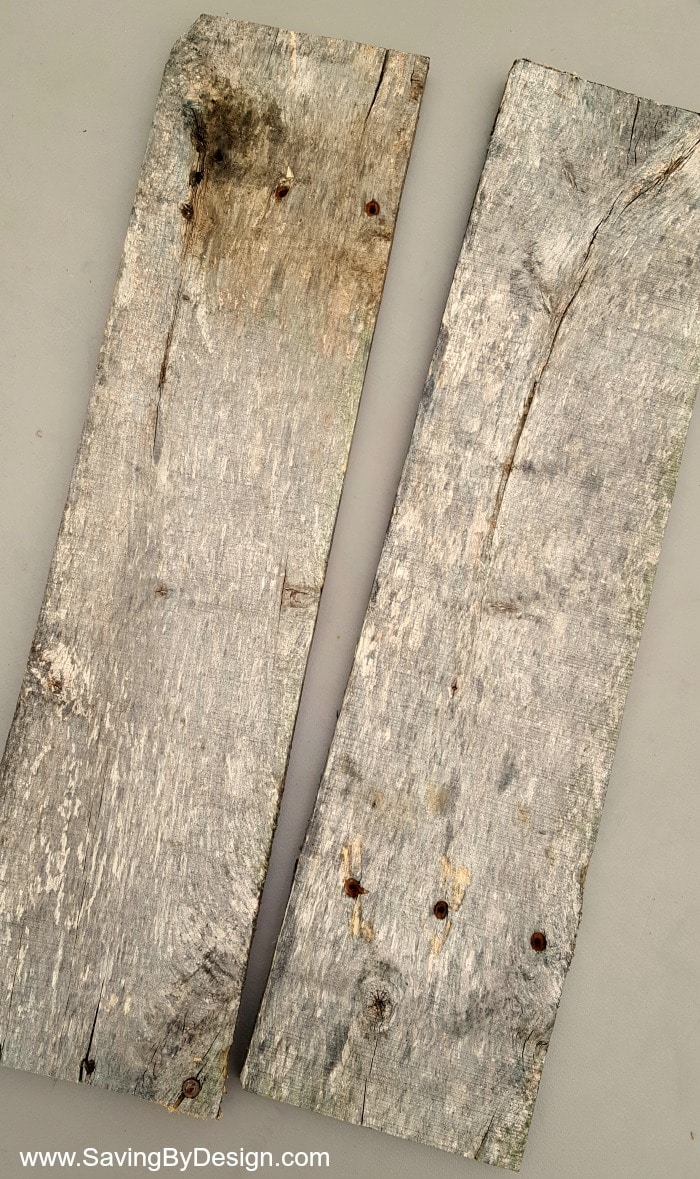 I really wanted weathered, rustic wood. It goes well with the decor in our home and it's just something I always gravitate towards when decorating. Then it hit me! We had pallets outside that we stack our firewood on.
After looking, I realized one of the planks from the pallet would be perfect.
I gave the plank a good scrub with some water, vinegar, and a few drops of lemon essential oil to get all the loose dirt and any potential critters off. Then, we cut it in half since we were making two sets of jars for the fresh herbs to be stores in.
After strolling around the hardware store, we decided hose clamps would be best. They could easily be opened and closed to remove and hang the mason jars. And at only $1.29 each, they were a steal and fit perfectly in our minimal budget!
So here's how we put everything together…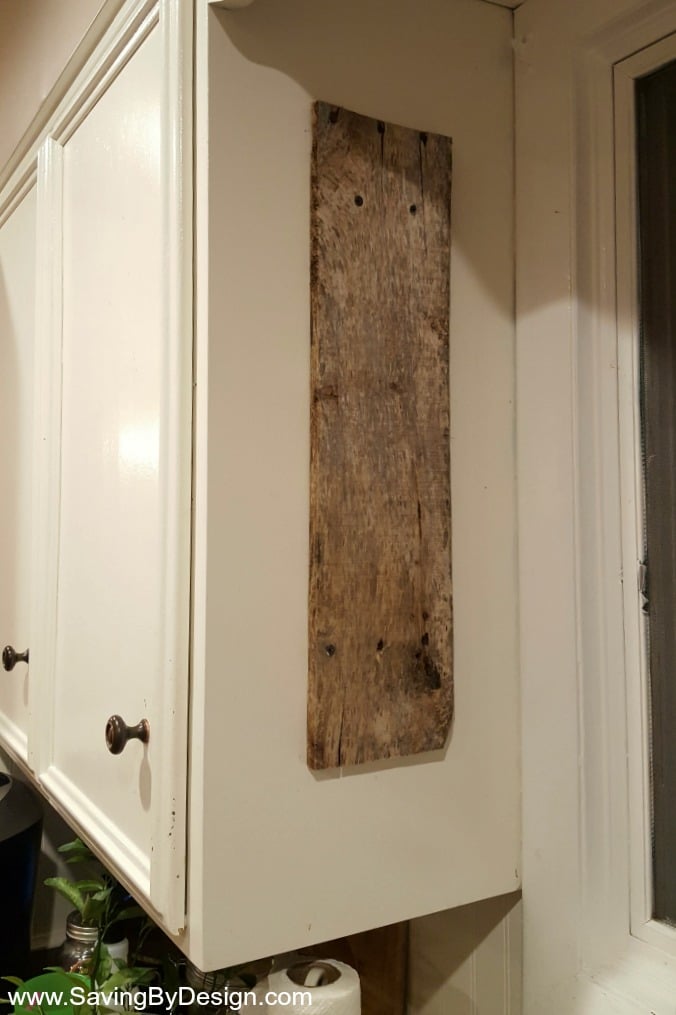 Once the boards were clean and dried, my hubby screwed them to the sides of our cabinets using 1-1/2″ screws. He pre-drilled holes in the boards to make sure they didn't split when mounting them.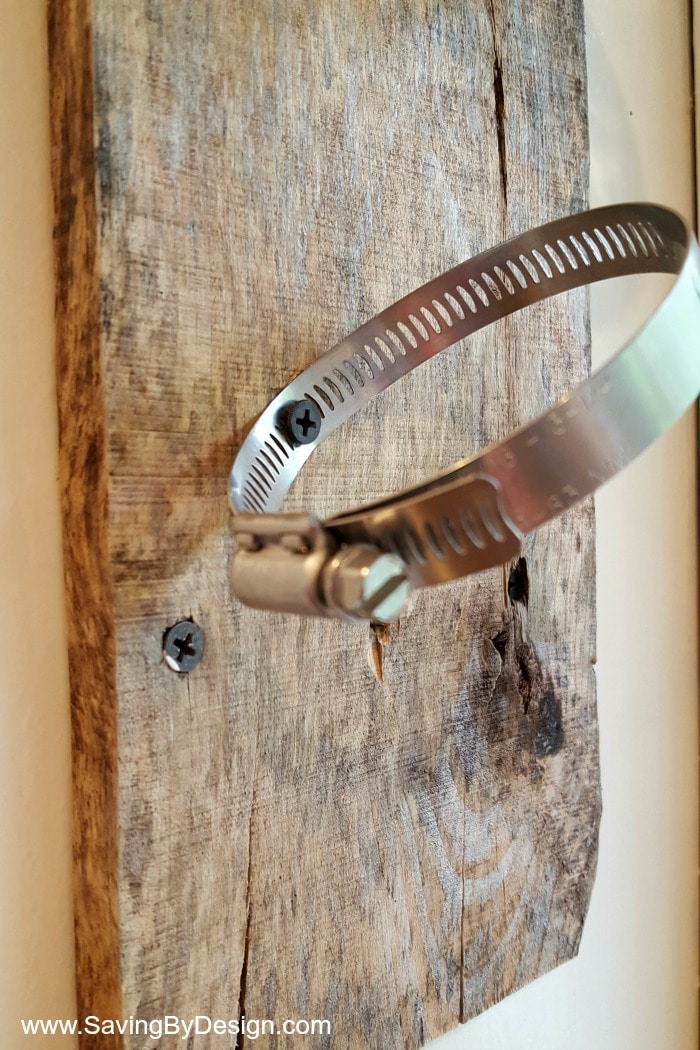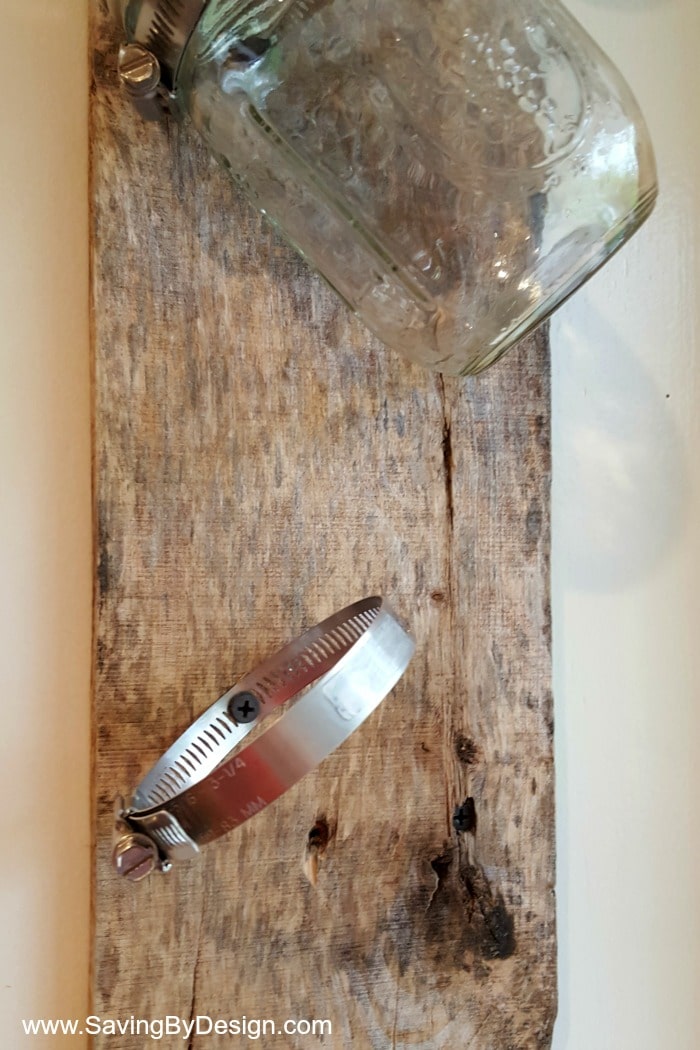 Then we added our brackets. I just eye-balled the placement and the angle I wanted them, using the middle jar as a starting point, which you can get a view of above.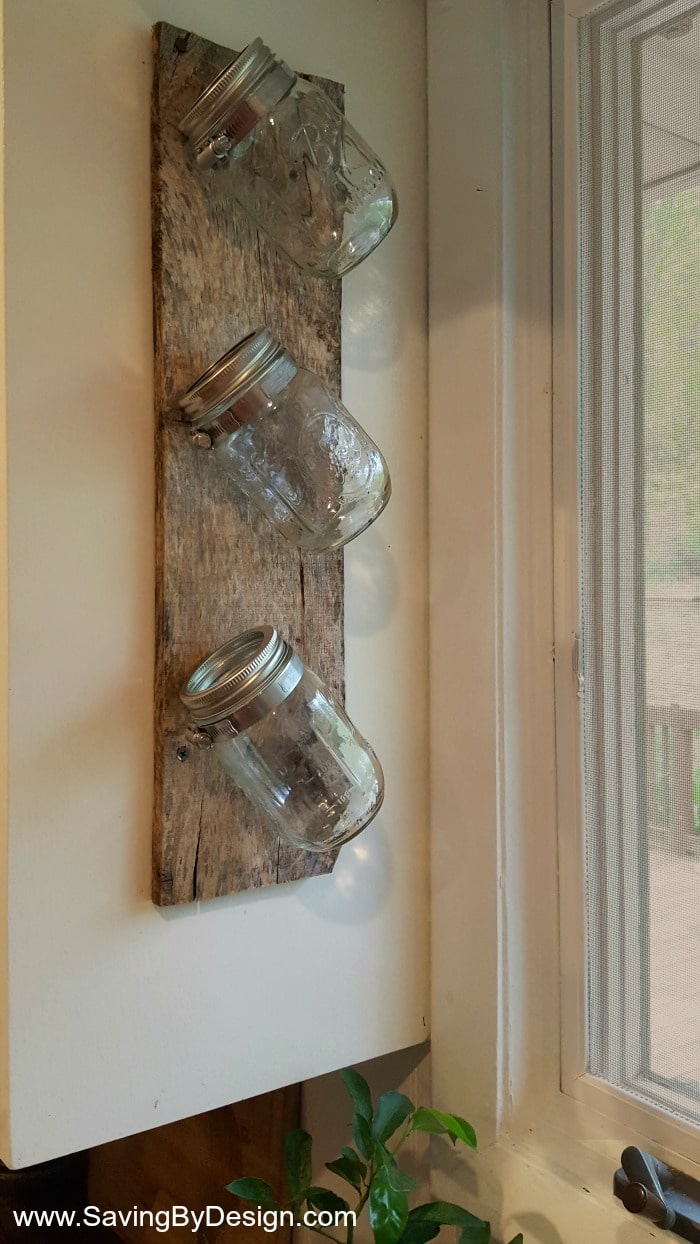 As you can see in the picture above, they turned out exactly how I envisioned it! I love them and I absolutely am thrilled to have a wall herb garden so close to where I will be cooking and will use them!
Next, it's time for the even more fun part… plant your herbs!
That's pretty much it! This is a really easy project that you can do in minimal time and on a small budget. Both of those things are really big on any DIY project I do, so it was a perfect fit!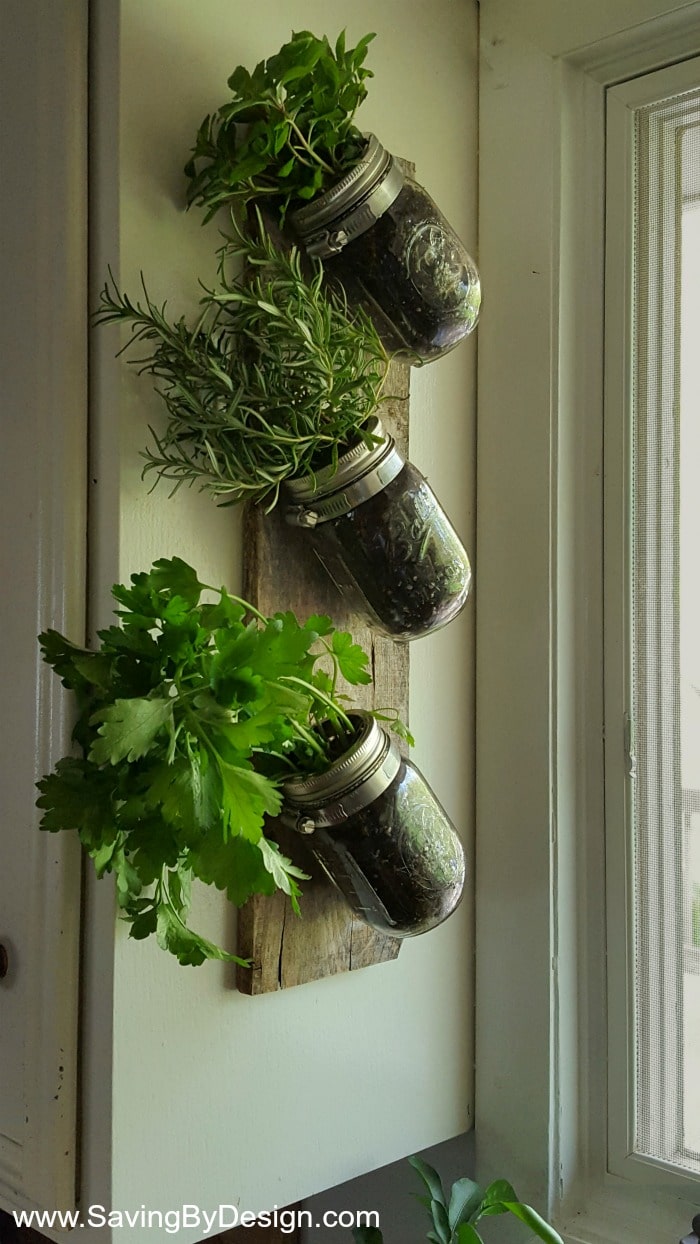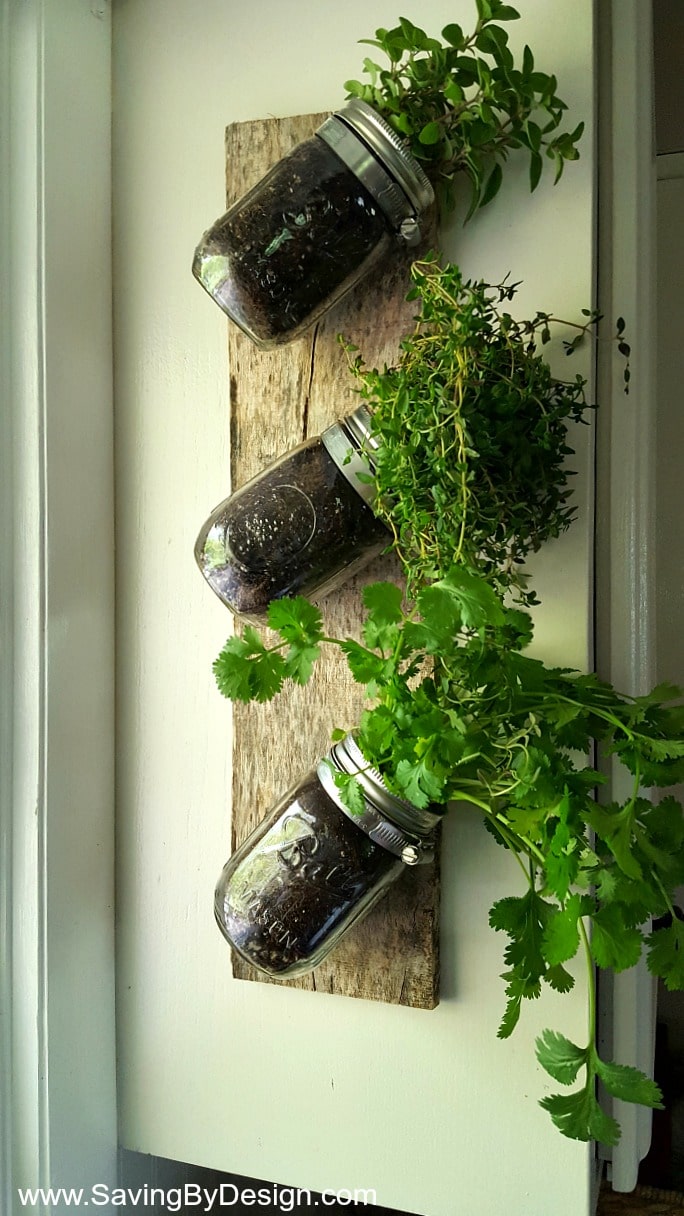 What Herbs Grow Well Indoors
For my indoor wall herb garden, I planted peppermint, thyme, parsley, oregano, rosemary, and cilantro. Personally, those are herbs I use a lot, year-round, and knew that those particular herbs would serve my family and I the best.
However, most herbs will grow well indoors. It's mainly a preference of what you use the most in your home. Herbs that work well to grow indoors are:
Chives
Lemon Balm
Mint (for some fresh, year-round perfect mojitos!)
Parsley
Basil
Bay Laurel
Cilantro
Thyme
Lemongrass
Oregano
Rosemary
Sage
As you can see, many of the herbs you would plant in the summer can also be grown in an indoor wall herb garden, as well!
My advice would be to plant the herbs that you know you use with a lot of regularity, and save the others for that summer outdoor herb container. Check out our post about the 10 Must-Have Herbs For Your Herb Garden that will help you decide!
Yes, I did realize watering them can be pretty tricky since they are angled, so I tried a few different things and came up with the perfect solution. I have found using a little funnel works perfectly to water them, so don't worry, you won't be making a mess! You're all set!
I'm so happy with the way my herb garden turned out! Now, I have fresh herbs right in my kitchen all year round! Cooking with fresh herbs just makes everything taste a little bit better and I'm excited to provide year-round summer inspiration with my wall herb garden!
What do you think? Do you have the perfect place for a wall-mounted herb garden like this one? Let us know!