We earn money from clicks or purchases made via product links in this post.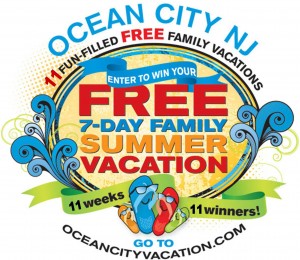 My family has been vacationing in Ocean City, NJ for as long as I can remember!  And now that I have a family of my own, it's our go-to destination too!  In addition to the usual beach activities, there are so many fun things to do in such a peaceful, family-oriented town.  We absolutely LOVE it there!
So what is there to do other than spend the day at the beach?  Well from the 2-1/2 mile long boardwalk full of amusement rides, arcades, miniature golf, lots of delicious seaside snacks, and shopping to the more than 100 shops and restaurants in Ocean City's "Downtown," your family will be in for more fun than you can fit in your schedule.  Part of Ocean City's legacy includes it being a "dry" town.  Alcohol is not sold on the island and consumption is not permitted in public places including the beaches.  Nightlife is not far though, as the bright lights and casinos of Atlantic City are only 10 miles away.
Ocean City is actually an island.  And there's not a greater feeling in the world than crossing the bridge and ending up in America's Greatest Family Resort!  I can't wait to cross that bridge when my family vacations there again this year 🙂
It's been voted…
#1 of NJ's top 10 beaches
#1 of 31 best beach vacations by Coastal Living Magazine
NJ's most popular beach by the Travel Channel
One of the best boardwalks in the U.S. by the Travel Channel
#1 city for independent retailers in the nation
Least angry and depressed place in the U.S.
and many more!
Think you would enjoy Ocean City as much as me?  Well be sure to enter to win a FREE week-long vacation package prize in Ocean City, NJ!  You may enter one time for each of the eleven weeks per email address.  All entries must be received by 11:59 pm, Sunday, August 11, 2013 to be eligible.
Weekly vacation package prize includes 7 nights accommodations (Saturday to Saturday).
(Thanks for the heads up Kayla!)