We earn money from clicks or purchases made via product links in this post.
Layaway might be just what you need to get the gifts on your list! Here are a 5 reasons layaway might be the perfect plan for your holiday shopping.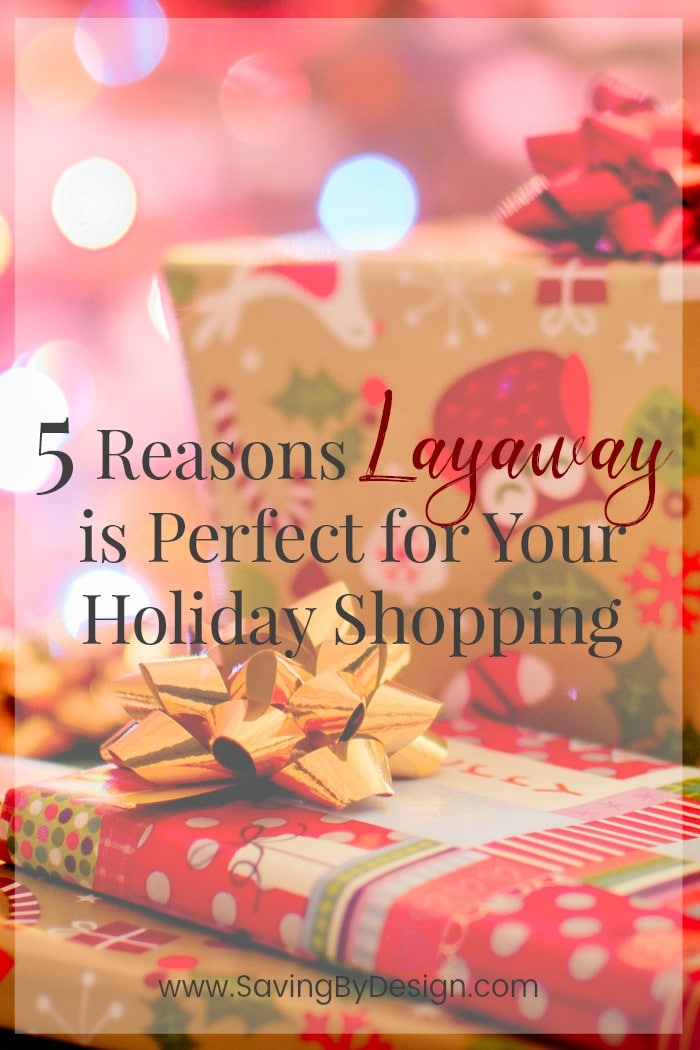 Who's ready to start Christmas shopping?!
While we still have Halloween and Thanksgiving to get through, if you wait until Black Friday to start your Christmas shopping you may be missing out on a few deals along with some options that might make financing your holiday shopping easier.
First, it's important to know when to look for certain deals.
Retailers follow a seasonal sale schedule…
Watch for deals on appliances now in October and the weeks leading up to Thanksgiving
Electronics and toys are usually a Black Friday buy
The best electronics deals overall can usually be found in the early weeks of December
Now of course the BEST way to do your holiday shopping is with cash you saved away for that purpose. But what if you come across a great deal now and just aren't financially prepared to purchase it?
Lay it away!
Taking advantage of the many layaway programs available can help you get all your shopping done now and allow you to pay for it over the coming months.
Stores like Walmart, Kmart, Sears, Toys R Us, and more offer layaway plans beginning around this time of the year which allows you to grab the gifts you want while making a small weekly or monthly payment to stay within your budget.
5 Reasons Layaway Might Be the Perfect Plan for Your Holiday Shopping
Not sure layaway is for you? Here are a few reasons layaway might be the perfect plan for your holiday shopping.
Layaway is an additional buying option
Maybe you have the cash on hand but would really like to put most of it in savings… Or maybe you have a credit card but are trying really hard not to rack up the bills for the holidays…
Whatever the case, layaway gives you an additional paying option.
Let's say you'd love to get your child a laptop for Christmas, but you don't have a couple hundred dollars to buy it right now. Chances are your budget will be even tighter as you get closer to the holidays so you most likely won't have a couple hundred dollars to spend then either. Of course you can charge it, but if becoming debt free is one of your goals, you know that's a no-no unless you can pay it off in full – which leads us back to needing a couple hundred dollars right now.
That's where layaway works wonders!
You can put those expensive holiday gifts on layaway and pay over a period of weeks or months (up until Christmas) which allows you to stick to your budget 🙂
Layaway is interest free!
Unlike most other plans to buy now pay later, layaway is interest free!
That being said there usually are a few fees to watch out for such as service fees, cancellation fees, and restocking fees. Each store's policy is slightly different, so just be sure to look for these fees before signing your layaway contract.
I have found that even with fees, layaway almost always costs less than credit card purchases.
Layaway allows you to grab popular items before they sell out
As soon as stores start releasing their "Hot Holiday Toy Lists" you can usually tell which items are going to sell out as we get closer to the holidays.
Putting those hot toys or electronics on layaway early in the season guarantees you'll have them for Christmas…even if they sell out later!
Layaway is available online
Love holiday deals, but not so fond of dealing with holiday shoppers, long lines, or bouncing from store to store looking for sold out items?
Take a look to see if your favorite store offers online layaway!
You'll get the same benefits just as if you opened your layaway in store, only you won't have to leave your home 😉
Layaway has no credit or income checks
Unlike store or bank credit cards, there is no credit check or proof of income necessary to start a layaway.
All you'll need to put your items on layaway is identification showing that you are at least 18 years old along with a down payment – usually a percentage of the total amount of items you'll be putting on layaway.
As you can see, there are many reasons to give layaway a try this holiday season.
Even though you still have a few weeks until the Christmas music will be playing in stores, now is the time to get those shopping lists together and lay away some great deals!