We earn money from clicks or purchases made via product links in this post.
I love finding ways to use the things I find outside to decorate my house, so these festive pine cone craft ideas is high on my list this fall!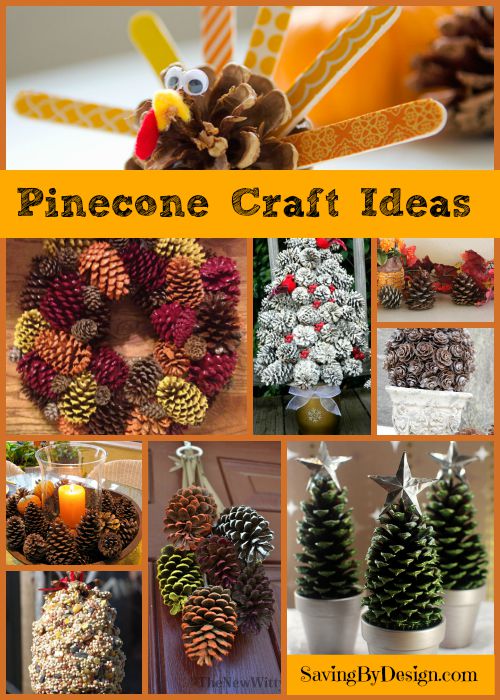 Fall is almost here! Can you even believe it? Where has the year gone? That being said, I honestly am not too upset by it because fall happens to be my favorite time of the year. I love it when the temperature starts to cool down…It's time to take those chunky sweaters out of hiding, sip on my pumpkin spice lattes, light the apple cinnamon candles in the house, and start decorating my home with all things fall! So ya…I doesn't upset me in the least!
I love finding ways to use the things I find outside to decorate my house. Rustic themes are big in my book, so these festive pine cone craft ideas is high on my list this year! And with all of the pine cones that have been falling in my yard, I know it's not going to be too difficult to find the supply I need. Here are some great ideas for you to use those pine cones too! 🙂
Pine Cone Craft Ideas for Festive Fall Decorating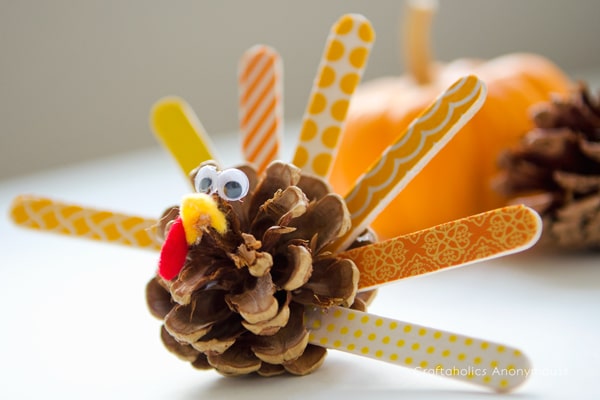 1. Thanksgiving is going to be here before you know it and these Washi Tape Pinecone Turkeys are the most adorable table decorations around! Found over at CraftaholicsAnonymous.net, this is a great craft to do with the kiddos, or to even make place settings for! I'm so excited to make these cute little turkeys and they are going to be the perfect addition to a Thanksgiving tablescape!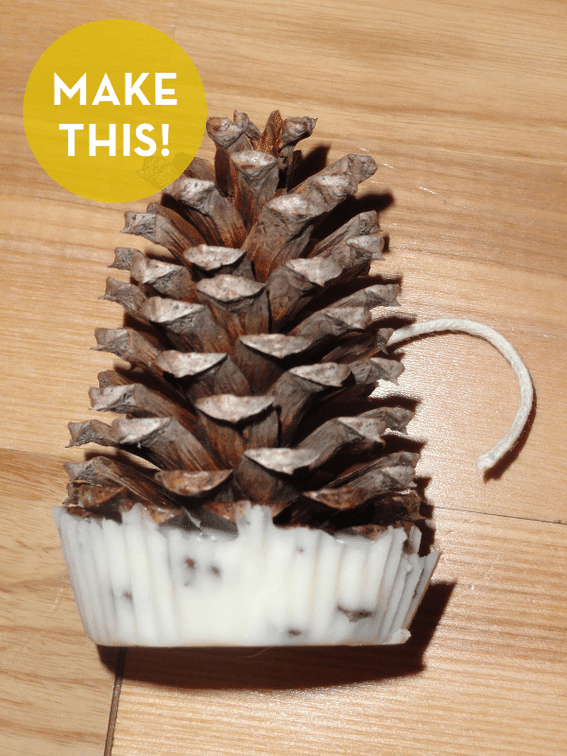 2. I'm always looking for great ways to start a fire. We're a camping family, so any way that I can get it started quick and easy, I'm all for! So when I came across these amazing Scented Pine Cone Fire Starters from Curbly.com, I knew it was the perfect way to use up some of those pesky pinecones that are going to fall all over the yard! My family is going to thank me for this creative DIY project when our campfires start quick and easy!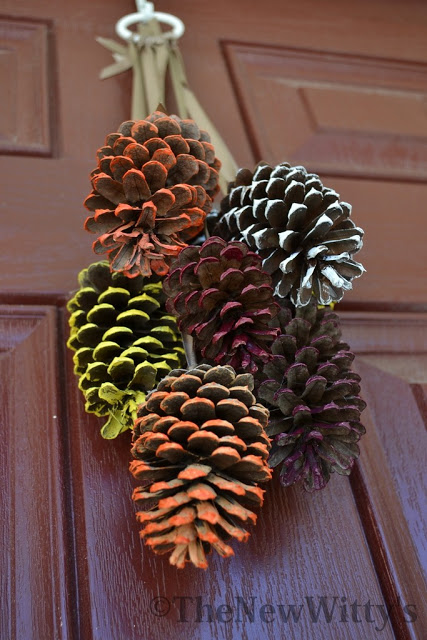 3. Fall is my favorite time of the year and one of the reasons is because I just LOVE fall colors and the decorations that go with it! And this Painted Pine Cone Door Swag found over at TheNewWittys.com just screams fall! This is a quick and easy DIY craft that you can get together in no time at all and I'll tell you a secret… painting pinecones is SO fun!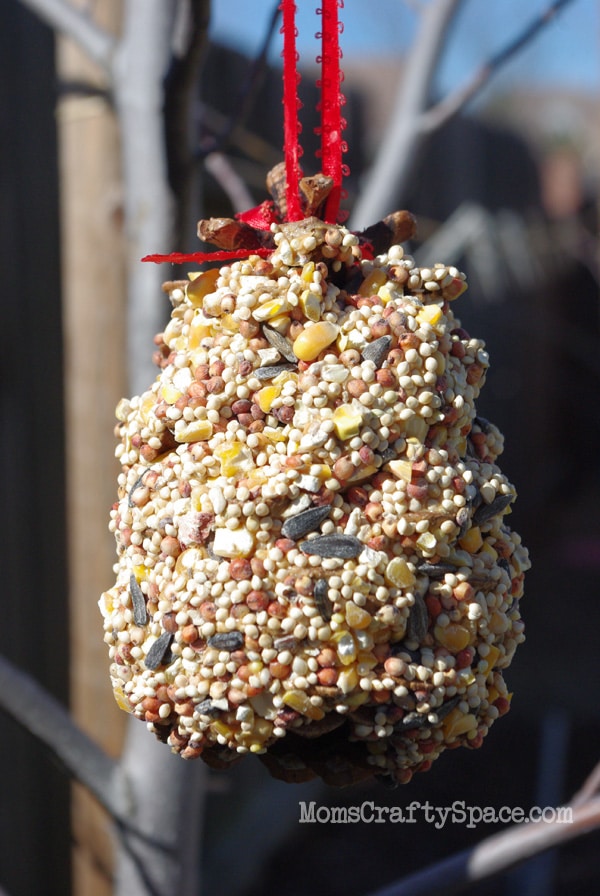 4. These Pine Cone Bird Feeders aren't only a great way to use up those pinecones all over the place, but it also is a great present to give someone who loves attracting birds around their yard! Lord knows we have enough pinecones to make a bunch for ourselves AND gift a few out! Follow the instructions over at HappinessIsHomemade.net and you'll be all set!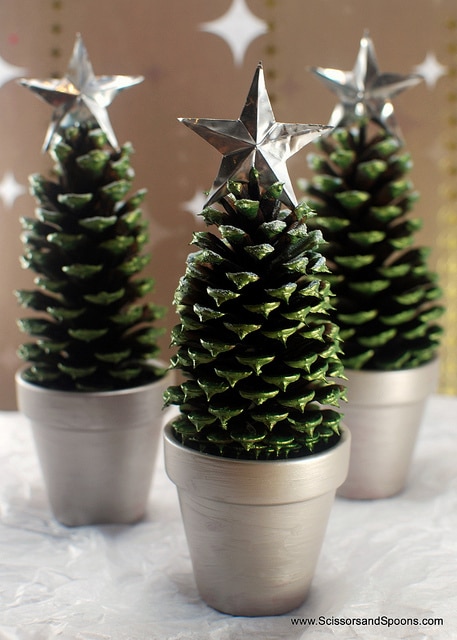 5. How cute are these Pine Cone Christmas Trees? With some small terra cotta pots and cute decorative stars, you're going to have the perfect Christmas trees to decorate around the house, come the holidays! I love this idea from ScissorsAndSpoons.com. What a creative way to turn trash into treasure!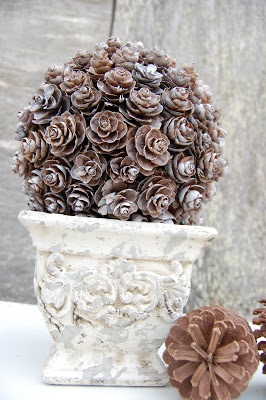 6. This Pine Cone Topiary from SomewhatSimple.com is a great festive decoration to have around the house this holiday season! Take a peek at the DIY instructions and make one for your home!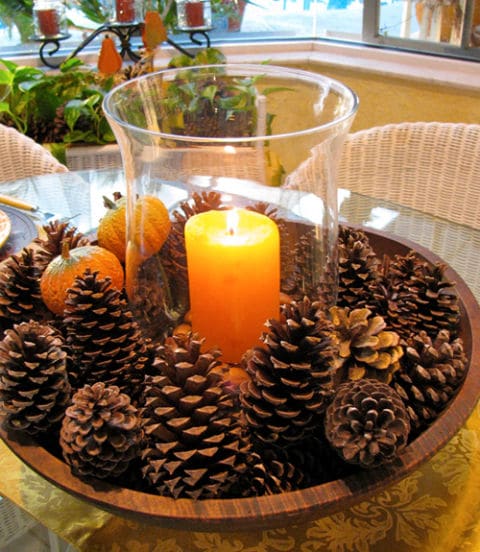 7. I am a sucker for great, fall candle arrangements, so when I saw this simple, yet gorgeous Pine Cone Candle Arrangement, I knew it would be a great idea for my home! Found over at TheThriftyCouple.com, this will look great as a centerpiece on our dining room table this fall. And it's so simple, yet perfect, that anyone can pull this off! I can smell the apple cinnamon candle now!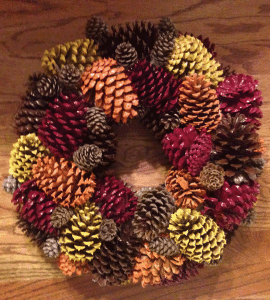 8. Don't be intimated by this gorgeous Pine Cone Wreath from EastonJulie.com. You got this! Start working on your pinecone collection and gather up many different sized pinecones in order to get the perfect amount for your wreath. Pick whatever paint colors work for you and your home and get busy! This may look like it could be a little difficult, but I promise it's easier than you might think!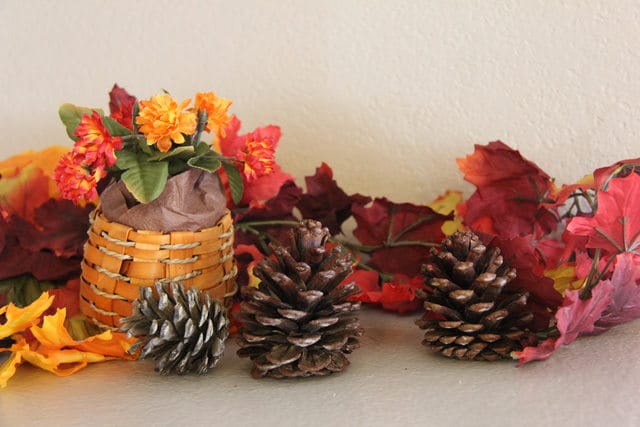 9. This is such a great idea! These Cinnamon Scented Pine Cone Decorations are a great way to get that fall smell all over your home for the entire season. Check out the DIY instructions over at eHow.com and you'll be asked over and over again how you got your home to smell like a slice of heaven without any store-bought scents! I love this!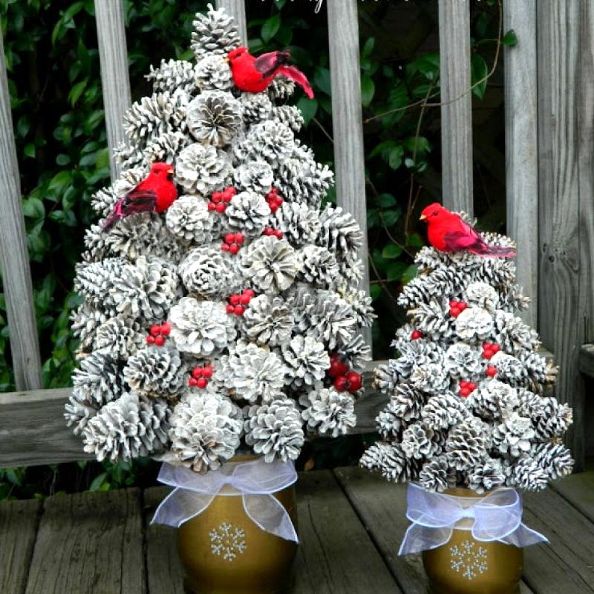 10. This Winter Pine Cone Trees with Berries and Birds is absolutely gorgeous! Found over at HomeTalk.com, I love how the added berries and cardinals add that pop of color that can make any drab winter landscape stand out! I love how you can create a pot base with any color you may want and the added touch of ribbons is a great idea, as well! What a great pinecone project!
If those pesky pinecones are going to clutter up your yard and need to be cleaned up anyways, you might as well find a fun use for them. Think of it this way… it will make you a LITTLE bit more excited to rake them all up and see how many you come up with. Right?! OK, maybe not, but it still is a fun way to spend a fall day with the family! Enjoy!
Have you created any amazing crafts made out of pinecones that you want to share with us? Comment below, if so, and we'd love to see them! It's that time of the year for all things fall! 🙂