We earn money from clicks or purchases made via product links in this post.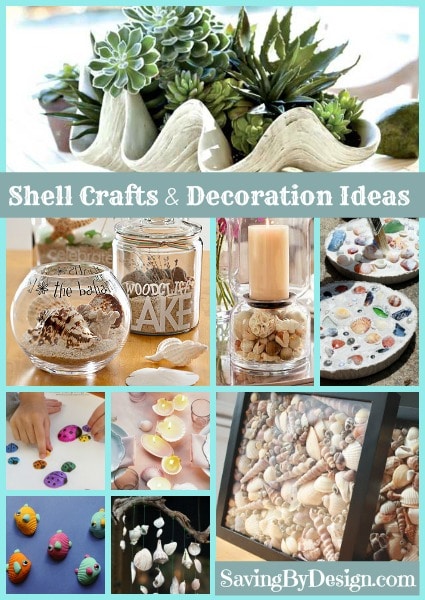 I don't know how (yes, I do, 5-year-old and 2-year-old littles living in my house), but somehow, shells seem to collect in my home quite a bit over the summer! Every time we go to spend a day at the beach, another bag full of shells seems to make their way into the car ride home! But, how can I blame them…shells are so pretty! So it got me to thinking, these shells sit around and collect dust and generally get buried in a drawer never to see the light of day. There has to be something better to do with all of them! So I found these Shell Crafts and Decoration Ideas to make all of their hard work pay off! And knowing that the kids were the ones who found all of these gorgeous shells makes these fun DIY projects even more meaningful.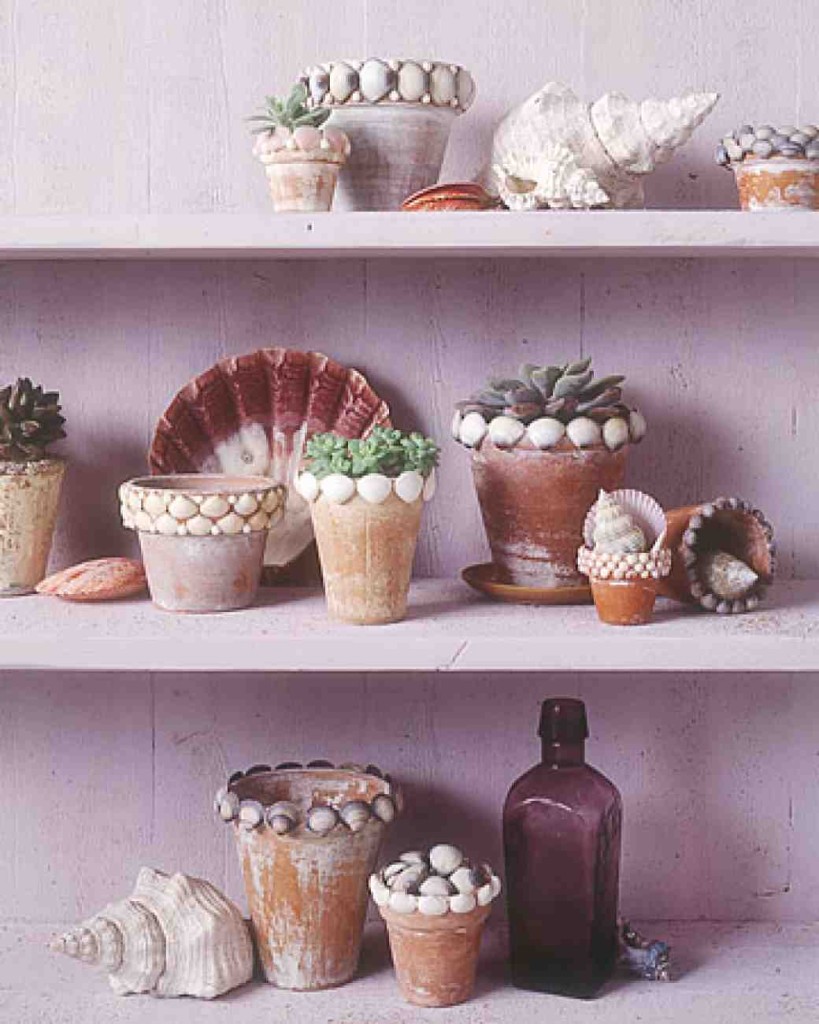 1. MarthaStewart.com never fails to "shell out" great ideas! These Shell Flowerpots are a great way to create a lasting decoration around your home with the shells collected on the beach. Take some terra cotta pots, or any other types of pots you might have around the house for that matter, and glue some of the shells around the pots to create a great decoration for the home!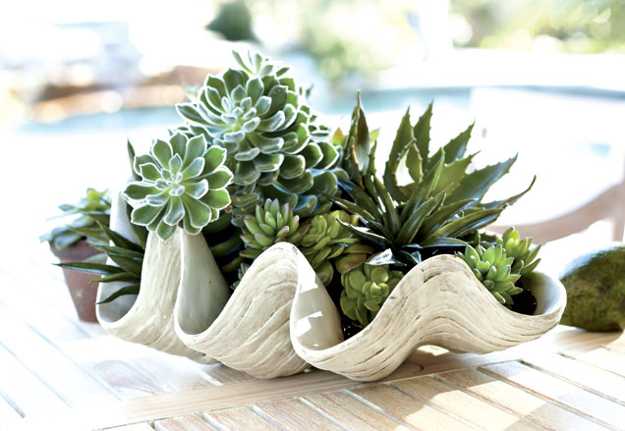 2. Shells as Plant Pots are my favorite way of repurposing those nice, big shells and LushHome.com gives a great example! We have something similar that is a great decoration in our house from a shell that we got in Belize and I LOVE it. It's a great momento from our trip and I love that it's been repurposed into something gorgeous!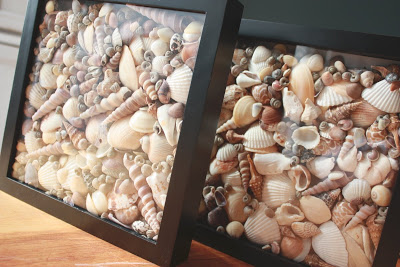 3. Sea Shell Shadowboxes are a big hit with the shell collected by the kids. This idea over at ItsTheLittleThingsThatMakeAHouseAHome.com is pretty self-explanatory, but a great way to keep smaller shells together from the same trip.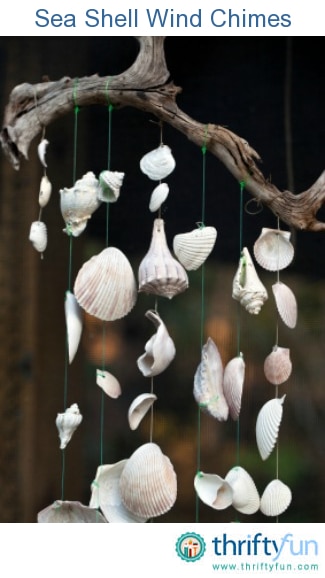 4. The kids loved making this craft, a Shell Wind Chime! The idea over at ThriftyFun.com was a big winner! Grab some string you have around the house and any kind of stick/hanger you want, and get busy threading the string through some of the shells to make your wind chime! Be careful to use more sturdy shells for this project, as the delicate ones won't last long.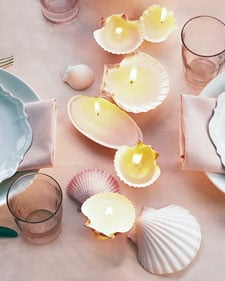 5. DIY Shell Candles are SUCH a great idea to keep the memories alive around the house! MarthaStewart.com gives directions on how to create this look, but by melting some wax into one of your sea shells and placing a wick in it, you're going to have yourself some DIY candles to place around the home as you please! What a great talking piece!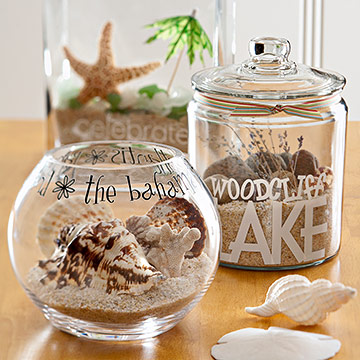 6. Shell Memory Jars are a great way to keep the fun alive of a recent vacation! Over at BHG.com, it gives some ideas on how you could create this look, but I already have some great ideas, too! Bring home some sand from your trip to really add to the authenticity of it, and even some other small things like a piece of driftwood or a pressed flower would be great to add into a memory jar like this. I love this idea!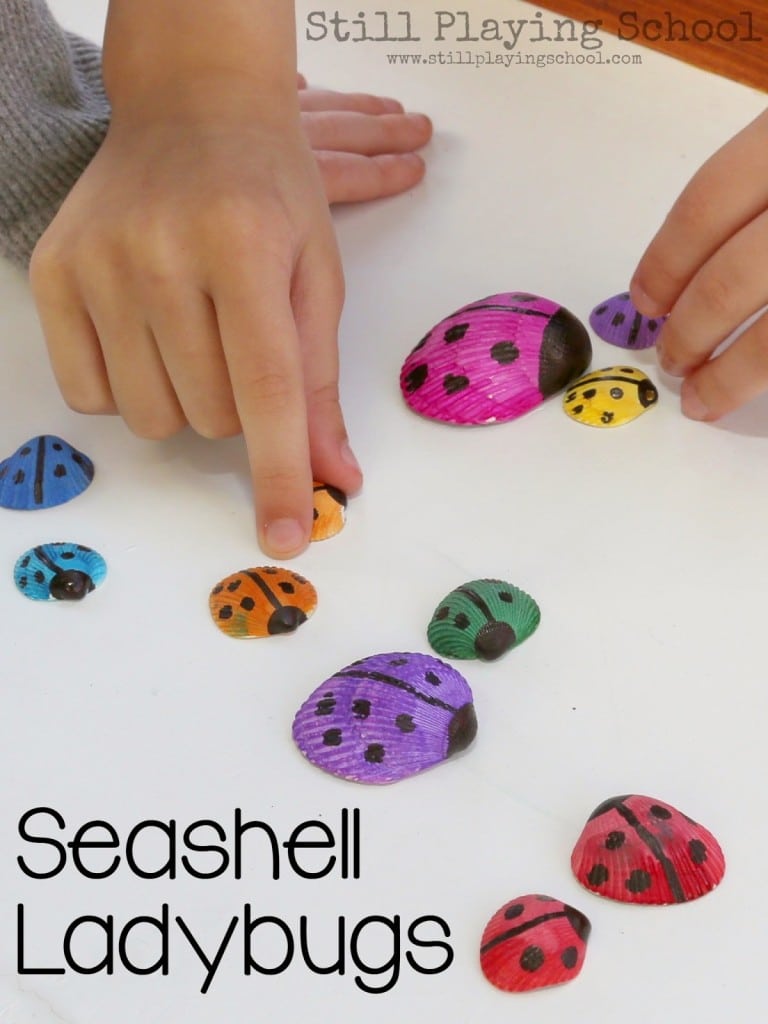 7. Sea Shell Ladybug Crafts from StillPlayingSchool.com will be a big hit in this house, come craft time! Anything that requires bringing out the paint AND working with the sea shells they collected? That's just a win-win!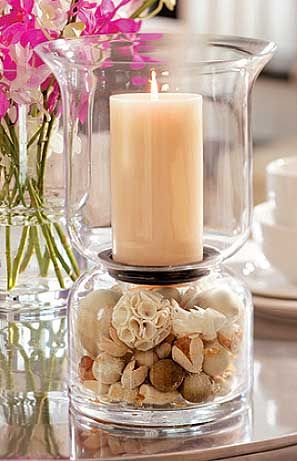 8. This elegant Sea Shell Centerpiece is a great summer addition to your dining room table! Found over at Longaberger.com, I love how you can do something like this anyway you want. Add some shells around a long, tapered glass vase with a candle inside, do the inverted look like above, or anything else that you could possibly repurpose around the house to create your centerpiece would be great!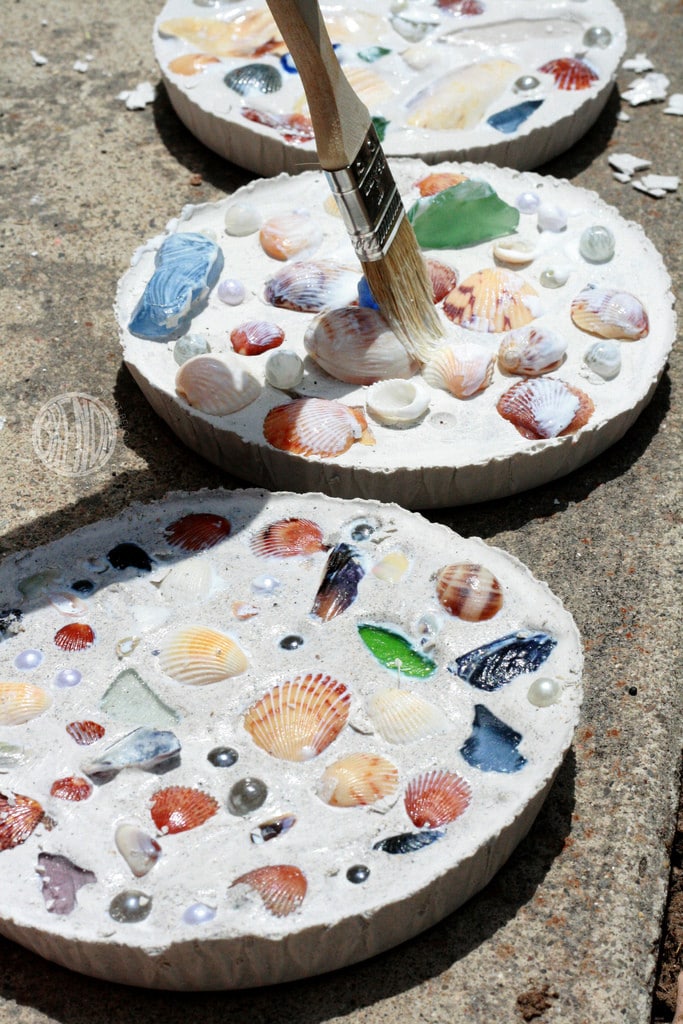 9. These Sea Shell Mosaics found over at AlphaMom.com are such a great idea to always remember that family vacation at the beach! Step-by-step directions can be found at the link and you'll be able to place these in your garden, outside on your front walkway, or anywhere else it may make sense for your family. You'll never forget the fun you had and the kids will always be able to see the great shells they were able to collect. Fun!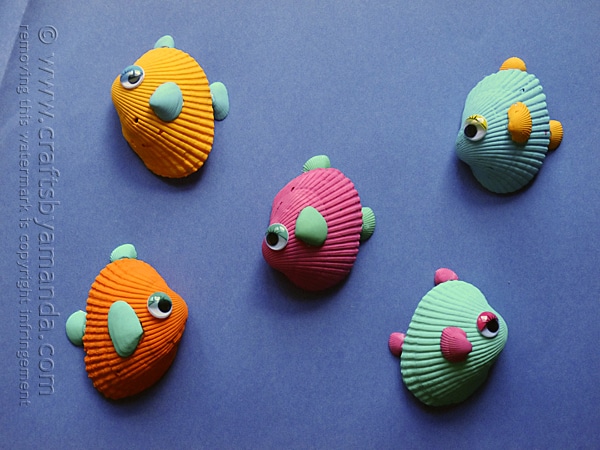 10. Tropical Sea Shell Fish Crafts? Sign this family up! Found over at CraftsByAmanda.com, I love how it incorporated different sized shells you may have found! Add some googly eyes to this project and you have yourself some fun, tropical fish! I'd even think about adding some magnets to the back of these (or the ladybug shells above) for some fun refrigerator decorations 😉
Summer seems to flash by in the blink of an eye and I love the idea of having a solid keepsake from some of our time spent at the beach together. One that we didn't have to buy at the local stand, but one that was made with some TLC at home. Enjoy the rest of your summer and let the kids go nuts in collecting shells the next time you're at the beach. Then you'll have plenty of shells to make your own lovely crafts and decorations with. Yay!
Do you have any shell crafts that you have had fun making? Did you keep them for decorations for yourself or perhaps they were a gift you made? Comment below and let us know all of your DIY adventures! 🙂