We earn money from clicks or purchases made via product links in this post.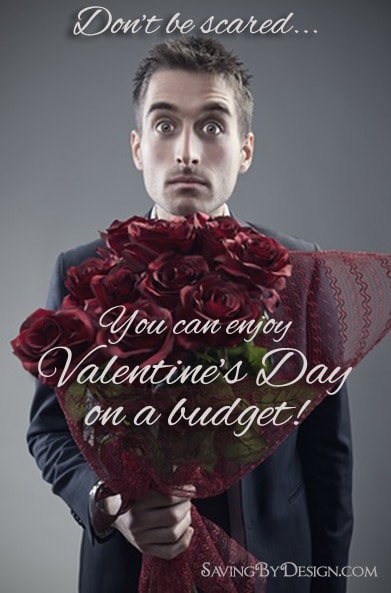 Roses are red, violets are blue. If you're scared Valentine's Day is going to cost too much, don't worry…it doesn't have to! This Valentine's Day, show your sweetie a lovely holiday without spending a fortune. To me, the most expensive gift is usually not the most thoughtful one. I, just like many others I'm sure, would rather receive a meaningful gift than one that has a large price tag. Here are a few ways to enjoy Valentine's Day on a budget.
Skip the card
I really don't like paying the huge $4 or $5 price on greeting cards that will most likely end up in a drawer or trash. If I can find them on sale and get a great deal with a coupon that's wonderful, but you won't find me paying full price on a card from the store. And here's why…there are many websites, such as Cardstore, that allow you to create a personalized card, complete with text and photos, for less than that hefty price you're paying in stores for a generic card. Or make your own card! I'm not saying to get too crazy, but come on ladies…imagine how impressed you would be if you received favorite photo with a hand-written love note on the back from your sweetie. Now that's something that wouldn't end up in the trash! 😉
Have a romantic night at home
Sometimes life is so hectic that enjoying an evening in together might be the most meaningful gift you can give. Find a sitter for the kids and just truly enjoy your time together. Decide on a meal you can prepare together, maybe something you've been wanting to try but couldn't put the time into with the kids running around. Pull out the fine china for this special meal, get dressed up if you'd like, and actually take your time, have a conversation, and enjoy dinner…something that might not happen on everyday hectic weeknights!
Look for deals
If you plan to go out on Valentine's Day look for restaurants offering special dinner deals. Look for coupons and vouchers online at local or even national daily deal sites, such as Groupon and LivingSocial, to help you save on your meal.
Create your own special day
Some coupons and vouchers won't be valid on holidays so you might have to go either the day before or day after Valentine's Day. This usually isn't a problem for us and we enjoy that it's not so crowded and get to choose from the full menu instead of a limited one which is sometimes offered on Valentine's Day.
Start the date early
If possible, a great option to save is to start your Valentine's Day date early. It's no secret that lunch is less expensive than dinner and it probably won't be as crowded either. And the savings are usually pretty significant too! For example, at my favorite local hibachi restaurant it's only around $11 for almost the same exact meal, cooked in front of you, just like you would have at dinner for close to $25! Heading to the movies early to grab a matinee could also save you a few bucks.
Enjoy dessert at home
If you would like to go out it doesn't have to be all or nothing. Go out for dinner, but come home and enjoy a dessert you made ahead of time with a bottle of wine while you cuddle on the couch to watch a movie. Take a look at this great list of Valentine's Day movies for $5 or less. Making some chocolate covered strawberries is simple and costs WAY less than buying them from the store 😉
Less means just as much as more
It's the thought that counts, especially on Valentine's Day, for so many things. A few roses, or even a single rose, would show the same amount of thought and consideration as a whole expensive dozen of them. A favorite king-sized candy bar would be enjoyed just as much as a fancy heart-shaped box containing only a few chocolates that costs more.
~*~*~*~
No matter what you plan to do this Valentine's Day, set a budget first so you don't end up stressed over a holiday that you should be enjoying with your loved one. Decide what you would like to spend more on and what alternatives you have, so you can include everything you would like on this special day for your love.
Happy Valentine's Day!