We earn money from clicks or purchases made via product links in this post.
Spring is on the way! These 10 FREE Spring Cleaning Printables are just what you need to tackle all of your household chores and spiffy up your home.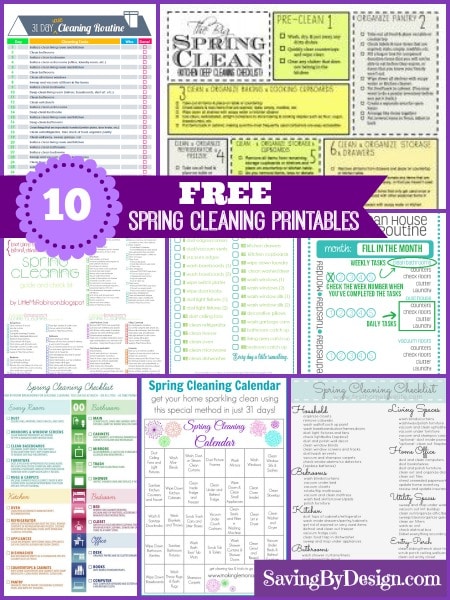 I'll admit…I probably could do a little more spring cleaning than I have been known to do over the last few years. Life is busy! I'm busy! And quite frankly, I just have more important things to do.
However, I also see the value in getting these things done on a yearly basis and making sure my family isn't living in complete chaos! I distinctly remember my Grandma and my Mom doing spring cleaning in their homes when I was a kid. I remember taking all of the knick-knacks off of their shelves and washing them in the sink with fresh lemon-scented water at our house. And the sense of accomplishment I always had when I helped my Grandma go through cupboards and shelves to help her discard any items that were no longer going to grace her home for another year.
10 FREE Spring Cleaning Printables to Help You Tackle Those Household Chores
I loved the "freshness" of everything. And this year, I'm determined to start things up in our home again and do a little spring cleaning. I've found these 10 FREE Spring Cleaning Printables to help me out along the way, which are just absolutely awesome! While my Mom and Grandma knew automatically what to do every single year and everything ran like clockwork, I could use a little extra nudge to make sure nothing is getting "swept under the rug." 🙂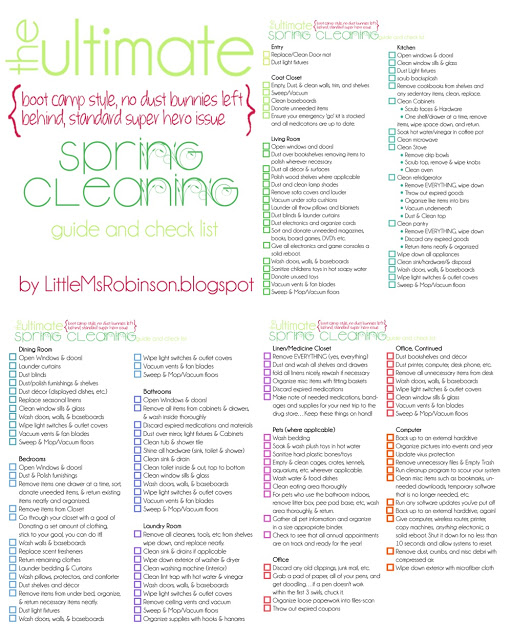 1. This Great Ultimate Spring Cleaning Guide and Checklist from LittleMsRobinson.ca is totally right up my alley! I love that this one shows each and every room in the house with a ton of great checklist items on each one. I won't have to worry about forgetting anything with this awesome printable!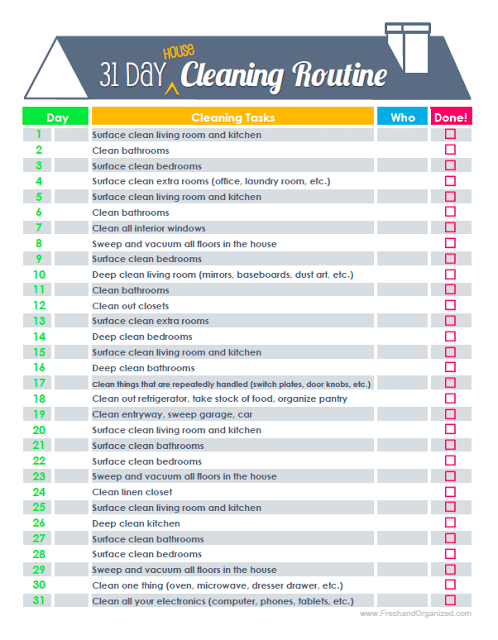 2. I love how this 31-Day House Cleaning Routine breaks everything down over the course of a few weeks. Found over at MoneySavingMom.com, it will really help break things down into more manageable pieces, which…let's face it…is half the reason I'm not committed to a Spring Cleaning schedule now. It can just be so overwhelming!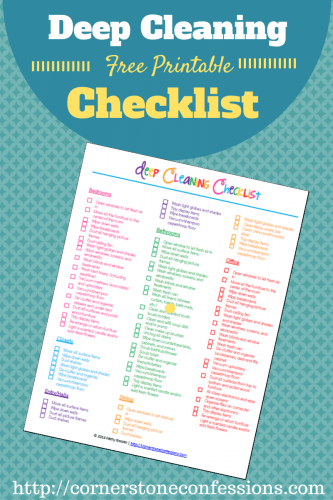 3. This Deep Cleaning Checklist, found over at CornerstoneConfessions.com is a great way to keep me on my toes for the items that I otherwise probably wouldn't even give a second thought. Some of these things I work at keeping clean throughout the year, but others? I'll admit, I don't even know if I've ever even attempted them. That's why I love the deep cleaning reminders that this printable provides!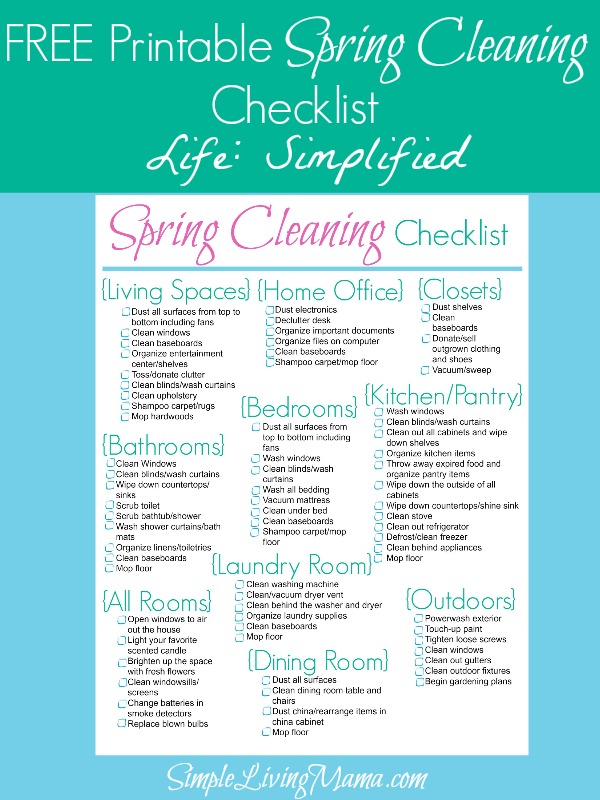 4. This Spring Cleaning Checklist from SimpleLivingMama.com is simple, to the point, and broken down for each room in your home. I love that I can check things off as I go and it even has a little section for cleaning things on a regular basis outside. Perfect!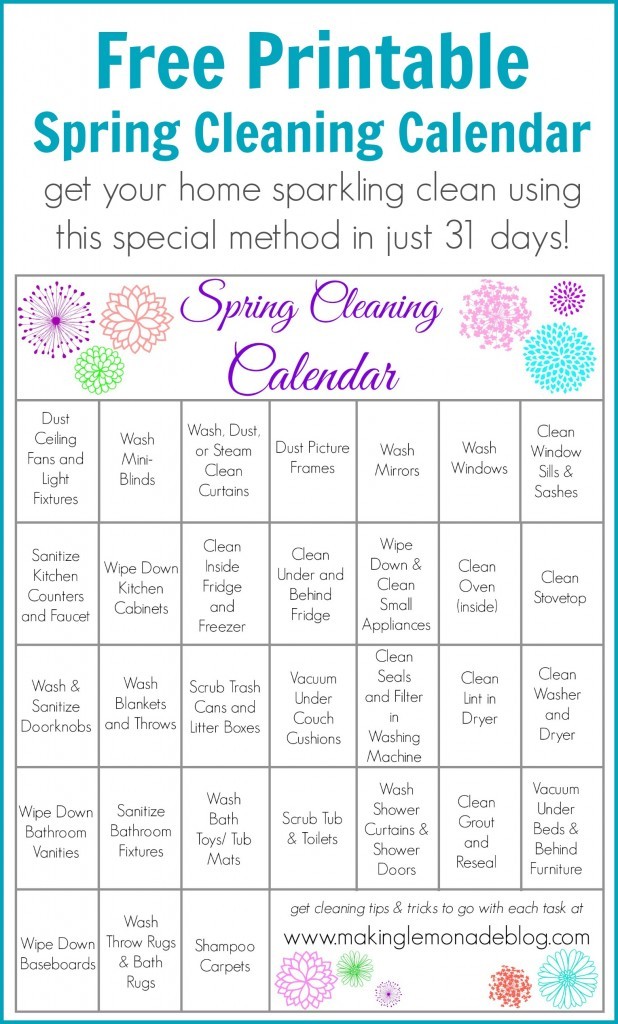 5. This Spring Cleaning Calendar over at MakingLemonadeBlog.com is a great way to have it laid out for you in an actual calendar format. Decide when you're going to start, write in the numbers for the corresponding days at the top of the squares, and you'll be able to easily identify what you've done and what you have coming up over the next few days. I love this and it definitely screams my name in my organization frenzied life!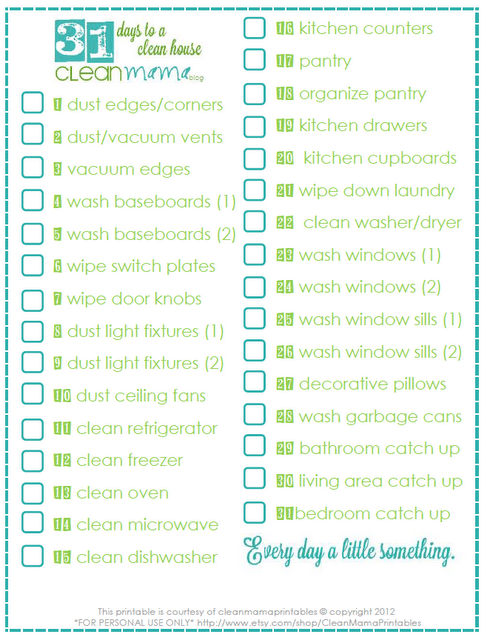 6. 31 Days to a Clean House? You betcha! Found over at CleanMama.net, this great printable will list things out for you for 31 days and it even lets you finish a couple of the items in the house over a couple days. And…I love those little check boxes to mark off as I complete something. I like seeing progress!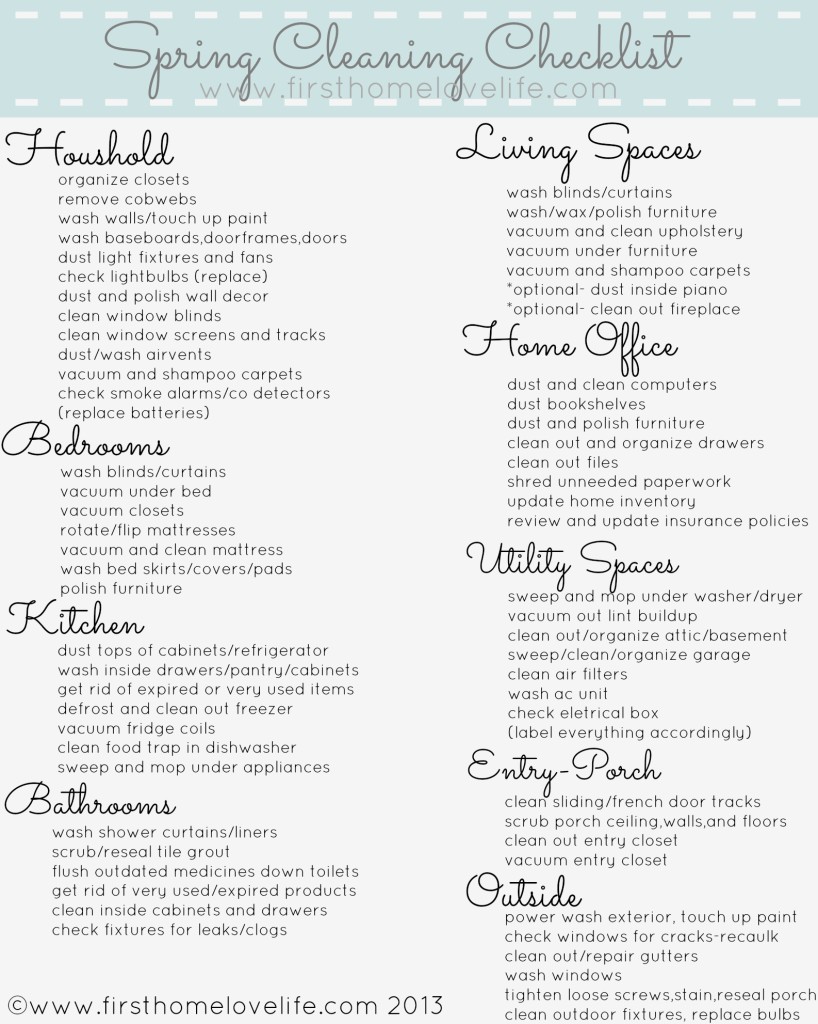 7. This Spring Cleaning Household Checklist from FirstHomeLoveLife.com is another one I love. It really helps to have things broken down by rooms for me. That way I can stay focused on a specific area of the house and with little ones, it helps to keep certain areas a little bit more manageable when they are busy doing something else in a different part of the house.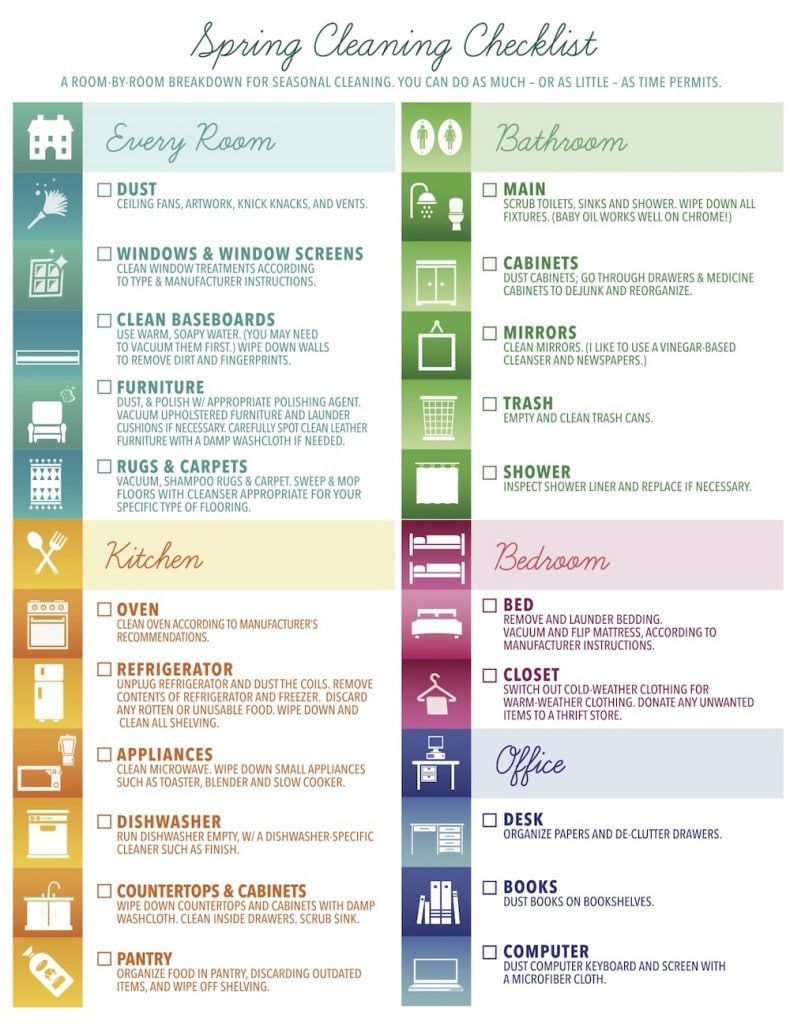 8. Well… this Spring Cleaning Room-By-Room Guide found over at Freebies2Deals.com is just so cute, how could I not include it in this list! Because if you're going to go through all of the work spring cleaning your house, you should definitely have an adorable printable to help you along the way! And, I like that it calls out specific areas of a room and than gives more details on how to clean and organize that area. Love!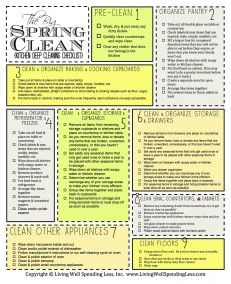 9. This Kitchen Deep Clean Spring Cleaning Checklist over at LivingWellSpendingLess.com is probably one of my favorites. Yes, it is only for the kitchen, but if you're anything like me, it's probably the messiest and least organized area in my home. Mostly because it's the most used area in my home. So spending some time deep-cleaning my kitchen, at the very least, is definitely going to be time well-spent. And it is so detail-oriented that you'll be sure to have a kitchen that is sparkling like new when you're finished! I love this printable!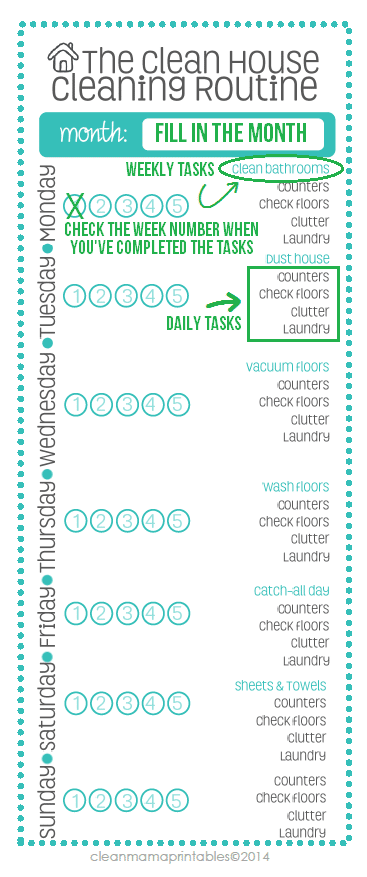 10. Finally, The Clean House Cleaning Routine from CleanMama.net is a great way to make sure that you stay on top of all of your cleaning needs in the home on a weekly basis. While it's a great idea to do that major spring clean as the weather brightens up and it stays light out longer, I know that I don't want to go through all that work just to have it turn into a mess again in a couple weeks! That leads me to this great printable that will keep you on your toes month-by-month, week-by-week, day-by-day. I know I need that kind of structure!
I don't know about you, but making sure I have checklists and I'm not just flying by the seat of my pants definitely helps me to stay focused and on task. I swear, if I don't have a checklist, I'll end up forgetting something major and remembering it just as I have everything put away. Which just means it won't get done because I'm definitely not taking everything out again! These FREE spring cleaning printables are really going to help me stay focused and organized. And I LOVE to be organized! I hope they are a big help to your spring cleaning plans, too!
Do you use lists and make sure that you're not missing anything when it comes to Spring Cleaning in your household? If so, you have to comment below and let us know what your priorities are! 🙂