We earn money from clicks or purchases made via product links in this post.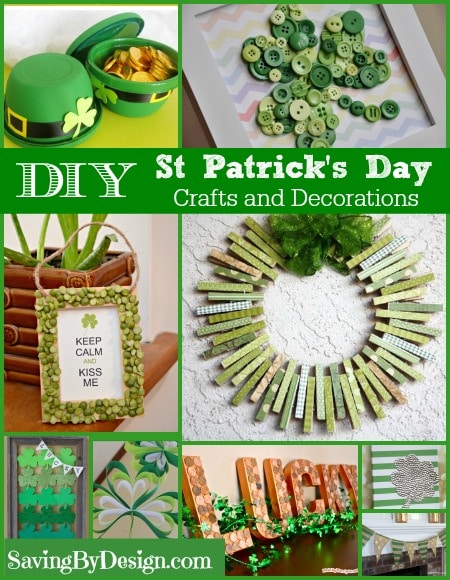 St. Patrick's Day is just a couple weeks away and I seem to be going crazy with decorations this year! We aren't Irish and it's not a holiday we have celebrated in the past, but there are just so many cute things out there, it's hard to not get caught up in the Irish spirit! And, let's face it. Finding these fun things to do with the kiddos just makes it all the better! Here are some great St. Patrick's Day Crafts and DIY Decorations that you better get started on now. This fun, Irish holiday is going to be here before you know it and you don't want to be left out in the cold on this one!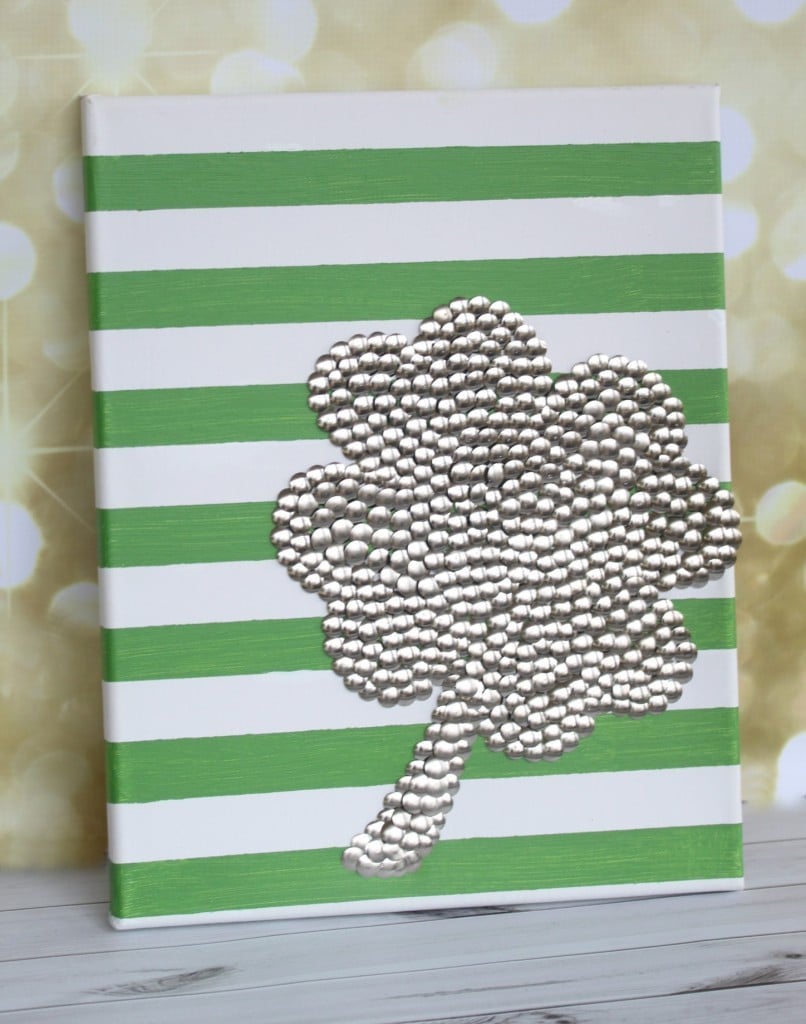 1. This Shamrock Canvas Art is such a great, yet simple piece of art you can do at home in a short amount of time! Found over at Roubinek.net, you'll be able to get this up as a decoration in your home in no time! It's fool-proof!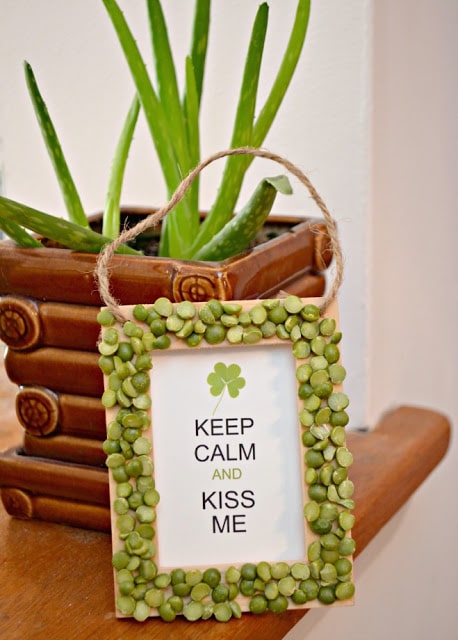 2. I love this sweet Split Pea Kiss Me Sign found over at OneArtsyMama.com! There is even a FREE printable here that you can stick inside the frame once you have your split peas glued on. What a great DIY craft project that will be a wonderful decoration!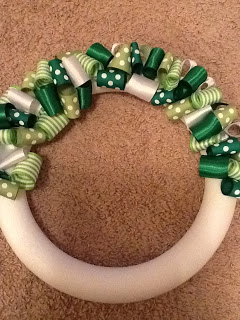 3. This St. Patrick's Day Wreath from SarahFreed.com is a wonderful DIY project that will get your home in the St. Patty's Day spirit in no time. What a great decoration to have on your front door!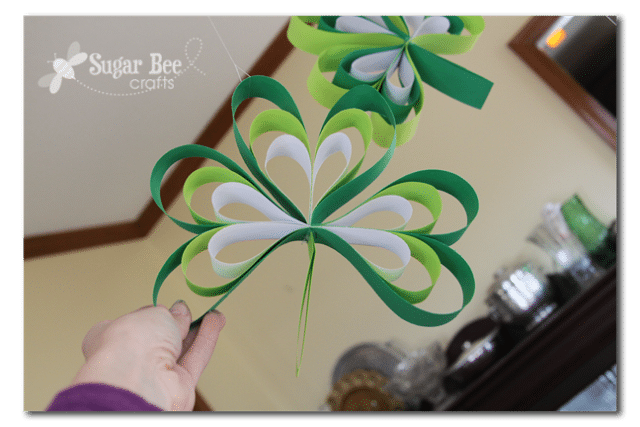 4. The kids are going to love to help make these Paper Strip Shamrocks that were found over at SugarBeeCrafts.com. What a great project to do together as a family and when you're done you can hang them all over the home! Yay!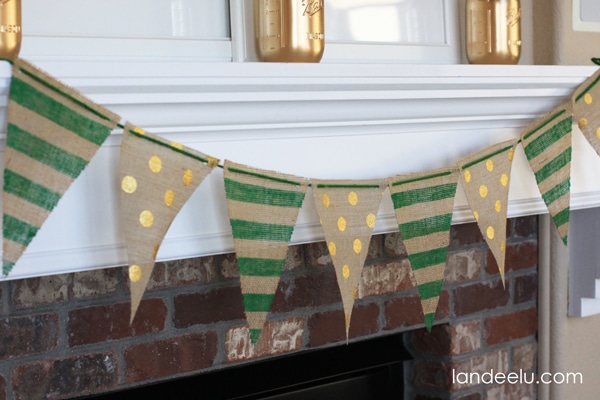 5. This gorgeous Painted St. Patrick's Day Burlap Banner found over at LandeeseeLandeedo.com is definitely something I'm going to make for above our fireplace. I just love the burlap decorations I see and this looks like a super fun one to put together!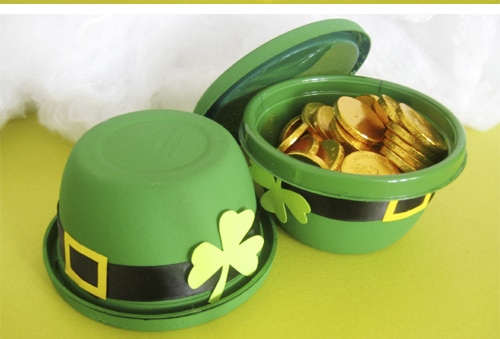 6. What cute Leprechaun Hats! Found over at CanadianLiving.com, they would be great for a party you might have, or just to make a few to have around the house for cute decorations. The kids are going to love to help putting these together, too!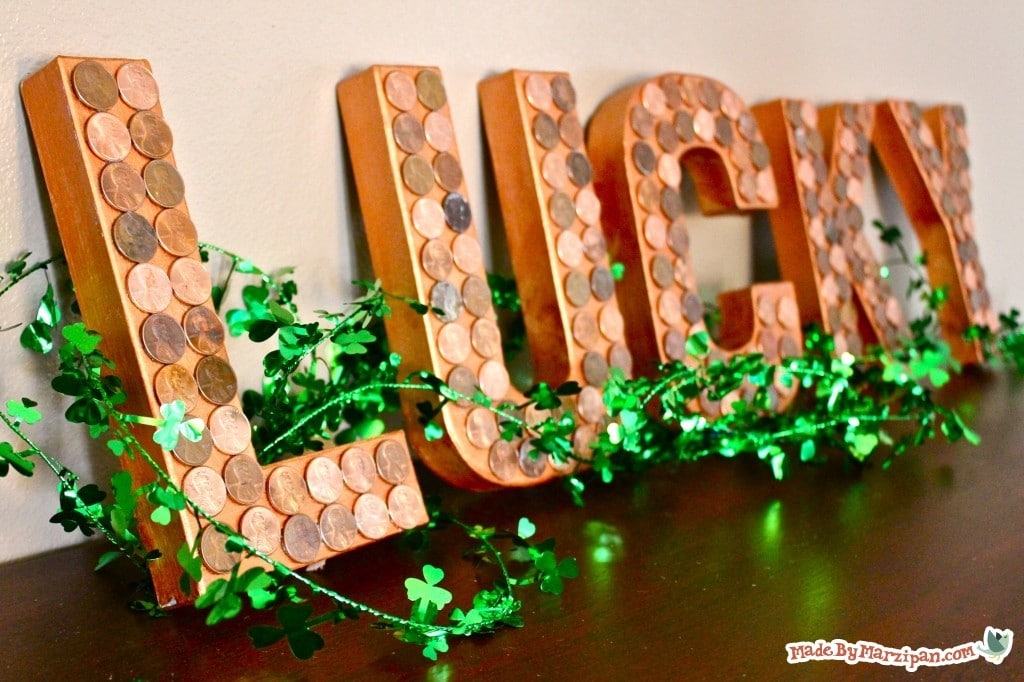 7. These Lucky Penny Letters from MadeByMarzipan.com are absolutely adorable! Painting them in a copper color and than gluing pennies on them will make for the perfect DIY St. Patrick's Day decoration. How fun!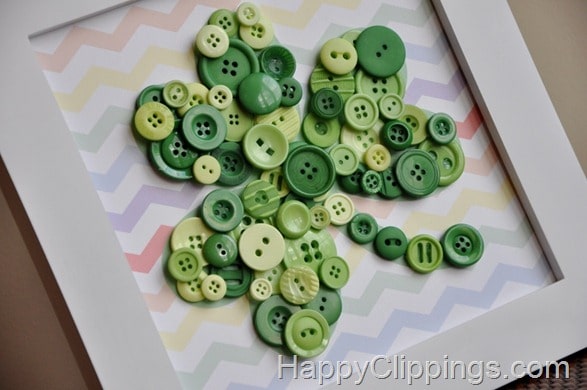 8. The Shamrock Button Art from HappyClippings.com is definitely going to get your creative juices flowing! Need a little head start? You can print off the FREE chevron background for you to attach the green buttons on.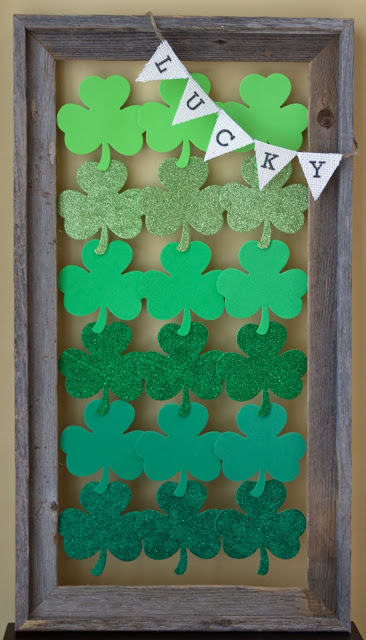 9. This St. Patrick's Day Ombre Design from HatterAndHareEvents.com looks more difficult than it is. You can do this! And look at that amazing end-result…what a great DIY St. Patrick's Day decoration!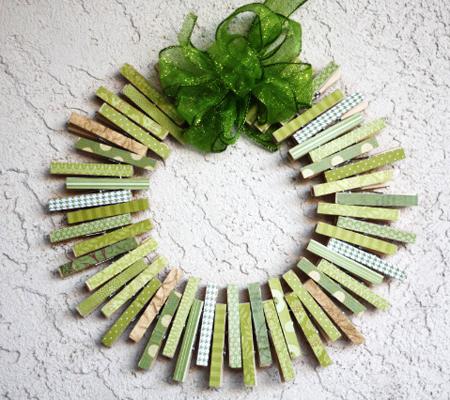 10. I'm kind of a washi tape nut. I LOVE DIY projects that incorporate washi tape! So this St. Patrick's Day Clothespin Wreath from Celebrations.com is totally right up my alley. I love how you can incorporate different patterns, glue them together, and voila! You have an awesome decoration that you can use for the holiday! Perfect!
I hope you found some great projects to help decorate the house for St. Patrick's Day. Or maybe one of the crafts is going to be right up your child's alley! Whatever the reason, I know you guys can do this. Who doesn't love a great DIY project every once in awhile? You're going to nail it and when everyone is excited to celebrate St. Patrick's Day with you next year, you'll know you totally nailed it this year! Get out all of your green, celebrate with a leprechaun, and do everything you can do to find that pot of gold at the end of the rainbow! Have fun!
Do you have any great St. Patrick's Day creations you are making to decorate your home? How about some great crafts to make with the kiddos? If so, comment below and let us know. We love great new ideas! 🙂