We earn money from clicks or purchases made via product links in this post.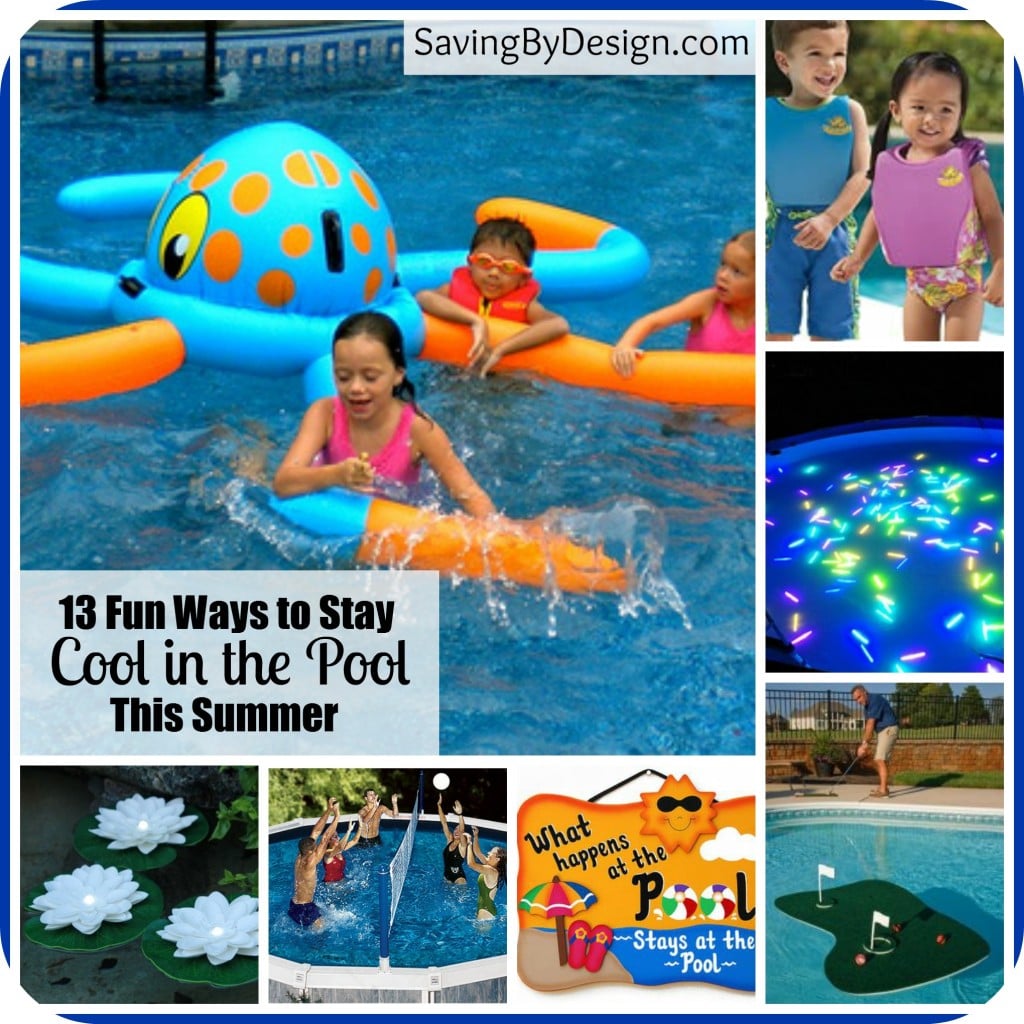 Now that summer has arrived the kids are out (or almost out) of school, and fun in the sun is officially being had by all, it's time to find some creative and super awesome ways to enjoy that pool of yours! Maybe you are one of the lucky ones who gets to open your back patio door and be around the refreshing scent of chlorine all summer, or maybe you are just looking for some great pool toys to pick up for that family vacation you have coming up on the horizon. Whatever the reasons, here is everything you need wrapped up in one cute, sun-drenched post!
13 Great Ways to Stay Cool by the Pool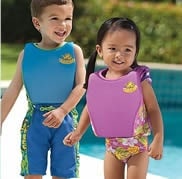 Keep the littles safe with these amazing floatation swimming trainers that we saw on Pinterest! Let them feel safe and secure around the pool and learn the basic concepts of swimming. Safety first!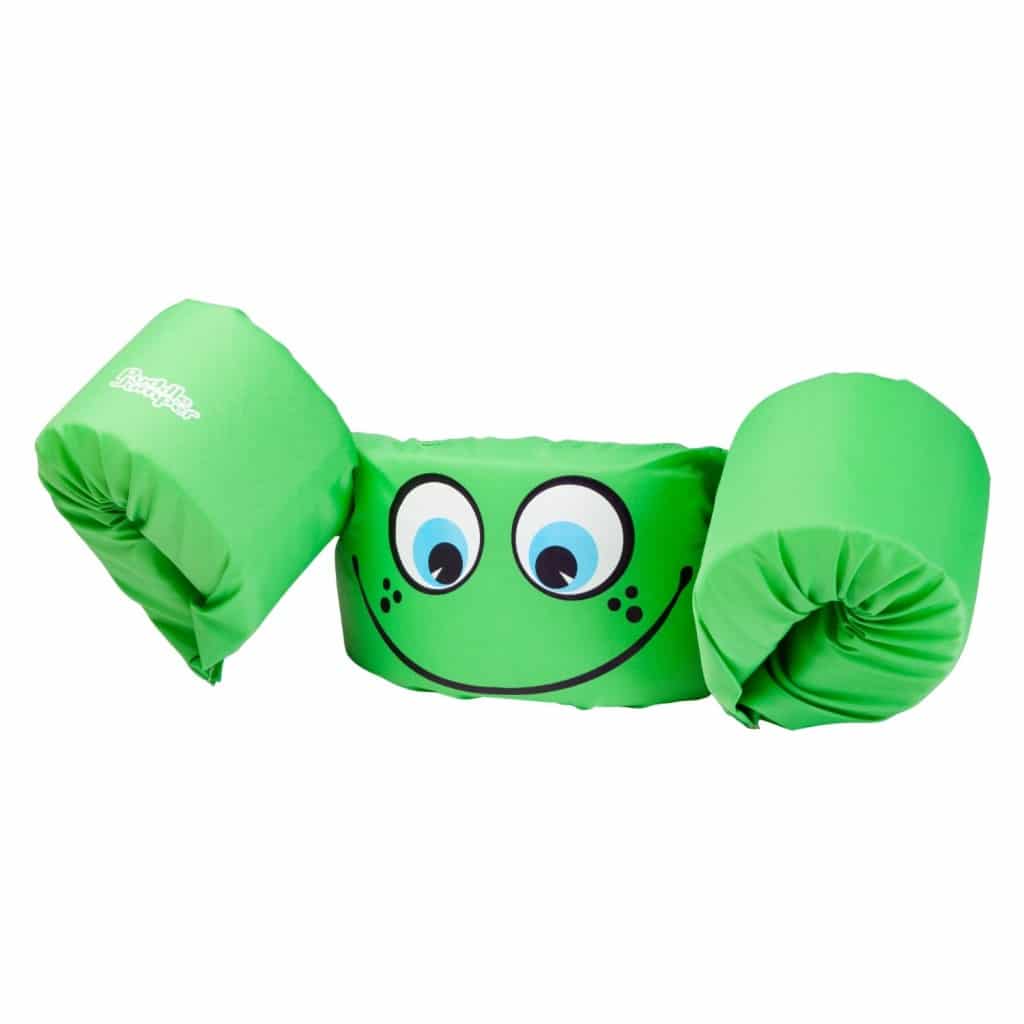 Do you have a little person that doesn't want to feel so confined and just needs some arm floaties to feel confident in the pool? Grab up this find on Amazon!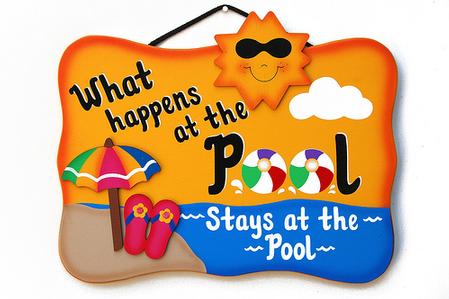 Everyone needs a little relaxation at the pool and what better way to let everyone know how fun your pool is than with this fun Pool Sign! Find this at UniquelyCraftedOnline.com!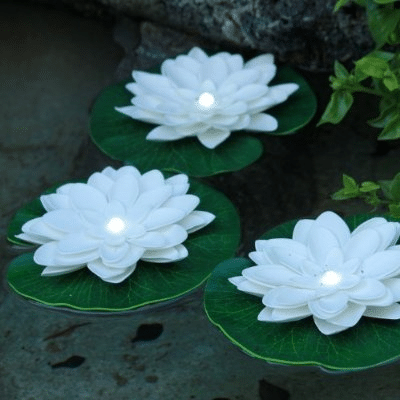 Looking for some nighttime ambience at your pool for an evening BBQ or family event? Grab up some of these Lily Pond Lights. How elegant, yet super fun!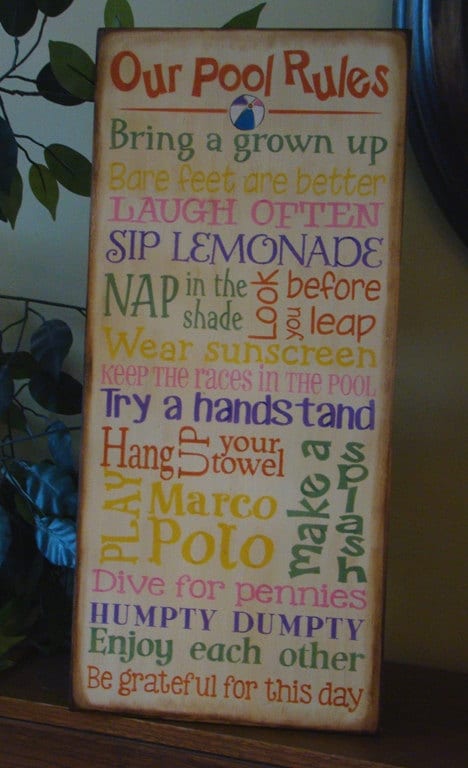 Looking for some fun Pool Rules to hang up around the backyard? Check out this Pool Rules Subway Art Sign on Etsy! Subway Art signs are all the rage right now and if you're feeling up to it, it's even a great DIY Project!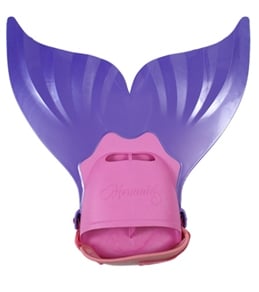 I don't know about you, but I know a little swimmer who would LOVE to pretend she is a mermaid while splashing around in the pool! Check out this super cute Mermaid Fin!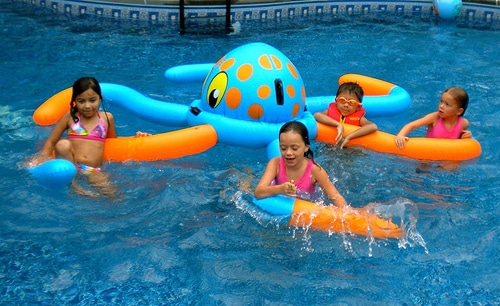 Getting ready to host a party and have to find some super fun and creative toys to keep the party rocking? Grab up this Swimming Pool Octopus Float Station for the whole gang from PoolFunForEveryone.com and enjoy this awesome toy for years to come! Check out lots of other giant inflatables too!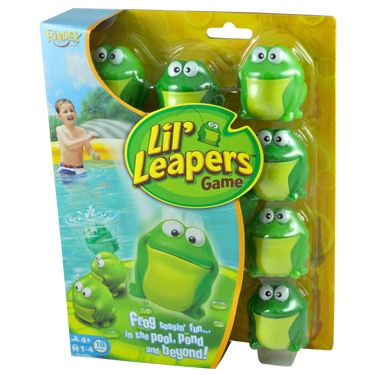 Now this is a pool game that you can't go wrong with! This Lil' Leapers Game will provide hours of fun for the kiddos this summer and is super fun to play as a family! Find this at PoolGear.com.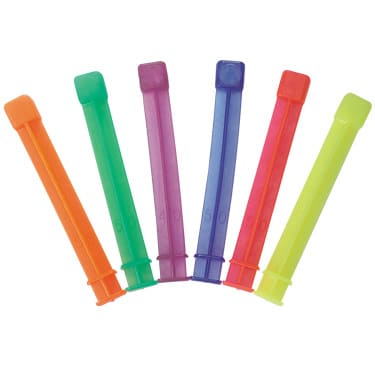 I don't know many games that can beat the old Diving Sticks getting thrown in the pool for all to find! There are many pool games that you can find for your family and this one definitely takes me back to my childhood! I could spend HOURS searching for diving sticks thrown in the water over and over again and proving my diving "finesse" by retrieving them! Check out many other awesome pool games too 🙂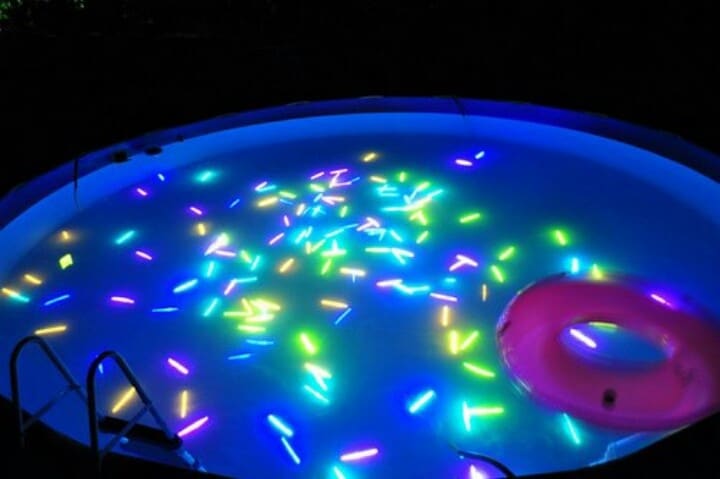 Speaking of diving sticks, why not take it one step further and grab some Glow Sticks for nighttime pool fun! This idea was spotted on Pinterest and what a great idea it is! Who doesn't love a nighttime swim after a hot day in the summer? This is a great idea for a party event over the summer, too!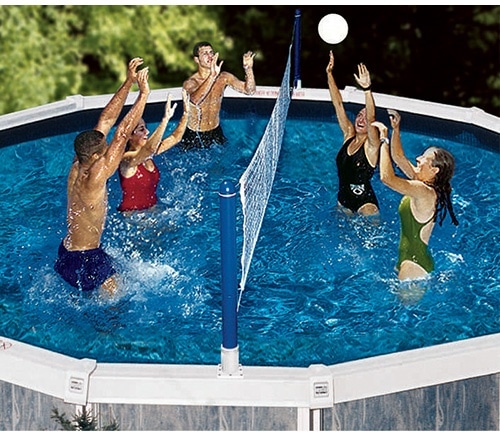 Ready for the adults and older kids to have a little pool time fun?! Grab up this awesome volleyball net for the pool by PoolFunForEveryone.com and you'll be hosting Pool-based athletic events all summer!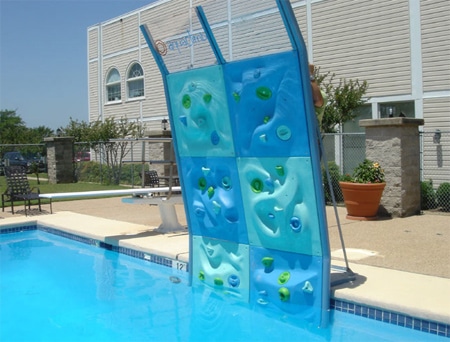 OK… now this is just downright crazy and probably a little over the top… but why not? Be the envy of the block with this Pool Climbing Wall found at AquaClimb.com. This is definitely a bit more of a pricey option, but if you have a family who is really into extreme sports and likes to take things to the next level, this is the Pool Toy for you!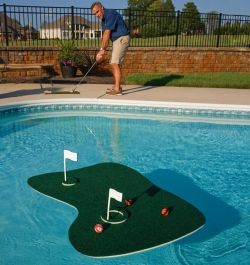 Since Father's Day is coming up, we thought we'd throw a great Father's Day present in here, as well. How much would Dad love this Pool Golf Chipping Green! I sure know a few Dads who would be spending tons of time around the pool perfecting their golf game, with an occasional dip to cool off. Fun!
Hopefully this gave you some great ideas to launch into a summer full of Pool Fun! Here is to a fantastic summer with no sunburns, perfect weather, family-filled fun, and refreshing pools for you to stay cool all over the world!
Do you have any of your own ideas and tips on staying cool by the pool this summer? Be sure to share in the comments below! 🙂