We earn money from clicks or purchases made via product links in this post.
Help your little ones learn what Thanksgiving is all about with these 15 Thanksgiving crafts and activities to do with your kids!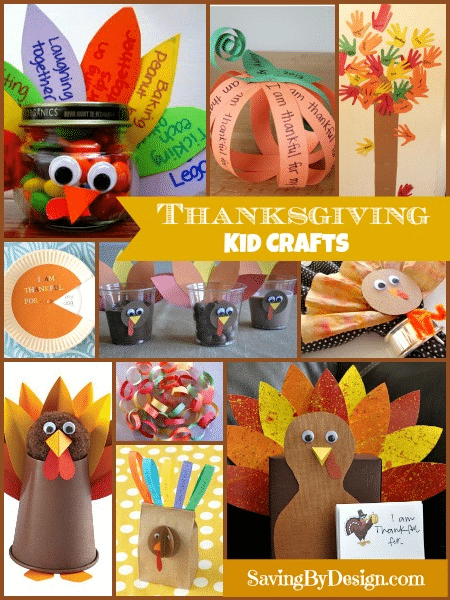 I love Thanksgiving! It's the one big holiday that we host at our house and I just love getting everything ready, including decorations along with Thanksgiving crafts and activities that the kids can all do while the adults are watching football! I also love to make things for the tables and have the kids help with that, as well. It's such a great holiday to remember what to be thankful for and it's important to show the kids that that is the main point of Thanksgiving and how they can learn to be thankful, as well!
15 Thanksgiving Crafts and Activities
to Do With Your Kids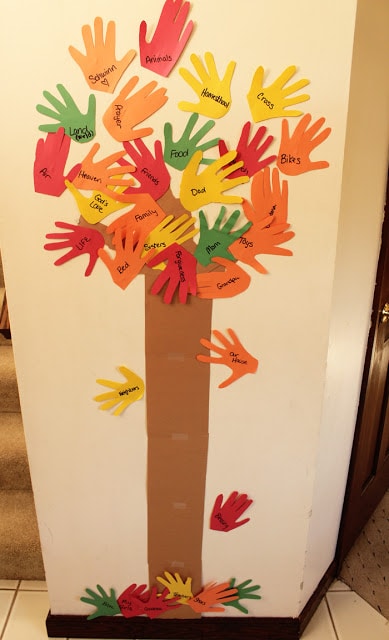 This Thankful Tree that's over on OurGoodWinJourney.com is something that I did with my son last year. He loved tracing his hand and having me cut it out while he thought about what he was thankful for! We started this in the beginning of the month and added a "leaf" every day. This year I intend to do this, too!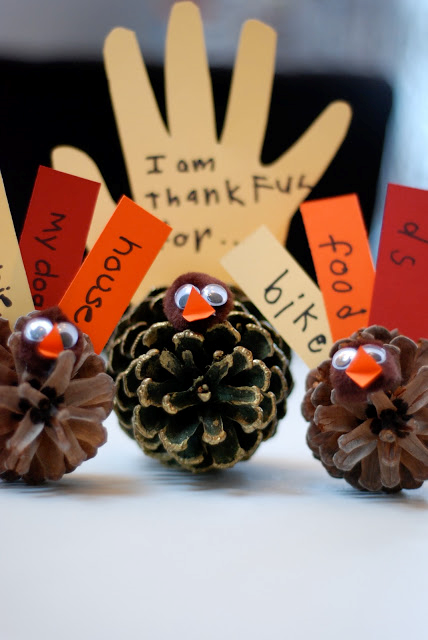 CreatingCoutureParties.com shared these awesome Give Thanks Pinecone Turkeys that look like so much fun to make! Go out and start collecting some pinecones and decorate them up for the kids to write what they are thankful for on their "feathers". So cute!
Pilgrim Hats are always a hit at the kids' table at our Thanksgiving celebrations. Parents.com has a tutorial and trust me when I say they're really easy to make! I got some super cute pictures of all the kiddos last year and I can't wait to see them running around with their hats this year, too!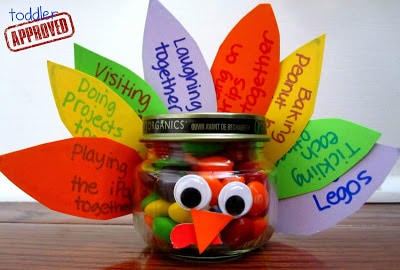 I love this Gratitude Turkey Treat Jar, which was found over at ToddlerApproved.com. Grab a baby food jar, and you're on your way! And while the kids are busy thinking of the wonderful things they are thankful for, you can sneak a few M&M's!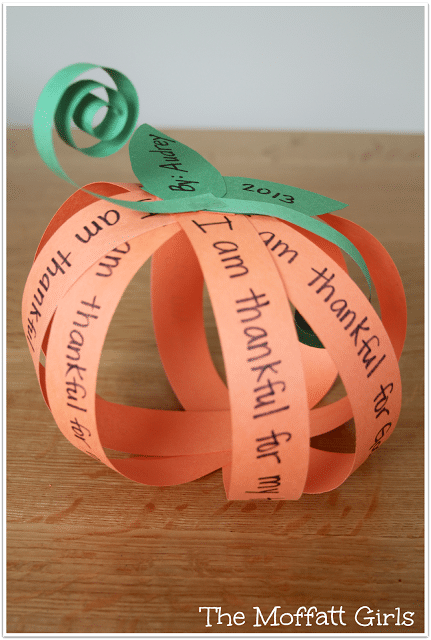 This "I Am Thankful" pumpkin craft from MoffattGirls.BlogSpot.com is such a great craft activity to do with your little ones, and when you're done, what cute decorations to have on the Thanksgiving table! You can find the tutorial at the website and get busy making your pumpkins with the kiddos!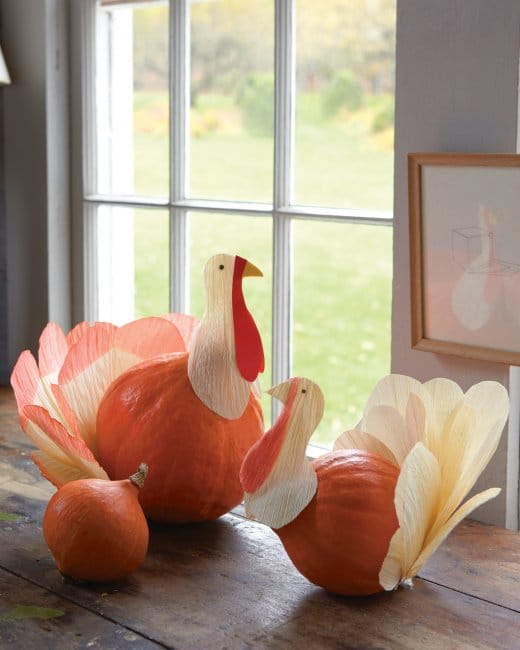 These Thanksgiving Gourd Gobblers, found at MarthaStewart.com are EXCELLENT decorations for you to have in your home for your Thanksgiving feast! And they are so easy that it will be a breeze to have the kids help you, or to even make their very own Gobbler!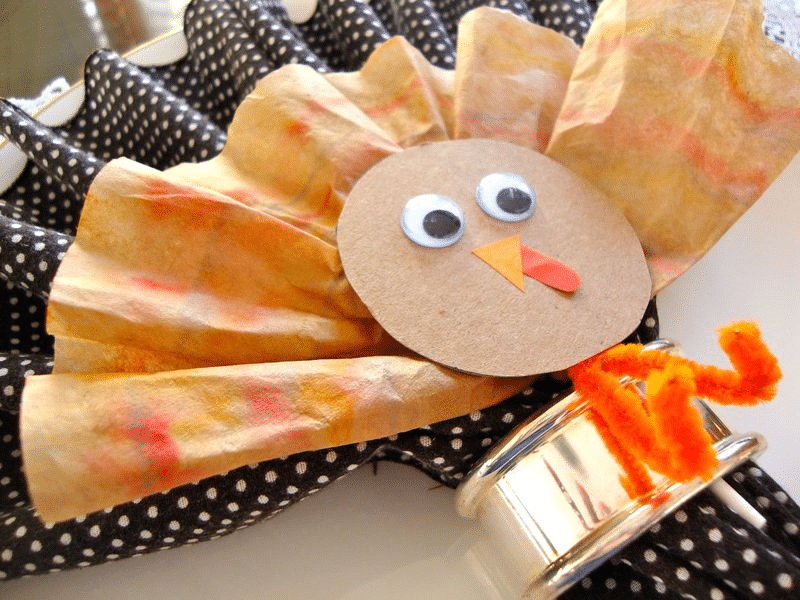 Check out these Gobble Thanksgiving Table Pops over at BrassPaperClip.TypePad.com, which has a great tutorial to show you how to use those extra Halloween pops you may have sitting around the house! I really love to have something on each place setting at the Thanksgiving table and these are PERFECT and also great ways for the kids to be involved with a craft, too.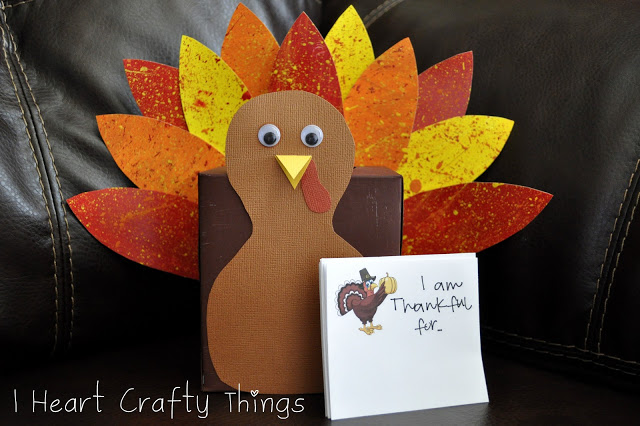 This Thankful Turkey Box is SUCH a fun craft to do with the littles for Thanksgiving! Check out the link at IHeartCraftyThings.com for instructions. But it's definitely easy to think outside the box for this and have the kids go nuts with creating the "feathers" on their turkey box. Let their little imaginations run wild!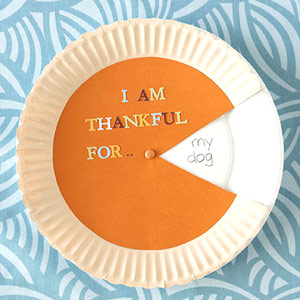 This Gratitude Pie Spinner may be one of my favorite finds to create for Thanksgiving this year! Found over at SimplyModernMom.com, this is a great way for the kids to show what they are thankful for during this special season. I might even attach some pictures to it for the toddler to make sure the word association is there, as well. What a great tool!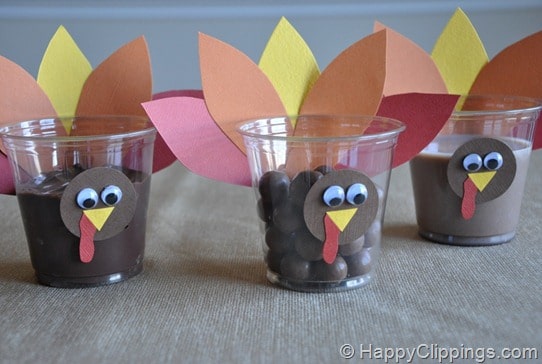 Turkey Cups were a hit at our Thanksgiving celebration last year! This was over at BeDifferentActNormal.com. Last year, I cut out all of the main pieces and placed them at each child's place setting, where they were than able to go and put them together themselves. It was a great way to keep them occupied with a great activity, and later on, everyone got to fill their cups with treats that were passed around. They loved it!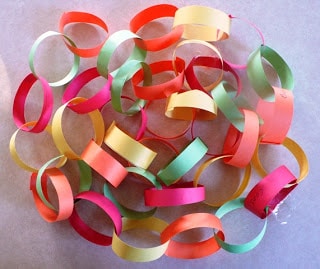 This Thanksgiving Paper Chain found over at We-Made-That.com is a great way to help the kids decorate your home for the Thanksgiving holiday, while helping their find motor skills in the process! I quickly cut up a ton of different colored strips with my scrapbook paper cutter, had a glue stick, and the littles got busy putting them together to create their own chains. They loved it and they love it even more when they see their items decorating the house. What a great way to make them feel special.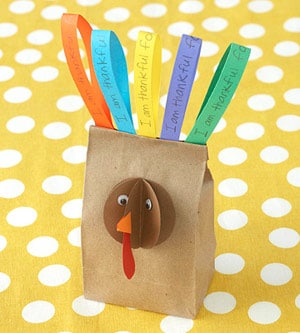 A 3D Turkey Bag is a great way to harness the thanksgiving spirit this year! Find a tutorial over at Parents.com! How cute!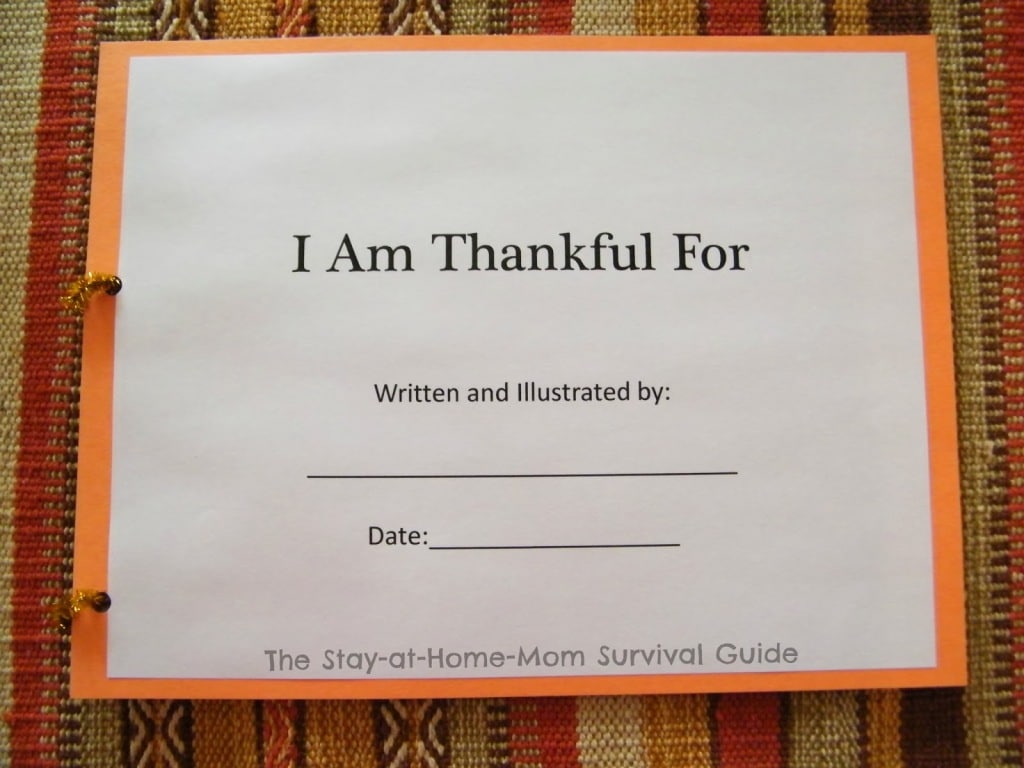 Creating an "I Am Thankful Book" will help your kiddos truly learn what this holiday is all about. TheStay-At-Home-MomSurvivalGuide.com will help to show you how to get started and has a downloadable cover for you, too! I really love this idea and what a great keepsake to stick in their memory box!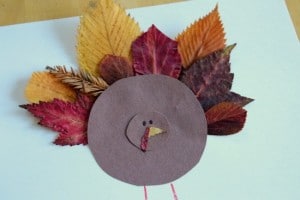 Get outside to gather resources for this Leaf Feather Turkey craft that was found over at BabyCenter.com. My son is infatuated with all of the falling leaves and the different colors that he is finding. This will be a great way for him to put all of those hunting skills to good use!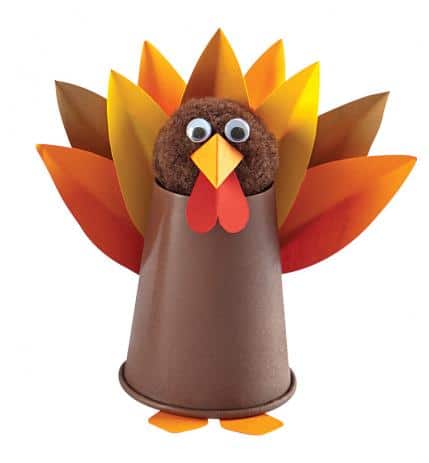 Awe! Check out this Tabletop Turkey at Parenting.com. Another great project the kids can help you with and they will have fun putting their own spin on it! Create a few for tabletop decorations, or just create special ones for each of your little ones. I love crafting with the kids and my son LOVES creating things and helping mom. I can't wait to try this out!
Hopefully all of these Thanksgiving crafts and activities are something that will help to create anticipation and excitement in your house over the next few weeks. I'm still amazed that Thanksgiving is a little over a month away, but I sure do love all of the craft opportunities that it provides for my family! It's never too early to get them involved in making things that show what they are thankful for!
Have you done something super fun with your kiddos to inspire the Thankful Spirit at Thanksgiving time? If so, comment below and let us know! 🙂