We earn money from clicks or purchases made via product links in this post.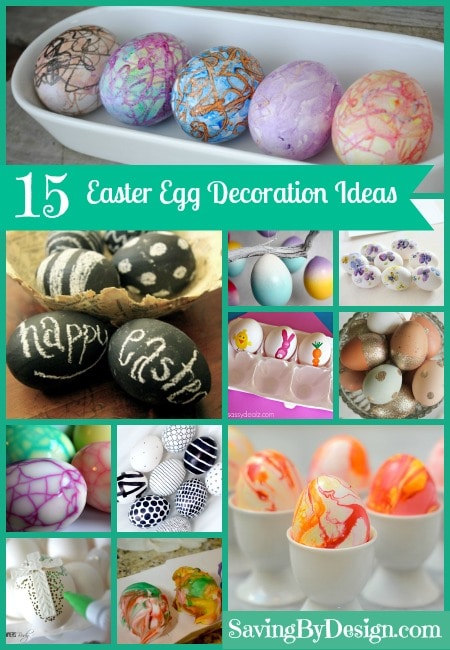 One of my favorite things about the Easter holiday is decorating Easter Eggs with the kids! My daughter was a little bit too small to really participate much in the past, but I have a feeling that's all going to change this year! My son, on the other hand, is an old pro and even last year was very independent on making his own creations come alive! That being said, isn't it fun to find different ways to decorate Easter Eggs besides the old dying the egg stand-by? I love new challenges, especially when it's in the DIY Craft world, so here are 15 Different Ways to Decorate Easter Eggs!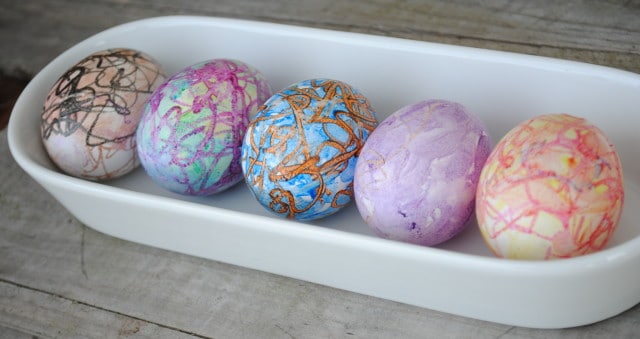 1. Melted Crayons are always a hit in my house and it's EASY and not messy. Two big bonuses! Check out this tutorial on how to achieve the look over at JennaBurger.com!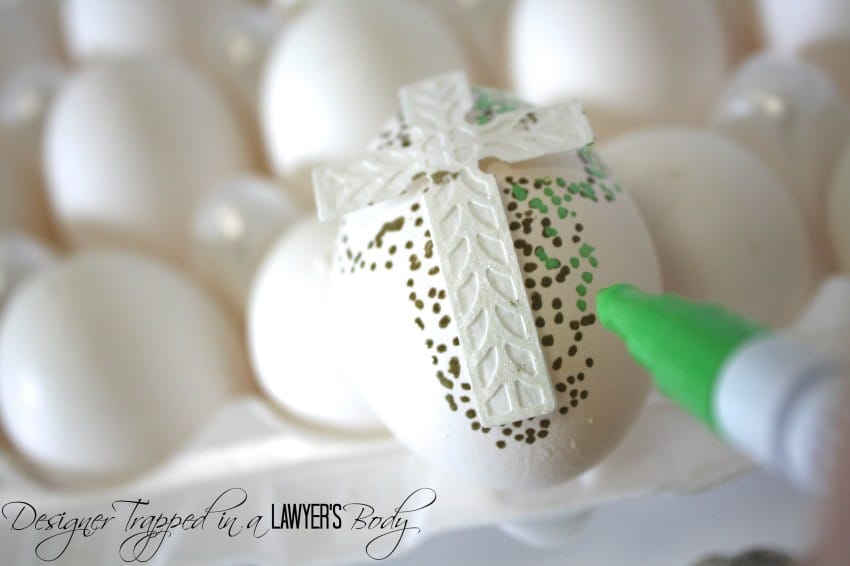 2. Easy Dot Eggs can be done with even the littlest crafters in the house! It's as easy as putting a sticker on an egg and going crazy with dotting around it. Take the sticker off and voila! You have a fun Easter Egg! Get even more tips over at ReasonsToSkipTheHousework.com!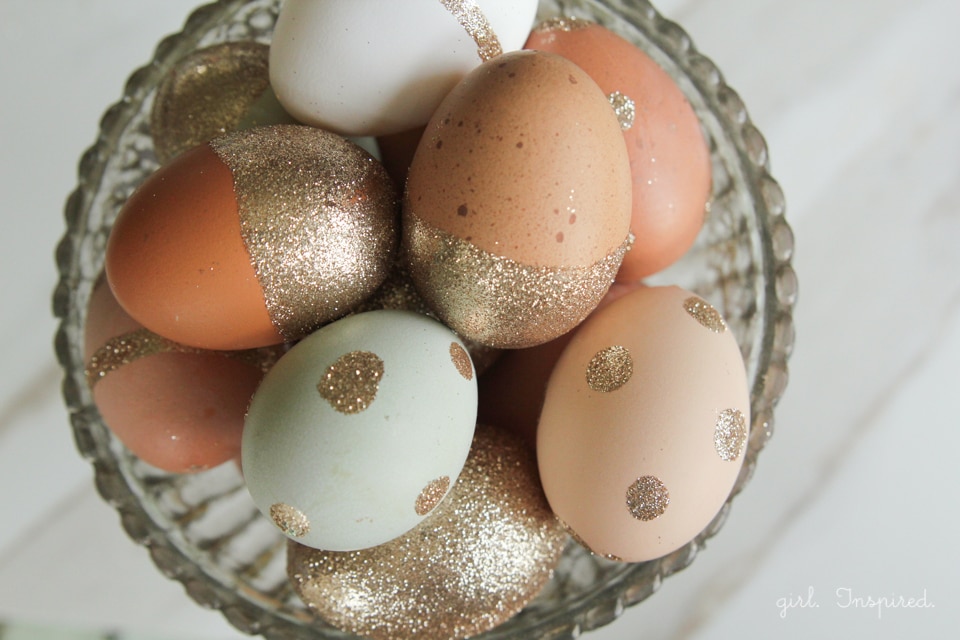 3. Glitter, glitter, everywhere! These Glitter Easter Eggs found over at TheGirlInspires.com is such a fun decorating activity! Who doesn't love having fun with glitter! I love that you can decide if you want to glitter up the whole egg, or make little patterns all over. It's up to you!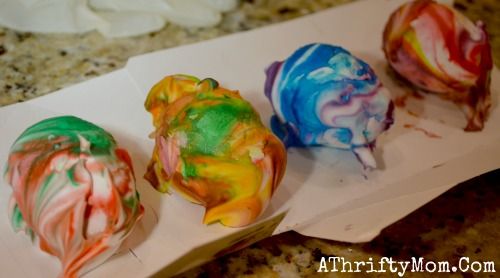 4. Using Shaving Cream to Dye Eggs? You betcha! Check out this tutorial over at AThriftyMom.com and go crazy! I must admit, this one looks SO fun. We are definitely going to try out this method this year!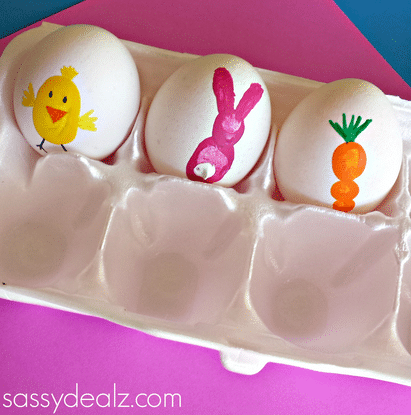 5. Fingerprint Decorating is pretty much a big hit with ANY craft we do at home, so why wouldn't it be the same for decorating our Easter Eggs?!?! I found this post over at CraftyMorning.com and knew it would have to be part of the Easter Egg line-up this year! And while we're at it, I'll have to do some other fingerprint Easter projects to remember just how tiny those little hands were in 2015! Because I don't think we'll want to save the eggs. 🙂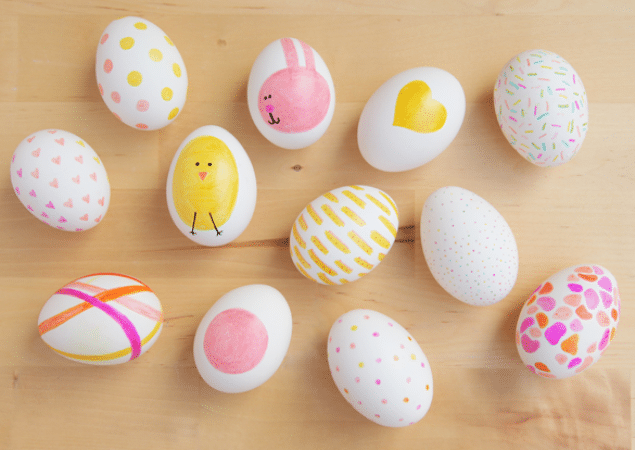 6. What could be easier and less messy than Sharpie Marker Decorating? Found over at Mom.me, it's not going to get much easier than this! Who doesn't have Sharpies in their house? Take them out, line them up, and let the kids go nuts! I love that they will get to express themselves however they want for the Easter holiday and they will have fun doing it, too!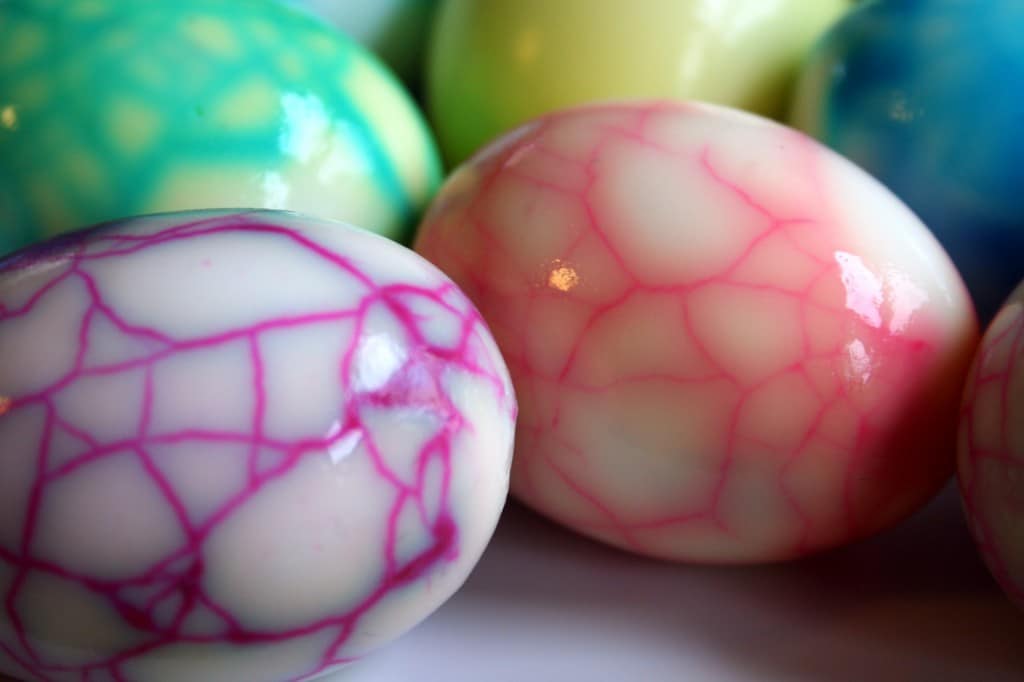 7. Have you ever tried this Cracked Egg Decorating trick? Check out the tutorial at RealSimple.com and see how fun a different method can be! Now, these aren't going to be ones that you'll want to hide around the house, and you'll have to keep them refrigerated until the big day, but what a great decoration for Easter Sunday! And… when the holiday is over, they're already peeled and ready for you to make Egg Salad with! Perfect!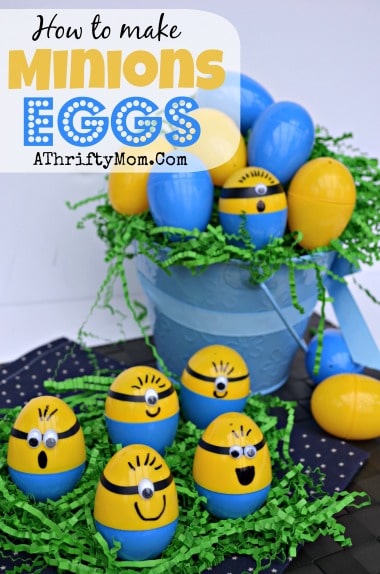 8. OK, as you may or may have not discovered in previous posts of mine, my son is OBSESSED with the minions! So when I came across these Minion Easter Eggs at AThriftyMom.com, I just knew we were going to have to make some this year! This creation uses yellow and blue PLASTIC Easter Eggs, but it's much easier to fill these up and hide them all over your house on Easter Sunday. At least you won't be worried about forgetting any! 🙂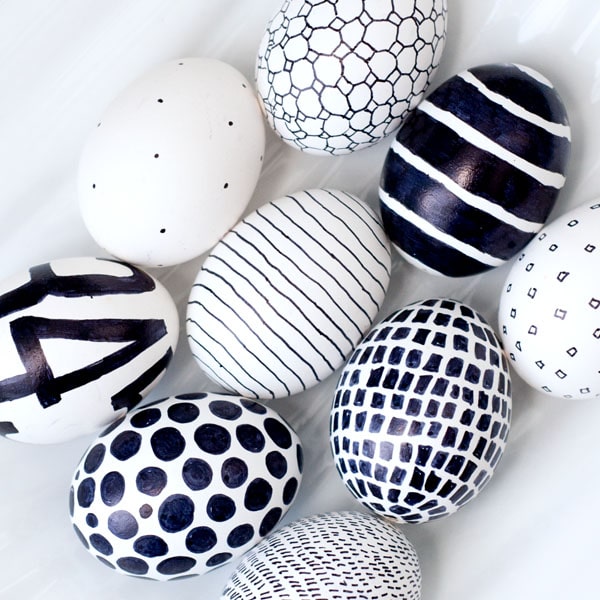 9. I love the simplicity of these Black and White Eggs over at ObviouslySweet.com! No need to worry about any colored eggs here! Boil them up, let them cool, and you're ready to get to work! What a great idea!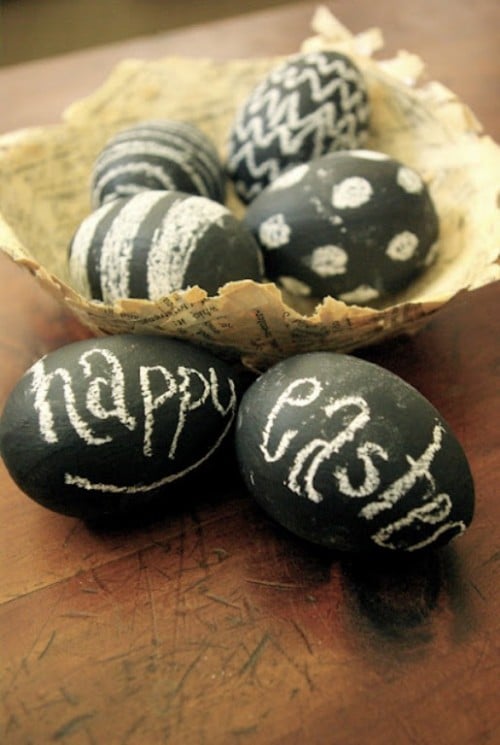 10. Doing anything with chalkboard paint these days is ALL the rage, so when I saw these Chalkboard Easter Eggs over at Shelterness.com, I was so excited! Grab that chalkboard paint you know you have stored in your cabinet, paint those eggs and let them dry. Than, time to get the chalk out and have tons of fun decorating the eggs! We have a bunch of colored chalk and I can guarantee that the kids are going to love this little Easter Egg project!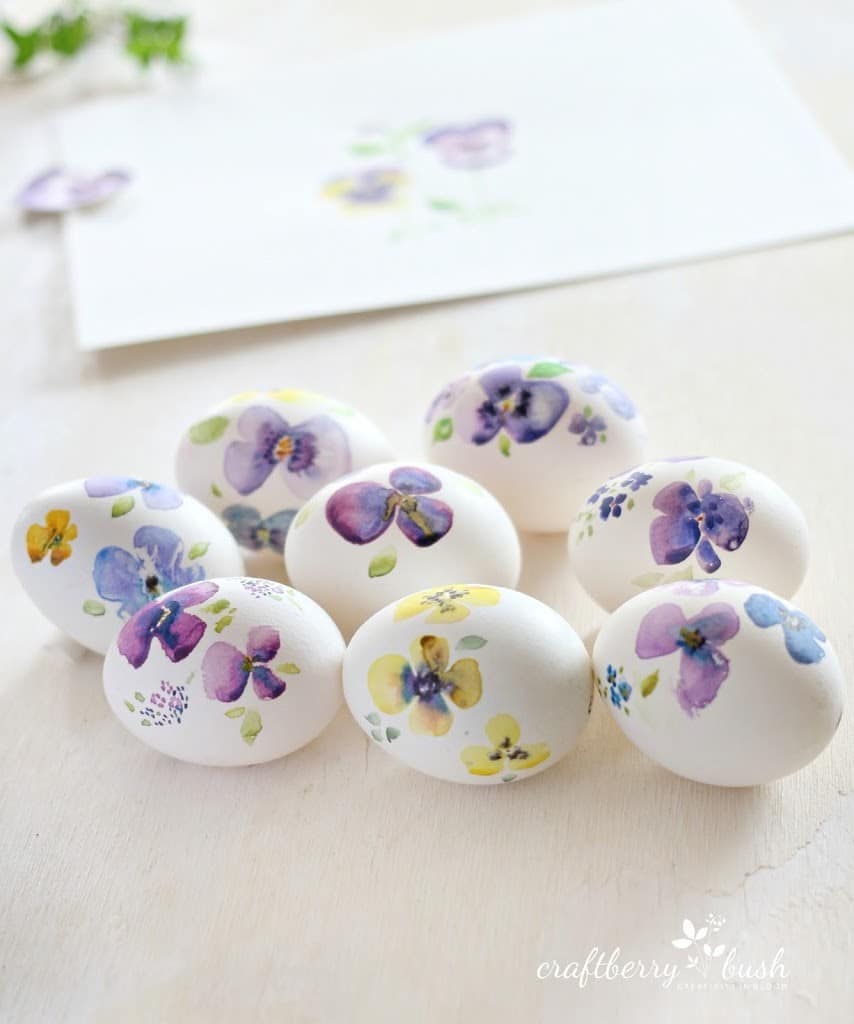 11. Looking for ways to color and paint your Easter Eggs and not break the bank with all of the fancy Easter Egg color kits out there? Than these Watercolor Eggs found over at CraftBerryBush.com are for you! Take out the old watercolors and get busy! I love that with watercolors, you have so much control over how dark or light your color will be, depending on how much water you add. The kids will have a ton of fun using their paintbrushes to paint the eggs and you might even have to get in there and get crafty, too!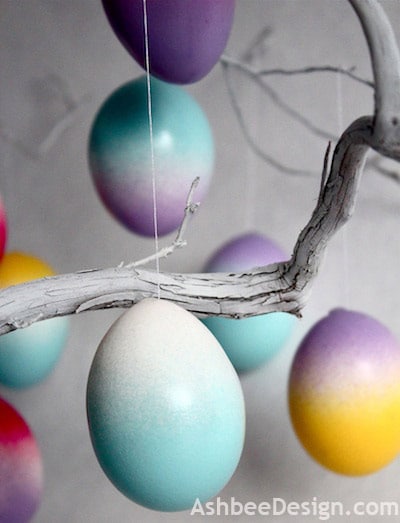 12. Ombre Colored Eggs. LOVE, LOVE, LOVE! Found over at AshbeeDesign.com, these might just be my favorite Easter Egg idea! Surprisingly, it doesn't look too difficult to accomplish! I don't know who will enjoy doing this project more… the kids or me! 🙂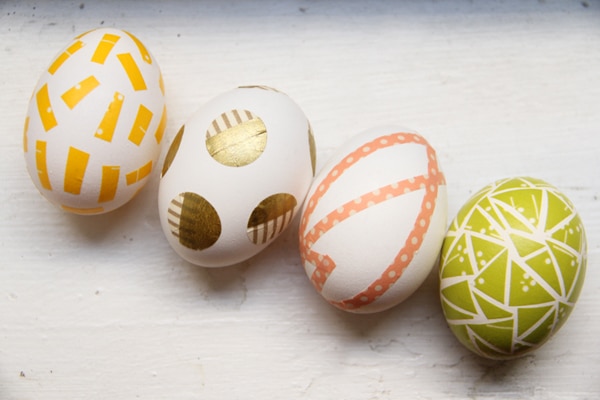 13. We all have extra washi tape hanging around our craft areas, so why not gather up all of those pesky scraps and make some Washi Tape Easter Eggs?!?! Found over at LovelyIndeed.com, this is a great way to use scraps you aren't sure what to do with. Or, if you have a washi tape that you are just in love with, than by all means… go nuts and decorate a special egg dedicated to that pattern! Have fun!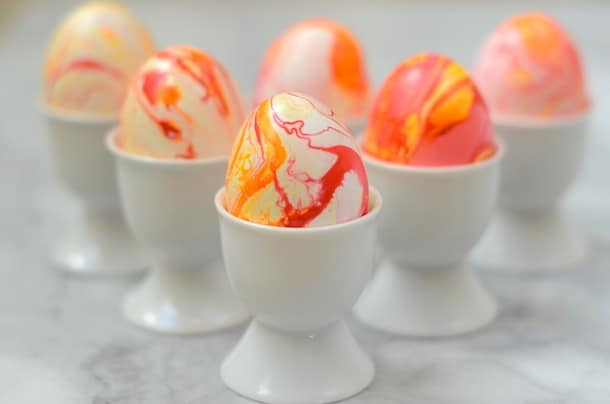 14. These Marbleized Easter Eggs just look SO cool and fun to make! Check out the tutorial over at CamilleStyles.com and see what you think! (Psssst….. it's nail polish!)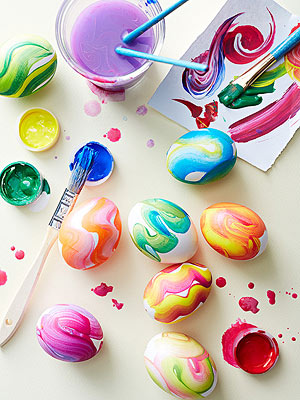 15. Who wouldn't love these Swirly Painted Eggs found over at Parents.com? I'm not going to lie, this one might have the potential to get a little messy, but how beautiful is the finished product?! And let's be honest… who doesn't love swirling up some different colors together to see what happens? I know I do!
Just remember you still have an Easter Egg hunt to get through after you decorate all of these gorgeous eggs! You may want to keep a couple of the less time-consuming ones set aside for the big hunt. But… if you're a firm believer that you made them for the kids to fully enjoy, than by all means! Go hide them all and let the kids be dazzled by all of the cool eggs they stumble upon this year during their hunt! Hopefully these ideas inspired you to do something a little beyond the norm for your decorating this year. I'm excited to hear what you all end up with!
Do you have any out-of-this-world Easter Egg Decorating ideas or projects you have done in the past with your Easter Eggs? If so, comment below and give us the scope on even MORE Easter Egg Decorating ideas! 🙂