We earn money from clicks or purchases made via product links in this post.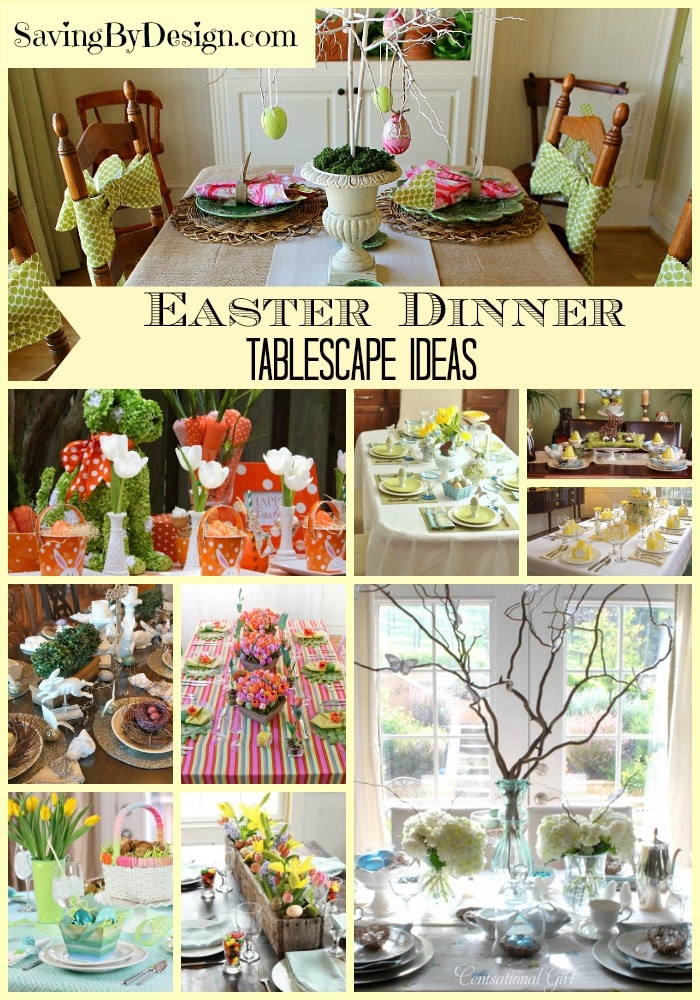 I just love "dressing up" a table for a holiday! And after a long winter where everyone has been cooped up (because we live in one of "those" states), nothing is more refreshing that putting together a fun, spring-inspired table that everyone gets excited about! Check out these fun Easter Dinner Tablescape Ideas and get ready to start getting excited for that warm weather that is just around the corner. You aren't hosting Easter dinner this year? Well, I don't know about you, but when I'm not hosting, I BEG our host to let me handle the table. My family knows how much I like it and it's my "contribution" to the day. My Mom loves when I do it, because it's just one less thing that she has to worry about. So ask! You just never know. 🙂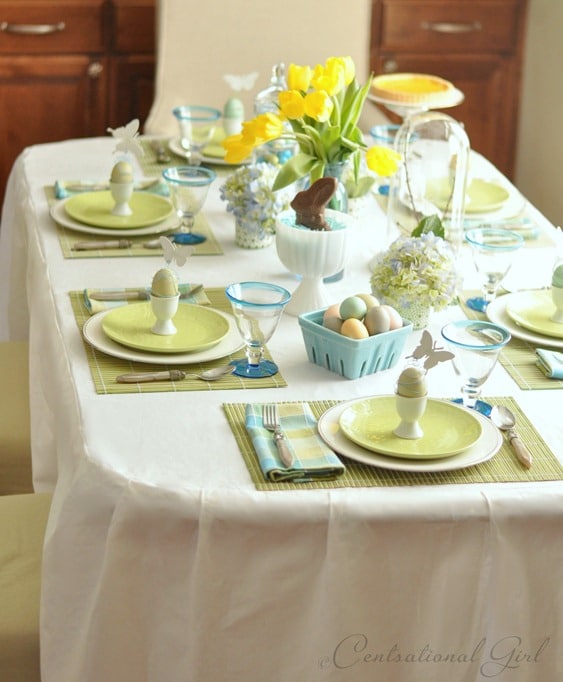 1. OK, so this gorgeous Blue-Green Easter Table with that fabulous Chocolate Easter Bunny in the middle is about the best thing I've ever seen! I love this and it just SCREAM Spring! CentsationalGirl.com really went above and beyond on this idea. And those eggs that are on everyone's plate? OMG… SO CUTE!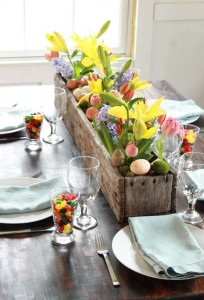 2. Do you have a cute wood planter like this sitting around the house waiting to have flowers planted in it this spring? Why not use it as your centerpiece? This Wood Planter with Easter Eggs in it was found over at HouseHunt.com and I totally have something like this that would work great as a centerpiece!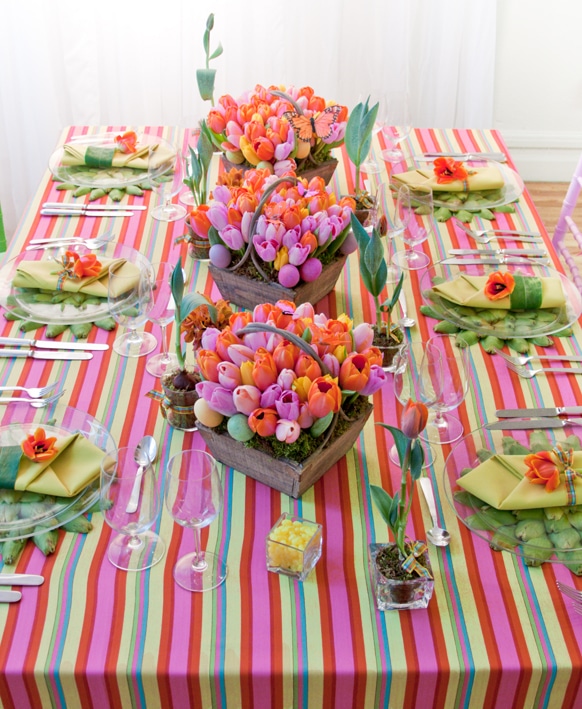 3. Ready to brighten up everyone's day this Easter? This Bright Tulip Tablescape from CentsationalGirl.com is seriously one of those tables that I just want to sit at all day! How could you not be completely happy and in an incredible mood with your family all around you at this awesome table! Those placemats under the plates? My goodness, they are about the most awesome things I have ever seen! And all of those colorful tulips?!?! This is going to be one good-smelling table!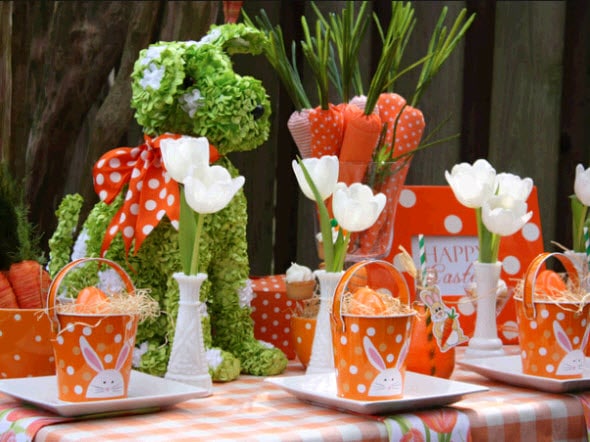 4. This Carrots & Polka Dot Table will have all of the kids in your family sitting still just like they are supposed to! Found over at HGTV.com, I love how this is such kid-friendly, yet gorgeous table. Those fabric carrots in the center of the table? My goodness… I just love them!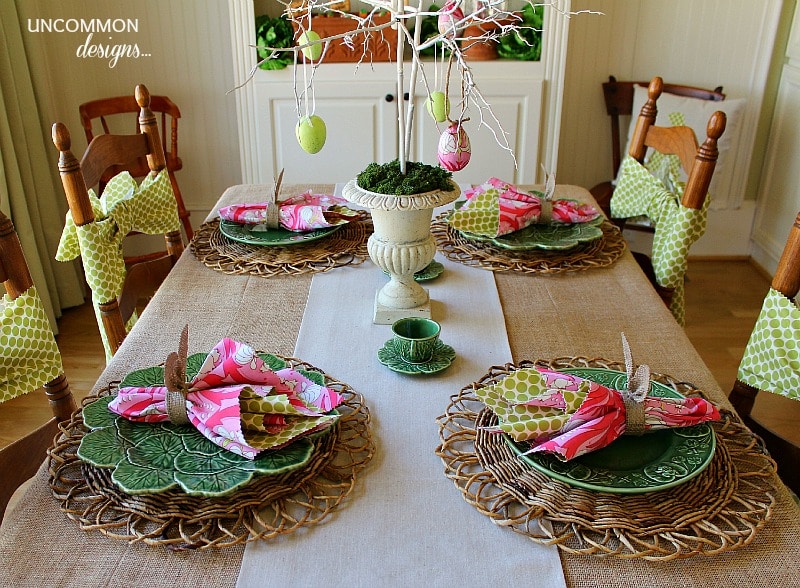 5. Burlap is such a versatile fabric to use for any occasion, so when I saw this Bunnies and Burlap Table, I immediately fell in love! Found over at ThePinkFlour.com, I love the egg "ornaments" that are hanging from the tree in the middle of the table. So cute! And I'm a sucker for fabric on the backs of chairs. I really think it makes a table come alive and adds that special something to your event!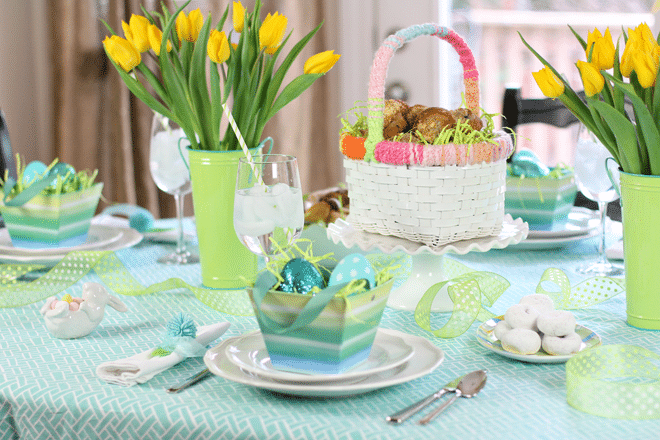 6. This Aqua and Green Table is SO Easter! Pizzazzerie.com really nailed this! I love how the muffins are placed in the center of the table for everyone to enjoy and the colors are just so gorgeous! It really brightens up any home and would be such a wonderful table to enjoy a family celebration at!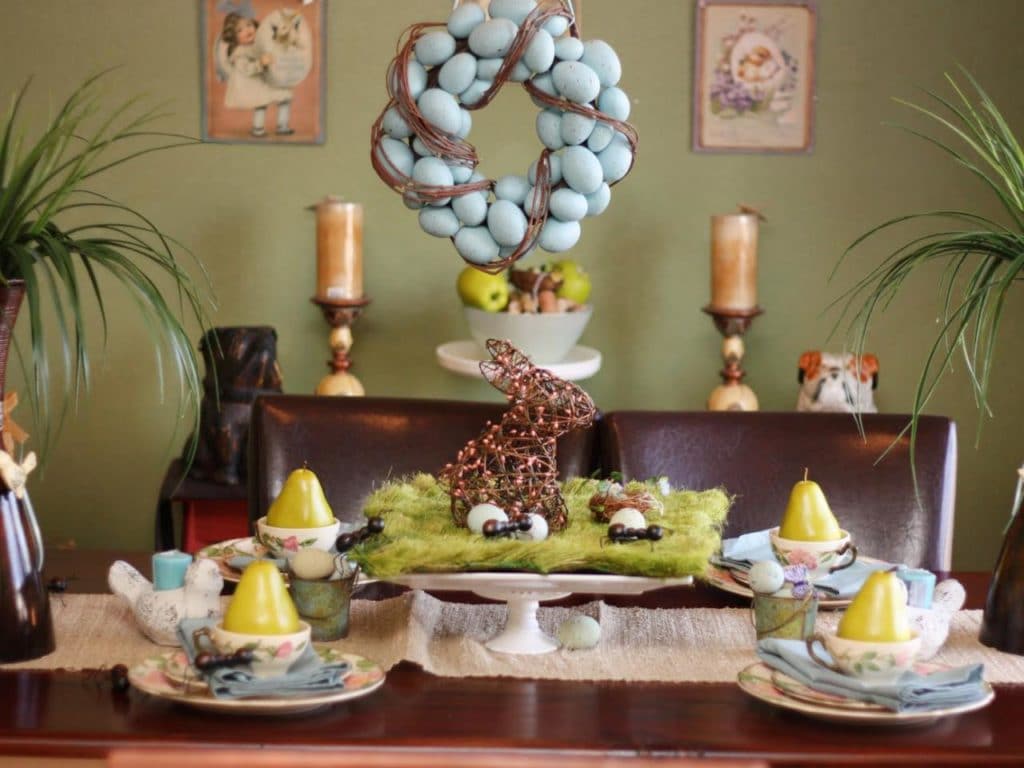 7. This Nature Inspired Lighted Bunny Table over at HGTV.com is SO sweet. I just love that centerpiece with the moss and the lighted bunny. What a great idea! And look at that egg wreath that is hanging over the middle of the table. Wow. What a wonderful table!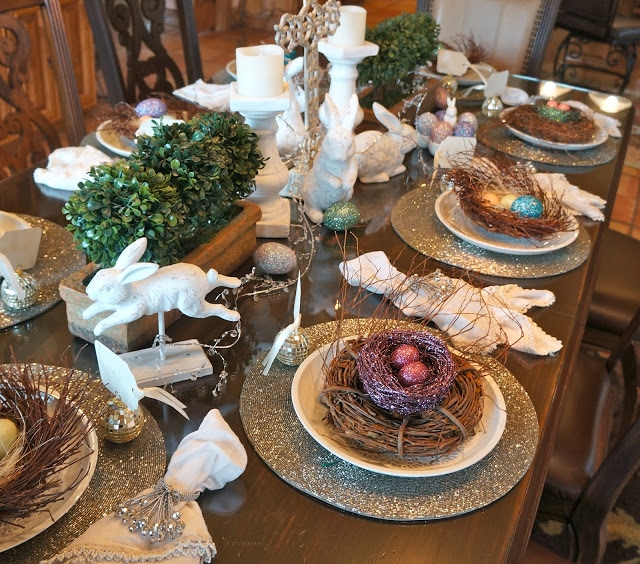 8. Now this is the Easter table of all Easter tables! This Easter Bling Table, found over at PineCreekStyle.com is just SO gorgeous! I love the greenery in the middle of the table to offset the gold placemats! And the bird nests on everyone's plate with glittery eggs in the middle? Oh my goodness, this is just about the cutest thing ever. What a table!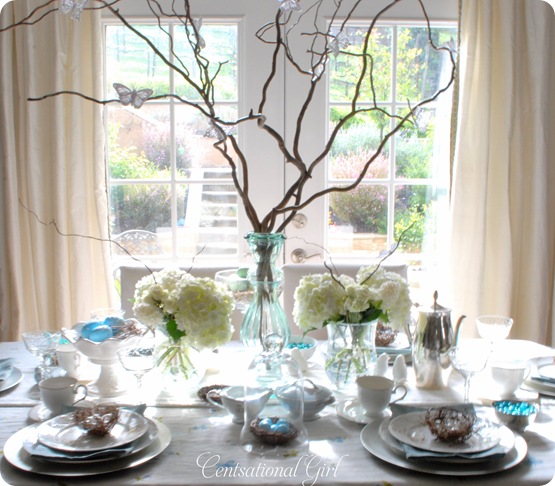 9. This Blues and Branches Table, found over at CentsationalGirl.com is absolutely gorgeous! I love the branches in the middle of the table and the cute butterfly adornments on the "tree"? Talk about a great Springtime table! And I love that the flowers on this table are so muted, yet completely make the table! White and the muted blues are just a lovely combination and this would be an Easter table I'd be very proud to have my family at!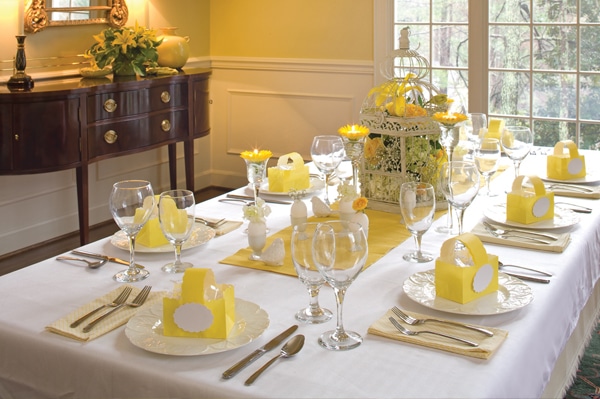 10. I love this Simple Yellow Table over at SheKnows.com. Sometimes less is truly more! And nothing is more Spring-y than a tasteful yellow color palette. The yellow Easter Baskets on everyone's plate is such a wonderful touch. I love this idea!
As if it couldn't get any better you HAVE to check out these Cool Easter Place Setting ideas. Your family is going to go crazy when they sit down and see these fun and fancy napkin ideas. It's all about the details!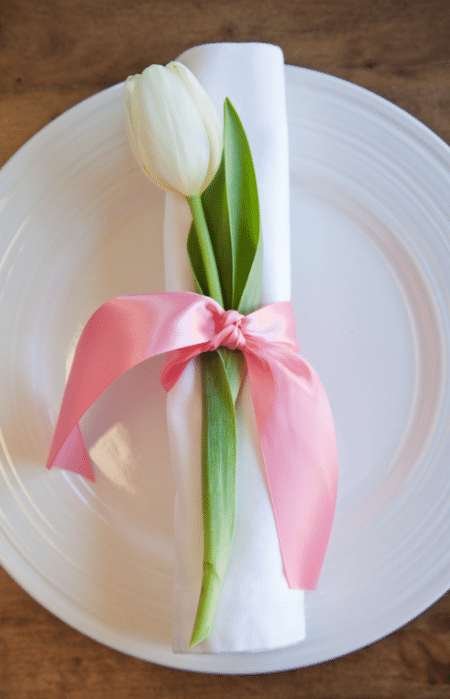 Something as simple as adding a Tulip with the silverware, as seen here from BoxWoodClippings.com is such a great touch to add a little something extra to your Easter Table. I love how you can use whatever color ribbon would accent your table's color scheme. Perfect!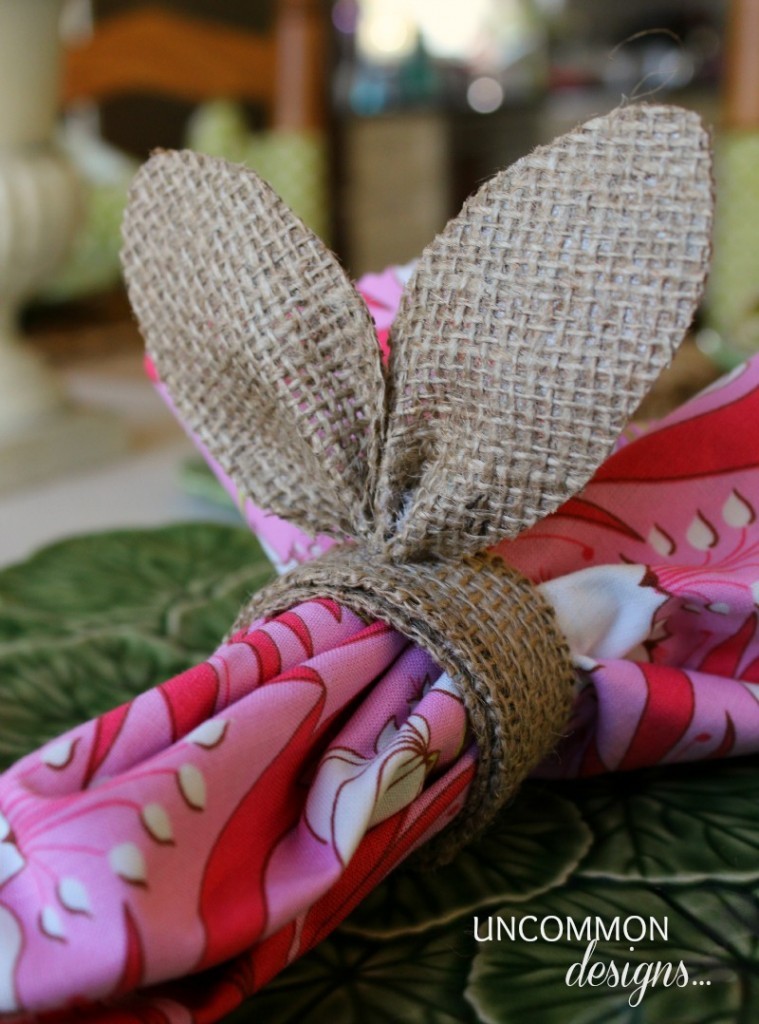 OK, now these Burlap Easter Bunny Ears found over at UncommonDesignsOnline.com are seriously the best things ever! What a great DIY project for your Easter Table! I love fun ways to wrap up silverware and napkins and this totally will steal the show!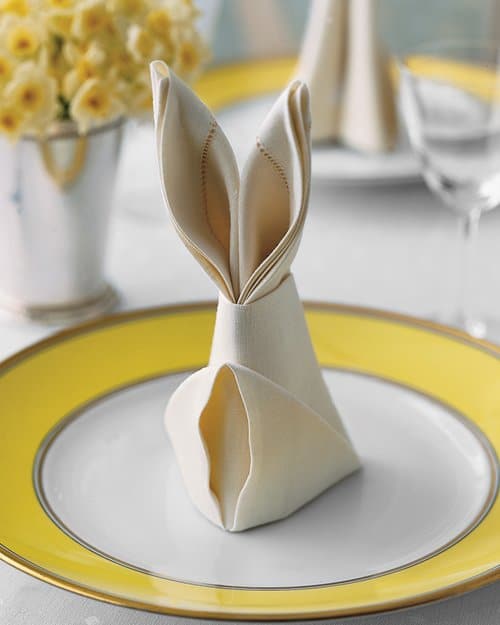 Ready for a great DIY project to add to all of your dinner plates for your Easter dinner? Check out these Bunny Folded Napkins over at MarthaStewart.com! They, surprisingly, aren't that difficult to make once you get the hang of it. Everyone will love them so much they won't want to pull them apart to actually use!
Well? Did you see something that totally inspired you to make your Easter Dinner one of a kind this year? I just love setting tables when I get to host a holiday. It really sets the tone for the entire day and I love how excited everyone gets when they see what is in store! If you're hosting this year, have fun with your tablescape and enjoy putting everything in its place! Everyone is going to love it so much that they aren't going to want to mess it up to eat. Well… maybe. My family will be hungry so they'll be ready to dig in! 🙂
Do you have any great ideas for an awesome Easter Tablescape Idea for this year's dinner? Have you been pretty darn proud of a past tablescape you used? Comment below and share it with us! 🙂