We earn money from clicks or purchases made via product links in this post.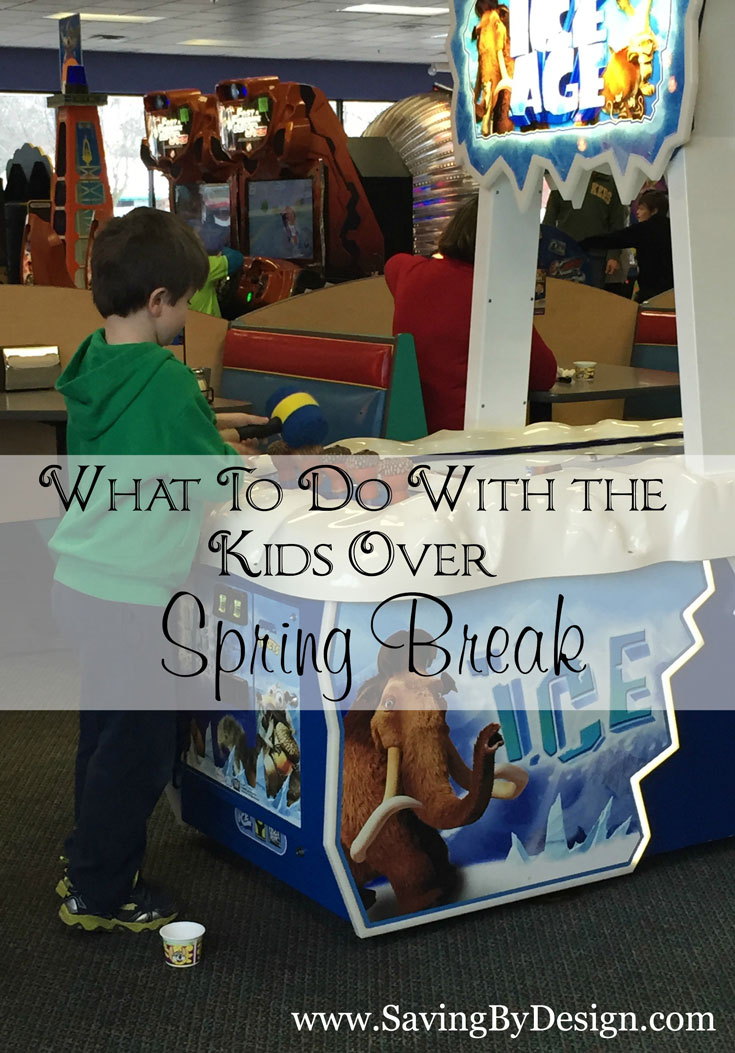 Ahhhh… Spring Break is once again upon us! I love it! I love having my son home for a week from school and having things move at a bit of a slower pace for everyone. But by about Tuesday, everyone is begging for fun activities and things to do. So…here are 5 things to do with the kids over spring break 🙂
Get Outside
Anything that we can do OUTSIDE is going to be a bonus for this Midwestern Mommy! It's been cold, cold, cold, and now that spring is finally in the air, I'm all about being out in the sunshine as much as possible. So the weather better cooperate!
My kiddos just LOVE their outdoor toys…bikes, tricycles, sidewalk chalk, and battery-operated kiddo vehicles, just to name a few! Any day that we can enjoy the deck and the driveway and play with the outdoor toys that we have, that will definitely be #1 on our list. The kids got new kites for Christmas this year and they are chomping at the bit to try them out. I bet over spring break that is going to happen for sure!
Visit a Museum or Indoor Park
But what if the weather doesn't cooperate? One thing I am a STRONG component of is investing in yearly memberships at local museums (especially children museums), indoor kiddos fun parks, or anything else that you can utilize during the cold months or when there is a rainy day during the summer. We have yearly memberships to a local indoor children's amusement park that has slides, trampolines, and anything else a little heart could desire. It is a WONDERFUL reprieve from the winter blues, rainy days, days that are too cold to enjoy the snow, or just when the kids have a little extra energy that we need to burn off.
Annual memberships to local kids' hot spots are always high on our list for Christmas or birthday presents for the kiddos. If you're anything like our family, you are ALWAYS asked what to get the kids for the holidays. And in my house, they do not need any more toys! So we started asking for membership passes to our favorite spots that we can utilize and enjoy the entire year. It has worked out great and is the perfect way to spend days when we are looking for things to do. And the kids are always super excited to go back to their favorite places and play at the park or museums!
Head to the Library
Another fun idea over Spring Break? Check out your local library programs and see if they have anything special going on when the kids are on vacation. Our local library does a great job coordinating events when kids are out of school and we've been able to take advantage of a lot of fun programs that the library has sponsored. It's great and better yet, they are always free or have a very minimal cost associated with them!
Plan a Play Date
Have friends with kids around the same age who are also on Spring Break? Plan a group activity and help the kids all burn energy together! Find a park in your area and plan a fun picnic lunch where everyone brings something to eat. Weather isn't cooperating? I'm sure you can find someone who will host a play date for everyone over spring break. I love this idea because it gives my kids some interaction with their buddies, but also lets us moms get some time to chat and socialize with each other as well. Win-win!
Get Ready for Planting Season
Finally, I don't know about you, but my kids LOVE helping me plan out the garden that I'll be getting ready to plant and get together over the next month to 6 weeks. This is a great time where I can plan out what I'm going to get and how I'll lay the garden out and my son has a great time helping me to pick veggies that I'll be planing, along with herbs and flowers. My daughter? She's a little young yet, but she definitely helps based off of what is the prettiest and has the most color! 🙂
Time flies by and I know that as soon as we start scheduling too many things, the week will become jam-packed and my son will be back in school before I have a chance to blink. So my goal is definitely not to overschedule ourselves during the week, but to break up the monotony that being at home all day can bring. And of course I want to find some frugal options so we don't break the bank with all of the fun that we are sure to have! Enjoy the kiddos over their spring break this year. In a few years, they'll have their own plans and you won't have the pleasure to schedule the fun with them. Cherish every second!
What do you do with your kids over spring break? Vacations? Stay-Cations? Comment below and share your tips! 🙂