We earn money from clicks or purchases made via product links in this post.
What are your Christmas morning traditions? Take a look at these super yummy Christmas morning breakfast ideas for some added fun!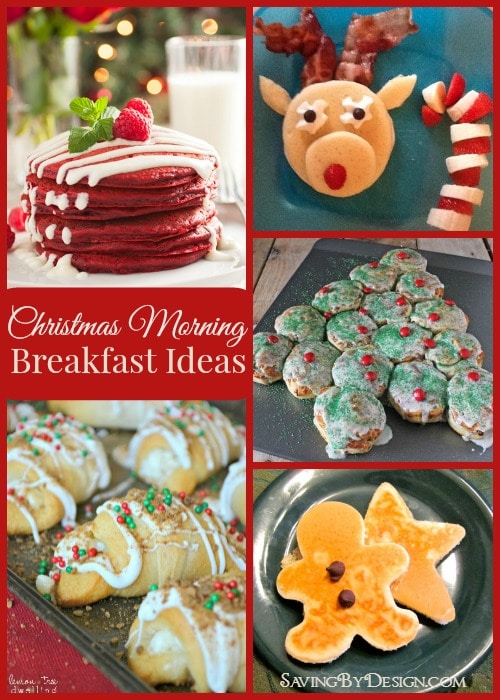 One of best mornings of the entire year for my family is Christmas morning! Of course, the kids love to see what Santa brought and it's a nice and relaxing morning with just our immediate family.
But personally, my favorite part of the day is creating a super fun breakfast surprise for the kiddos that they love almost too much to eat! Well…not really, but they sure squeal with delight as they destroy some of the different creations I make! 🙂
8 Christmas Morning Breakfast Ideas – Fun and Delicious!
Here are some Christmas Morning Breakfast Ideas that will be sure to knock their socks off! And trust me… they might look like a challenge, but most of them are easier than they look!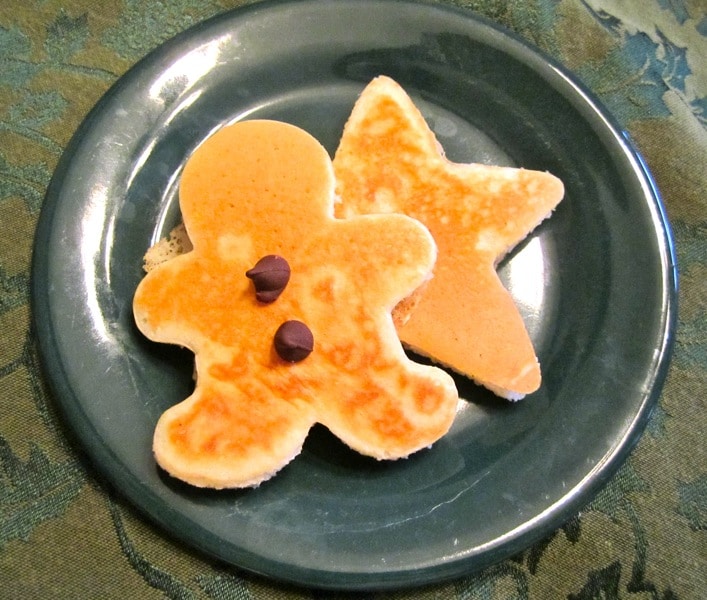 1. Christmas Cookie Cutter Pancakes! It doesn't get any easier than this, but let me tell you… my kids LOVE it! Credit goes to The Chic Site for this one. We did this one last year and my son, especially, thought it was about the coolest thing ever. And don't forget… if you have cookie cutters for other holidays (Easter, Halloween, etc.), celebrate with special pancakes those days, too!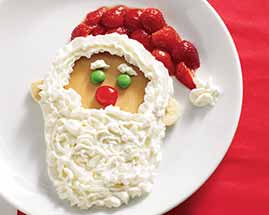 2. Santa Face Pancakes. My son is SUPER into Santa this year, so I'm thinking this might just be a great idea that I saw over at Schwans! I love how the strawberries and bananas help to fill out decorating Jolly Old Saint Nick and the whip cream… YUM!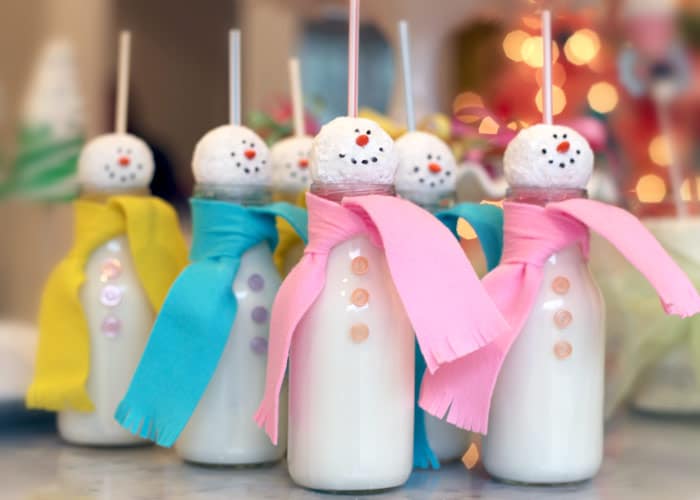 3. These "Milk Man" Doughnut Holes over at Bakerella are to-die-for! Don't have a lot of time to get things set up on Christmas morning after all of the Christmas Eve chaos? Grab some powdered doughnut holes the day before and have at it on Christmas morning! I already can envision the perfect "scarf" material that I'd use from my scrap bin!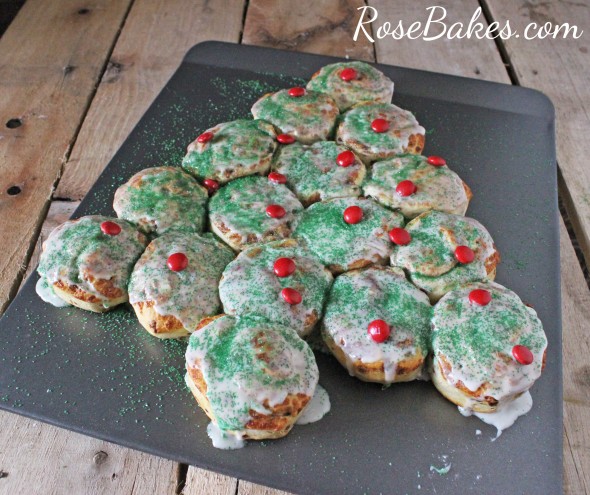 4. Christmas Tree Cinnamon Roles. OMG, these look so delicious and also, a pretty quick one to prepare for! If you're feeling the pinch on time, you can always go the pre made route and just throw them in the oven. Grab some red M&M's and some green sugar from your cookie decorating box and you're set! Rose Bakes deserves the credit for this wonderful picture. This has the feel of a perfect relaxing breakfast while everyone opens their presents in the morning.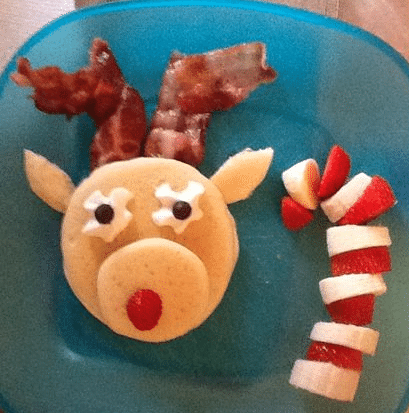 5. Reindeer Pancakes with Fruit Candy Cane?!?! Six In The Suburbs knows how to do Christmas Morning right! And as a mom, how could I not love getting all of the food groups in there for a nice and healthy Christmas breakfast?! I have a feeling my daughter would devour that candy cane before anything else!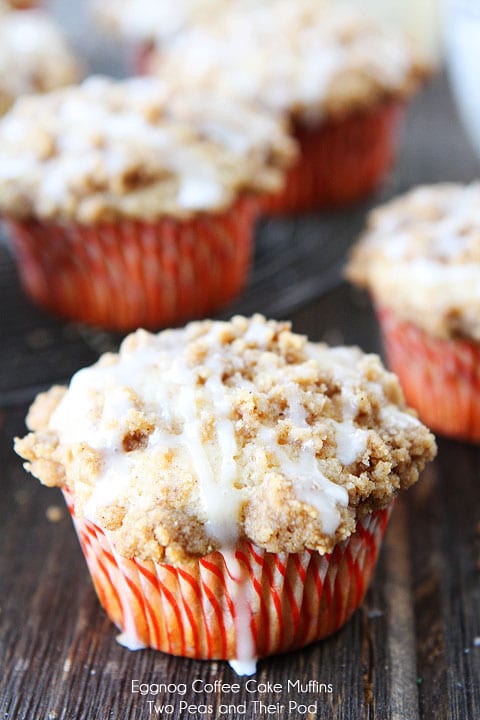 6. These Eggnog Coffee Cake Muffins from Two Peas And Their Pod look AHHH-mazing. This looks like it would be the perfect mid-morning treat once all of the christmas paper is thrown away and the kids are wrapped up in their fun new presents!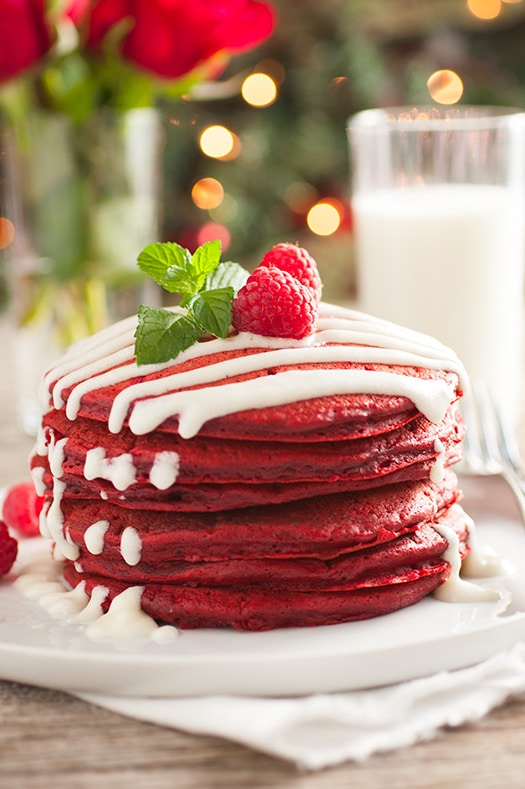 7. So I seriously love anything involving Red Velvet. So, these Red Velvet Christmas Pancakes with Cream Cheese Glaze from Cooking Classy caught my eye RIGHT away! For realz… I'm almost afraid to make them for Christmas because I'm afraid I'll want them every single weekend after that! 🙂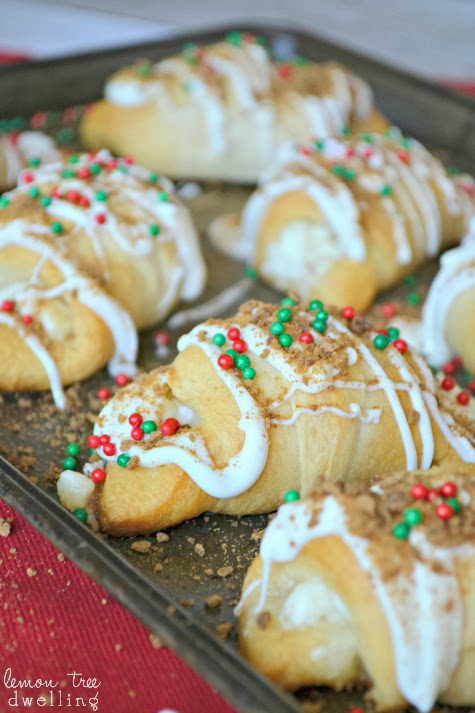 8. White Chocolate Gingerbread Crescent Rolls, anyone? Lemon Tree Dwelling created the best looking crescent rolls I have ever seen! And the Christmas decorations on top totally make it perfect. I love this idea!
I haven't decided exactly what I'm going to do yet this year and my head is sure swimming with ideas now! One thing is for sure…I'm planning on enjoying a super fun Christmas morning with my family while enjoying some hot chocolate, and something that looks like it's going to be delicious!
I hope you got some inspiration and some fun ideas for creating a great Christmas breakfast for you and your family!