We earn money from clicks or purchases made via product links in this post.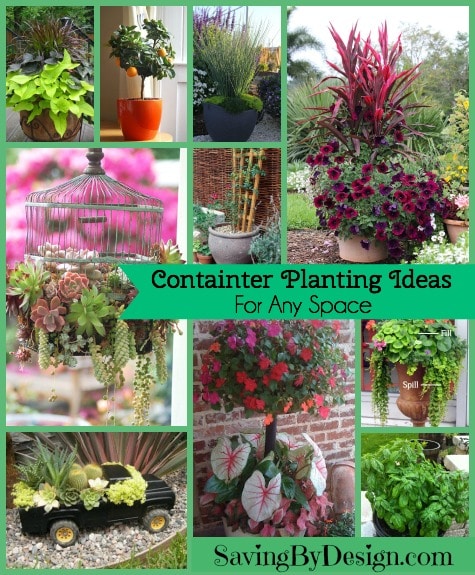 One thing I absolutely love about spring and summer is getting plants and flowers out and about to spruce up my house and yard! But there comes a time when it just gets too difficult to plant everything in a garden or around the edging of the yard, so I count on finding container planting ideas perfect for any space! I love the versatility that planting things in containers brings. You can move them around on a whim, you can bring them inside if you want to spruce up a room, or when it finally turns cold, some of them will last for years by keeping them safe from frost by moving them to a warmer place. It's so convenient! And in today's "repurposing mindset" that seems to be everywhere, you don't need to go out and by fancy containers that will set you back lots of money. Just repurpose something fun in your home and bam! You have a new container to plant something in! Here are a few great ideas to get you started…
Container Planting Ideas Perfect for Any Space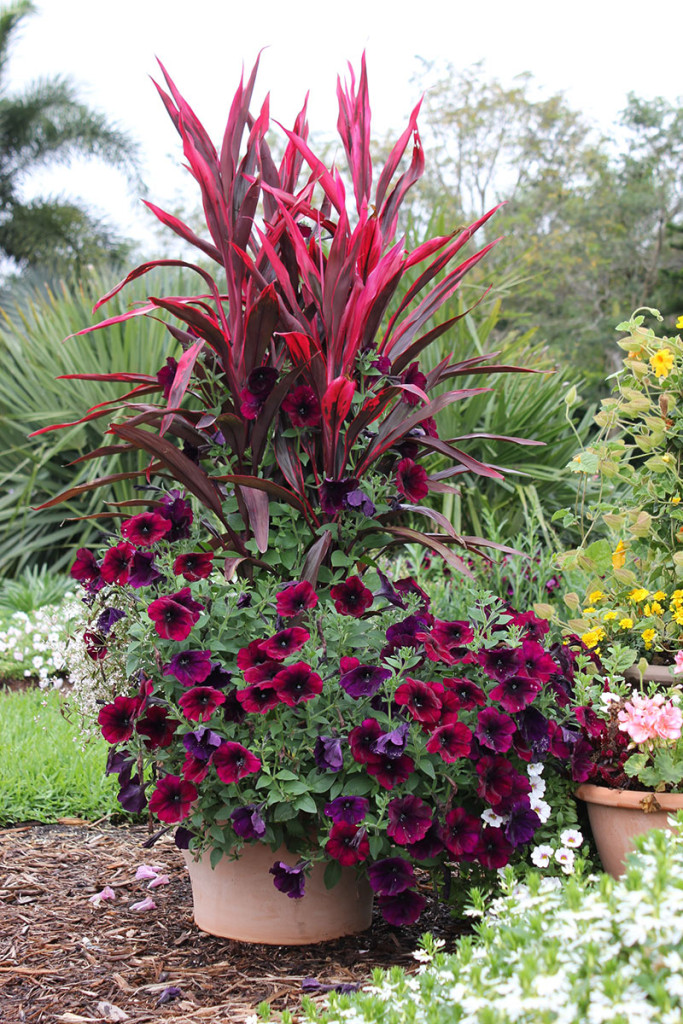 Wondering what types of arrangements you could make? This container filled with Bold with Rich Color is GORGEOUS! Seen over at CostaFarms.com, this is one full, lush, and perfect idea to fill that container you have. I love it!
Looking for tips on how to fill your container? Think about the Height, Fill, Spill Method, as seen here at TidBitSandTwine.com! This will insure that your container looks full and is balanced with great flowers and plants that will complement each other.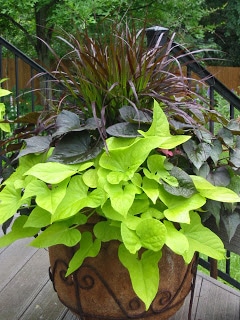 If you have an area where you are looking for some plants that are great for sun, check out these great ideas at SignatureGardens.com where sun needs to be front and center for the container creations to thrive. You won't go wrong with these ideas!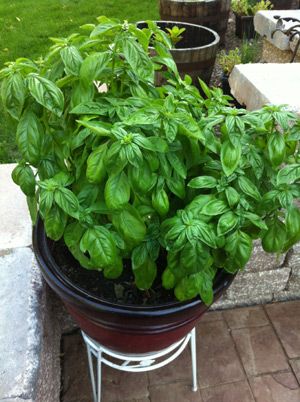 Do you plant herbs in an herb garden? Are you thinking about it? Think about taking specific herbs, like basil, and plant them in a container. Over at OffBeatHome.com, they will help you figure out which herbs may spread like wildfire in a garden and are much better suited for container life.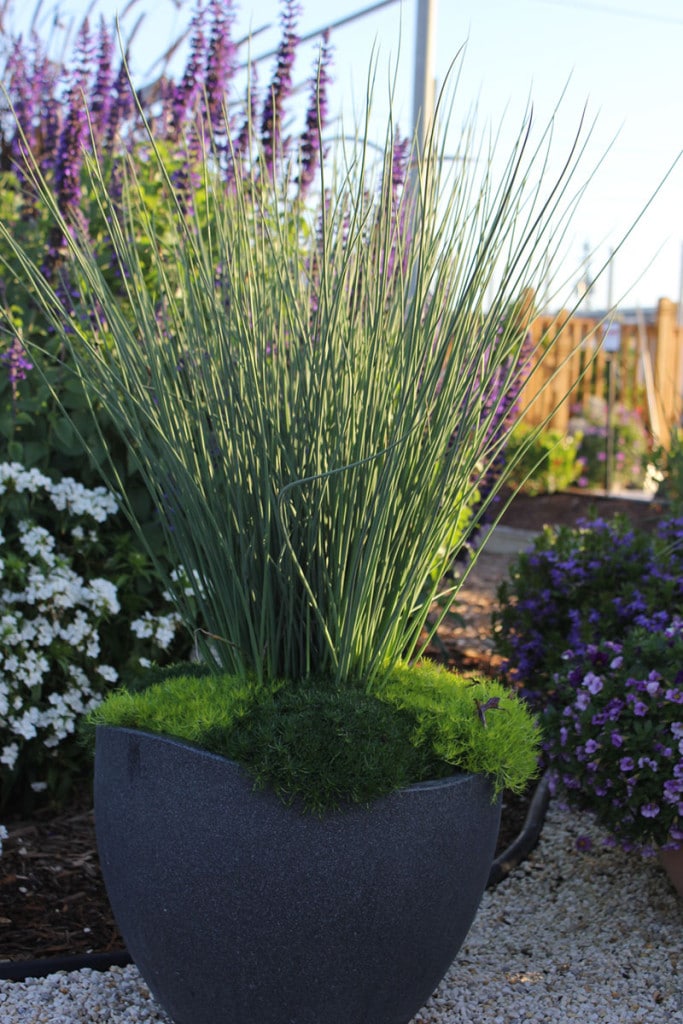 Playing Up Cool Textures, like this arrangement from CostaFarms.com is a great way to create some unique containers that really stand out! I just love these plants above and putting them together makes it look so exotic and gorgeous!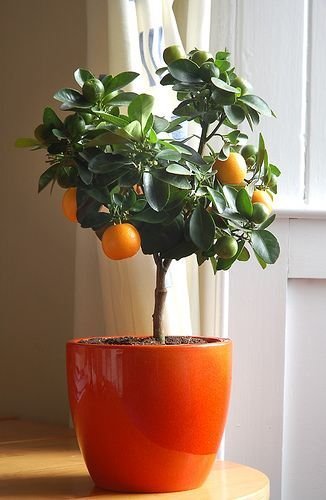 We have a few citrus trees that we have had for a few years, and I absolutely love them! We have limes, oranges, and lemons and we move them inside when the weather gets colder, otherwise, they are outside potted trees that help to decorate our decks in the summer. These Indoor Citrus Trees: 5 Helpful Tips from ApartmentTherapy.com will help to give you the info you'll need to make sure your citrus trees thrive.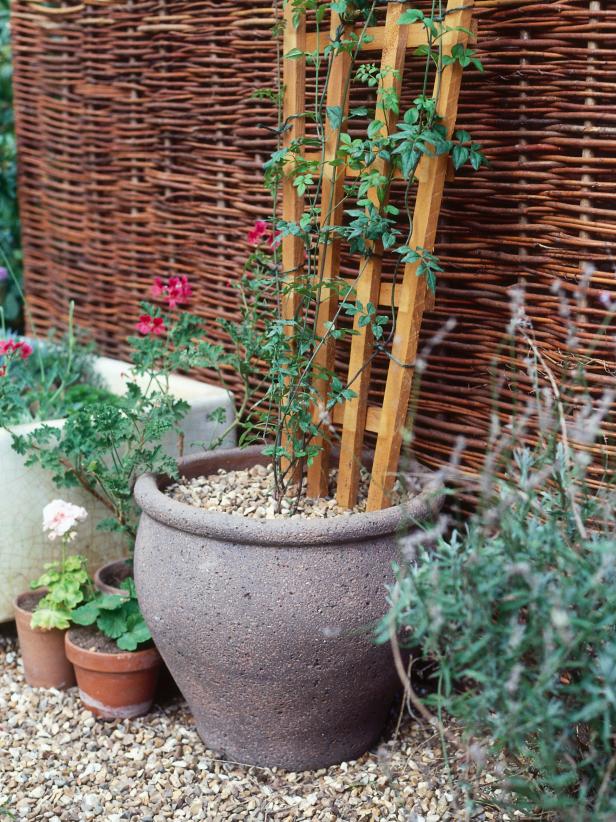 Flowering Vines in Containers are always a big hit outside! This example at HGTV.com is a great tutorial on how to plant your vines so they will continue to thrive for years to come.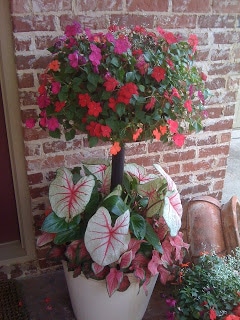 Looking for plant container ideas that will grow better in the shade? These examples over at SignatureGardens.com will help to make sure you spend your money successfully if you're specifically looking for plants that will take better in the shade.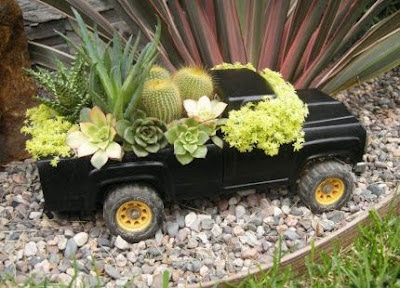 Now this is a DIY project right up my alley! If you have tons of toy trucks that you are sick of tripping over and you're looking for a unique container for some plants, check out this Repurposed Toy Truck from HomeArtsWithAngela.com! I love it with the succulents, like in the picture above, but you really could make this work with just about any kind of plant.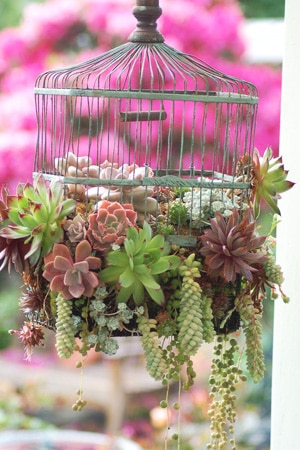 This Succulent Planter made in a Birdcage, which was found over at HoeAndShovel.com is absolutely gorgeous! What a unique idea and this is something that would be great indoors or outdoors. I love it!
I just love being able to create great spaces all around my house and yard by making some fun and beautiful arrangements in different types of containers. And… if you're looking for a great present idea for someone? Think about making one of these. I know I'd sure love to get one! Have fun making your container plant creations!
Do you have some great ideas for container planting in or outside of your home? Comment below and let us know how you fill your space with plants! 🙂