We earn money from clicks or purchases made via product links in this post.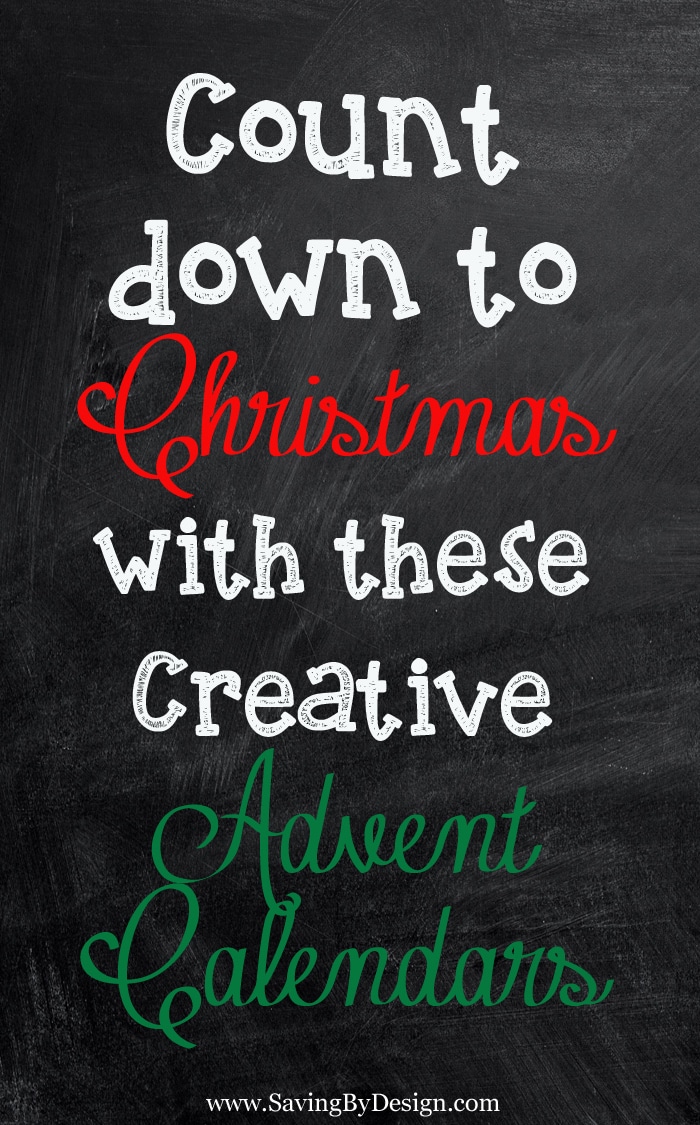 The countdown to Christmas is on! We love doing advent calendars in my house and the kids look forward to the new item that the calendar shows each and every day. There are SO many creative advent calendars, from printables to crafts, activities, and more. Create a season of fun for your family with these fun DIY advent calendars!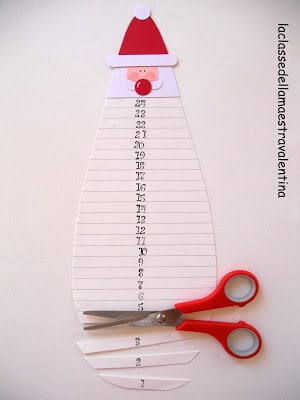 Santa Claus Bearded Calendar
How cute is this idea! Simply find some lined paper, count down the days with a pen, and cut it out into the shape of Santa's beard. Bam, you're almost done already! Add in a cute little head and hat on top and you'll be all set to go! I love this one because as everyday passes, you cut off the day of the month right on the line. My son is all about practicing his cuts with his safety scissors right now, so I know that this Advent calendar will be extra exciting for him. If you really want to step it up a notch, you can write something on the back of each day's section to celebrate that particular day. Maybe they get to have an extra book read at bedtime. Or you write down different Bible verses on the back of each day, too. It's your call!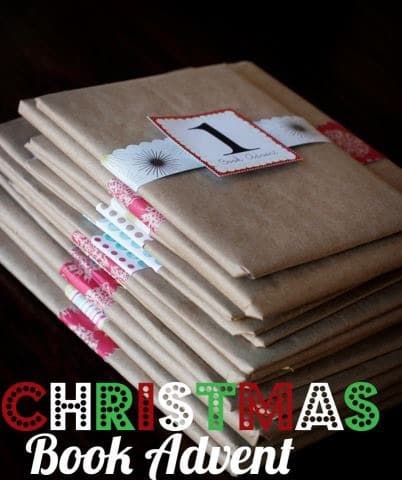 Christmas Book Advent Calendar
Books are a big part of our time in the house and the kids love going through many books over and over and over again. So why wouldn't I want to fulfill that curiosity they have for books by doing a Christmas book advent idea?! Wrap a different book for every day and when they open the book, spend some time reading it and understanding what the Christmas message is in that particular book. Don't want to spend the money on 24 separate books? Just add on to prior collections every year. We already have about 10-15 different Christmas-themed books, so I'm already well on my way. Trust me…some of these books are the kids favorites (they are about their favorite holiday, after all!), so they love being able to have an entire day to focus on that one particular book, even if they know exactly what happens.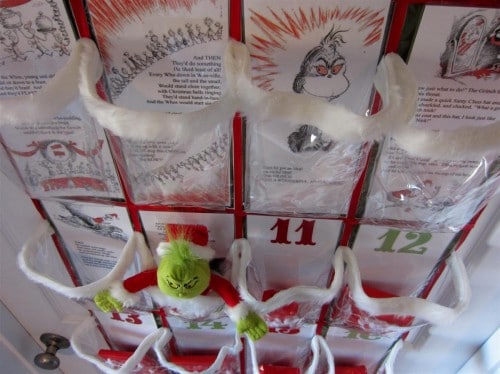 Grinch Advent Calendar
OK, this idea is just about the cutest thing ever for a DIY advent calendar at home! And it's going to be easy to get it all set up for you! Head on over to ChicaAndJo.com and get the scoop on how they created this cute Grinch Advent Calendar. If you already have a plastic shoe holder like in the picture above, then you just HAVE to do this advent calendar! There is a great tutorial over at the website on how to set up your Grinch calendar. Days will be set up moving across, but once you open that particular day, Dr. Seuss stories about the Grinch will be waiting for your child. Add in small presents, or just make it about the stories.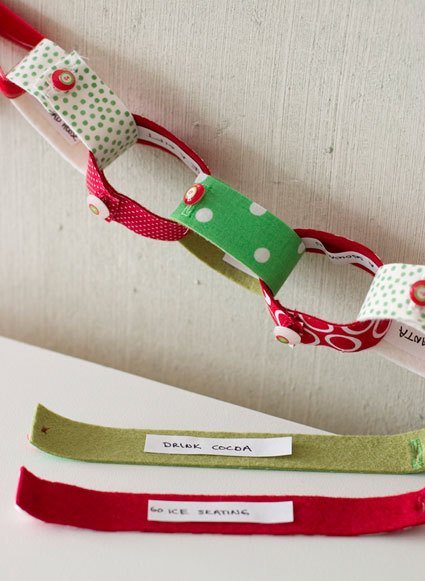 Chain Link Advent Calendar
Now this is a great idea that you can use year after year! You don't even need serious sewing skills 😉 Check out the tutorial over at StitchCraftCreations.com and get busy making your Advent chain today! I can totally see this becoming a family tradition that even my kids might pass down to their families someday! You can change the different "daily activities" every year that you'll be able to find inside the chain once you unlink the day to freshen things up every year and make it more friendly towards your children's ages. Or…if a fabric chain doesn't sound like your cup of tea, grab some construction paper, washi tape, and patterned paper and make a good old-fashioned paper chain for your advent calendar! Perfect!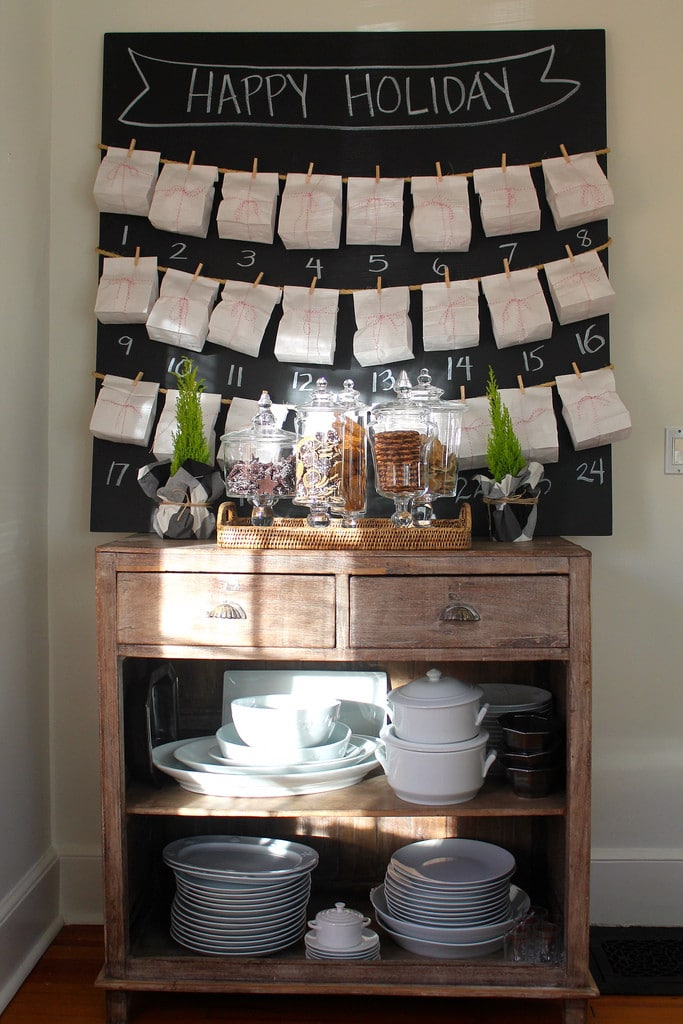 Paper Bag and Chalkboard Advent Calendar
I'm a HUGE fan of the chalkboard craze that has been going on lately, so when I saw this advent calendar idea from MostLovelyThings.com, I knew it was going to be something I'd have to give a go at! I actually have a large chalkboard sign like this that I currently use for weekly menus, so I already have half of the battle taken care of. Fill all 24 paper bags with whatever you feel is appropriate for your kids and their daily advent adventures. Every day, take one of the bags down and start counting down towards Christmas! The kids are going to love looking at this every day and will be so excited to see what treats are inside!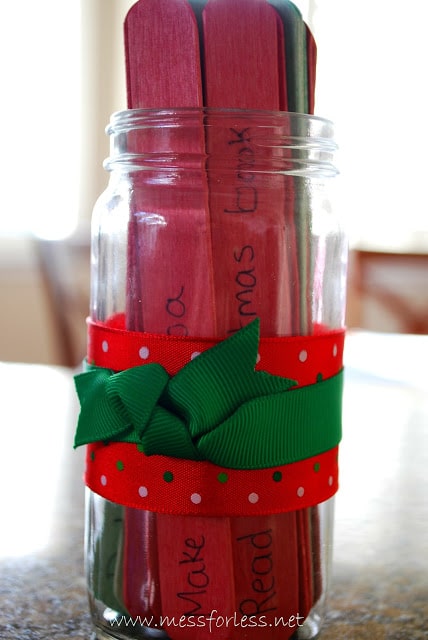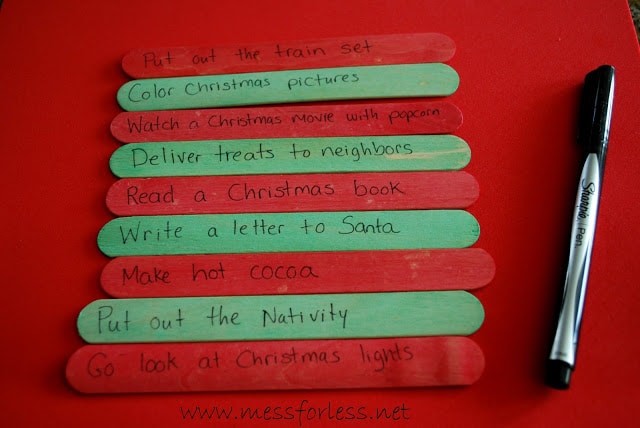 Popsicle Stick Advent Calendar
Lord knows that Christmas is probably one of the busiest times of the year for you. I know it is for me! So if I can set up a great DIY advent calendar that will take care of some of the little "tasks" I want to make sure are completed over the holiday season, this is a great one to try! Check out the full post about the project over at MessForLess.net, but I think you'll catch on pretty quickly after looking at the above pictures. Just grab some popsicle sticks and write out all of your holiday activities on the sticks after painting them red and green. You won't have to worry about keeping track of the fun things you did and didn't do yet. Every day, the kids will pick out a new popsicle stick from the jar and you'll have your assignment for the day! I love this!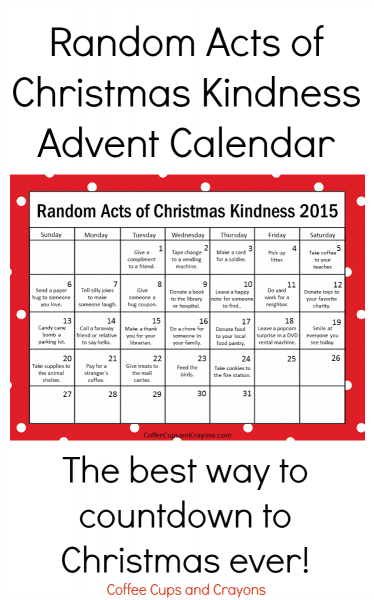 24 Random Acts of Christmas Kindness Calendar
I love to find ways to instill holiday kindness in my children, and this Random Acts of Kindness calendar does just that! Head on over to CoffeeCupsAndCrayons.com for a FREE printable for December 2015 on different ideas you can do with your kids everyday leading up to Christmas. Or, just use this printable for inspiration and edit your own calendar with things that may be front and center for you to do in your local area. Whatever it may be, it's never too early to instill kindness in our children, no matter what time of the year it is!
Using advent calendars is such a fun way to countdown how many more days are left until Christmas for the kids. They love seeing the days pass by (even if they're going way too slow for them!) and depending on the idea and theme we use every year, I love seeing them learn special things about the reason we celebrate Christmas, along with being able to perform kind acts with them. So much fun and such a great family activity to do together all month! Get ready…December is almost here!
Do you celebrate the Advent season with a special calendar for the kids? Comment below and let us know what your favorite calendar is to make for the family! 🙂