We earn money from clicks or purchases made via product links in this post.
See why I chose to start a blog and how that day forever changed my life…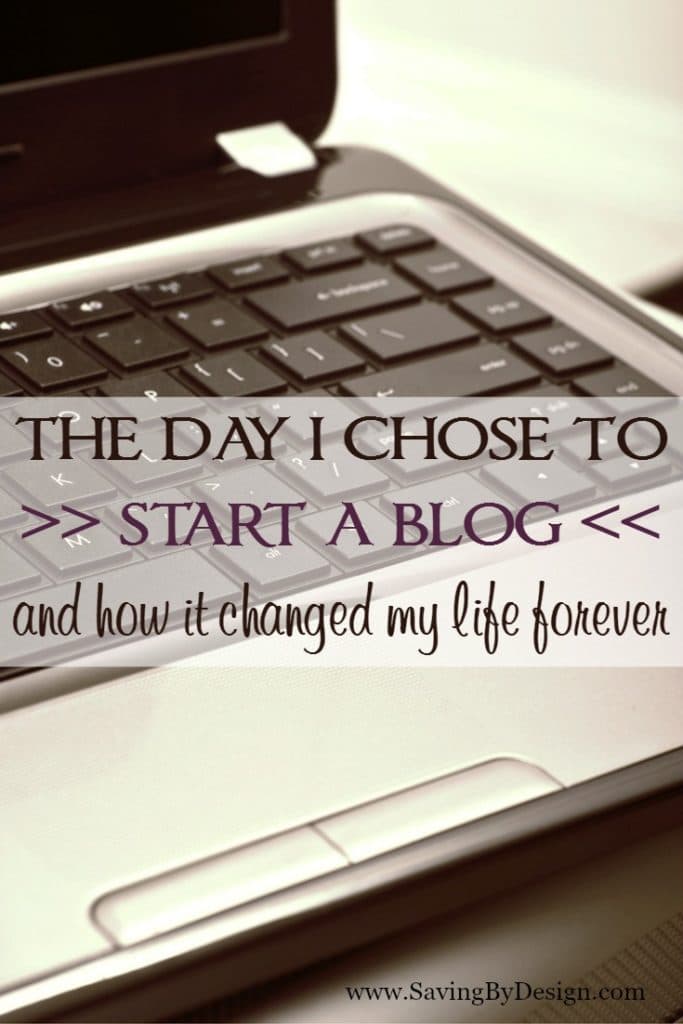 ---
SEE ALSO:
To get off to a great start I can't say enough about Elite Blog Academy! If you want to be a professional blogger, definitely check it out here.
---
I want to tell you a little story…
Nine years ago, I had a good life. I was happy. We had just bought a house, were enjoying all the DIY projects that came along with it, adopted the best dog ever, and were expecting our first baby.
I was working as a molecular biologist doing vaccine research. I never had huge goals or life plans or aspirations. I enjoyed working in the lab and was using my college degree to hopefully make the world a better place. With our incomes combined, my husband and I were living within our means.
I was content with what I had and never dreamed of more.
And then, I had that baby. A little boy. I took one look in his eyes and everything that I thought I knew about myself changed in an instant.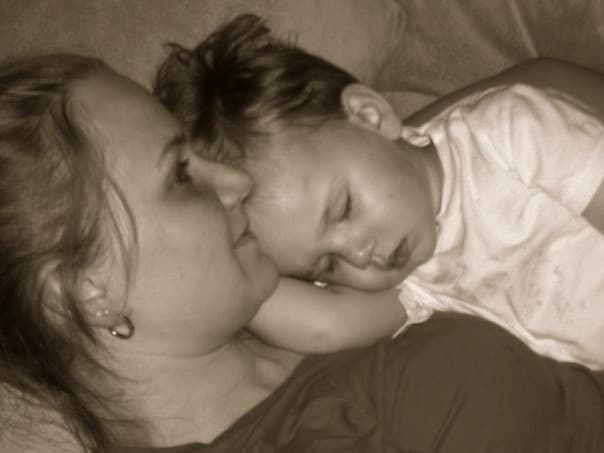 I didn't want to leave him. I couldn't leave him. I didn't want to work crazy hours, seeing my husband and child only for a few hours each evening and on weekends.
Suddenly everything I knew about myself and my dreams changed. I wanted more than my good life. And for that little baby, I was willing to find another way.
You see, for myself I could never find the determination or the drive to dream big. I was too busy being content with what I had.
But that baby lit a fire in me that to this day has never been extinguished.
I stretched out my maternity leave by working part-time. The plan was by the time my FMLA ran out, I would be home with him…I just had to be.
I started couponing, found a virtual call center job I could do from home at night, became a direct sales consultant, decided to open an Etsy shop where I sold custom diaper cakes, and we reduced our expenses as much as possible.
By the time he was 8 months old, I was a full-time work-at-home mom.
While I enjoyed my job as a virtual call center agent (I was the 1-800 number you call on the back of your credit cards with questions, to have late fees removed, etc) and loved that it allowed me to be home with my son, I just felt there was more I could be doing. That job really opened my eyes to all that was possible online.
The Day I Chose to Start a Blog…
As time passed, I really began getting into couponing. I started following my first deal blog and as people were asking me how I was saving so much, I thought I should start a blog myself to help others do the same.
I knew nothing about blogs and even less about running a business! I mean I never even took a business course in college…I was a science nerd!
But it seemed so much easier to put all the info and deals I found on a website instead of typing up cheat sheets for my friends and family all the time. This way I could just refer them to the website and it would all be there waiting for them.
I had no idea what I was doing. I didn't know about target audiences or even that I could make a significant amount of money with my blog. But I loved writing and teaching others how to save money really made me feel like I was helping people.
I started reading everything I could about making money online. As I read more and more I realized it was possible to make a full-time income blogging…what did that even mean? $2000 per month?
I just knew this… If I didn't start a blog and try to build it into a full-time income, I would spend the rest of my life wondering what could have been. What my family life would have been like if I could have made it work.
That was the day, about 5 years ago, that I became a blogger and the blog you are reading right now was created.
We took money out of our (EXTREMELY TIGHT) budget to host a website with Bluehost, I read How to Blog for Profit (Without Selling Your Soul), and then purchased Elite Blog Academy when it launched a few years later.
Life as a Blogger
I currently make a full-time income on Saving by Design, and have quit the other jobs that have helped me get to this point so I could focus my time solely on blogging.
I make my own schedule. My kids can be home with me all day (I now have 3!), I can coach their sports and take part in their activities, I can travel and work wherever we are, and so much more. While it's definitely not easy, I can now contribute financially without giving up the "mommy time" I so desperately craved while working outside of the house all those years ago.
This is what freedom looks like.
I work about 20 hours a week and the possibilities are endless. I want women to know that there's another path. A path I spent most of my adult life never knowing about. A path that can help so many other women accomplish their hopes and dreams – both for their family life and professional life.
You Can Start a Blog and Accomplish Your Dreams Too
If this sounds like something you are interested in, right now, I want you to commit to blogging for one year. One year of your life. 10 hours a week. That way you'll never have to wonder what if. If you enjoy blogging and things start to take off, you'll already be well on your way to a successful blog.
There are many companies available to host your blog, but for someone who is just starting out on a WordPress site (the best free blogging platform!), Bluehost.com is probably the easiest option for getting started. It is the only hosting service officially recommended by WordPress and has been the number-one recommended hosting service for their platform for almost 10 years.
When you sign up through this tutorial, you'll get a special offer of shared hosting at $3.45/month + a free domain name for a year!
To get started, go to Bluehost's home page and click "Get Started Now."
Eight years ago I left my career and took the biggest risk of my life. I hoped for more. Five years ago I began blogging and worked my tail off until I accomplished my goals.
It was so worth it.
Here's to your new adventure! Feel free to comment below or shoot me an email with any questions 🙂
You may also want to check out The Ultimate Work at Home Bundle!
This brand-new, limited-time bundle includes 30 eBooks, 14 full eCourses, 4 printables, and 1 audiobook, all carefully vetted to get you up to speed on finding real work-at-home opportunities (AND making your work + life balance better once you're working from home).
For six days only, everything you need (and then some) is in one fabulous package, for the most affordable price ever.
These top-quality resources cover everything you need to give you the skills and confidence to do fulfilling work, at your favorite place in the world 🙂
You'll get a complete library to help you…
Identify your marketable skills
Juggle your responsibilities and finally find work + life balance
Manage your time efficiently (and never let anything fall through the cracks again)
Avoid the most common pitfalls of the work-at-home lifestyle
Understand the legal and financial implications of your business
Discover the secrets to getting into the business that most appeals to you, whether it's a wholesale product, service-based, handmade, transcription, becoming a VA, or any other number of opportunities
and so much more…
Besides being so incredibly helpful, one of the things I like best about the bundle is the price. By offering it for a short time only, you'll get access to over $2,300 worth of amazing products for a whopping 98% off!
LEARN MORE OR GET YOUR BUNDLE HERE
Don't miss these other blogging posts…
> 3 Easy Steps to Start a WordPress Blog or Website in 5 Minutes
> How to Start a Blog to Make Money for Less Than $70 per Year
> Why You Need Elite Blog Academy If You Want to Be a Professional Blogger
Interested in working from home?
Subscribe to get the latest work from home
opportunities, information, and tips by email.