We earn money from clicks or purchases made via product links in this post.
It is very possible to earn a full-time living as a professional blogger. In my opinion, Elite Blog Academy is A MUST to take your blog to the next level.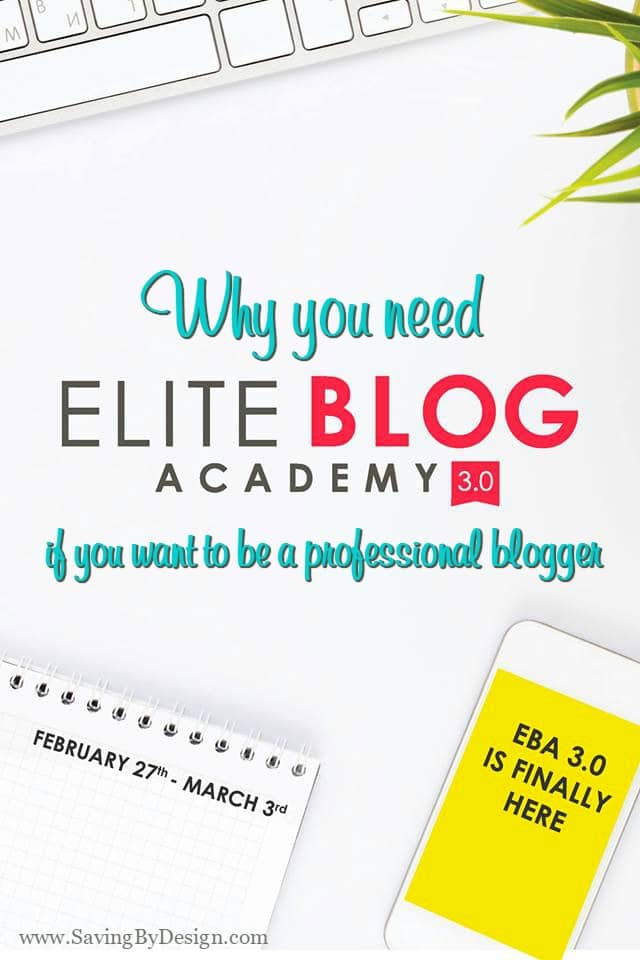 Although I haven't shared much about my blogging journey here at Saving by Design, one of my true passions is helping moms find ways to work from home so they can be there to raise their children.
As someone who now earns a full-time income from my blog and has made that work from home dream come true, I frequently get asked how to start a blog and if it's really possible to make money blogging.
The truth is anyone can start a blog – I am by no means special. I never even took a business class in college…I have a biology degree 🙂
And yes, you can make money…probably more money than you make right now at the job you are not happy about going to.
Don't get me wrong, blogging is by no means "easy money." But it is very possible to earn a full-time living writing about what you love and care about, on your own schedule, from home.
If you're reading this post you are probably 1 – already a blogger looking to up your game or 2 – researching what would be the best way to get off to a great start should you choose to become a blogger.
In my opinion, no matter where you are on your journey, a blogging course is A MUST.
Can't I just do my own internet research to learn everything I need to know?
Yes, you can.
But do you really want to spend months or even years scouring the internet to learn everything you need about blogging?
Five years ago when I started Saving by Design, learning how to create a successful blog was not easy. Learning and implementing any new task ended up taking hours of googling, followed by days or even weeks of trial and error.
Back then blogging seemed very secretive. It was almost as if nobody wanted to share tips and tricks out of fear that their audience would be stolen from them.
Thank Goodness those days are gone!
In fact, now there are literally tons of bloggers willing to share their tips with you. There is so much out there these days, you have the complete opposite issue – information overload!!
In order to move ahead with my blogging goals, I needed to put my blinders on to all the tips and tricks I was being bombarded with and choose one place I would learn everything I needed…one course that would allow me to cut through the rest of the "noise."
When Elite Blog Academy launched in 2014 my choice was simple. I was a proud member of the very first class and I am SO glad I enrolled!
What I have achieved because of Elite Blog Academy
Since starting EBA, I have taken my blog to another level.
I have created a social media strategy that not only brings consistent traffic to my posts, but that also actually works for me and my schedule.
I have implemented a monetization method that brings in passive income while I enjoy more family time.
Most of all I have created a business plan that excites me for my future and the successes I am now confident I will achieve.
And you know what? None of this was by accident. And it's not just me…I'm far from the only one who has enjoyed success thanks to EBA. Take a look at a few of these amazing success stories 🙂
So is EBA right for you too?
Honestly, it depends.
Elite Blog Academy is for people who are committed to following the process and actually doing the work. As a member of EBA, I've noticed that the thing that the most successful graduates have in common is a willingness to put 100% of their effort into completing the assignments in order.
The program works if you do the work.
It's also not for people who are going to insist that they've already heard this all before, or who are going to argue that a task seems too basic or complain that it's too hard.
It's not for bloggers who just want to just "skip to the good stuff," picking and choosing the lessons they pay attention to, then write it off when they're not getting results.
The EBA process is designed to create success, but it only works if you are willing to commit to actually doing the work.
What's Included with EBA?
Elite Blog Academy gives you a proven framework for success that you won't find anywhere else. The course includes everything you need to turn your blog into a successful, profitable business, from refining your message and growing your audience to monetizing your platform and building your business.
It is possible to create a successful business from a blog, and Elite Blog Academy shares exactly how it's done, step-by-step.
Because EBA is designed to be self-paced, in order to do it right, you should give yourself plenty of time.
Blogging is not for the faint of heart, and this course requires a willingness to buckle down and get to work. That said, for those who are willing to do the work, it also comes with a 100% money-back guarantee.
How Do I Get Started?
Enrollment for Elite Blog Academy only opens ONCE each year for a few days, and will open again in 2018.
That means that if you are ready to finally take your blog to the next level, you should join the waiting list so you don't miss when enrollment opens next.
CLICK HERE TO JOIN THE WAITING LIST
Five years ago I began blogging. In 2014 I purchased EBA and worked my tail off until I accomplished my goals.
It was so worth it!
Join the Blogger Newsletter!
Subscribe to get the latest blogger
opportunities, information, and tips by email.