We earn money from clicks or purchases made via product links in this post.
Planning a vacation to Disney is no joke, so it's a good idea to have a Disney Family Vacation Planner to put all the information you'll be needing to organize your perfect trip.
Last year we took our very first family vacation to Disney World for under $3000! After a few days of enjoying ourselves at the parks, my hubby said to me, "I can totally understand how people have a terrible time here. If you didn't have things planned, I would be so overwhelmed and probably get on like two rides!"
I had so much fun planning everything from the moment we decided we were going, that I never thought about what it would have been like if I didn't have a plan for us.
That's why probably the most important tip I can give is for you to PLAN your Disney vacation!
Taking a trip to Disney and not making the most of your time there would definitely be a huge waste of your money. So plan which days you'll be at what park. Plan (and get reservations) for your dinners. Plan which shows, parades, etc you would like to see. Plan which rides are a must and get your fast passes set up. I know it sounds like a lot of work, but it's fun work that will get you excited for your vacation and will totally be worth it once you arrive 🙂
Planning tip >> Use the My Disney Experience mobile app to plan and share your Disney World vacation from anywhere. Explore the resort, make dining reservations, check out attraction wait times, and much, much more!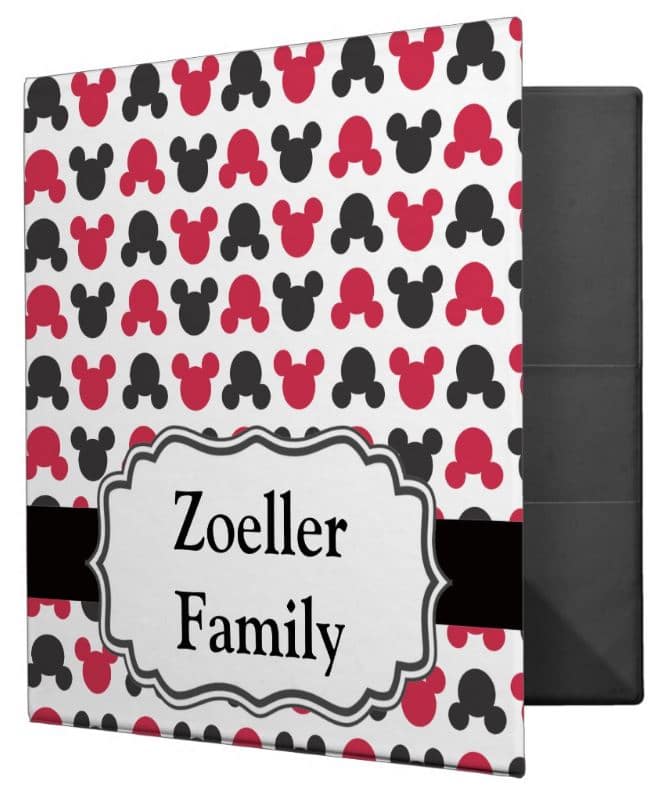 Create a super fun Disney family vacation planner!
Nothing gets me in the mood for some serious planning like a fun, fabulous binder! Planning a Disney family vacation is no joke, so it's a good idea to have somewhere to put all the information you'll be needing to plan your perfect trip.
You can be as simple or fancy as you would like with your binder – you can buy an inexpensive plain binder or going all out like I did and spend a few bucks to create a custom Disney Family Vacation Planner. Come on, it's Disney!! 🙂
You can find literally TONS of Disney binders you can customize here.
Planner Pages
As for what to put in your planner, everything you'll need can be found online and printed for FREE. Here are some helpful links for everything you'll need and how I put my binder together…
General Information
Dining
Magic Kingdom
Epcot
Hollywood Studios
Animal Kingdom
Water Parks & More
Although it's great to have a plan, one thing's for sure…you definitely don't want to be running around like a crazy person with an itinerary so packed you can't enjoy yourself. So be sure to give yourself enough time for each ride, activity, or meal and schedule in some downtime too.
Here are some other Disney Posts to help you get ready for your dream vacation…
> We Took a 7-Day Family Vacation to Disney World for Under $3000! Here's How We Did It…
> Is Disney Free Dining the Best Promotion for Your Disney World Vacation?
> 6 Tips for Your Disney World Vacation with Baby
> 15 Fun Must-Do Activities at Disney World
> "Surprise! We're Going to Disney World Tomorrow!" Printable
Join Our Disney Newsletter!
Disney fanatic? Me too!
Subscribe to my Disney Savings Tips & Tricks newsletter and get free Disney Vacation Planning Pages.