We earn money from clicks or purchases made via product links in this post.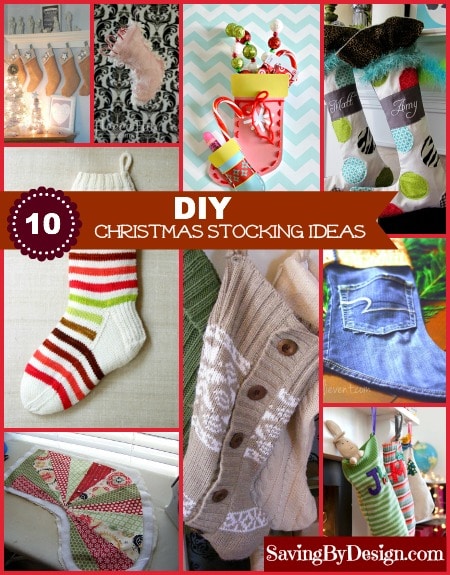 Can you believe that Christmas is right around the corner? This fall has stormed by and before we know it, Santa will be coming down the chimney, and he is going to be looking for the stockings of all the good little boys and girls! Unfortunately Christmas can really put a strain on the finances. Between decorating, buying presents, all of the holiday parties, and the exquisite Christmas dinner, the wallet can get empty… FAST! So when it comes to decorating for the holidays, I do everything I can to do some DIY projects around the house to help put everyone in the festive spirit. Check out these DIY Christmas Stocking Ideas that you can utilize to save some big money! If you are good with a sewing machine this is right up your ally! Not big into sewing? No worries. There are no-sew christmas stocking ideas, too! A little something for everyone. 😉
DIY Christmas Stocking Ideas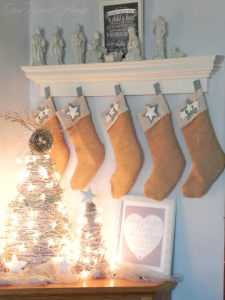 Burlap No-Sew Stocking from OurPrairieHomeBlog.com. How awesome and I don't even have to learn how to sew!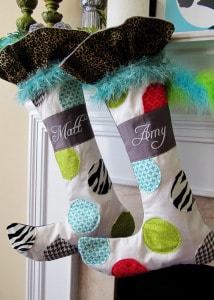 Whimsical Christmas Stocking Pattern and Tutorial from PositivelySplendid.com. So these look like they are going to be for those who enjoy a good challenge. How awesomely beautiful are these!?!?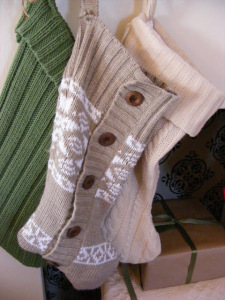 Christmas Stockings Made From Sweaters over at ImperfectHomemaking.com. I totally have some sweaters that could be made into some great stockings. I love this idea!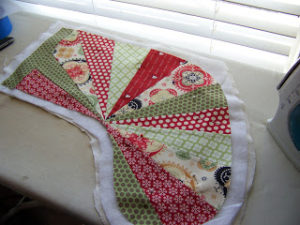 Scrappy Spiral Stocking Tutorial at SewLux.BlogSpot.com. According to this tutorial, it's a bit more work, but totally do-able. How unique!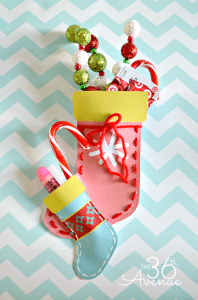 Awesome Paper Christmas Stocking Printables over at The36thAvenue.com. These are awesome to make for teachers or for a neighbor next door!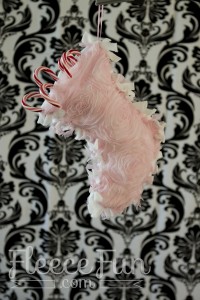 Cute Step-by-Step No-Sew Christmas Stocking Patterns at FleeceFun.com. More no-sew fun that I can try to do with the kiddos!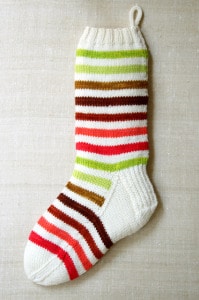 Knitted Christmas Stocking over at Purlbee.com.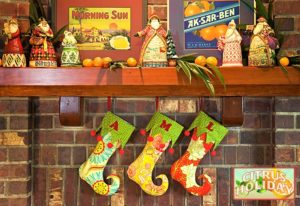 Elf Stockings at Sew4Home.com. These stockings are so adorable. I just love the curly toes and the true "elf" theme that they bestow. I want these!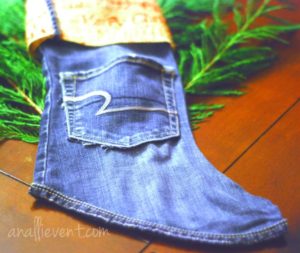 No-Sew Denim Christmas Stocking found at AnAllievent.com. I think we all have some old jeans that this would work for! What a great upcycle idea!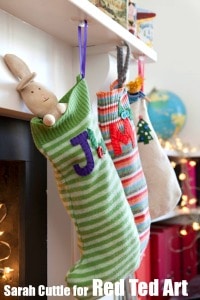 No Knit Knitted Christmas Stocking from RedTedArt.com.
Stockings aren't something we replace very often, as they are part of our family's tradition. But now that the kids are getting older, I think this would be something that would be super fun to do with them. They can help pick out fabric and help how they want it to look. And even if you don't need new stockings at your own house, maybe you could make some for Grandma and Grandpa's house! You never know where Santa might show up!
Have you ever made your own Christmas Stockings for your family over the holidays? Comment below and let us know how it went! We love to hear your ideas. 🙂