We earn money from clicks or purchases made via product links in this post.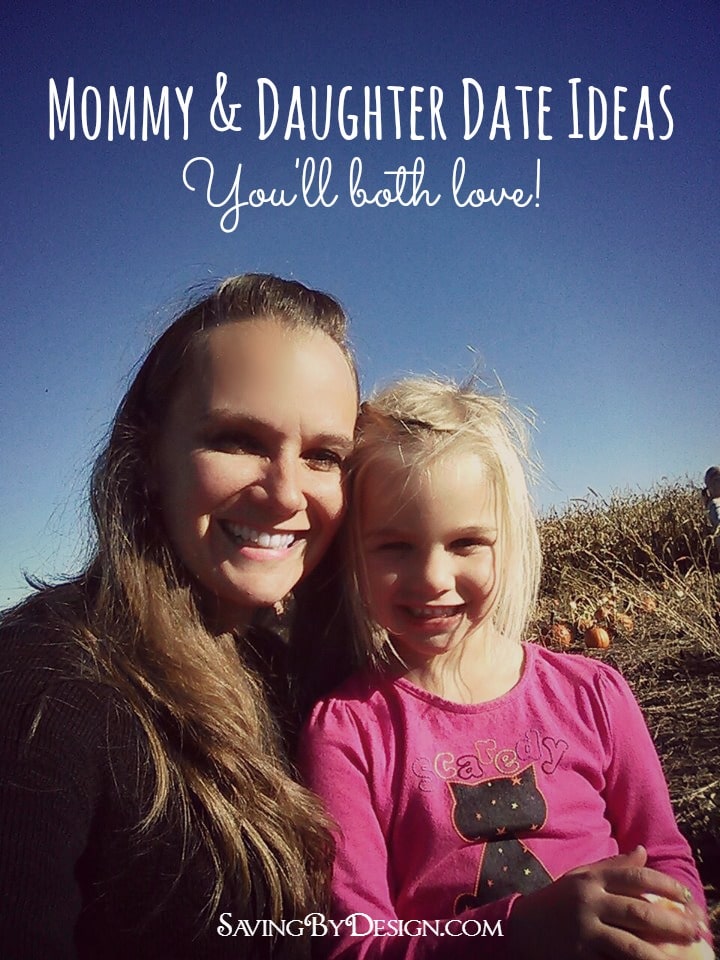 Having some one-on-one time with both of my kids is something I really love to do and I cherish this time I get with them while they still WANT to spend time with me! But there is something magical about that mommy and daughter time that just isn't like anything else! I want to create special memories for my daughter on time that we spend together. Strengthening our bond is something that is really important, as I'm sure it will help during the "teenage years" to make sure we have a good base of understanding and trust. I definitely want to make sure that my daughter feels safe and comfortable coming to me with anything she may need in the future and spending one-on-one time together now doing activities she loves will hopefully help navigate any tough obstacles that come our way in the future. So I compiled a list of Mommy and Daughter Date Ideas that I'm SO excited to work my way through over the next few years! And it's always fun to do some girly things that the boys don't get or appreciate!
1. Mini-Golf – I love the high one-on-one factor of this type of date day! We have TONS of mini-golf options by where we live, and it's relatively cheap for amount of time it takes. It's fun and it's easy to sneak in some questions about what is going on in their life with the high fun factor that is involved!
2. Mani/Pedi – So many spas offer Mommy-Daughter spa packages now, many including manicures and pedicures. What could be more girly than treating your little love to some pampering and relaxation! Make her feel like a princess for the day and you both will be floating on cloud 9! Can't quite afford the spa? No worries! Make a day of it at your house and light candles, nix all the boys from the house, and do mani's and pedi's (Have you checkout out Jamberry Mommy & Me styles?!) in the comfort of your own home! There are so many great DIY body scrubs and lotions to make that you could even involve your daughter in helping to create the things you will use before you even get to the great manicure and pedicure!
3. Play Dress-Up – My daughter LOVES dress-up. We have a little stash of great dress-up clothes that I always look for at garage sales and thrift shops and there is enough now to create quite the event around our house! Make it extra special and let your daughter go through your jewelry to accessorize the perfect outfit. And what dress is complete without the shoes? My daughter is a sucker for finding my shoes and including them in her outfits. End it all with a cup of "tea" and you'll have the perfect day together!
4. American Girl Store – Not everyone may have one of these close to them, but if you do, you HAVE to take advantage of it! What a great time! Take your leading lady to get her special doll's hair done. Have a tea party or lunch and she will just LOVE the fact that her doll gets to sit with her in her own little chair. It's so cute! Many stores have special events that are planned, so take a look and see if there is anything upcoming near you.
5. Go See A Play – Many areas have local theaters that have great dress rehearsal performances that they offer for play groups for free. Check out local websites to see what may be in your area. If there isn't anything close to you, it might just require a trip to the city for the girls to go and check out a play you know she would love. You'll be so happy when you see her little face light up when the characters come to life right before your eyes!
6. Crafting/scrapbooking – Most little girls love glitter, beads, scrapbooking, or any other of the million different forms of crafting that are available today. Find a project you and your little one can do and get started. This summer, we painted rocks to put in our garden and my daughter thought it was the coolest thing ever. Be creative!
7. Bake Together – My daughter LOVES baking things with me. She may not have a huge attention span for it yet, but she is always insisting on helping to stir the ingredients together or crack the eggs. I love that it makes her feel important and that she is truly needed and she loves seeing what she helped to make once it's all done. She gets such a kick out of telling people what "she made" when the final product is unveiled!
8. Rollerskating – Just when I thought this was a lost art, a rollerskating rink opened up a couple of towns over from me. Yay!!! Now… I don't want to suggest you take your daughter on a date just to embarrass her, but if there was ever a date I'll take mine on when she might just look the other way, it would be this one! I used to LOVE rollerskating back in my younger days and it's just like riding a bike. Check out the times at your local rink when it might not be so busy or is catered to families, and go and skate the night away (while your daughter cringes with mortification!).
9. Exercise Class – What a great way to get out together and show your daughter first-hand what it means to take care of yourself and to be healthy. Check out the local gyms in your area and see what they may have to offer for the two of you to participate in together. In my area, they have some fun zumba classes that are great for all ages and another local gym offers some fun classes that are geared for moms and daughters. Have a young one? There are tons of Mommy and Me programs out there that offer similar set-ups, so check it out!
10. Check out a Bookstore – My daughter LOVES books. And I'm just not going to buy every single book her little heart desires, no matter how much I'd love to. My wallet just won't take it! But I'm also going to encourage her love of books and reading as much as possible, so we find days when we just go and spend an afternoon at the bookstore "window shopping". She loves to see the TONS of different books that are available and in the end we usually end up grabbing one. Even better? Check out your local library for programs you can participate in together.
11. Go Out to Dinner – Make it a dinner date! Find her favorite restaurant and make a night of it. She will love the one-on-one attention that she will get with this type of date and you'll love that you'll be able to get her to open up about what may be going on in her life. And of course… you have to split dessert! 🙂
12. Paint Pottery – There is a local pottery business in my area that I love to go to and have my daughter pick out a piece she likes to paint. Even better? Have it be a gift for Grandma or Grandpa and have her work on it together with you. Two birds with one stone? This date is for you!
13. Go to a Coffee Shop – I personally love this one. Selfishly, I get to sip my cup of java, the little girl gets to feel special with her cup of hot cider or hot chocolate in her own "fancy" cup, and we get to chat about what the day will bring or what is coming up for the coming weekend. It's nice and relaxing, low-key, but is a great activity for some quality one-on-one time.
14. Go See A Movie – There are plenty of times in my house when the remote is being fought over and one of the main fights that occurs is whether the TV will show a boy show or a girl show. Sometimes we luck out and they both happen to love what is on, but you know how that goes! So I love to take my daughter out for a good chick flick when one presents itself. Or when a fun Princess movie is out and I surely know the boys won't want to go? That means it's a date for the girls! I love those special times!
15. Outdoor Markets – Anything from flea market, farmers market, antique market, etc. are great ways to spend time together and start out young to teach them the universal skill of thrift shopping, along with how great it is to buy as fresh as possible from local farmers markets. My daughter loves to go to see what is new each week and she always gets to pick up a cute little find that is cheap and unique for her. And fresh bread. The kid loves fresh bread, so she adores the farmers markets!
Spending time with my daughter is always such a fun and rewarding time for both of us. And to make sure we both remember the things we have done during these special date times, I've started journaling our dates. As my daughter gets older, I'm excited to have her help with any input she may want to add. It's a great way to document the journey we have been on and it will be such a great treasure for my daughter in the future. Mommy and Daughter date days are the best!
Have you and your daughter shared in any fun date days lately? If so, share your ideas in the comments below and let us know how it went! 🙂