We earn money from clicks or purchases made via product links in this post.
This Mother's Day don't think about the most expensive gift you can give to the special moms in your life…think about what will make THEM happy and healthy!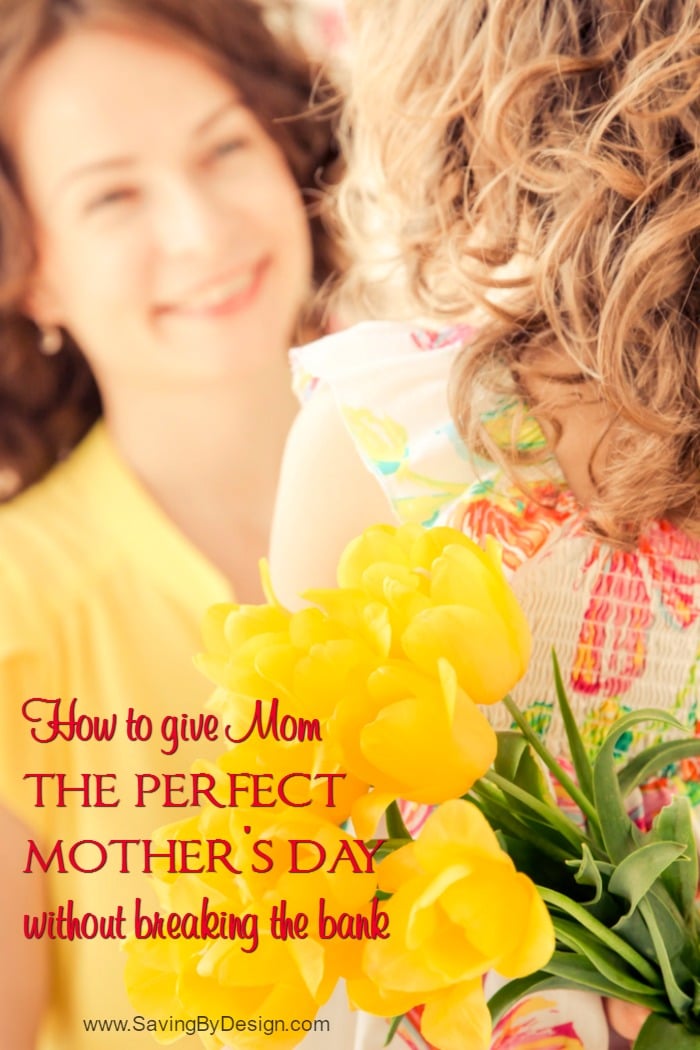 Moms are pretty special people.
They are the CEOs, chefs, and doctors of their household with no time off or pay, all while raising children, being wives, and many having careers of their own too. All of that doesn't leave much time for themselves, but moms would have it no other way.
Everything they do, they do for the benefit of their family. And any mom will tell you, there is no better gift for Mother's Day than a happy, healthy family.
How to Give Mom the Perfect Mother's Day Without Breaking the Bank
This Mother's Day don't think about the most expensive gift you can give to the special moms in your life…think about what will make THEM happy and healthy!
Catch Up the Household Chores
Is your family life as busy as mine right now? I know when we have lots of activities going on outside of the house such as practices, games, recitals, and parties it's easy for things like housework to fall between the cracks.
Laundry piles up, rooms get messy, and dust starts to collect. All of that is on Mom's mind even though she can't seem to find the time to get it done! Trust me, I know.
So surprise her by catching up those chores that are behind while she gets to relax. Whether it's cleaning a room, organizing the garage, or simply going through a pile of mail that's cluttering the table, surprise her by finally getting it done.
Get Mom Out of the House
Then with the chores complete get Mom out of the house for some fun family time. Many times the fun stuff like picnics, family whiffle ball games, or other outdoor activities get pushed aside for everyday tasks.
Get Mom out of the house and away from all the work on her to-do list so she can enjoy what she really loves…spending time with her family.
Gift Certificates from the Kids
Have the kids create a gift certificate for something Mom would love. They can think of the perfect gift and then create a homemade gift certificate just for that. Breakfast in bed, a nice bubble bath, a day without laundry, or an hour of quiet reading time – these are a few of Mom's favorite things!
Who wouldn't be delighted with such a cute gift from her loves?
DIY Sugar Scrub for Mom's Hardworking Hands
Between laundry, dishes, making dinner, gardening, and cleaning, Moms' hands can take a beating. An easy homemade gift to pamper those hard-working hands would be well-appreciated by mom.
Just take an 8oz jar and fill it ¾ of the way with sugar. Fill to the top of the jar with nicely-scented dish soap (I love Mrs. Meyer's products!) and mix together. Add more sugar as necessary to make a paste-like consistency.
It smells wonderful and is very pretty too! Decorate with a bow and you've got yourself a wonderful homemade Mother's Day gift. I bet the kids would love to make this!
This Mother's Day remember there's no need for extravagant gifts. You know Mom best…really put some thought into what would make her happy.
Cuddling on the couch to watch a movie with the family, in a tidy house, with the day's meals already planned and taken care of…now that's a day that just might make the perfect Mother's Day gift!