We earn money from clicks or purchases made via product links in this post.
The Ultimate Homemaking Bundle covers everything you need to make homemaking and mothering easier…recipes, cleaning tips, parenting helps, and so much more!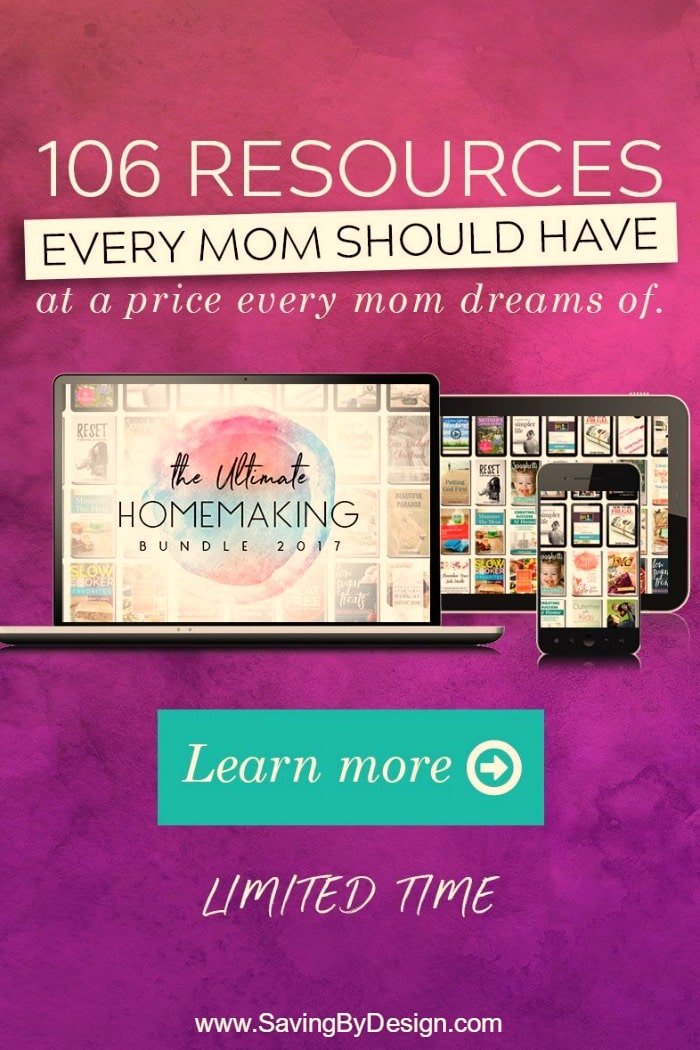 Do you ever feel like the hot mess mom?
You know the one always running around late for everything, forgetting appointments, somehow never having time to do things like take a shower?
Yeah that's me sometimes too.
It's not like you expected homemaking to be a piece of cake. But you had no idea you'd be so tired, frustrated, and overwhelmed, right?
There's no question that I love my family like crazy and I'd do anything for them, but it can be an exhausting job.
If you're anything like me, I bet you wish your home felt more put together and peaceful, you kept up with housework better, you were more consistent about serving healthy, homemade meals and you weren't running ragged so much of the time.
Taking care of a home and family is filled with mundane tasks that never end, but here's the thing – do you want to spend more time overwhelmed by things you don't enjoy?
No, I didn't think so.
So what if you could find resources to help you become better at homemaking and maybe even learn to love it?
That's why every year I get literally giddy to tell you about one of my favorite resources to make things just a bit easier.
The Ultimate Homemaking Bundle 2017
One of my favorite resources for moms, by moms is back! It's the The Ultimate Homemaking Bundle.
For six days only, everything you need (and then some) is in one fabulous package, for the most affordable price ever.
This year's edition of the Ultimate Homemaking Bundle includes 50 ebooks, 21 eCourses, 14 printables, 2 videos, 2 audios, 2 summits, and 1 membership site.
These top-quality resources cover everything you need to make homemaking and mothering feel less stressful…quick & healthy recipes, homemaking printables, cleaning tips, sizzling date night ideas, parenting helps, and so much more.
You'll get a complete library to help you…
Cook up wholesome recipes for your family
Build stronger relationships with your kids (even your teens)
Discover speedy cleaning routines for the toughest messes
Rekindle the romance in your marriage
Put self-care back into your life
and finally enjoy homemaking.
Here's my favorite part…
Besides being so incredibly helpful, one of the things I like best about the bundle is the price. By offering it for a short time only, they're able to give you access to amazing products for less than the cost of one meal dining out!
The combined value of the resources in the bundle is over $1980, but you get EVERYTHING for 97% off!
Guys, this is like a whole mom library!! I'm always looking for the latest tips to make this season of my life easier and this bundle is perfect for that.
CLICK HERE TO SEE EVERYTHING INCLUDED
Becoming efficient as a homemaker is one thing. Fully embracing all the messy moments and hard times and loving it (most days) is another. But it's not out of reach.
No one should have to feel overwhelmed by homemaking because it costs too much or they can't get the help they need.
If you want to learn how to make your life a little easier so you can have a lot more time with your family, The Ultimate Homemaking Bundle is just what you need.
The most important detail, though, is that this bundle is available for just six days! After Monday night, May 1st, the sale ends and you'd have to buy all of these products individually.
I'd hate for you to miss out, so click HERE to learn more or buy the bundle.
Don't forget the bonuses!
As if you weren't already getting an incredible value, the bundle also comes with over $290 worth of bonus offers from companies you'll love!
Your bonuses include…
$15 store credit from Cultivate What Matters (international shipping available)
Free 1 month subscription from Kiwi Crate, $20 value ($15 off $50 shop purchase for existing customers, shipping available to U.S. & Canada)
Free 1 month MightyFix shipment from Mighty Nest, $17 value ($15 store credit toward next add-on order for existing MightyFix subscribers, international shipping available)
One project box from Detox Project Box, $25 value (shipping available to U.S. & Canada)
Free 1 month subscription from Bookroo, $18 value (box of past favorites for existing customers, international shipping available)
$15 store credit from Orglamix (international shipping available)
$15 store credit from Strawesome (international shipping available)
Digital download of the 2017 Hope Ink Calendar, $20+ value -or- $15 credit + 3 art prints from Hope Ink, $99 value (international shipping available)
Homeowner Lifetime Membership from HomeBinder, $120 value (digital)
Free 1 year annual membership from MollyGreen.com, $29 value (digital)
I get this bundle every year, so if you have any questions, feel free to send me an email or ask them in the comments below.
Learn more or get your bundle HERE.


(Psst… the bundle goes away at 11:59pm Eastern on Monday, May 1st, so don't wait!)