We earn money from clicks or purchases made via product links in this post.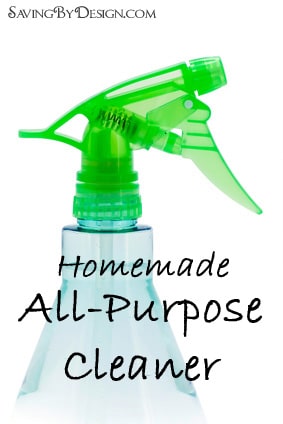 What's your go-to cleaner for all those everyday messes? Whether you are cleaning your counters after dinner, wiping up spills on the table or floor, or doing a quick bathroom spruce up, adding this homemade natural all-purpose cleaner recipe to your aresenal is a must! Not only will it tackle all kinds of "fun" your family leaves behind with a light, fresh scent, but you'll also be ditching the harsh, unnecessary chemicals to keep your home safe yet clean 😉
Enter the giveaway! Ends 1/17/17!!
Plant Therapy is so excited to share their products with you that they are giving
away KidSafe® Starter Sets ($49.95 value) to three lucky Saving by Design readers!!
Whether you are looking for oils to help keep your children healthy, help them settle down before bed, or help them concentrate at school, everything you need is in the KidSafe® Starter Set!
All you need to whip up your first spray bottle of DIY all-purpose cleaner is water, vinegar, a lemon, tea tree essential oil, and lemon essential oil. Tea tree essential oil helps to fight all three categories of infectious organisms (bacteria, fungi, and viruses) and lemon essential oil is historically recognized as a cleaner with its refreshing properties.
I'm sure you already know where to find water, vinegar, and lemons, but in case you're not familiar with essential oils I love Plant Therapy. They offer the highest quality essential oils at a great price and the fast free shipping they offer can't be beat!
If you aren't sure about the surface you'll be using the cleaner on try it in an inconspicuous location first. I've never had any issues and I've used it on counters, tables, floors, and even fabric, but since it is all-purpose I'm sure there are a few "purposes" and surfaces I haven't used it for yet.
Homemade Natural All-Purpose Cleaner Recipe
Clean up any mess with this light and fresh homemade all-purpose cleaner.
Ingredients
1-1/2

cup

water

1-1/2

cup

vinegar

6

tbsp

lemon juice

juice of 1 lemon

15

drops tea tree essential oil

5

drops lemon essential oil
Instructions
Add all ingredients to a 28 oz spray bottle and shake to mix.
Give it a whirl and let me know what you think! I love mixing up my own natural concoctions and I love how well they work even more! 🙂