We earn money from clicks or purchases made via product links in this post.
Got valentines? You need one of these adorable homemade valentine card boxes to hold all those cards and treats!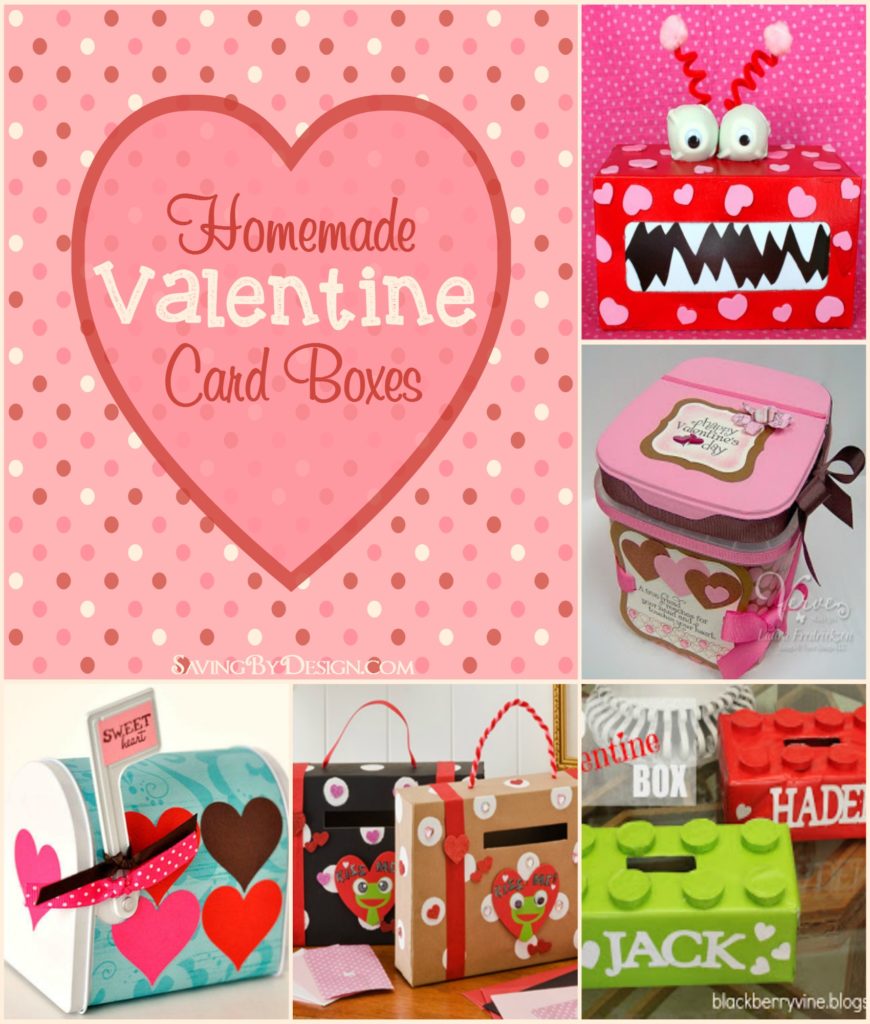 That fun time of the year is upon us! I love Valentine's Day with the kiddos and making crafts for all of our loved ones. The Grandma's always love a great homemade Valentine's Day card from their Grandbabies and now that my oldest is in school, it means preparing valentines for all of his classmates, as well as his own Valentine's box to collect all of his cards in! Exciting!
8 Homemade Valentine Card Boxes Perfect for Holding Cards and Treats
These homemade valentine card boxes are the perfect craft to do with the kiddos over the next couple of weeks if you're child is in school, or maybe you're throwing a Valentine's Day party with all of the kids on the block?! Regardless, everyone will love making these to get ready for this holiday full of hearts. 🙂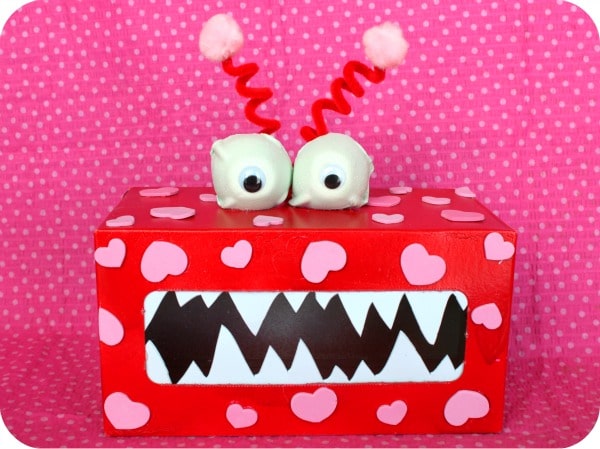 1. I love these super cute Monster Valentine's Day Card Boxes over at GigglesGalore.net! They are SO easy to make and can be personalized anyway you like! Boys, girls, or any theme you can imagine. Just wrap your box with anything from construction paper, to themed wrapping paper, and you're well on your way to having your card box complete.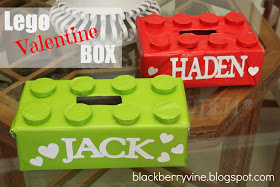 2. My little guy is ALL about Legos right now, so when I saw this Lego Valentine Card Box from BlackberryVine.com, I knew I had to show it to him to see if he was interested in making this for his Valentine's Day party at school! And with a solid color to choose from and stickers for his name and letters needed, it's another quick win for this Mommy.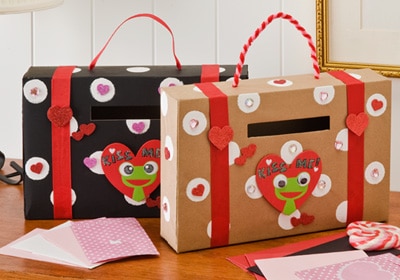 3. Cereal Box Valentine's Day Holder can be made into just about anything you can imagine! This idea, over at PlaidOnline.com is so super cute, with a handle and everything. Get ready to be creative! And get some Valentine's Day stickers at your local dollar store or craft store and you'll be ready to rock.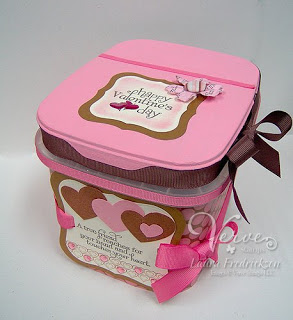 4. OK, now this is absolutely adorable! This Valentine's Day "Inbox" made from an old Cascade soap container is absolutely one-of-a-kind. Found over at VerveStamps.com, it may take a little more work, depending on how much you want to "glam" it up, but it's all up to what you and your kiddo decide for a theme. My sweet girl loved the pink and hearts… and of course the ribbons, so I'm just waiting for my soap container to empty up.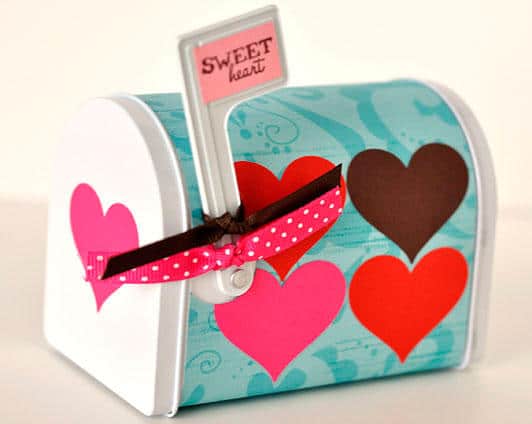 5. These Valentine's Day Mailboxes found over at Fiskars.com will be done in no time! Grab a cheap mailbox from the dollar section at your local Target, or check out your dollar store. Take some scraps you have from scrapbook paper you may have, cut out some hearts and adorn it with some ribbon, and you're done. A real, live mailbox for all of those sweet valentines your little one is going to get at school. LOVE!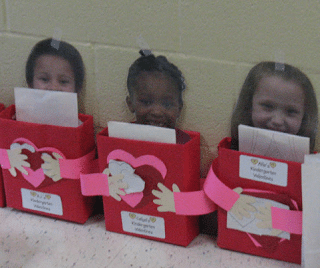 6. Seriously…how cute is this?! These great Picture Valentines Card Boxes found over at LearningInWonderland.com won't have anyone guessing where to put their Valentine's come the big party! Find a great picture of your kiddo, blow it up and print it at home or your local Walgreens or Wal-Mart, make some arms and hands from construction paper, and find an old cereal box and you'll be ready to go. I just love that all the kids can see each other with this great card box idea!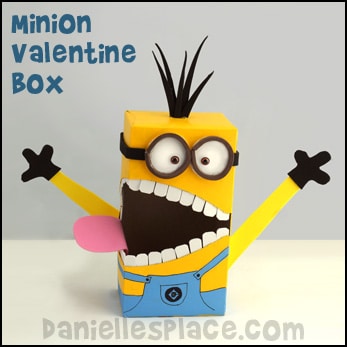 7. The Minions are coming, the Minions are coming! This Minion Valentine Card Box, found over at DaniellesPlace.com, is so right up my little guy's alley! Especially with him getting more and more excited that a new minions movie is coming out. This one might take a little more work and creativity to finish, but wow…how awesome! All the kids will love finding this card box to share the valentine's card wealth this year.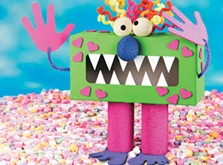 8. Last, but not least, the Love Goblin Valentine Box from CraftIdeas.com. I think this is my favorite! I love the ideas that can be made for either boys or girls and this one definitely does that. Check out that awesome hair with pipe cleaners! Totally takes the cake! Get a couple of old toilet paper rolls for legs and you're going to have one sweet looking Goblin card box on your hand. This is the winner for us this year. My son can't wait to finish his up!
Hopefully something you see here tickles your fancy! I'm super excited to finish our card box up before my son's Valentine's Day party at school and even my little girl is making her own just to be like her big brother. She may be getting a lot of Mommy's help, though 🙂 Have a great Valentine's Day and enjoy some fun heart-themed projects with the kiddos!
Are you making homemade valentine card boxes for your little ones this year? Have you made it already? Comment below and let us know what your wonderful ideas are!