We earn money from clicks or purchases made via product links in this post.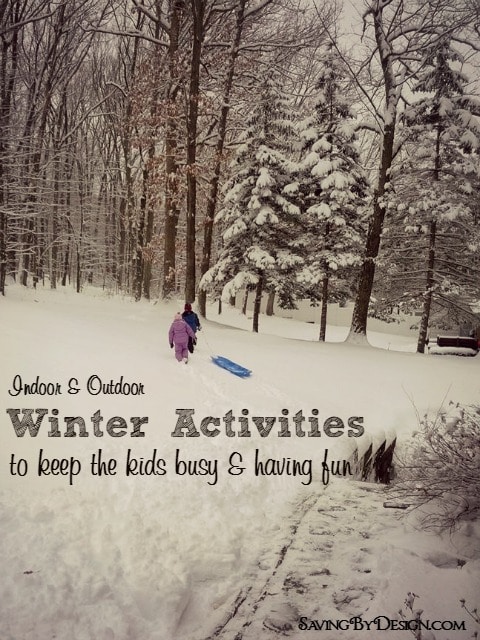 Well…winter has officially arrived in my part of the country and with it comes kids in MY house that get a little antsy to get outside. They want to run, jump, play, and NOT be stuck inside for days on end! And with that abundance of energy things can get a little crazy inside this house. So what do you do to temper all of that energy and make things more bearable during these long winter months? I found some indoor and outdoor winter activities to keep the kids busy! Because let's face it. I'm the one who doesn't want to go and freeze every time they need to get out that pent up energy!
Outdoor Activities
1. There is always the awesome classic – Build a Snowman! Get creative and make him like Olaf if you have some Frozen lovers in your house like I do. Otherwise, make sure you have the makings for arms, eyes, a nose, and a mouth and your kids will be in heaven! My 4-year-old LOVES making snowmen! Well, he loves "helping" as much as he can. 🙂
2. Teach the Kiddos how to Ski. Have some local slopes by your house that you can use an afternoon to give the basics in skiing fun at? I know there is a ski area by my house that is relatively small and they do a great job with helping young children get the basics with their first time skiing. Obviously it depends on how old your kiddos are, but this Momma LOVES skiing, so I'm definitely going to try to get my kids out and learning as soon as possible. I think the boy is ready, for sure!
3. Have a Snowball Fight! I mean, come on… who doesn't love a good snowball fight. Even better, make it a surprise to them! Get them outside and let them think it's just some fun in the snow and than…. BAM! You will never forget those giggles and screams of joy when they realize what is going on!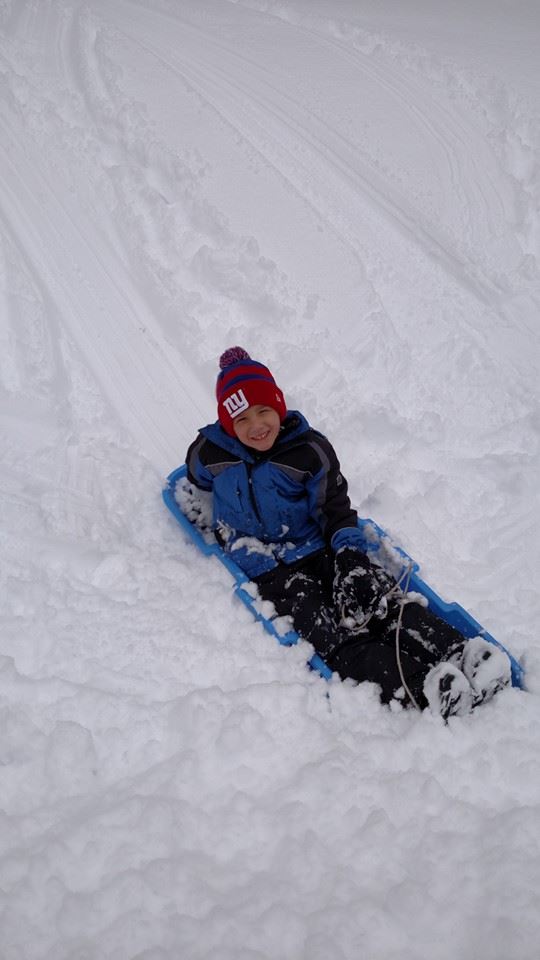 4. Go Sledding! Scope out the local sledding hills in your area and get outside and send the kids down the hill! This will definitely use up some energy as they'll have to climb the hill over and over. Sledding was always one of my favorite things to go do in the winter when I was a kid.
5. Ice Skating is a great outdoor activity! Neither of my kids has tried ice skating yet and my youngest is still probably a little too tiny to try. But I know in my area they have some beginner ice skating lessons through our local city rec department that I'd love to get my 4 year old involved in!
6. Want to stick around the house? Get some food coloring, put it in a bottle with some water, and get outside with the littles to color some snow! My son thought this was the coolest thing last year and this year I know my 2-year-old will love it, too! It's such a quick and easy way to get outside and have something to do besides just getting cold. 🙂
7. Who doesn't love to make Snow Angels? My son just got the hang of how to do this during our last snow and he's already talking about doing it the next time! He thought it was hilarious and had to make about 20 of them all over the yard before he was satisfied!
8. Do some research and find a local winter festival to attend in your area. We have a couple in this area and they have a ton of kid-friendly activities. From making their own crafts to actually having kid-appropriate relay races, it definitely is a fun time for the kids!
9. Go on a sleigh ride! It's not just for Christmas! Check out any local horse stables you may have and you'll be surprised that most of them offer some kind of sleigh ride all winter long. We have one booked for a few weekends from now and I'm so excited! It takes you through the woods, to a small cabin where you warm up with some hot cocoa, then we had back to the stables. My kids are going to LOVE this!
10. Try blowing bubbles outside that will end up freezing on the wand! I did this with my daughter last week when we had a particularly cold spell and she was absolutely fascinated that the bubbles froze and she couldn't "pop" them like normal!
Indoor Activities
1. There is nothing like baking cookies when it's cold and snowy out. I love the smell of fresh cookies in the kitchen and getting a little extra warm from taking all of the cookie sheets in and out of the oven. And of course…the kids love it because they get some fresh cookies when it's all said and done! But my son really does love helping me break the eggs and mix the ingredients. Our favorite? Chocolate chip! Try these 12 Chocolate Cookies with a Twist if you're looking for some new (and delicious!) recipes.
2. Research your area and see if there is a local play or musical you can take the kids to. We have some theaters in our area that offer fun plays for the kids and it's such a fun way to get out and about, yet being able to stay nice and warm for the play.
3. Make Valentines! Before you know it, Valentine's Day will be here and you'll be running around trying to figure out what to send your school-aged child to school with for their classmates. So why not get a jump on things and start making some homemade valentines with your kiddo while you're looking for fun things to do while it's cold out?!
4. Visit a Local Museum. We have tons of options within a 2 hour radius and we love to take the kids to museums for the day to check things out. We have a Children's Museum close by, and there are a couple other Children's Museums in larger cities around our area, as well. We went to a new one about a month ago and the kids had SO much fun running around and exploring new areas that they hadn't been to before. It tired them out, for sure!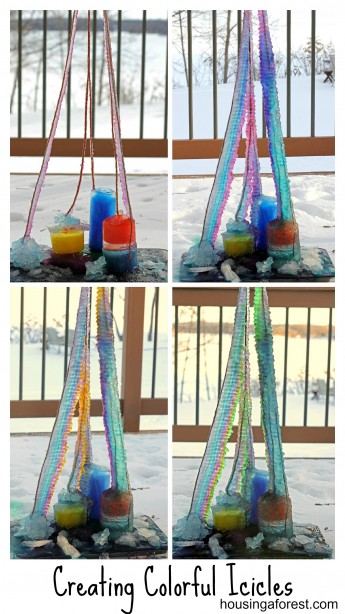 5. Create Colorful Icicles! This great Tutorial over at HousingAForest.com looks like SO much fun! What a great science experiment that you can do out on the deck! I think my little guy is going to love seeing the colors come to life with this!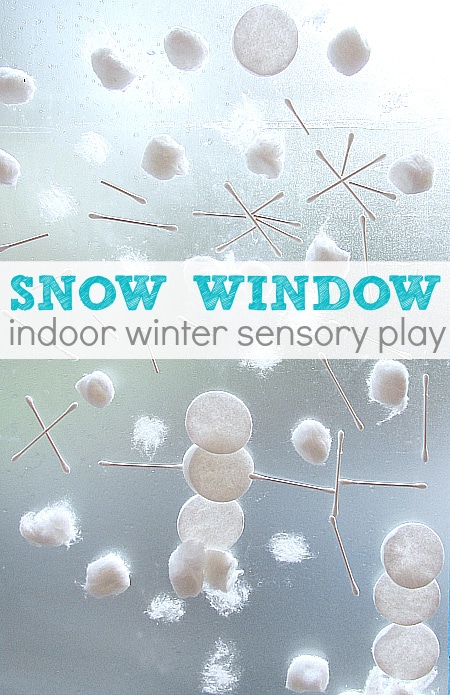 6. Create a Snow Window for Sensory Fun. I found this over at NoTimeForFlashcards.com and I'm pretty sure my kiddos will be fighting over who makes the better snow window by the time this is all said and done. How easy and this will keep them occupied for hours!
7. Cutting Snowflakes out of Paper. Who didn't do this when they were kids?!?! I must have wasted SO much paper when I was young making snowflakes! Can't quite remember how to do it? Check out this Tutorial at HandsOnAsWeGrow.com!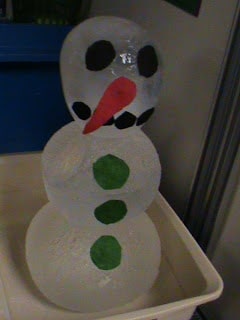 8. Teach your kids the lifecycle of a snowman. OK, so this is about the coolest thing ever! I found this over at FrugalTeacher.com and it is called "Show the Kids the Lifecycle of a Snowman". Basically, freeze three globes of water in different sized balloons in order to create your "snowman". Than set it up so the kids can watch throughout the day and observe what happens during the 3 stages of water – Ice, Water, and Gas. So cool and educational!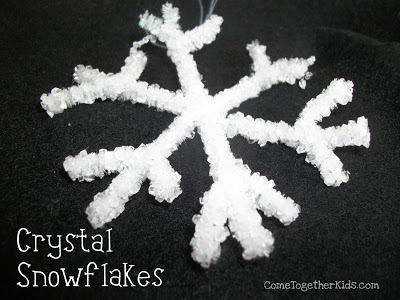 9. Making Crystal Snowflakes Inside. The kids will have to wait overnight to see their finished creations, but it looks pretty easy and the they'll have a blast helping! After they are all done, use them to decorate windows in the kids' rooms! Check it out over at ComeTogetherKids.com.
10. Bring the Snow Inside! Take some tubs outside, fill them up with snow, find a good area inside where a little water won't hurt anything, and let the kids go nuts! They can have fun playing in the snow while you have fun watching them in a heated house! My son loves building little mini-snowmen when we bring some tubs of snow in. And of course, sometimes, he wants it colored with the food coloring, as well.
Hopefully you have some good ideas for fun things to do with the little ones during the winter this year! I don't know about you, but I'm already looking forward to spring and summer and winter has barely just arrived! I'm such a wuss! But these ideas are fun and will definitely make the time go faster!
Do you guys have things that you do with the kids during the winter to keep everyone happy, occupied, and moving? Comment below and let us know some great ideas that weren't mentioned above! 🙂