We earn money from clicks or purchases made via product links in this post.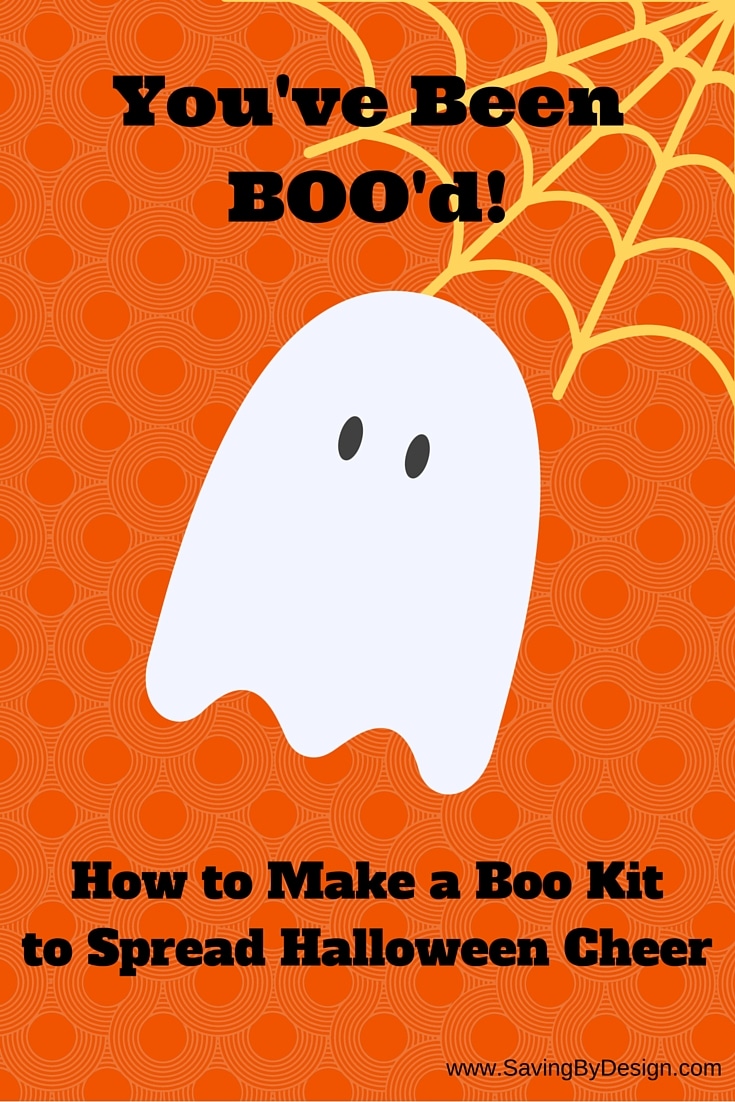 Have you ever done a Boo Kit for a neighbor? They are so much fun and everyone loves to be included when it comes to creating a sense of community in the neighborhood! So what exactly is a "Boo Kit"? Think of it as the neighborly way to Ding, Dong, Ditch people in your community. When they come out to their door to see what happened, they'll find a sweet Halloween-themed basket waiting for them instead! We love these! Check out these Fun Boo Kit Ideas for Neighbors that you can make with the kids. What a great way for them to get into the sense of giving and to have a little fun while you're at it!
How To Make a Boo Kit
If you're looking for a little inspiration on how to get started, Chaos Is Bliss will really walk you through it. That being said, there really is no right or wrong way to make a Boo Kit for your neighbors. You may know them really well and know the things that the family enjoys, or you may be "Boo'ing" a family you haven't spent a lot of time with and don't know well. No matter what, it's the thought that counts, so fill your Boo Kit with yummy treats or items you know the family may enjoy.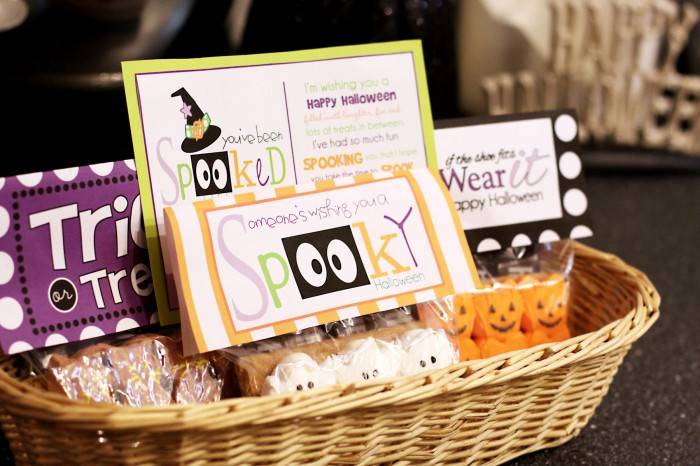 Love From The Oven prepared some fun Halloween S'mores Boo Kits. How creative! There are some great printables that they used on their website to close up the S'mores bags. And in the S'mores bags, they included some Halloween peeps, graham crackers, and of course, a chocolate bar.
Another idea would be to make a Boo Kit out of easy art supplies that you know the family might enjoy. Add in some coloring books, crayons, and anything else that might be perceived as a wonderful treat. So get creative and decide what kind of boo kit you want to make for your neighbor, friend, or loved one!
Boo Kit Printables
You have to have some cute and fun printables to go with your Boo Kit! It just makes it all that much more adorable and legit. It also will help you to give instructions on your Boo Kit and what the neighbors need to know. Try these great FREE Printables from Crazy Little Projects to take all of the guess work out for you 😉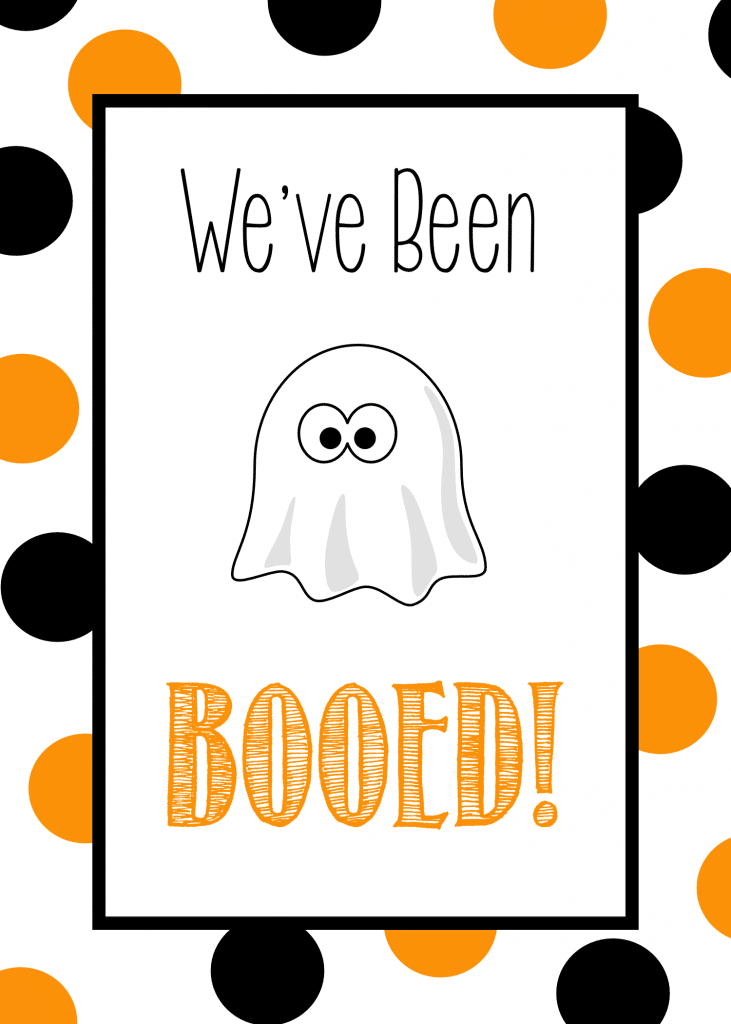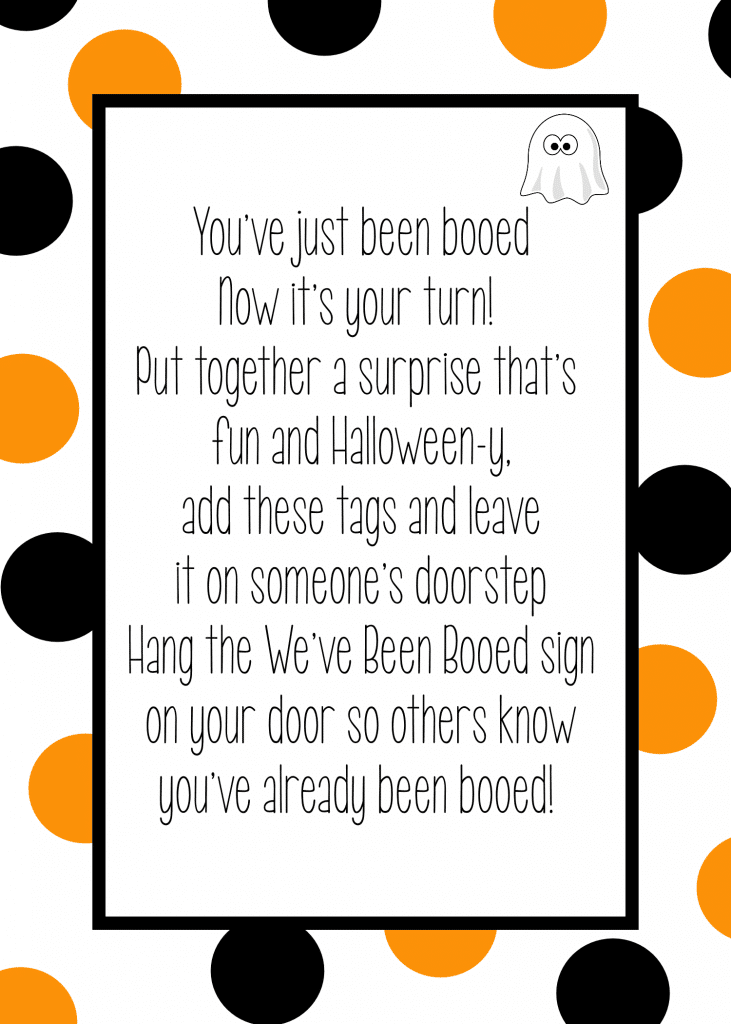 The great thing about Boo Kits is that you're essentially spreading the cheer throughout your entire neighborhood eventually. When you do your sly ding, dong, ditch, you'll be leaving the printable on their door, along with their Boo Kit, that they've been Booed. When they dig into their Boo Kit, they'll see the printable that will instruct them to put a sign in their window saying "We've Been Booed". This will let other neighbors know that they've already been treated with a Boo Kit and they should focus on a house that has yet to be surprised. There will also be a direction printable that you should put in the kit to tell them about the fun that they can now bring to another neighbor's doorstep! What a fun way to spread Halloween cheer throughout your little corner of the world!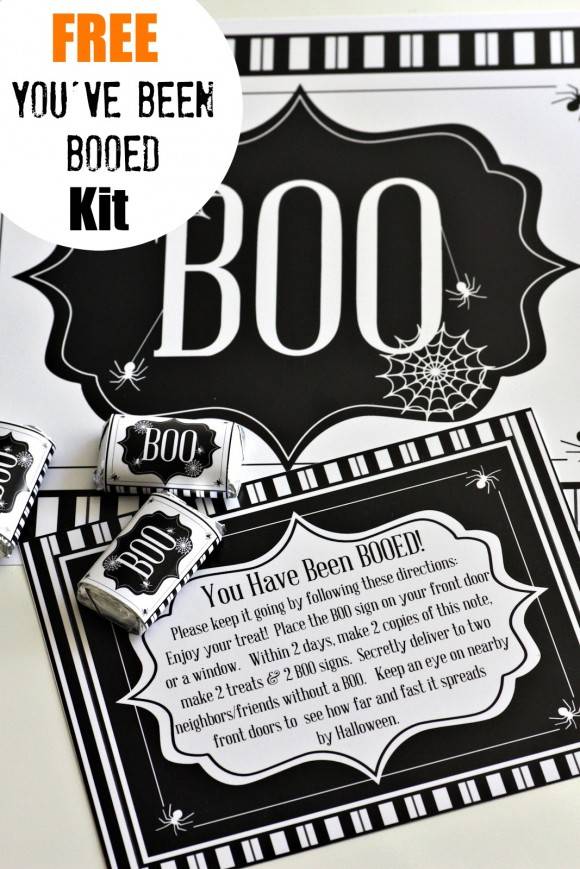 Catch My Party also has some amazing FREE Printables that you can use as well. These have a bit of a different take on it, as you aren't creating an entire kit, more of a bag with treats that you'll have printable wrappers for. You have absolutely got to love it when you find great items like this that make everything as easy as possible for you to get in on the act!
What to Put Your Boo Kit In?
Boo kits are meant to be creative. You could put it in a paper bag that your kids decorate, or in a plastic pumpkin that the neighbors can use for trick-or-treating when your neighborhood participates in it. Whatever floats your boat! I've seen people create little cones that get hung from the doorknob of the front door and are filled with goodies, or repurposing some old cardboard boxes with the kids that they color and create Halloween art on. Whatever works for you!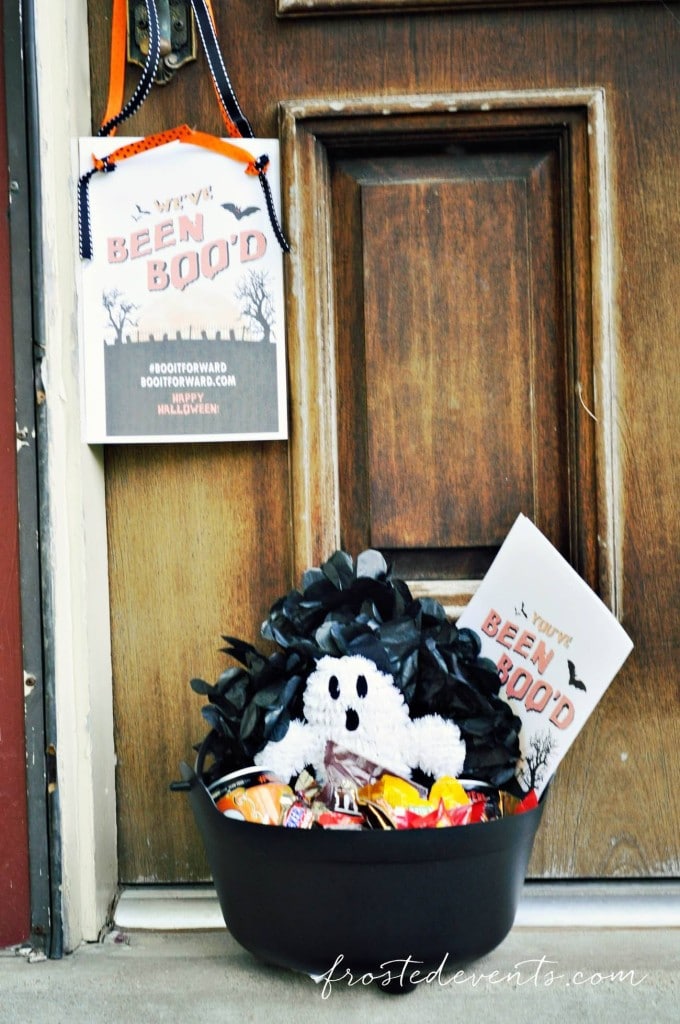 You can see here, that Frosted Events used a simple black plastic tub to share the Halloween love with their neighbors in their Boo Kits!
Your neighbors are really going to appreciate the gesture and effort that you and your family made to surprise them with a Boo Kit! And you're going to have fun making them with the kids and seeing them get into it. What a great thing to do as the holidays approach to get them into the sense of giving. But don't be surprised if a couple "Boo's" make their way back to you! Hopefully none of them will be too scary 🙂
How did you make your Boo Kit for neighbors? What fun items did you put inside? Are there any other neighborhood traditions you have set up with your community during Halloween? Comment below and let us know!