We earn money from clicks or purchases made via product links in this post.
These can't miss pumpkin seed recipes will give you lots of ideas of how to whip up the best flavored pumpkin seeds along with some yummy treats.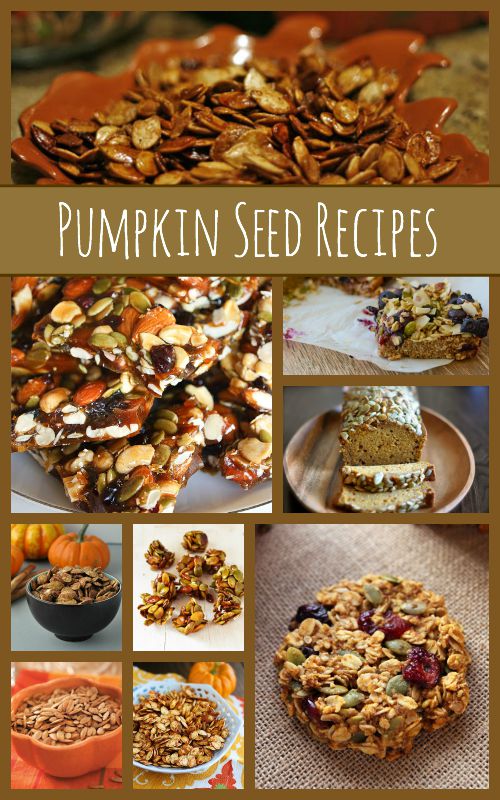 As you're getting ready to make all of those jack-o-lanterns in your household, start thinking about what you can do with your pumpkins once they are cut open. Those pumpkin seeds in there are little drops of heaven and it's time to start utilizing them to their full potential! These can't miss pumpkin seed recipes will get you started and give you lots of ideas of different things you can do with them once you scrape every last bit out before carving those pumpkins up. And…pumpkin seeds are a really nutritious treat, too! It's like a win-win and you have it right at your fingertips for the next few weeks. Give these recipes a shot and enjoy the health benefits from pumpkin seeds that you'll gain too.
10 Can't Miss Pumpkin Seed Recipes for Fall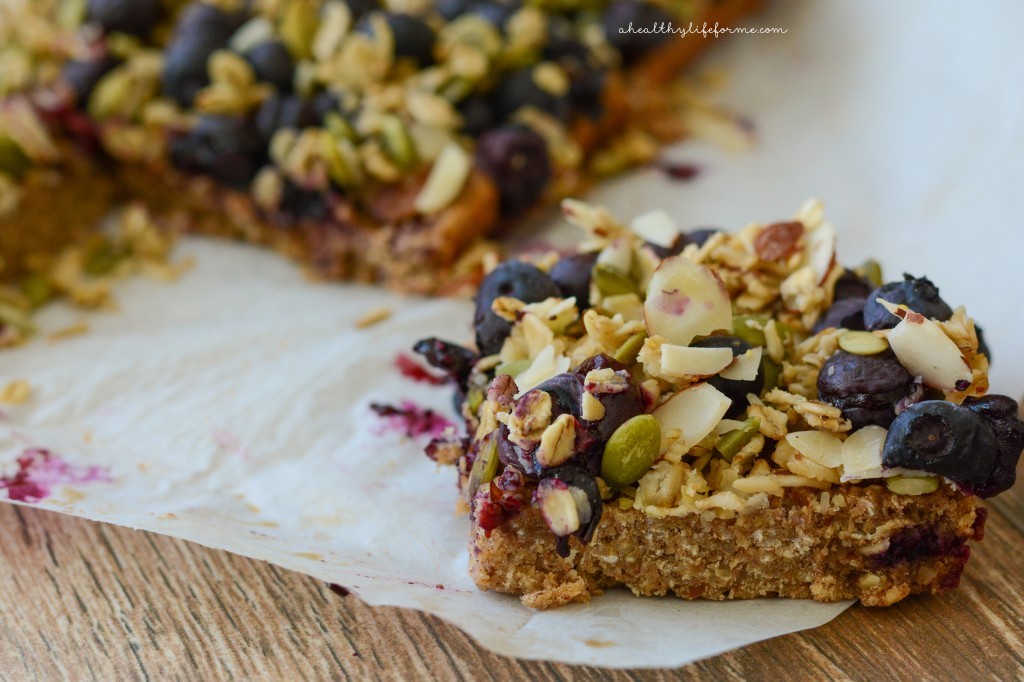 1. These Oatmeal Superfood Breakfast Bars from AHealthyLifeForMe.com looks SO delicious! A superfood, indeed, these are going to be great to grab up and munch on as you're running out the door in the morning. And they are packed full of nutrition to keep you fueled all morning long. With a mix of fruit, nuts, seeds, among other things, you're going to be all set for the day!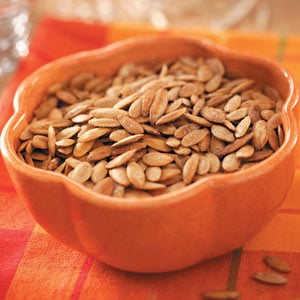 2. Garlic Pumpkin Seeds are a great way to flavor the otherwise blank seed and this recipe over at TasteOfHome.com does a great job with a simple recipe. What a great thing to munch on this fall!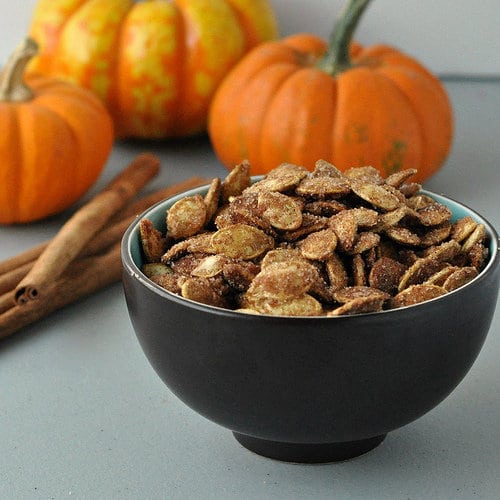 3. OK, these Cinnamon Sugar Pumpkin Seeds from CircleOfMoms.com look amazing! I love giving seeds a bit more flavor and this recipe is super simple to follow. After you get done putting these together, you're going to be surprised by how quickly they disappear. Everyone is going to love them!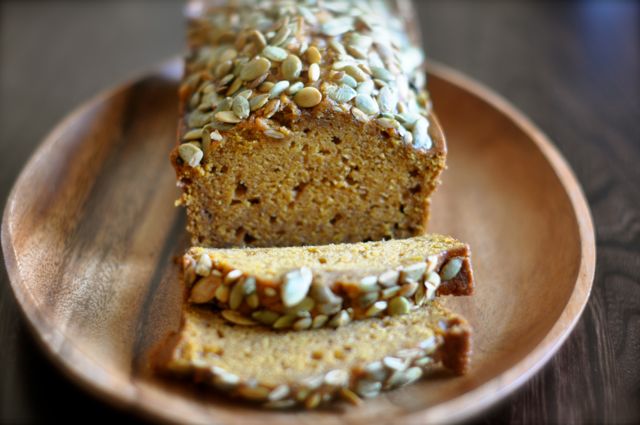 4. Anything Starbucks makes my heart happy, so this DIY Starbucks Pumpkin Bread definitely is going to find its way into my kitchen this fall! This recipe over at CopyKat.com is a great version of the real thing and you may not even notice the difference. Pumpkin bread is an absolute favorite of mine and with the pumpkin seeds taking center stage in this recipe, you're going to find a great way to utilize all of those seeds you're going to have 🙂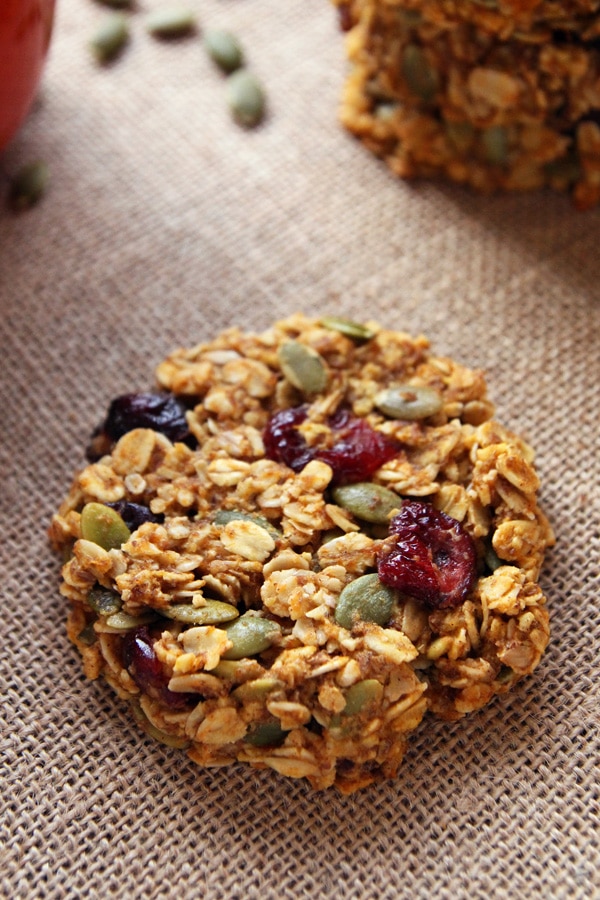 5. These Pumpkin Breakfast Cookies from Leelalicious.com are phenomenal! They are a kiddo favorite in my house! First off, they are a great healthy snack for the whole family, but if your kids are like mine, that usually doesn't do the trick. What does the trick? Telling them that there are cookies in the house. Then it doesn't seem to matter what they are eating…as long as it's a "cookie" we're good. Winner!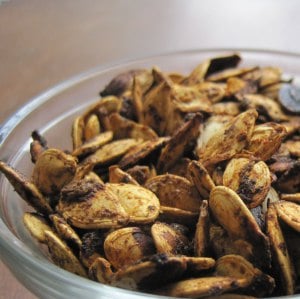 6. Chili Lime Roasted Pumpkin Seeds? Yes, please! This unique recipe from AustinGastronomist.com is a fun spin on the many different types of roasted seed recipes that you're going to see. If you're a fan of the chili lime flavor, you're going to have to give these a whirl. I'm betting that they won't disappoint!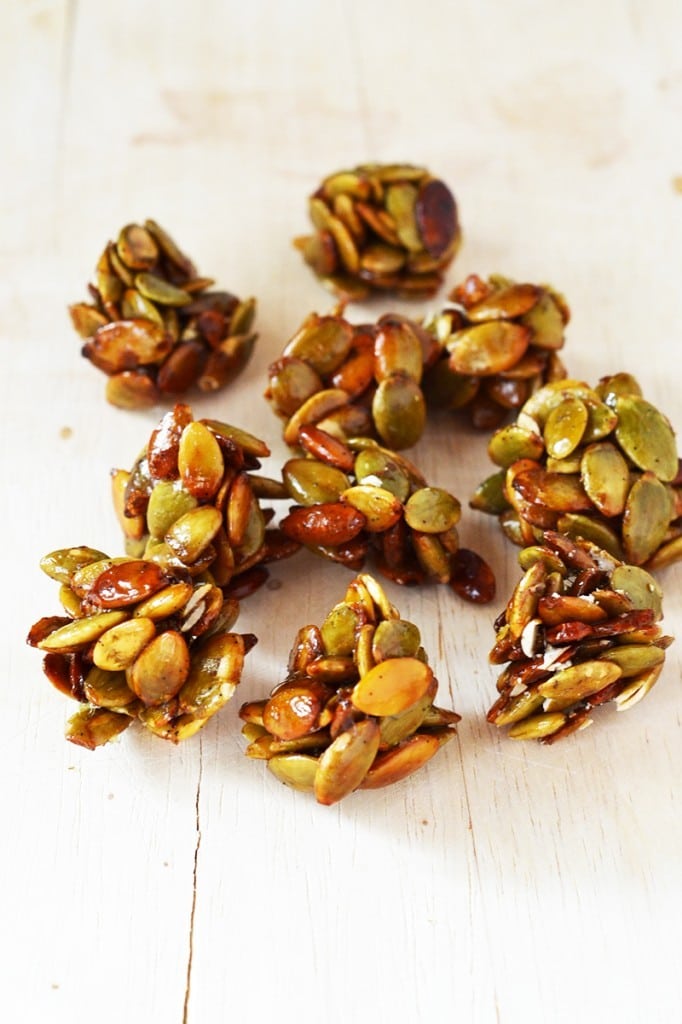 7. These Vanilla Pumpkin Seed Clusters from WallflowerGirl.com are so yummy! I love the clusters and how they are these great bite-sized versions of deliciousness. They are easy to take with you on-the-go and are great after a workout. Give them a try!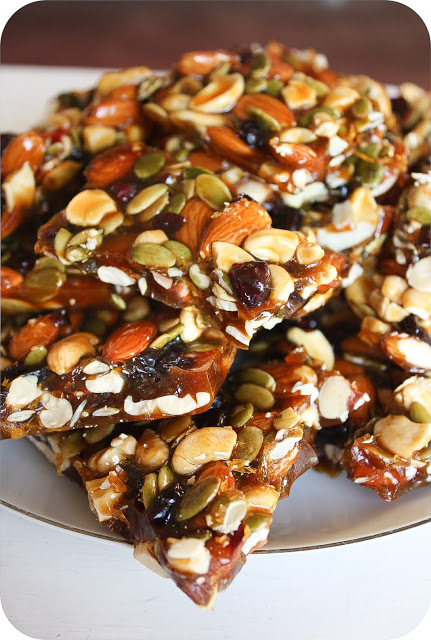 8. This Autumn Brittle may be the most unique kind of brittle you ever try, but you're going to love it! Found over at Adventures-In-Cooking.com, it is sure to be a crowd-pleaser. Having a girls night soon? Bring this out and see how much the ladies love it. My bet is they are going to want this recipe sooner rather than later 😉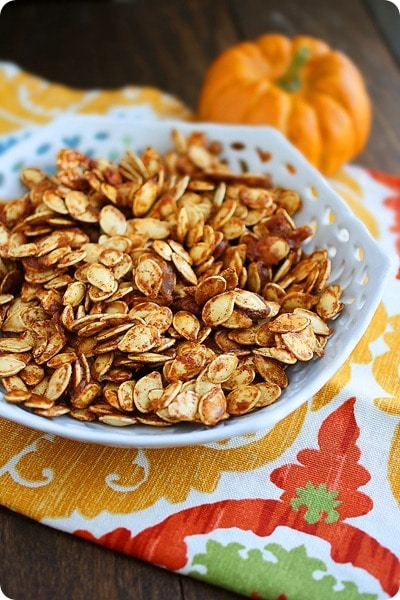 9. These Salted Caramel Pumpkin Seeds are like little drops from heaven! Salted Caramel is all the rage right now, so when I saw this recipe for pumpkin seeds over at TheComfortOfCooking.com, I knew I'd have to give it a whirl. This is going to be the first kind of seed recipe I make once I carve out our first pumpkin this year. I can't wait to try it!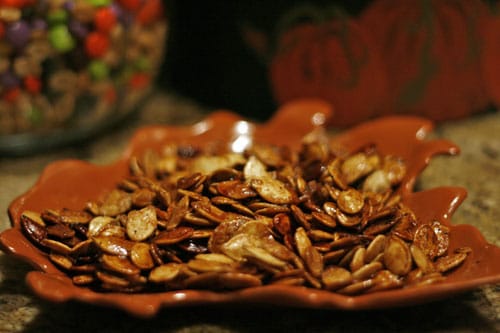 10. If you liked candied nuts, than why not try this Candied Pumpkin Seeds recipe? Found over at JustAPinch.com, these little goodies are sure to be a big hit with the little ones! Who am I kidding?! It's going to be a big hit with the adults, too!
Mmmmm! Whether you're flavoring up the actual pumpkin seeds or using them in a different recipe, these ideas are making my mouth water! I can't wait to start whipping up some of these recipes over the next week as we start our pumpkin carving fun. Don't miss out on all pumpkin seeds have to offer and you may even get the kiddos to enjoy some of these awesome recipes with you! What a great snack for their fall lunches. Enjoy!
Have you had success with pumpkin seed recipes that your family can't get enough of? Comment below and let us know what can't miss pumpkin seed recipes we should be making! 🙂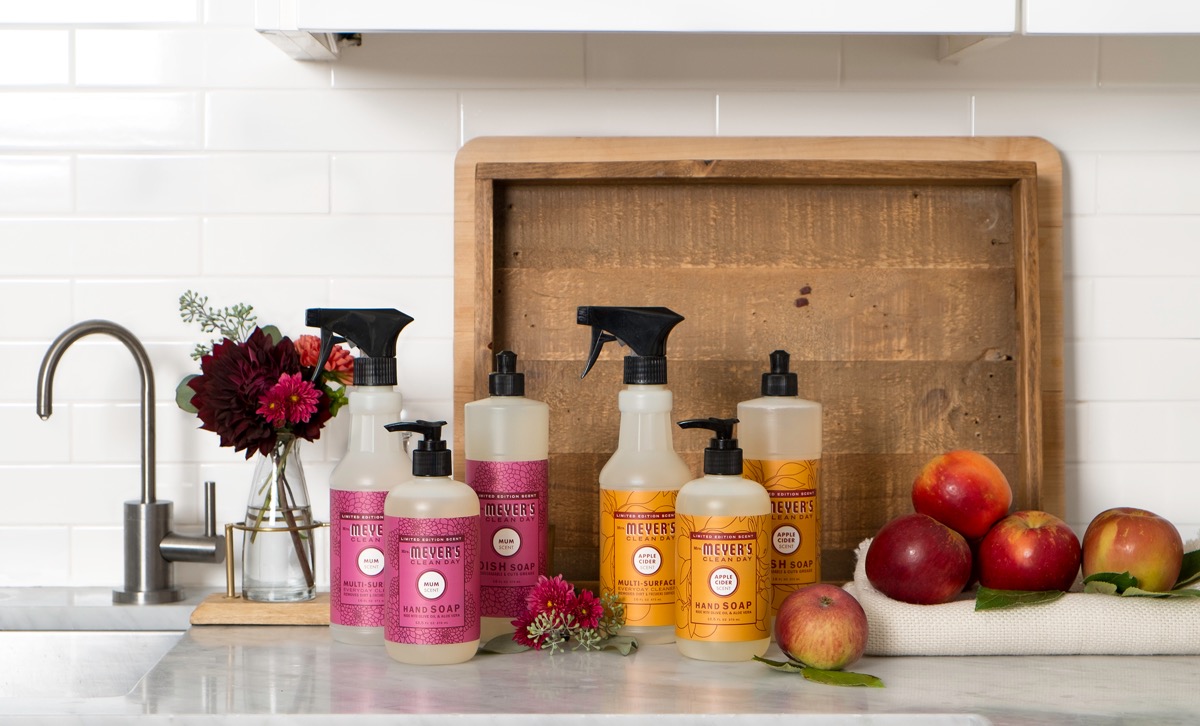 Speaking of fall, don't miss your chance to grab these fabulous Mrs. Meyer's seasonal natural cleaners for FREE! You can choose from scents in Apple Cider or Mum. They work hard to clean naturally while giving your home a boost of fall freshness. This offer is only available through October 23, 2016.
Take a look at this post for the details 😉