We earn money from clicks or purchases made via product links in this post.
Our nursery rocking chair was in need of a makeover for our third child…so I figured out how to spray paint a wooden rocking chair for less than $10!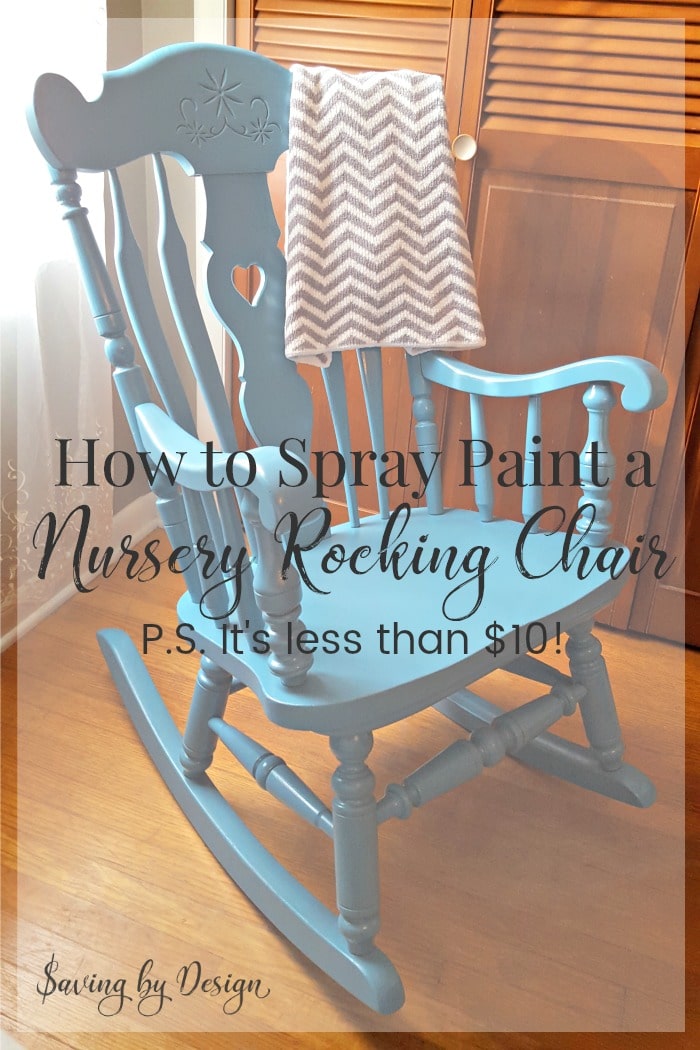 When we found out we were expecting our third child it was pretty clear that our new munchkin would become our roommate for the next few years…we were out of bedrooms and our other kids weren't old enough to be trusted sharing a room with a baby.
One item that was essential was a nursery rocking chair. It came in so handy with our first two children, especially for late night feedings. I knew I wanted to keep the rocking chair that we had – not only had we used it in our older son and daughter's rooms, but it was given to us by my hubby's parents too.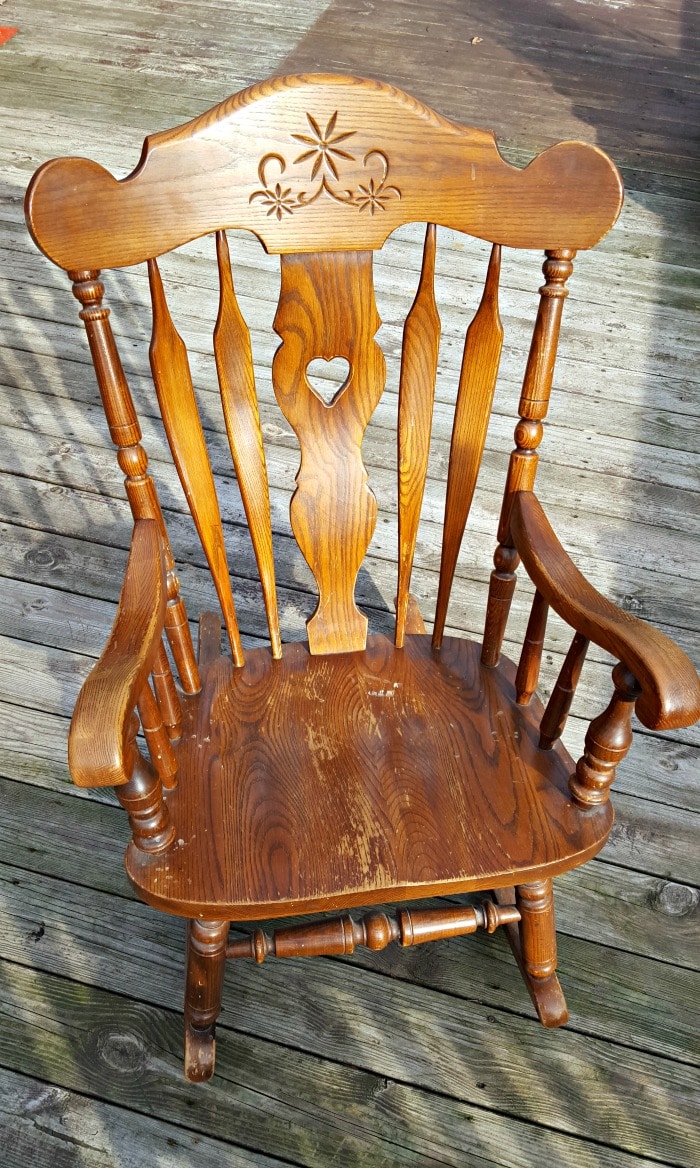 Although it was still in good rocking shape, the years had taken a toll on it and it was definitely in need of a little TLC. As I was scrolling through Pinterest one day I came across painted kitchen chairs. The before and after photos of them were incredible.
A little paint had taken the chairs from old and run down to trendy and brand new. That was exactly what I needed and set out to figure out how to spray paint our nursery rocking chair.
How to Spray Paint a Nursery Rocking Chair
So I was off to come up with a theme that would work for both – a nursery and master bedroom.
As if finding a theme that worked as both a nursery and master bedroom wasn't tricky enough, our theme would have to be gender neutral also. We didn't find out the gender of our first two children and with this being our "tie breaker" we weren't about to change that this time around 🙂
I'm not sure where I first saw aqua and gray together but I do know that I instantly loved the color combination. As I looked into whether there were enough options to make an aqua and gray nursery and master bedroom work I was pleasantly surprised. There were many nursery themes to choose from and I loved all the patterns that were available – chevrons, polkas, quatrefoils, and more.
Whether our little bundle was a boy or girl, it was all sure to work!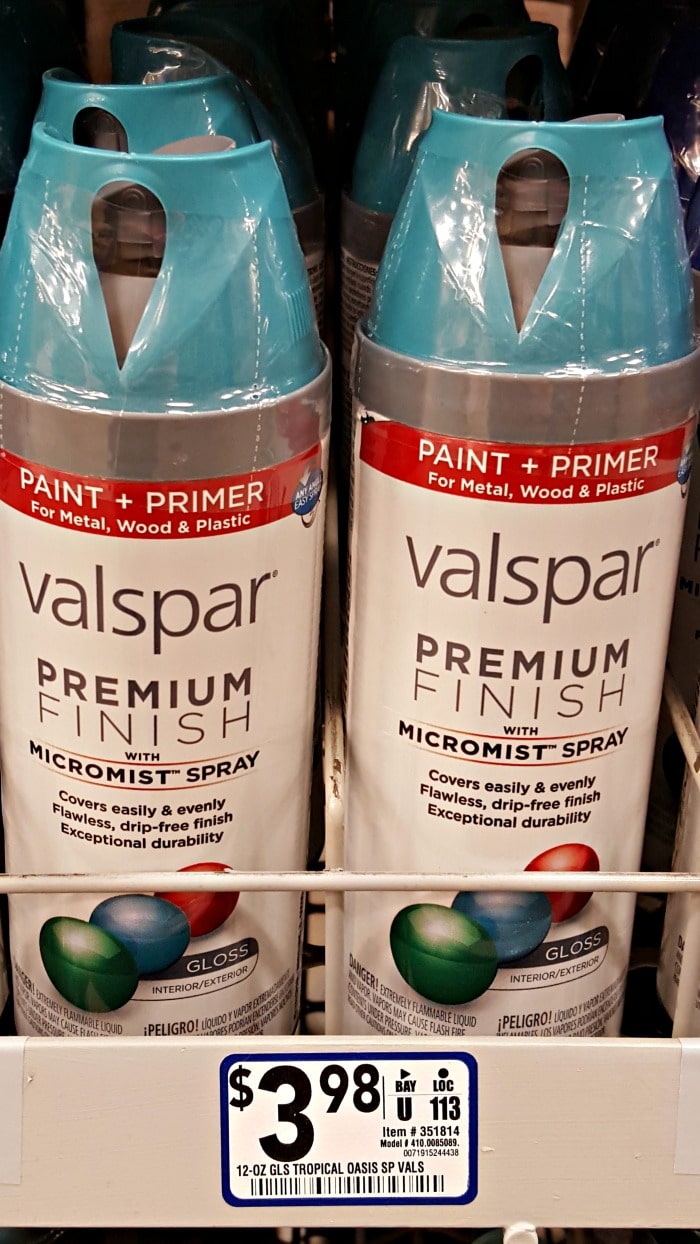 I wasn't sure if I would be able to find the aqua I needed to match what envisioned for my nursery theme so I already decided that if it had to, white would work just as well. But lo and behold, look what I found at Lowe's 🙂
"Tropical Oasis" was just the color I dreamed of!
Did you read that can? Paint + Primer, made for metal, WOOD, and plastic, and exceptional durability…I had hit the mother load! And at only $3.98 a can, this was going to be less expensive than I imagined.
(Don't worry…If aqua isn't the color you are looking for, there are TONS of other beautiful colors available.)
Other than needing a little elbow grease, the actual painting of the chair was easy.
Steps to paint a nursery rocking chair
Sand the chair to smooth out scratches and wear
Clean up dust using vacuum and/or microfiber cloth
Paint the rocking chair using your favorite spray paint – one that is paint + primer work great!
Allow the chair to dry – 24 hours was enough for us
Supplies needed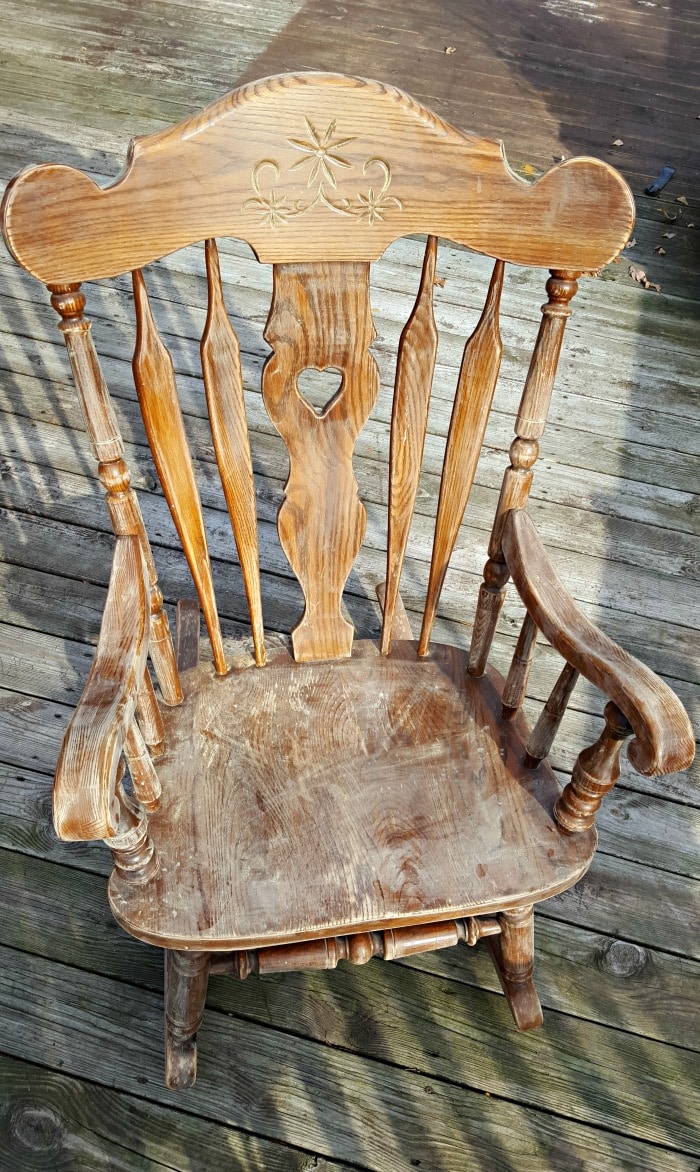 First I gave it a good sanding to smooth out some of the scratches and wearing that had happened over the years.
I didn't use anything fancy, just some sandpaper I had lying around from other projects. When I was finished sanding I used my vacuum to suck up the dust and then went over the whole chair with a microfiber cloth to make sure I got it all.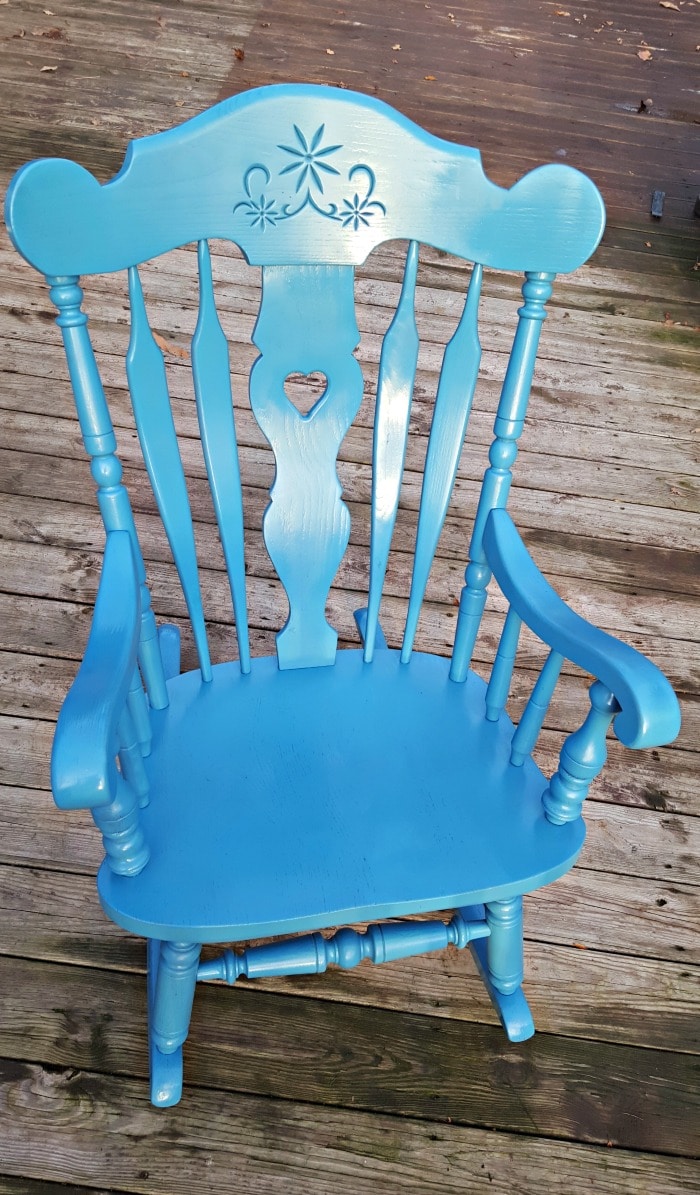 Then it was time to paint! Since it was a warm fall day I simply painted the rocking chair in my backyard. I ended up having a few paint spots in the yard, but it wasn't a big deal since soon the snow would be covering them and spring would bring new grass to hide my mess.
I needed two cans of paint for the whole chair, but I only applied one coat…it covered great!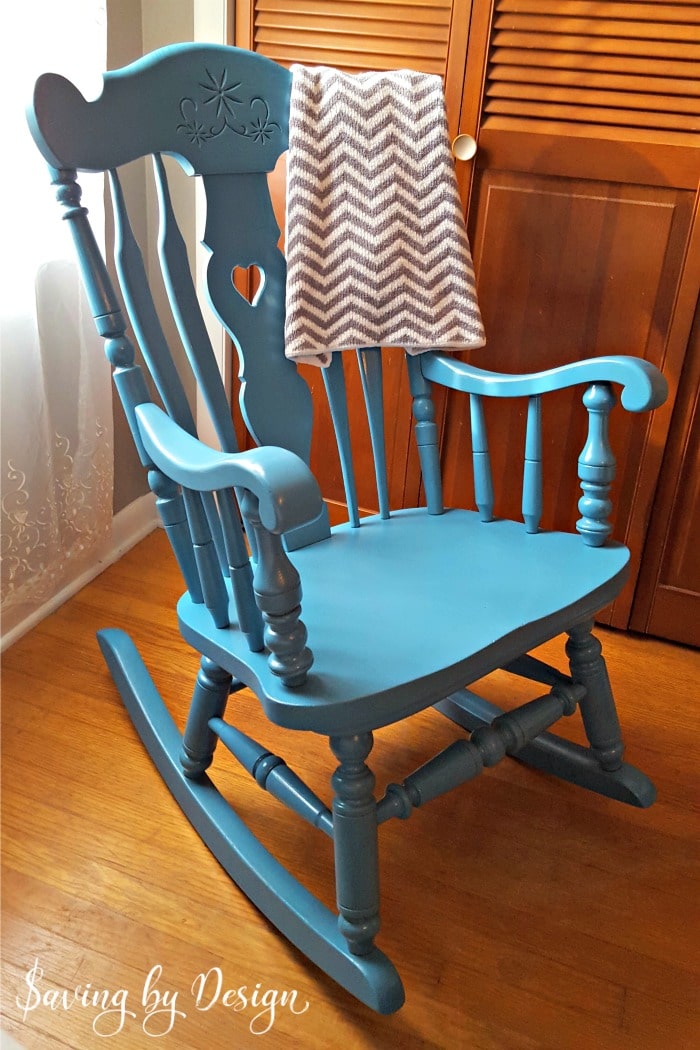 And that was it!
I let it dry in the garage for 24 hours and then moved it to the nursery…I just LOVE it! 🙂
Update…It's now been over two years since I painted my nursery rocking chair, and I'm happy to say that it still looks wonderful! There is no chipped paint, just a little wear in places which I actually love since it gives it that rustic look.
This post originally appeared on this blog March 7, 2016.