We earn money from clicks or purchases made via product links in this post.
Do healthy, home-cooked meals for your family seem impossible? With these tips for successful meal planning you'll be saving money and eating great!
Do you suffer from the "What's for dinner?" dilemma? You know, when about five o'clock rolls around and you have no clue what your family will be eating for dinner that evening.
Would you love to make healthy, yet inexpensive, meals for your family but the days are just so busy that a home-cooked meal seems nearly impossible?
Don't give up!
4 Simple Tips for Successful Meal Planning on a Budget
With these tips for successful meal planning I know you can do this! And trust me, once you get into the routine you'll be saving money and eating great.
1. Meal plan around your family life
First you need to think about what your family's evenings are like. Successful meal planning takes into account what you having going on each night of the week which is a great way to make dinner work around your schedule.
If Mondays are crazy and there isn't much of a break between school and soccer practice, maybe that's a good night to have dinner cooking in the slow cooker during the day and ready to go when you get home. If Wednesdays are your easy day with no evening activities, that's a good day to make a favorite meal that requires some prep since you'll actually have time to do it.
Join Our Food & Recipes Newsletter!
Do you like easy and delicious recipes? How about the best ways to save on groceries and how to make the most of your time with meal planning? Then subscribe to my Food & Recipes newsletter!
2. Make food that everyone will actually eat
Next, you want to be sure you are making food that everyone enjoys.
Try sitting down with your family and coming up with a list of 20 to 30 dinners so that everyone has at least a few of their favorite meals included. Then use those dinners to plan out your month of meals according to your weekly schedule.
Which ones can be made in a slow cooker for busy nights? Which ones require some actual cooking time and need to be made on nights that you don't have to go back out?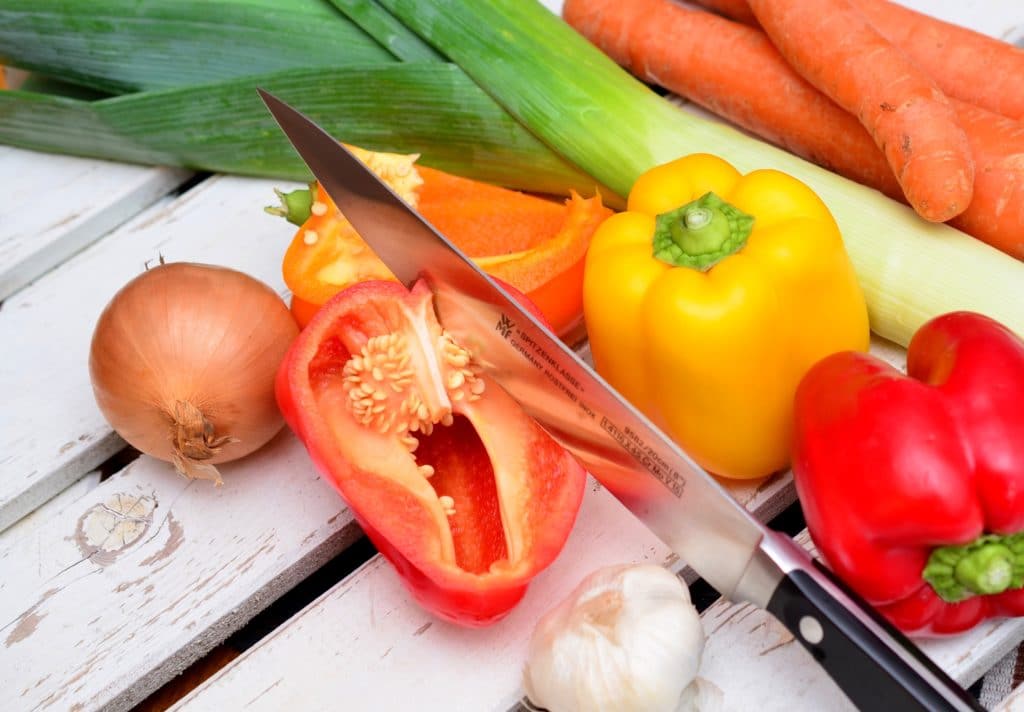 3. Plan your meals and put them in writing
Once you have a general idea of what you'll be making you have to write it down. Just like so many other goals, until it's actually written down, it's not really "the plan." Any calendar will do, but you can find links to some of my favorite meal planning free printables along with other great tips and yummy recipes here.
There are a few helpful techniques to use when planning your meals too.
Try Theme Nights
First consider choosing theme nights.
For example, for us Friday is pizza night. You can also have a leftovers night, chicken night, breakfast night, ethnic night, etc.
Have you ever tried batch cooking or freezer cooking?
With batch cooking you make large amounts of food and then separate it into dinners that can be frozen and quickly thawed when ready to use. An easy way to make a batch is to just make extra of whatever you're currently making for dinner. Make some extra taco meat, casserole, soup, or pretty much anything and then freeze it for another meal. Slow cooker meals work wonderful for this.
With freezer cooking you cook or prep many meals at once so it's super easy to get dinner on the table during the week. You can either completely cook your meals so they are ready to just thaw and heat or assemble all the ingredients, freeze, and then cook when you are ready for that meal.
Imagine that…a few hours in the kitchen one day and a whole bunch of meals made for the week or even month! Talk about a burden being lifted! You can see why freezer cooking is my meal planning method of choice 🙂
If you would like to give freezer cooking a try but aren't sure where to start, sign up for this free workshop that you can watch online, at your own convenience, to learn everything you need. You'll also get a sample FreezEasy meal plan to try out!
Sign up for the free workshop and sample meal plan here.

5 Dinners in 1 Hour? Yes, It's Possible!
If you like the idea of freezer cooking, but would prefer fresh meals instead of frozen, there's also a way to do that!
Basically you still prep everything in one day, then just have it ready to pop in the oven, broiler, slow cooker, or grill during your busy weeknights. You can even prep your week's worth of meals in only ONE HOUR using the 5 Dinners 1 Hour approach…and these dinners look absolutely delicious!
With 5 Dinners 1 Hour you'll get…
Organized shopping list sorted by grocery aisles.
Easy to follow, detailed instructions to prep 5 dinners in less than an hour.
Cooking directions that help you get dinner on the table in minutes.
Side dish serving suggestions also included on the grocery list.
Recipes designed so you can set a timer and walk away while dinner cooks.
After dinner clean up is quicker with minimal dishes to wash.
You can find out all about 5 Dinners 1 Hour here and even try a sample meal plan
4. Shop ahead so you don't fall behind
When I'm creating my plan, I like to shop this week for next week's meal plan as much as possible.
So to get started, try to use up some of your frozen food and pantry items for your first week. That way you aren't scrambling in the store today for a meal you need to make tonight.
Shop now for next week's meals which you can base on what's on sale at the store, therefore getting the best price and saving money.
An alternative to weekly planning would be monthly planning where you plan an entire month's worth of meals if that works better for your family. Again, unless you have your pantry and freezer stocked and ready to go, this would mean shopping during this month for next month's meal plan to get the best prices. You want to buy on sale and with coupons, not at the spur of the moment because you need your ingredients right now.
As you can see successful meal planning is not an impossible task. Using these 4 simple tips will get your family yummy home-cooked meals on the table each night and help you ditch the "What's for dinner?" dilemma once and for all!
Don't miss these similar posts…
Meal Planning Free Printables and Organization Ideas to Help You Get Dinner Under Control
3 Easy Tips to Find Extra Savings at the Grocery Store
Cut Grocery Spending in Half with This Proven Strategy
Join Our Food & Recipes Newsletter!
Do you like easy and delicious recipes? How about the best ways to save on groceries and how to make the most of your time with meal planning? Then subscribe to my Food & Recipes newsletter!