We earn money from clicks or purchases made via product links in this post.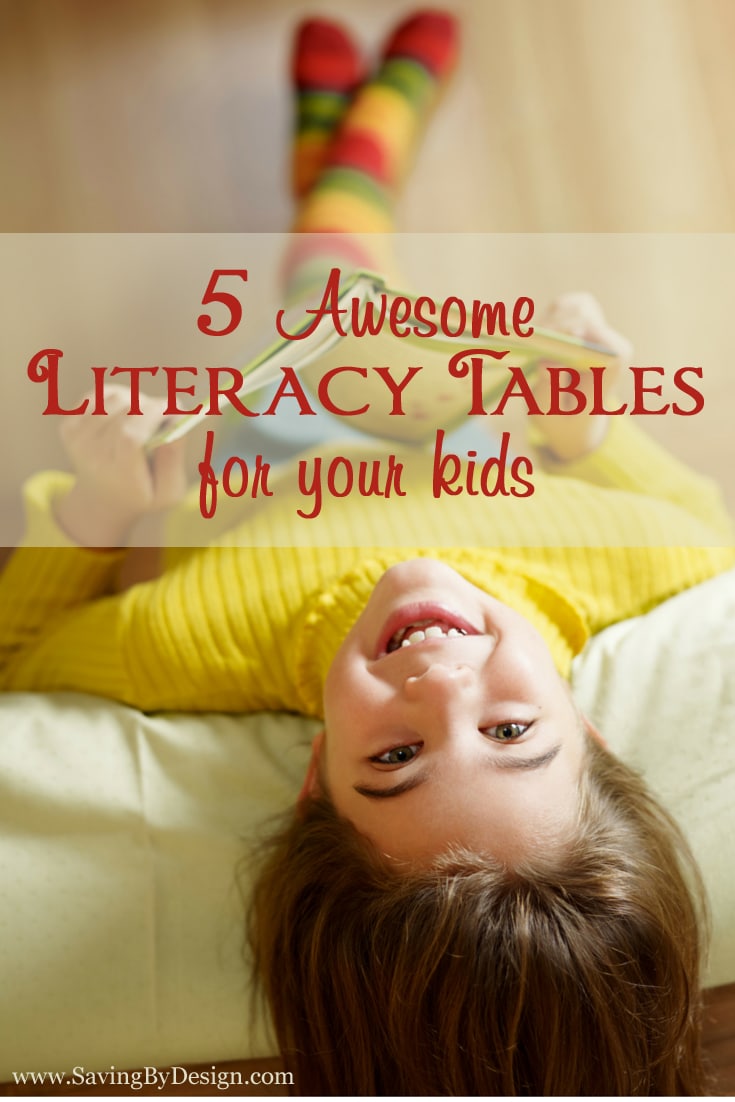 So…I have this friend that has the most amazing reading ideas for her children and I loved them so much, that I just had to steal them. And of course she had amazing educational ideas since she used to be a teacher before she decided to take on the mammoth responsibility of staying home with her two children.
Basically, once a month, she would create a new "Literacy Table" for her kids which would include books that focused on a holiday that was coming up that month, or just the season, in general. She would have about 5-6 books picked out for each of her children, stand them up, decorate the table with some themed DIY decor and call it a day. It may not seem like much, but I just fell in love that there were books readily available that the kids would see day-in and day-out about something that was going on that month. They'd get read and learn more about a specific holiday, what the season would bring, an event that may be coming up for them, and just life in general. Even though my kids can't read on their own yet, I love being able to read to them from this pile of "themed" books every month. These 5 literacy tables are a great way to launch this idea into your home and I hope you love it as much as I do!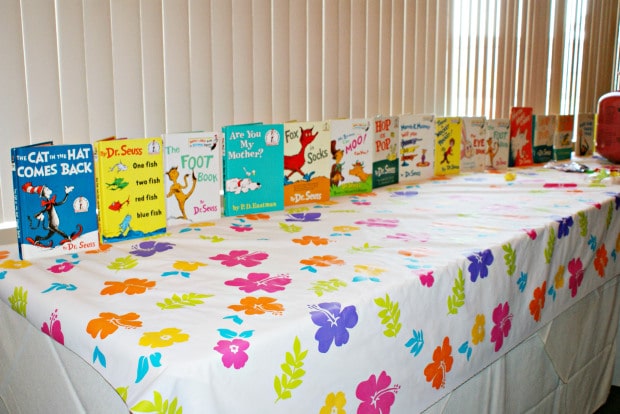 Dr. Seuss Themed Literacy Table
Even though this specific idea came from a baby shower, it is exactly what I would love to create on a month where not a lot may be going on. Found over at TheCheekyMama.com, what better way to introduce your children to a variety of different books than through Dr. Seuss! Dr. Seuss was the first book I was ever able to read on my own when I was a child, so these books definitely hold a special place in my heart. And don't worry if you don't have an endless supply of any type of book for your literacy table, that's what the library is for! Head on over, check a few out, and get busy with the kids! They are going to love the wonderful imagination that Dr. Seuss brings into all of his children's books and you are going to love that these classics are the focus of a literacy table all month long!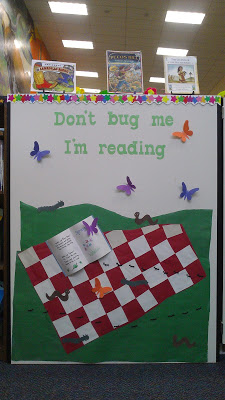 Don't Bug Me…I'm Reading
While this particular idea is more geared towards a classroom or library, I can already see so many ways I could incorporate this type of theme into a literacy table for the summer. The great bulletin board from ApplesToApplique.com is amazing and such an inspiration! My kids just love the different types of bugs that summer brings. My daughter loves the lady bugs, my son loves grasshoppers and everything in between. Don't ask me why, because I sure don't like them, but it's fun to see them learn about the different types of creepy crawly things that come out when the weather is nice. What a great way to teach them about what these bugs do and their purpose on the Earth. Love!
Movie Themed Literacy Table
How awesome is this? You can change up the specific movie theme depending on the age of your child, but I just love this book corner idea from Ideas.Tpeet! What an amazing way to introduce the concept to your child that so many great movies were first discovered as books. Even now, my young children will see something that they've read as a book, and discover it's a movie where they get to see some of their favorite characters on pages come to life. I love seeing their eyes light up! And it's just as easy to make the reverse happen by taking their cue on some of their favorite movies or TV shows and stocking up on books with those same characters. My son never tires of lego-themed things, so when he saw books about legos after seeing the lego movie, he was hooked. Think outside the box and show them how much fun books are for everyone!
Fall Into Reading
Once September hits, it's time to change the pace of literacy tables into good old-fashioned fall fun! CleverClassroomBlog.com has some great ideas for books that you can introduce to your child about leaves and fall, and I just LOVE the display idea in the picture above. Why keep these fun ideas just in the classroom that your kids go to everyday when they can see something just as educational and wonderful at their house?! And because I'm such a crafting and DIY nut, this table transformation is totally up my alley! I love that the kids will be learning about fall. This year was the first year my son really started asking a lot of questions about why the leaves changed colors and what made them turn the different colors that they were. Now I already have the perfect literacy table idea for next fall to satisfy his curiosity and to help him learn why things happen they way they do once the seasons start to change!
Snowman/Winter Table
What would a year of literacy tables be without one dedicated to snowmen? If you want to focus on a more specific holiday theme around Christmas, this would be a great table idea to transition into January or February, since many of us are still stuck with lots of snow on the ground. And what a fun way for the kids to spend these cold, short days, by reading up on their favorite wintertime activities!
So what do you think? Are you ready to clear out an area in your home and turn it into a "Literacy Table" for your kiddos? Get your kids excited about books and help them recognize those letters and sounds early on. In today's world of never-ending technology, it's a great way to get back to the basics and spend some quality family time together! Enjoy!
Have you ever created a literacy table for your children during different times of the year? If so, comment below and share what you created for your kiddos! 🙂