We earn money from clicks or purchases made via product links in this post.
I had a job in finance with great benefits. I thought I was exactly where I wanted to be. So how do I now make money from home as a Virtual Assistant?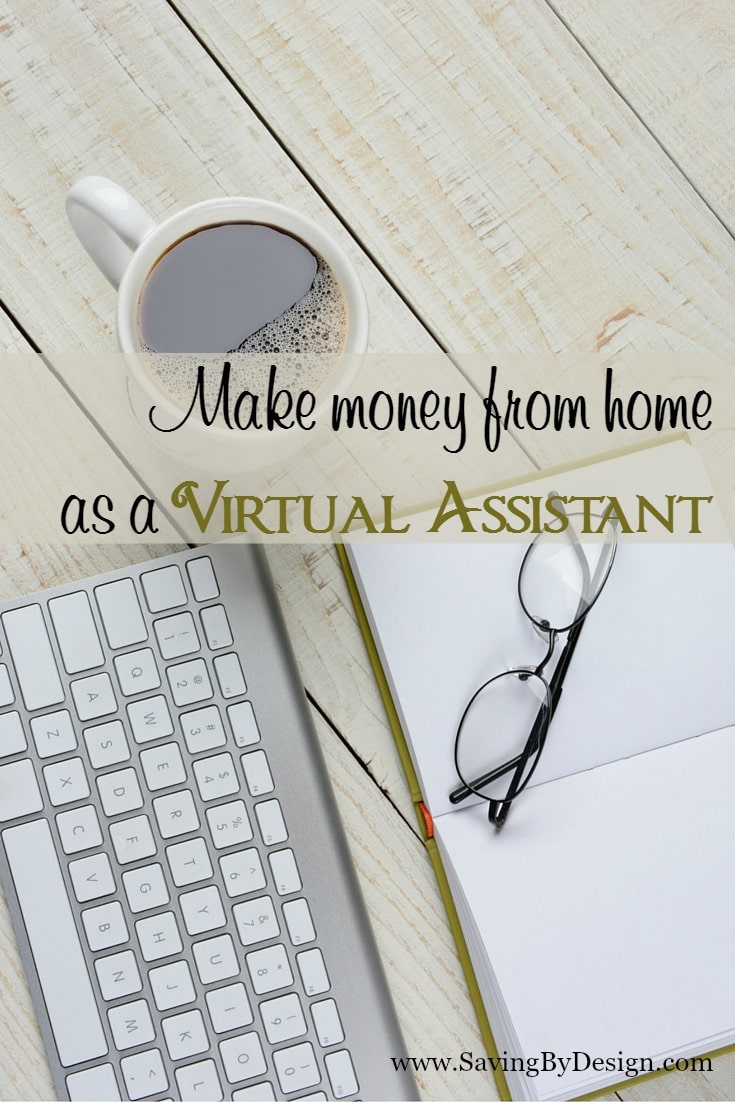 This is a guest post by Jamie Hovey, virtual assistant and owner of JLH Virtual Services. Enjoy!
It's funny where life takes us! After pursuing a bachelor's degree in finance in college and eventually an MBA as well, I thought that I was exactly where I wanted (and needed) to be. I was moving up in the finance world, making a great salary with awesome benefits, and being challenged on a daily basis to use my education and knowledge in the field. Life was good!
Then I had kids…
Like many moms, the idea of leaving my babies for 40-50 hours a week to work full-time outside of the home (sometimes more during busy seasons!) was extremely overwhelming and downright depressing! I waited to be a mom a long time and the last thing I wanted to do was miss all of the moments that I was patiently waiting for over all of those years of not having kids!
So, I started working part-time in my career. I was lucky. My job was fairly flexible and working part-time wasn't off the table, which I know isn't always an option and wasn't for me in previous jobs. There were still times I needed to work full-time, though, which I absolutely dreaded.
So how in the heck do I now make money from home as a Virtual Assistant?
The seed was planted…
Around 4 years ago, as I was preparing to welcome my second child into our home, I was asked by a friend who owned a photography business if I would be interested in helping her out. She wondered if I would want to do some of the blogging for her, help her edit some of her photography sessions, and just overall help with overflow that was starting to bog her down from allowing her business to grow the way she wanted it to.
I thought… why not? I happened to love photography, which she knew, and was dangerous enough in Photoshop that with some lessons from her, I'd be able to do what she needed. It sounded fun and was a great way to make some extra cash on the side and I was excited to help her out. It was also my first venture into WordPress and other website management tools and I learned a TON! And most importantly… I LOVED IT!
After a few months of helping her out, my husband and I were talking and he mentioned that I should see if I could find other "clients" that I could do similar things for since I was enjoying it so much. Maybe I could even turn this into a business! What?! Nah… this was for fun and it was so different than working in the corporate world of finance. It was a nice release outside of the office. But the seed was planted…
I started to hate being gone from the kiddos so much. I worked close to home, but even so, I was missing all of those great baby and toddler stages and it was bumming me out! Seeing them briefly in the morning, running home for lunch (if I was lucky), and spending time with them for a couple hours before bedtime just wasn't enough. I wanted to be present! Hands-On! But I also knew myself and knew that quitting my job outright and being a full-time stay-at-home mom probably wasn't the best for me, personally.
I WANTED to keep working, but I just wanted to do it on MY terms.
So my husband's suggestion started to ring more loudly in my ears… "maybe I could turn this into a business"… and I started doing some research. I looked into what exactly this was called.
A consultant? Not really. An assistant? Kind of, but I was doing more than just admin type of work.
And then I came across the job title that changed my life – Virtual Assistant! This was it! This would allow me to hopefully work from home one day if I was able to launch this into something realistic!
Making the transition to work-at-home mom
Things began to move quickly after that. I started doing tons of research and found some other people who happened to be virtual assistants. I soaked up all of their knowledge and advice. What could I do to make this successful? What did I need to learn? I joined groups all over the internet, signed up for webinars on different things, and quickly found myself with a couple new clients that I would be helping in their business too…one being the blog you are reading right now, Saving By Design!
All of this was happening while I was still working in my daily 9-5 job, which made for some long nights of doing work for clients on the side. But I loved it and could see myself pushing this forward into something that would be profitable and allow me to have the flexibility in my life that I was craving. I hired a firm to build a website for me and also hired a work-from-home mom who was a graphic designer to create my logos and graphics that would be used for my marketing. You don't have to hire someone to do these things…you can find out how to create your own blog (or website) for less than $50 here 😉
Everything was quickly falling into place, faster than I ever would have imagined!

Lunch hours at work were quickly consumed with client phone calls and working on projects they rolled out to me. Nights were spent keeping up with the day job, as well as the new business. It became overwhelming, with having to add in all of the family responsibilities, and I was starting to really want to quit my day job in order to better focus on my new business. I was lucky enough to pick up a handful of clients quickly to generate a good income and I was burning the candle at both ends. Something had to give!
A few months later, I was called into my boss' office to tell me that I was going to have to go back to work full-time. I quit on the spot.
My husband and I had talked about this in depth and coming from the finance world, you better believe that I had calculated and recalculated my profits from my business, along with just about any other kind of financial model I could dream of to determine if I'd be able to really stay home, build my business more, and make this work. And more importantly, when?!?! We had both agreed before this that I'd basically hang on until I absolutely couldn't anymore and that day in my boss' office was definitely it. I agreed to stay on for an additional 6 weeks to help train and make sure things were going OK and then I'd be done! Free! Home every day!
Oh my goodness… what just happened…
As you can imagine, six weeks went by quickly and before I knew it, I was treading my way through this new world of working from home and making sure I was as efficient as always. Working from home requires self-discipline and determination to make sure you are meeting deadlines and understanding exactly what the client needs, but it is so worth it!
Now I'm my own boss, I set the schedule, and I determine who I work with and what types of projects I truly enjoy working on.
Life as a virtual assistant
I'm lucky enough to have my mom live close by and she watches my kids a few days a week so I can focus on my job. My son is now in kindergarten, so he is gone for most of the weekday. But the great thing? I get to take him to school everyday and pick him up.
I don't have to worry about what to do if one of my kids is sick. No more flipping a coin with my husband on who is going to have to call in sick that day to take care of the kids.
My kids are in many different activities throughout the year that I don't have to worry about rushing home from work to take them to. No more being relegated to the late sign-ups for activities because I can do things with them in the middle of the day now!
I can even meet my girlfriends for coffee in the morning or schedule a catch-up lunch with a friend during the week that I won't HAVE to be back in the office afterwards.
I love being able to set my own schedule and if that means I work at night or on the weekend so I can be more present for my kids during the week? So be it.
On the flip side, you're never guaranteed a client forever. Income can and will fluctuate so it's important to stay vigilant in what is happening in your business and to constantly market and stay fresh in the industry.
Why types of jobs do virtual assistants do?
What started out as helping a photographer in her business has taken me to helping many different kinds of business owners!
Now I do everything from project management to social media content creation. I help businesses create and launch webinars for their business through different online forums and set-ups that I never dreamed I'd be proficient in! I create online newsletters, blog posts, and content creation for my clients to use in their own marketing efforts. Creating sales funnels and helping with many different back-end website technology systems have become some of my favorite things to help clients with. And of course… I have kept finance close to my heart and help some clients with bookkeeping and other financial tasks in their business.
In conclusion, working from home and bringing in an income from your own business can be extremely rewarding! There is a lot of responsibility and work that comes with it, but if it is something that you are serious about building into a successful outlet, you will find ways to make it happen.
I don't regret a thing and can't imagine working back in the corporate frenzy! And most rewarding is being there for my family on a daily basis. It has brought me closer to my kids and has made family life just a little less chaotic with being able to have a stable presence in the home on a daily basis.
It's something I will absolutely cherish forever!
If you are considering a work-from-home career, The Ultimate Work at Home Bundle may be perfect for you!
This brand-new, limited-time bundle includes 30 eBooks, 14 full eCourses, 4 printables, and 1 audiobook, all carefully vetted to get you up to speed on finding real work-at-home opportunities (AND making your work + life balance better once you're working from home).
For six days only, everything you need (and then some) is in one fabulous package, for the most affordable price ever.
These top-quality resources cover everything you need to give you the skills and confidence to do fulfilling work, at your favorite place in the world 🙂
You'll get a complete library to help you…
Identify your marketable skills
Juggle your responsibilities and finally find work + life balance
Manage your time efficiently (and never let anything fall through the cracks again)
Avoid the most common pitfalls of the work-at-home lifestyle
Understand the legal and financial implications of your business
Discover the secrets to getting into the business that most appeals to you, whether it's a wholesale product, service-based, handmade, transcription, becoming a VA, or any other number of opportunities
and so much more…
Besides being so incredibly helpful, one of the things I like best about the bundle is the price. By offering it for a short time only, you'll get access to over $2,300 worth of amazing products for a whopping 98% off!
LEARN MORE OR GET YOUR BUNDLE HERE
Interested in working from home?
Subscribe to get the latest work from home
opportunities, information, and tips by email.