We earn money from clicks or purchases made via product links in this post.
This baked shrimp scampi recipe makes the perfect meal without standing by the stove to cook it. In just 20 minutes you'll have a dinner that was easily baked!
This recipe makes the perfect baked shrimp scampi for those of us who just don't have time to stand by the stove to cook.
Did you ever think that the perfect shrimp scampi would be easily baked in your oven?
If you are looking for an easy shrimp scampi recipe without wine, this is it! In around 20 minutes you'll have a delicious dinner, full of flavor, ready to eat!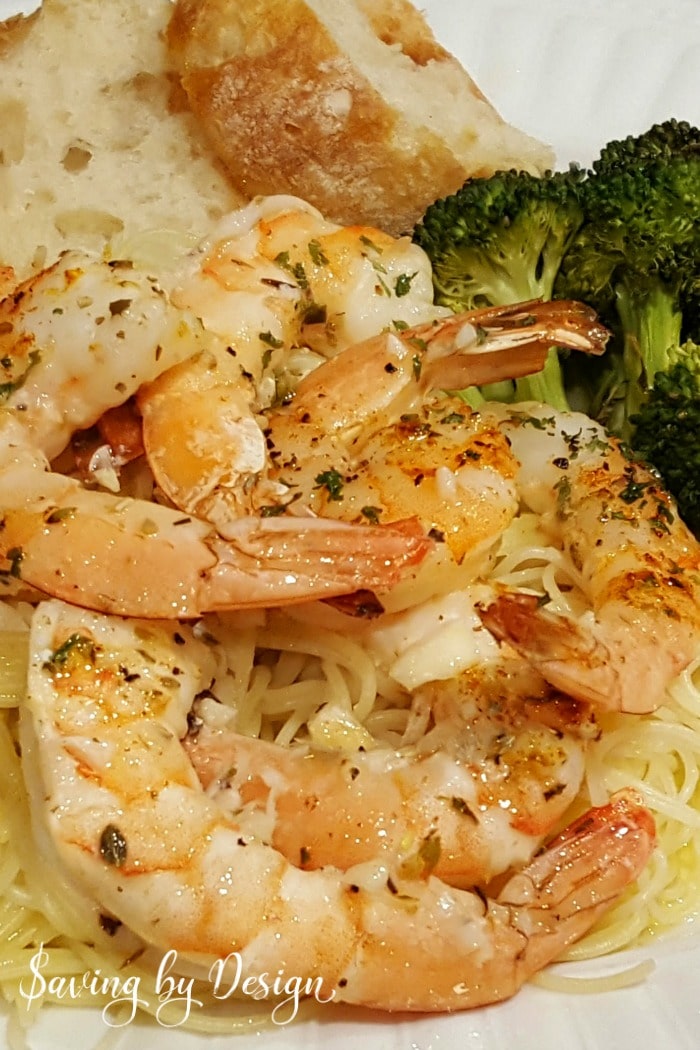 With lent now in full swing, we're always looking for delicious meals to mix up our normal Friday pizza night. And come on…who would complain about shrimp scampi to mix things up?
The thing is, although I love to cook, having three young children doesn't make it easy to whip up a complicated shrimp scampi recipe, especially during the week. So I am always on the lookout for ways to make those complex recipes more mom-friendly.
I love shrimp and anything scampi has always been one of my favorites…I can never get enough garlic!
But when I think of scampi I envision standing by the stove, mixing in a few ingredients at a time, and keeping a careful watch so nothing cooks too quickly or burns. Enter my family and that can be a disaster! Haha!
I need easy – easy and delicious! (Hence usually pizza on Friday nights! Haha!)
How to Make Shrimp Scampi?
Bake it! Baking has come to the rescue more than once for yummy meals and side dishes around here. I just love the simpleness of prepare, bake, and wah-lah!
I have to admit that I never thought of baking until I came across this recipe for shrimp scampi, though.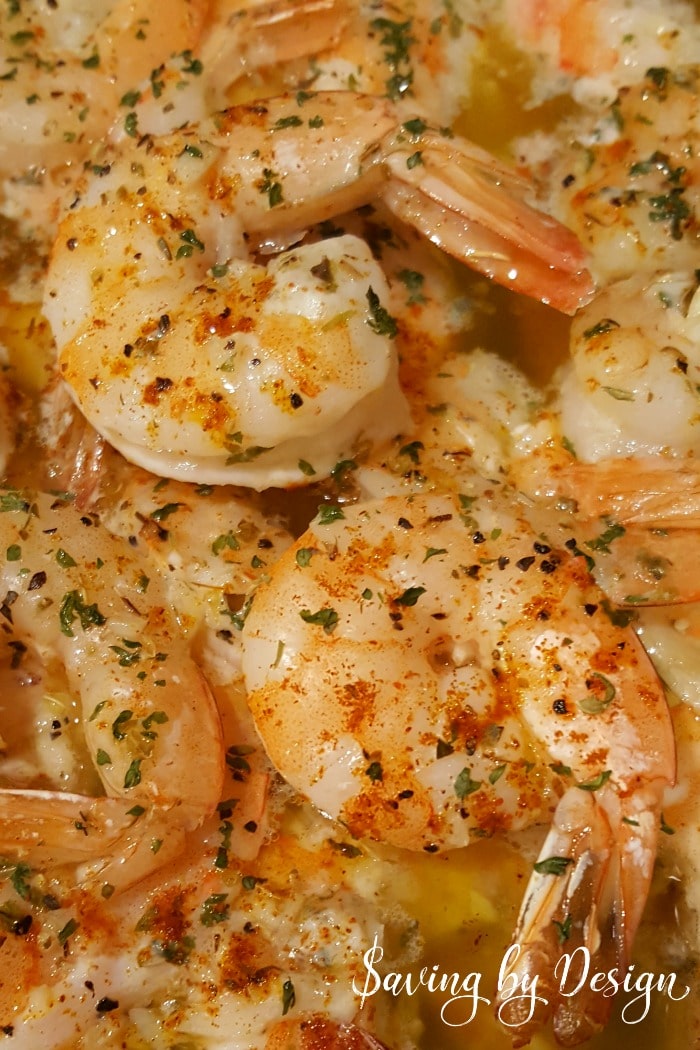 This baked recipe makes the perfect shrimp scampi for those of us who just don't have time to stand by the stove to cook. In around 20 minutes you'll have a delicious shrimp scampi that you'll never guess was baked.
If you are looking for an easy shrimp scampi recipe without wine, this is it! 🙂
Ingredients for Making Easy Baked Shrimp Scampi
1-2 lbs 16-20 ct raw shrimp
4 tablespoons butter
1/2 cup fresh lemon juice
4 cloves garlic
1 teaspoon course salt
1 teaspoon cracked black pepper
2 teaspoons dried oregano
3/4 cup olive oil
dried parsley (optional)
paprika (optional)
Helpful Kitchen Tools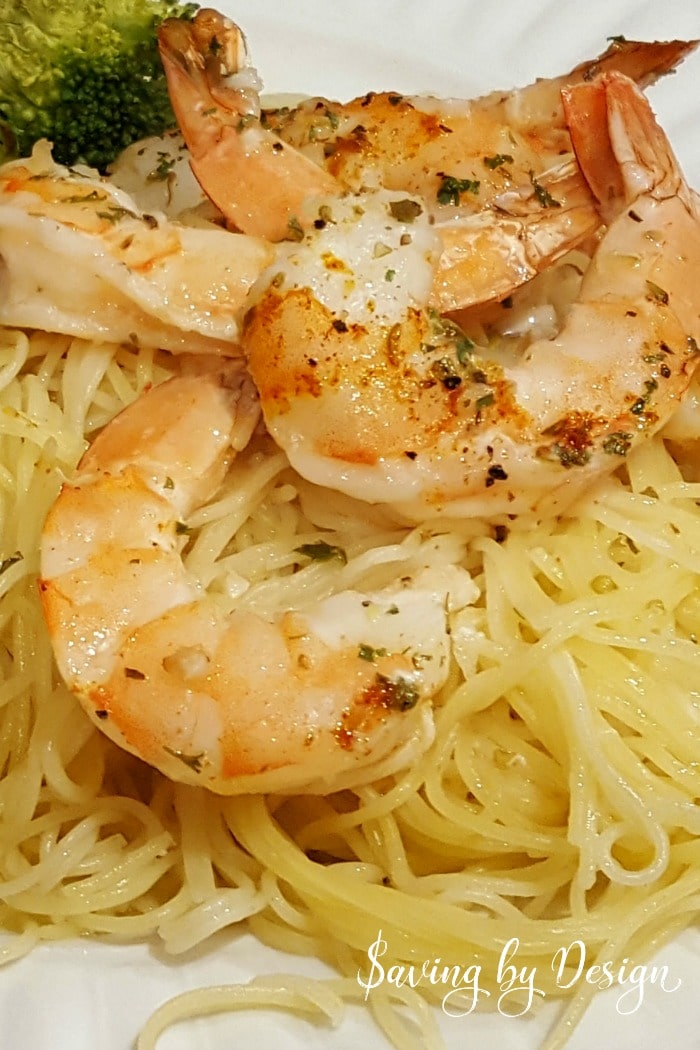 As you can see in the photos, we like to serve over pasta, with broccoli on the side, and crusty bread to soak up the shrimp scampi sauce.
Putting the whole meal together is easy – at the same time I bake the shrimp, I roast the broccoli in the oven (just drizzle with olive oil and season with salt, pepper, and chopped garlic) and boil the angel hair.
No part of the meal requires more than a few minutes of your attention, so you'll be able to get a delicious meal on the table quickly while taking care of your other mom duties 🙂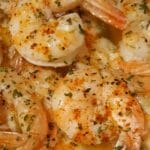 Baked Shrimp Scampi Recipe
This oven baked shrimp scampi recipe is the perfect way to have a delicious seafood meal when you don't have a lot of time to spend in the kitchen. It's fast, easy, and delicious!
Ingredients
1 - 2

lbs

16-20 ct raw shrimp

peeled with tails left on

4

tablespoons

butter
Sauce
1/2

cup

fresh lemon juice

4

cloves

of garlic

minced

1

teaspoon

course salt

1

teaspoon

cracked black pepper

2

teaspoons

dried oregano

3/4

cup

olive oil

dried parsley

(optional)

paprika

(optional)
Instructions
Preheat oven to 350 degrees.

Thaw shrimp if frozen and peel, leaving tails on. Spread shrimp in 13 x 9 baking dish.

Prepare sauce by mixing lemon juice, garlic, salt, pepper, and oregano until salt crystals have dissolved. Whisk in olive oil.

Pour sauce over shrimp in baking dish. Place butter slices on top of shrimp.

Lightly season on top with additional salt, pepper, and oregano. You can also season with dried parsley and paprika for color if desired.

Bake for 10 minutes or until shrimp are cooked - the exterior should be pink with red tails and the flesh will be slightly opaque and a little "white" in color.
Recipe Notes
This recipe will make enough sauce for up to 2 lbs of shrimp.
Adapted from i Save A to Z
Have you found an easy way to make the perfect shrimp scampi? I'd love to hear what you think of this recipe!
Don't miss these posts…
Beer-Boiled Crab Legs with Old Bay Garlic Butter
Baked BBQ Shrimp Recipe – An Easy Shrimp Recipe for Lent
4 Simple Tips for Successful Meal Planning on a Budget
This post was originally published on this blog on March 12, 2017.
Join Our Food & Recipes Newsletter!
Do you like easy and delicious recipes? How about the best ways to save on groceries and how to make the most of your time with meal planning?

Then subscribe to my Food & Recipes newsletter!