We earn money from clicks or purchases made via product links in this post.
Looking for some great Mason Jar Decor Ideas that will spice up the nooks and crannies in your house? Check out these 10 mason jar home decor projects that will be fun for the whole family to help create. Who doesn't love fun decorating days?! It's also a nice benefit when you're not spending tons of money to create different decorations around the home. Who has money for that?! I'd much rather create a great DIY project that I can take pride in. Learn more about these great mason jar decor projects and get your DIY on soon!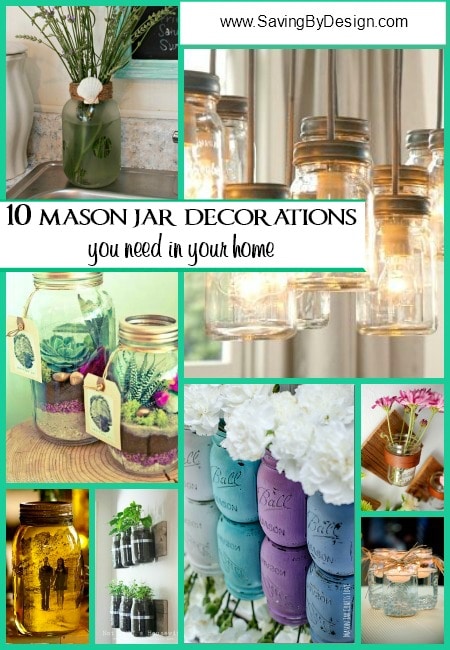 Looking for some great home decor DIY projects to spice up the nooks and crannies in your house? These 10 Mason Jar Decor Ideas are going to get you started in the right direction right away!
What I really love, however, is that it's not only good diy project for you to help decorate your home. They would make some excellent presents for a house warming party, as well! Who wouldn't want to get something that will brighten up the different areas of their home for a great gift?!
These are also great ideas for table decorations for parties you may be planning, too. From birthday events to an elegant wedding, many of the ideas below can be utilized for a low-cost table centerpiece!
There are so many different reasons to make these great projects. When it comes to saving some money and doing things on a DIY level, I am always on board! Take a peek at these amazing mason jar decoration ideas that are the perfect diy project for you.
10 Mason Jar Decor Ideas You Need in Your Home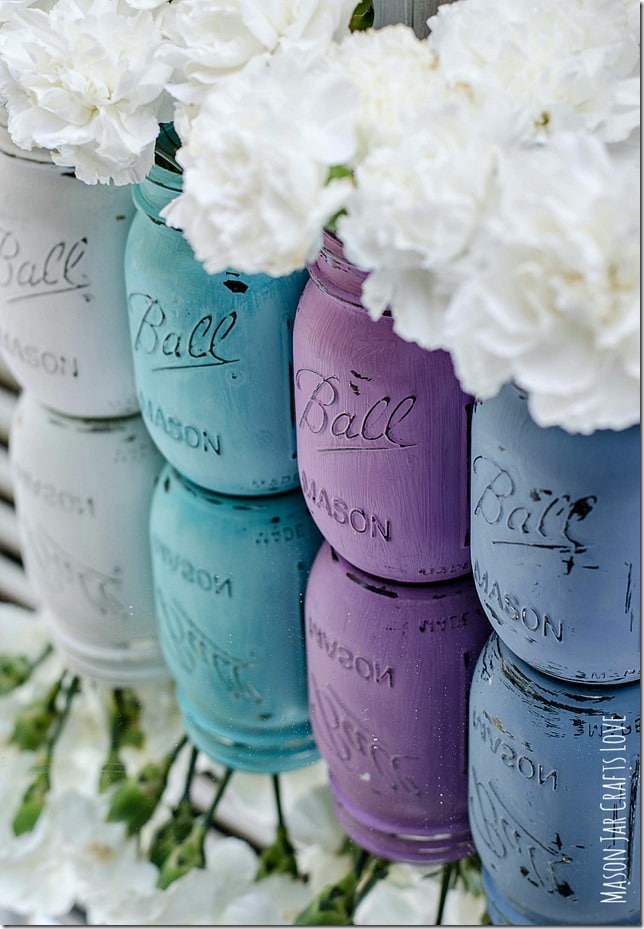 1. I absolutely love these Painted and Distressed Mason Jars from MasonJarCraftsLove.com. Don't get intimidated, you can totally do this! It's a great DIY project that will make decorating around the house a breeze.
Mix and match to make sure it goes with the rooms you plan to use them in and you can distress them as much as you want. Mason jar kitchen decor will look great and you can fill them with flowers or anything else you love! What a great thing to put on the kitchen table!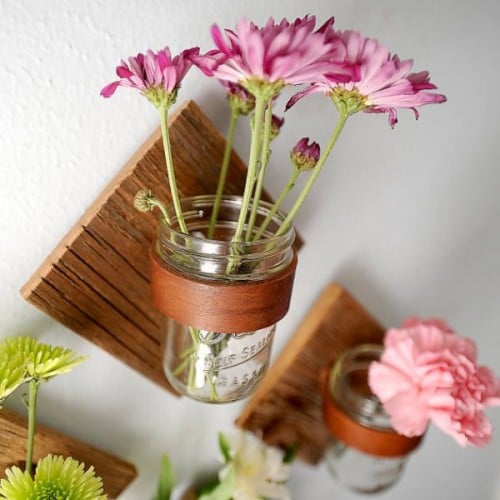 2. These Rustic Mason Jar Sconces from Shelterness.com are to die for! The rustic look is such a big trend right now and you can really make these your own very easily. Mason jar wall decor has never been easier!
Want a different type of wood? Done. Paint the wood if needed? Your call! Since this is a DIY project that you can personalize yourself, you'll be able to make it look exactly how you need without a problem.
I also love that you can have these types of sconces and continually change what you may put inside of them…flowers, candles, or whatever works best for your space! Decorating with mason jars is such a hot trend right now and by making these yourself, it's completely affordable and a great rustic addition!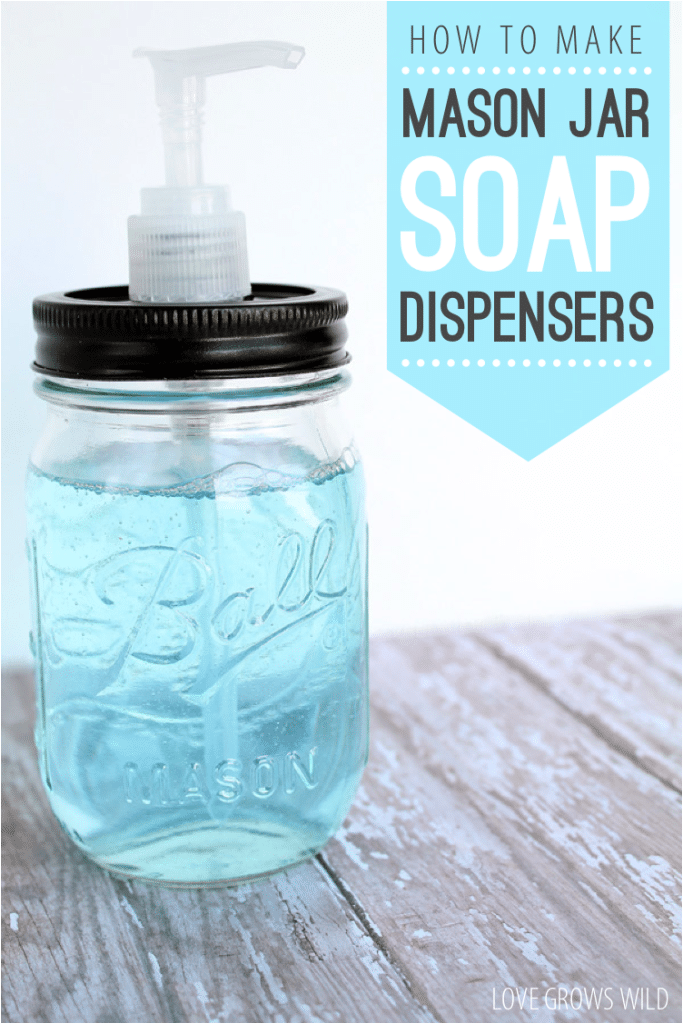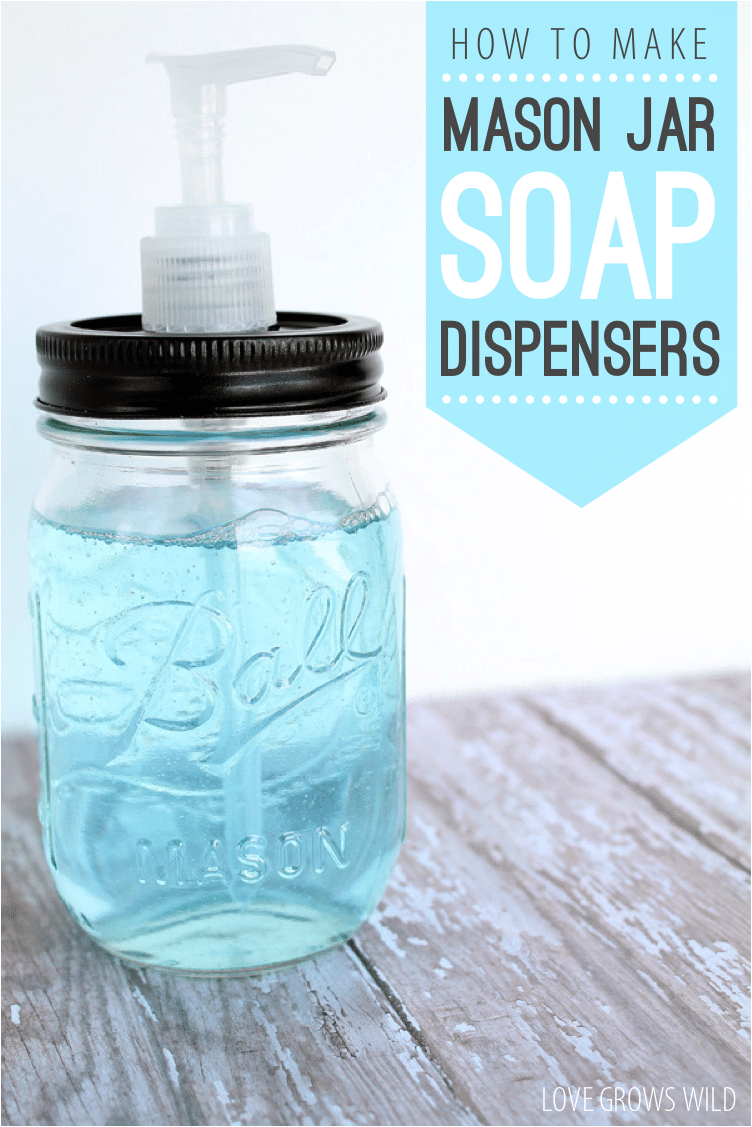 3. These Mason Jar Soap Dispensers were found over at Listotic.com are such a fun and creative way to house the soap in your home. A practical solution while utilizing mason jar decor?! What could be better?
Even if you just make one for your guest bathroom, you'll definitely have someone ask you for the details on how you made it! Decorating has never been so easy with this great mason jar bathroom decor idea. And it's as easy as pie to make.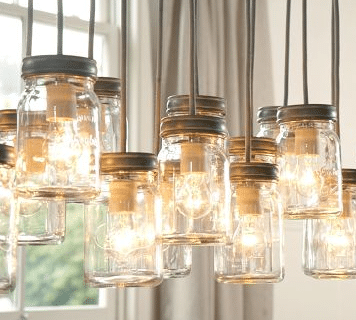 4. OK, these Mason Jar Hanging Lights over at RamshackleGlam.com are AMAZING! And surprisingly, they really aren't out of the realm of possibility for you hard-core DIY'ers! This mason jar decor will knock everyone's socks off, so get ready to do some major impressing of your friends and family!
As a matter of fact, I'm in the middle of some dining room renovations and these are just SCREAMING my name! What a wonderful and unique way to provide light into different rooms in your home. With a little electrical help and some amazing DIY skills, you are going to improve your dining room beyond your imagination!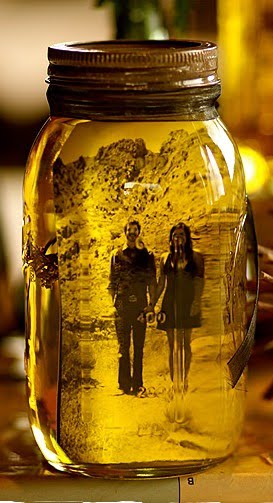 5. I'm always looking for new ways to display pictures, and this Vintage Photo Mason Jar from Disha-Doshi.com is exactly an idea I love! What a unique mason jar decor that will definitely get noticed, no matter where you place it in your home!
How sweet to have one of your favorite pics displayed in this way with a soft and fun light background behind it! This is a winner in my book. If you're looking for some new and unique mason jar decoration ideas, this is going to be a big hit.
I also think that this is an ideal gift for a housewarming party, or even a wedding! What a great way to display a photo that is special to a loved one!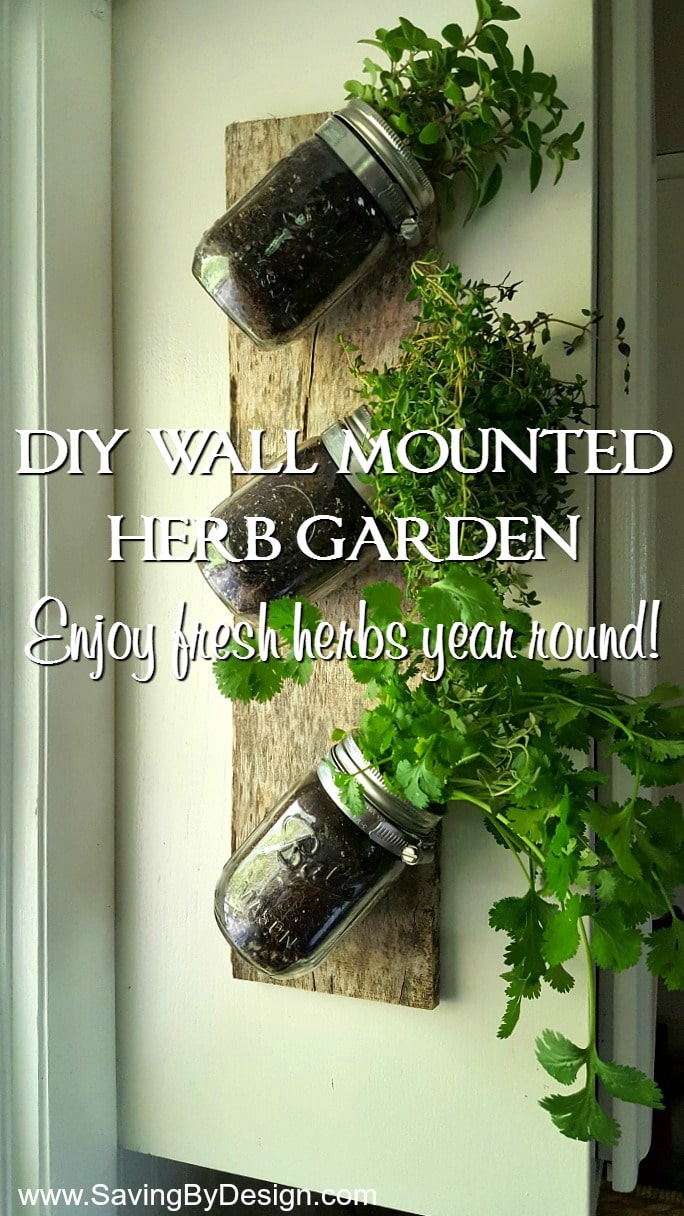 6. I'm a gardening nut, so I just love these Mason Jar Herb Wall Planters found right here at Saving by Design!   I'm always looking for ways that I can garden all year long and in my opinion, there isn't anything quite as great as cooking with fresh herbs in the middle of winter. This mason jar kitchen decor will be the exact thing that will help you eat fresh and healthy all year long, while being super easy to create!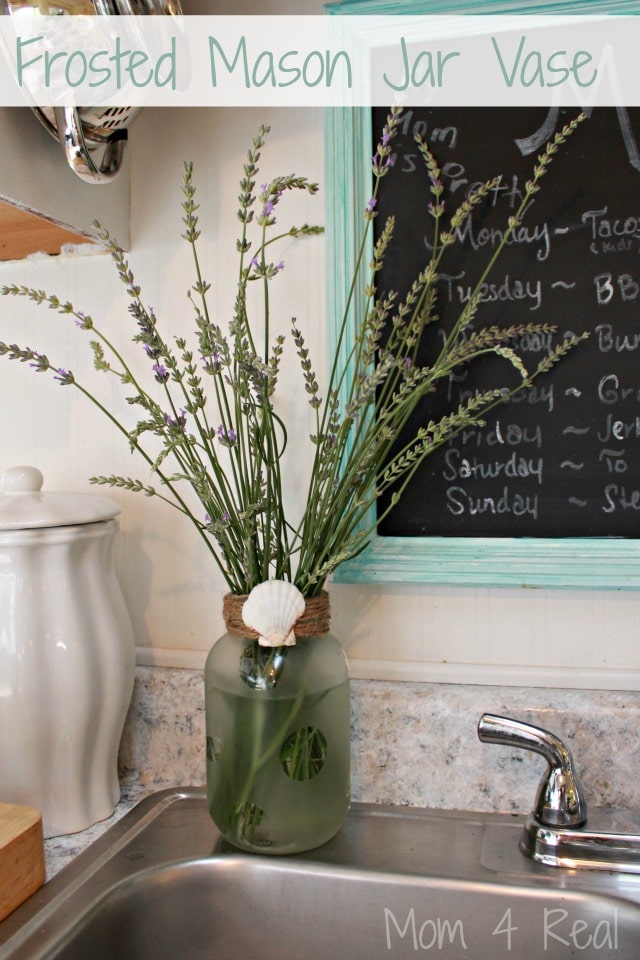 7. These Frosted Mason Jars are so soft and lovely. They are a great DIY project for those fresh flowers you love to have out all of the time! Check out the tutorial over at TodaysCreativeLife.com and complete this great DIY project in an afternoon. By the time your loved ones are home for dinner, you'll have a new mason jar home decor all set up and ready to welcome them home!
There are many different ways you can frost the mason jar and you can even create your own special patterns, if you so choose! You can create a light frost to the mason jar, or make it so you can barely see through at all. It's all up to you! Finish it off by adding some twine to the top of the jar to make your DIY project even more crafty! These mason jar decorating ideas are a great way to spruce up different areas in your home!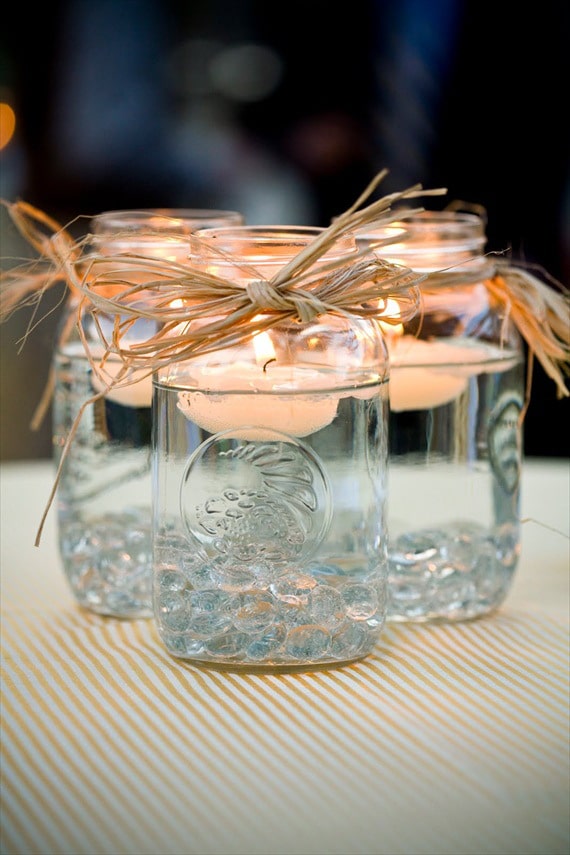 8. Floating Candle Mason Jar Centerpieces are a quick and easy way to create a great ambiance at any event! Even if you keep them inside the house to add a great mason jar table decor item, it's going to be a winner. Heck, I'd even light them up on a family movie night, to have a little extra light shining over the course of the night! I also love the twine that is wrapped around the top of the jar, as well. Big fan!
Personally, I am also going to use this idea from EmmaLineBride.com to decorate our outside patio on those nice, warm, summer nights! And to make it even more useful, if you are looking for a little bug repelling power with your ambiance, take a look at these Natural Bug Repellent Luminaries! No more swatting away all of those mosquitos this summer!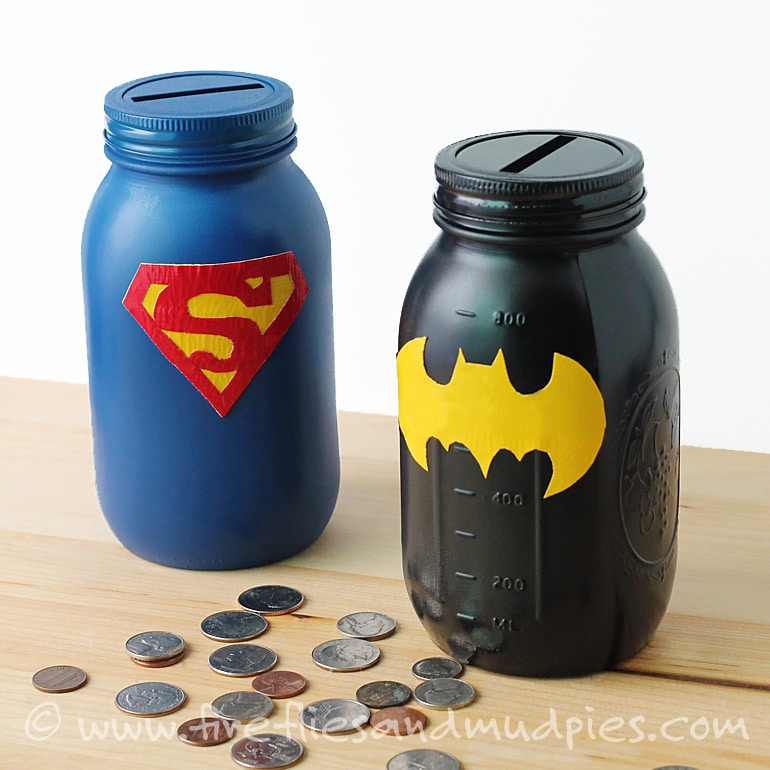 9. Do you have any little superheroes in your house? If so, these Mason Jar Superhero Banks found over at FirefliesAndMudpies.com would be a perfect piggy bank idea for your little ones! They are super easy to create and it's a great diy project to do with your little ones, as well!
I'm pretty sure if I made one of these, my little guy would pass out from excitement! And what better way to get your kiddos to start saving all of that loose change than to have an awesome piggy bank like this. I like when an easy mason jar decor project has more than one use by the time it's said and done! Nothing like teaching a little responsibility while creating a beautiful decoration for the household!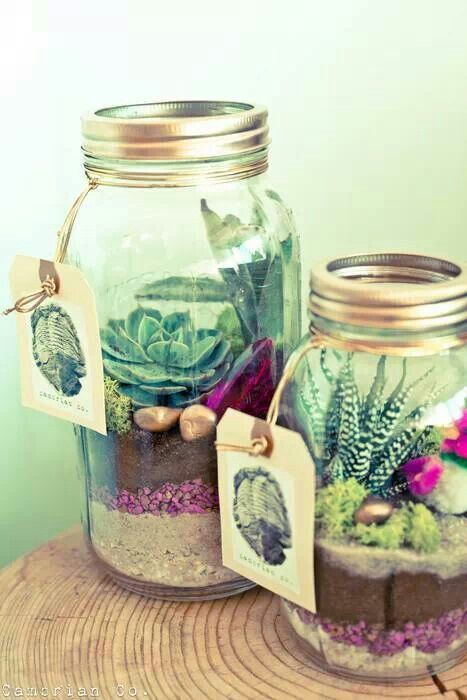 10. I absolutely love succulents so these Mason Jar Terrariums over at StoryboardWedding.com got me totally excited to make one! Mason jar table decorations are always such a great thing to have around the house and these are no exception! It adds so much beauty to a room, as well! And let's face it. It's one of the easiest kinds of plants that can be in the house. They are extremely easy to care for and won't have to worry about taking too much care of these plants! Yay, succulents!
This is a great DIY project to do with the little ones, too. They can help you pick out what you're going to include into your jar and they'll also take the lead on helping you put all of the layers together.  What a great idea for a centerpiece for your table, or even to include on a shelf in your kids' rooms. They'll be so proud of their new creations!
Hopefully you've found some great ideas here. No matter your home decor needs, there are a variety of DIY projects that will keep you busy. And I bet once you make one and your friends and family see it, they'll be begging you to make one for them too! Have fun!
Don't miss these posts…
> 9 Fixer Upper Fireplace Mantels You Can Create on a Budget
> Make the Perfect Shirt for Any Occasion – These 5 Things are All You Need!