We earn money from clicks or purchases made via product links in this post.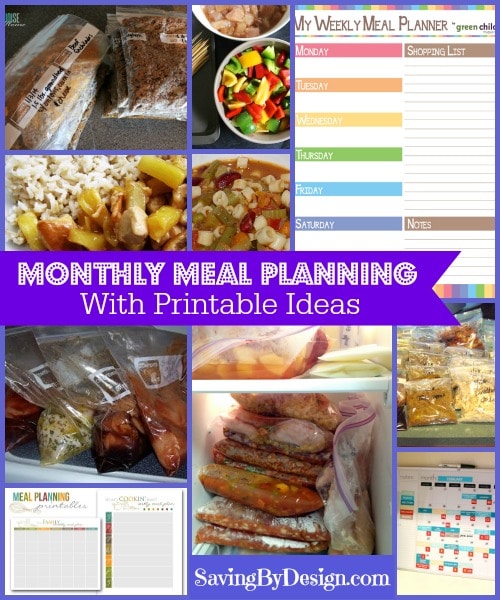 So I admit…meal planning is a New Year's resolution of mine. So far I haven't started it yet, but after doing all of this research, I'm definitely motivated to get started!
There was a time in life after my first child was born that I was able to do this for about 4 or 5 months and it was WONDERFUL! My husband absolutely loved having planned dinners every night, it took a lot of stress off me, and it really wasn't as hard as I thought it would be. But alas… life got in the way and unfortunately, I didn't follow through. And I must say, I miss it.
Now that I'm home more and can balance things better, I'm excited to get started again. Do you have the same idea for this year? Check out these meal planning FREE printables and organization ideas to hopefully give you the inspiration you need to get started, too!
You might also want to take a look at the Conquer Your Clutter Super Bundle available only through 1/30/17. You'll find 38 resources on topics like organizing, decluttering, family systems, meal planning, time management, and much more for 95% off.
Meal Planning Recipes and Ideas
So are you at a total loss on where to even start? I know when I first started doing this it was definitely overwhelming! An overview of how to start Monthly Meal Planning can be found at ResourcefulGals.com and I must say…THANK GOODNESS! Take some time and get some pointers and ideas on how to start this fun journey and you'll be ready in no time 😉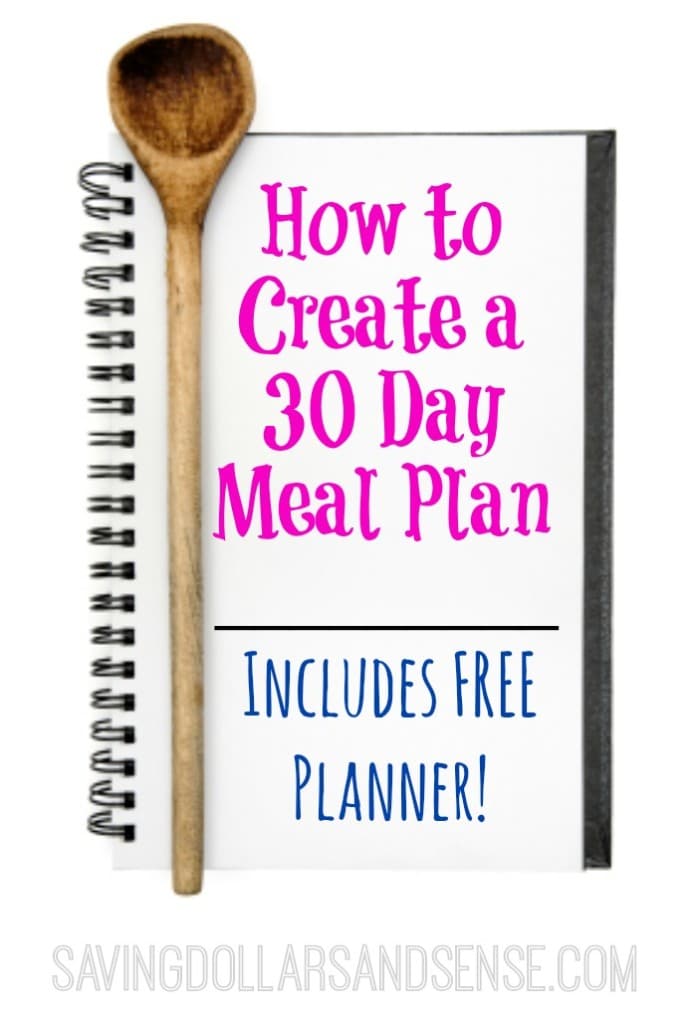 This awesome article on How to Create a 30 Day Meal Plan from SavingDollarsAndSense.com is another great resource on getting started. I have found that doing a monthly plan was a lot easier for me than doing things on a weekly basis, but that may not be the case for you. Decide which way might be easier for you to fit into your life and move forward from there!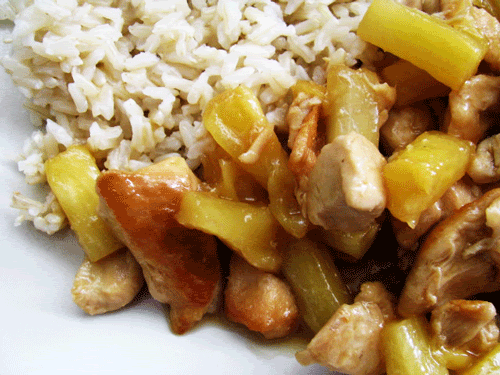 I found this 50 Freezer Meals in a Day article from HappyMoneySaver.com and I have to say… I love it! We have a drop freezer in our garage, so I know I have more than enough room to store anything I may make, which definitely makes this appealing!
I must live in the Stone Ages, because I had never heard of "Dump" Chicken recipies before. I must be the only one! When I found this article on 28 Days of "Dump" Chicken Recipes at WhenTheDinnerBellRings.com, I thought, "Why didn't I ever hear of this before?!?!" Genius! My family are huge fans of chicken, so this is going to go in my meal planning arsenal immediately! And because I know we won't eat 28 straight days of chicken, I know that this will end up lasting me 2-3 months between the other recipes I'll use to fill out the calendar. Can't beat that!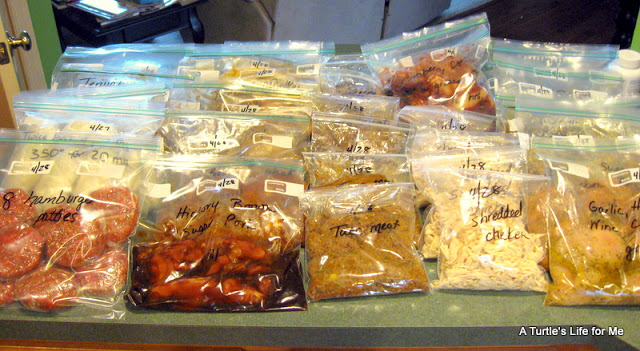 These Freezer Meals On the Cheap from ATurtlesLifeForMe.com is totally right up my ally. So how many does this provide? Try 46 meals in 4 HOURS! Yowzers! When I followed a monthly meal plan a few years back, this was how I generally stored a lot of my meals. I loved putting things in ziploc bags like this and when it was time to find what I needed, it was so easy with the recipe and date written on the outside. And it saved SO much space in the freezer!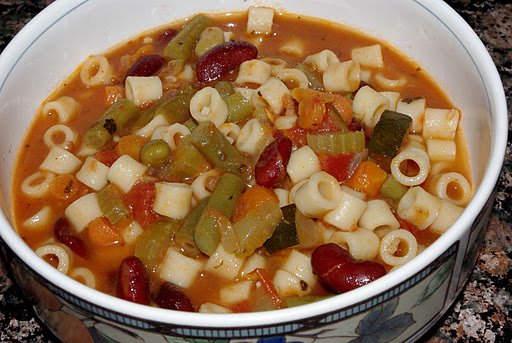 31 Days of Dinners found over at HappinessIsHomemade.net is a great meal plan with a variety of items that you can look over. Soups are a great thing to make and freeze and can be such a wonderful thing to cook up in the dead of winter when it's SO cold outside.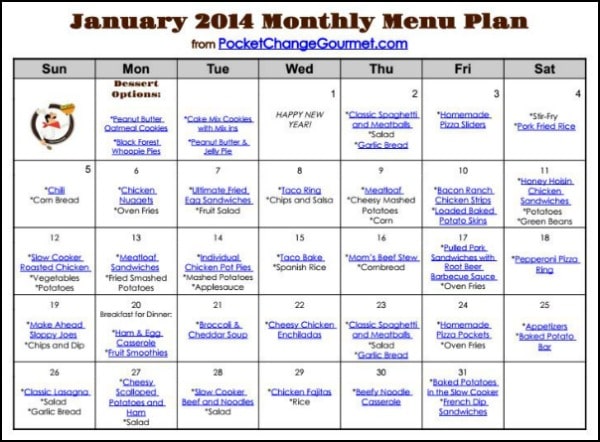 Looking for some Kid-Approved Monthly Meal Plan ideas? Look no further than PocketChangeGourmet.com! In my house, it's definitely important to get some kid-approved ideas, especially with my super picky son living under this roof! It's so crazy to me that my daughter will eat anything under the sun, but that little boy of mine? It's like pulling teeth. I definitely have to include him in some of the meal planning if I don't want it to be a total waste (aka – not having to make 2 separate meals when it comes time to eat!).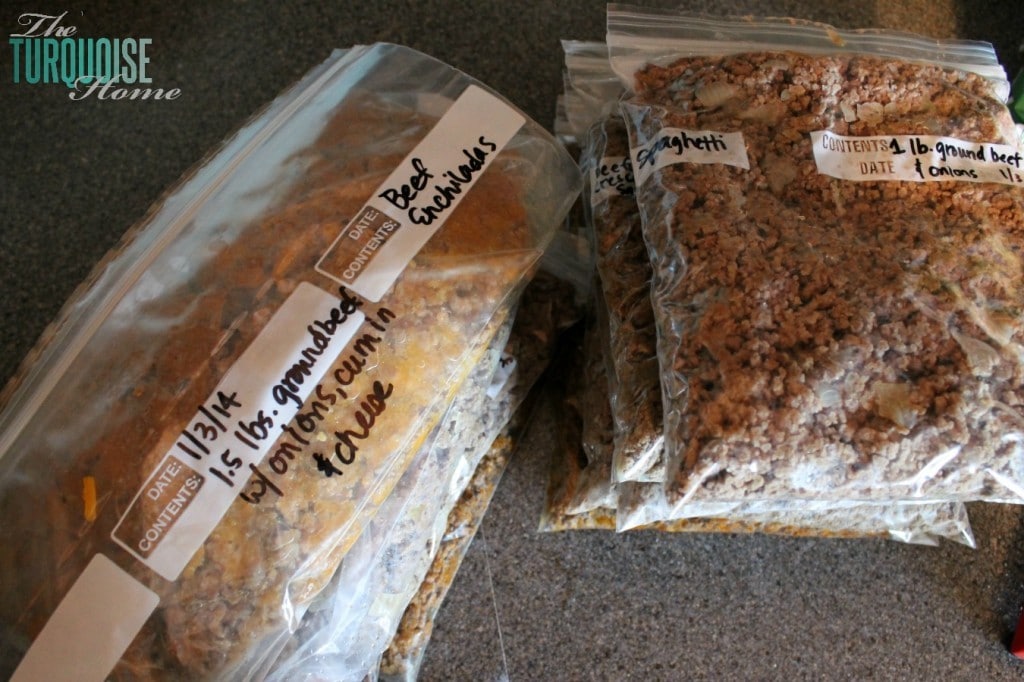 Not interested in doing anything super fancy or trying a ton of recipes that you're just not sure about? Look over this "The Average Girl's Guide to Monthly Meal Planning" at TheTurquoiseHome.com. Talk about a great resource for making things that you know will be put to good use in your arsenal of meal planning 😉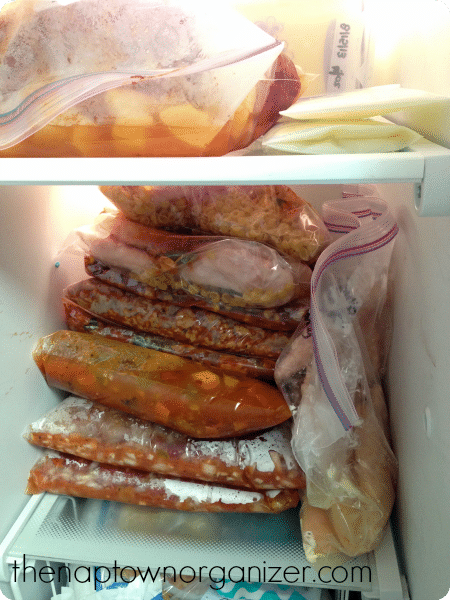 Loving cooking with your crock pot as much as I do? Than you HAVE to check out this 30 Day Crock Pot Cooking article from TheNaptownOrganizer.com! I love working with my crock pot, so I can set it and forget it. I generally like to double recipes and then BAM! I have even more that is ready to be frozen and ready for the future.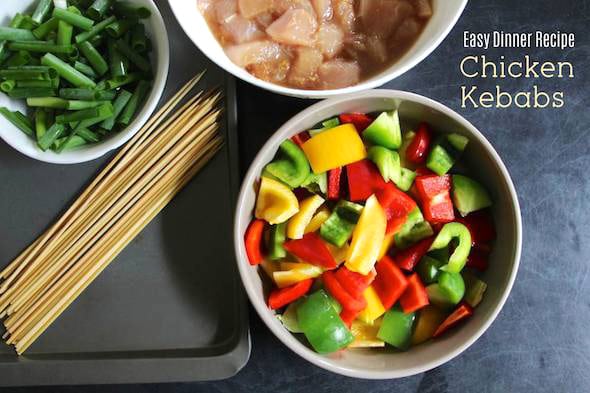 This family is definitely on a budget, so when I saw the "30 Family Meal Ideas on a Budget" from Childhood101.com, I jumped on it! There were a lot of great ideas on here and I'm so excited to use a lot of these recipes to make sure my meal planning goes off without a hitch.
Meal Planning Free Printables and Organization Tips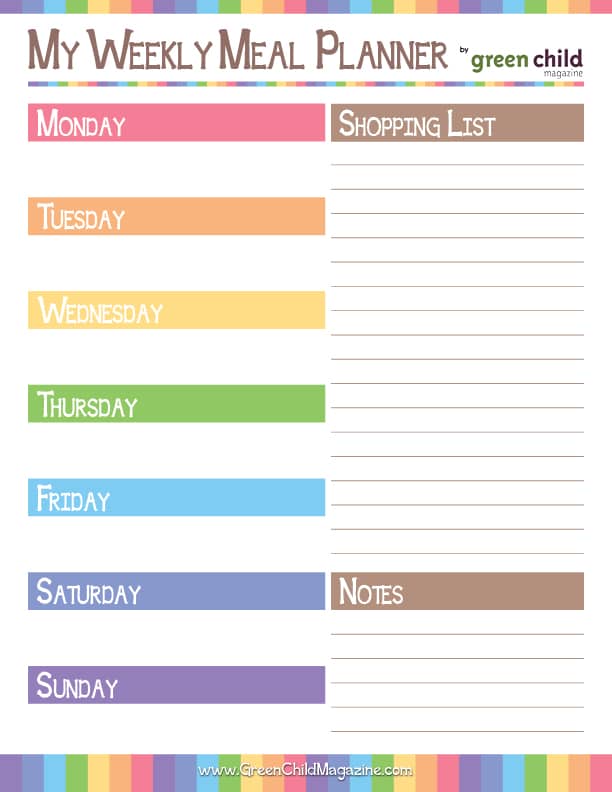 So one of the main things that is necessary when doing a monthly or weekly meal plan is ORGANIZATION! It is so important and really helps to keep things running smooth and streamlined. This awesome FREE printable that I found over at GreenChildMagazine.com is exactly what is needed if you're starting out with a meal planning initiative. Try it out and see if this is the right fit for you!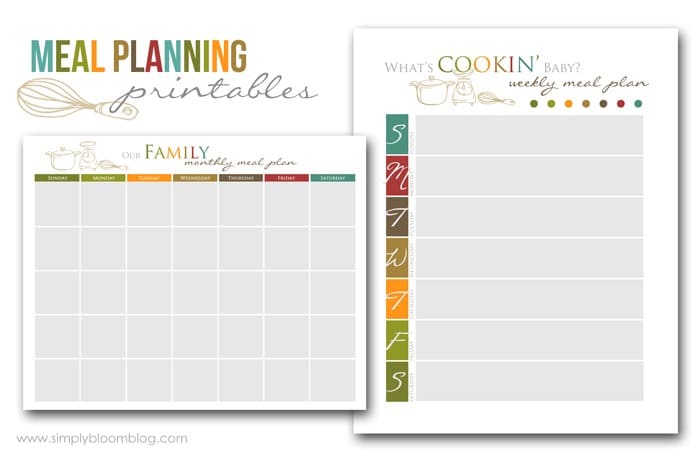 When I do my meal plans, I prefer to have things listed off on a monthly calendar like the one above found at OrgJunkie.com. It just helps me so much to be able to look a the high-level of my month and know that I have things relatively set for the next 30 days. It really gives me a big sense of relief and takes the stress off! Now…it does take a bit longer to get organized enough to make sure that you can do it a month at a time, but for me, it's worth it to only do once a month, rather than once a week. I also can easily see when I may just be doing our dinner, have social commitments that means we won't be eating at home, or anticipate when leftovers will do the trick. So…I'm not truly making 30 meals a month, usually it ends up being more like 20.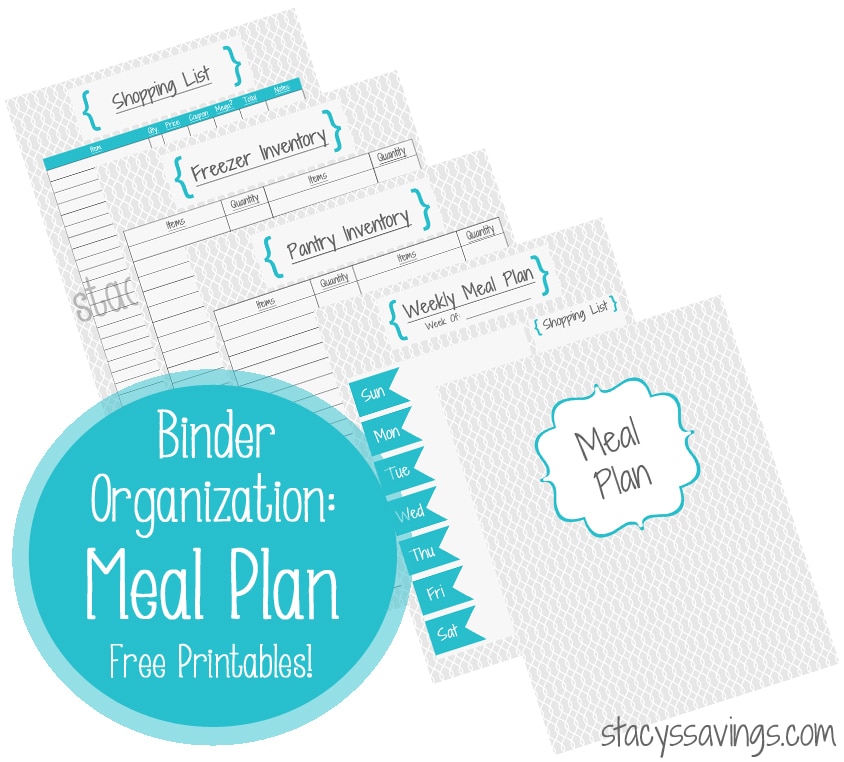 Are you uuber organized and looking to create an entire binder with everything you'll need for your meal planning endeavor? Then you need to check this out over at StacysSavings.com. Keep your grocery list easily available, make sure you never forget what is buried at the bottom of the freezer with the awesome inventory sheet included, and know exactly what you have on-hand with your pantry inventory sheet. So awesome!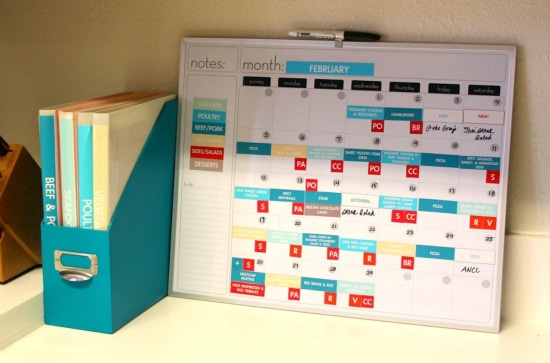 OK… THIS is my dream meal planner! This Magnetic Meal Planner over at IHeartOrganizing.com is truly a dream come true. There are no printables with this idea, but wow…talk about right up my "Type-A" personality alley! She has this DOWN! Magnets are available for color-coding all of your recipes and she even has things set for when they will have leftovers or may have something planned where they won't be eating at home. I love the fact that this is reusable every month instead of constantly having to write down everything and throw it away when the month is over. And… it's easy to switch things around if something during the month changes. I just LOVE this!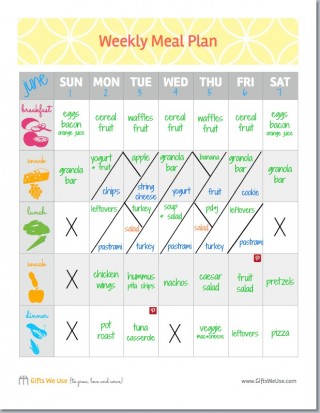 Looking for a weekly meal plan that includes more on it than just dinner? Check out this weekly menu over at MoneySavingMom.com. This is a great idea during the summer when the kids are home all day and you want to make sure that you are feeding them healthy items and you have constant ideas on what you are going to make everyday. Because let's face it…sometimes the summer can get away from us and before we know it, the kids aren't eating as healthy as they should be because we're just winging it!
Phew! I know how quickly life can get in the way and before you know it, you are making dinners off the cuff or worse yet, ordering takeout because there is no time to make dinner at all! I've been there! Hopefully these great ideas will move you in the right direction of having things more organized for meal time and make things a little less chaotic. And by involving the family in making sure the meals that are made are family-approved, you'll have less dinnertime fights over actually eating dinner! Yay!
Do you do a lot of Meal Planning? Comment below and tell us the secrets of sticking with it and being successful! 🙂